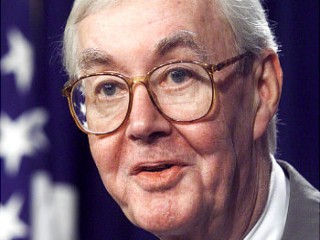 Daniel Patrick Moynihan biography
Date of birth : 1927-03-16
Date of death : 2003-03-26
Birthplace : Tulsa, Oklahoma
Nationality : American
Category : Politics
Last modified : 2011-02-17
Credited as : Politician and scholar, U.S. Senator,
Daniel Patrick Moynihan , United States senator from New York, was a politician and scholar whose career marked him as one of America's most influential public figures in the second half of the 20th century.
Daniel Patrick Moynihan was an academician, presidential adviser, diplomat, legislator, and author. He was renowned for his willingness to confront diverse issues ranging from race to social security to disarmament to international order. Yet the enigma of "Pat" Moynihan is that, despite his varied careers and numerous achievements, he never seemed identified with any one of them. He could not exclusively be called scholar, although he wrote 16 books (he's written more books, columnist George Will said, than most politicians have read); nor politician, despite many years as New York State's senior senator; nor statesman, even with unique service as ambassador to India and to the United Nations. Neither could he be called bartender, newspaper hawker, shoeshine boy, dockworker, or naval officer, although he was all of those. There exists a rather Chaucerian quality about this personality which made him master of the trades he undertook.
Moynihan was at home on both sides of Manhattan's 1940s: the steamy tenements of Hell's Kitchen on the west and the rarified air of the U.N. General Assembly on the east. Yet this self-proclaimed "Yorker," who lived in Delaware County's Pindars Corners and boasted a deep love of the Empire State, was born in Tulsa, Oklahoma, on March 16, 1927. He was the firstborn of John Henry Moynihan and Margaret Ann Phipps. A brother named Michael arrived the following year and a sister Ellen was born in 1931. The family lived an itinerant life, much of it in New York, following his father's indifferent career in journalism and advertising. In 1937 his father deserted the family, leaving the fate of the children in his mother's hands.
Moynihan's father, an advertising copywriter for RKO Pictures, left home never to see his family again. Used to a middle-class existence, his mother and her three children disappeared from their life in the New York City suburbs and into shabby apartments, including one above a bar in the rough Hell's Kitchen area of New York. Moynihan's mother supported the family through welfare until she was able to get back on her feet. She married again briefly to an older man who provided temporary financial security and a move back to the suburbs. Nevertheless, Moynihan's adolescence was far from stable, moving around each time his mother took a new job.
A strong-willed, pragmatic woman, Moynihan's mother poured her life into her children's educations. Moynihan attended New York City Catholic and public schools and graduated first in his class from Benjamin Franklin High School. His yearbook predicted that he would grow up to be "cussing out the labor unions and durn radicals." He started City College in 1943. Moynihan insisted college was a fluke for him, taking the entrance exam only to prove he was "as smart as I thought I was." After a year of college, he joined the Naval Reserve with Vermont's Middlebury College V-12 program to train for an officer position. The Navy sent Moynihan to continue his education at Tufts in Medford, Massachusetts, where he earned a bachelor's and master's degree.
His interests were extremely broad, including urban politics, international labor, auto safety, and race relations. Although he started doctoral work at Tufts' Fletcher School of Law and Diplomacy soon after earning his master's degree in 1949, he did not graduate until 1961. But the 1950s were well spent. Three years in England, including a one-year Fulbright at the London School of Economics at age 33, broadened him greatly, as did campaigns for New York's mayoral and gubernatorial candidates. He also chose a career in academe which took him to Syracuse, Wesleyan, and finally Harvard. When Moynihan returned to the U.S. after his stay in London, he began to make his way through the New York political arena. As a volunteer in Robert Wagner's 1953 mayoral campaign, he learned he was enjoying politics and went on to work on Averell Harriman's race for governor. It was here where he met Elizabeth Brennan, bursting into her room one night soon after they met and declaring, "You are going to marry me," before passing out on her floor. They married in 1955. She became her husband's chief advisor and handler, running his Senate campaigns. They had three children: Tim, a papier-mâche sculptor; Maura, a singer, actress, and writer; and John, a cartoonist.
By the time of the Kennedy-Nixon campaign of 1960, Moynihan had wide contacts and held iconoclastic but insightful opinions on many subjects. His association with urban politics and strong sympathies for the poor, whose plight he knew firsthand, impressed Kennedy's advisers and brought him appointment as assistant to Labor Secretary Arthur Goldberg.
Far removed from President Kennedy's inner circle, Moynihan was nevertheless "New Frontier" material. He soon made powerful friends among the dynamic men who surrounded the young president. He moved to assistant secretary of labor in 1963.
Kennedy's assassination that November affected him deeply, diverting his loyalties to Attorney-General Robert Kennedy, who won a Senate seat from New York in 1964. Moynihan served President Lyndon Johnson's Great Society administration loyally and effectively but did not enjoy the fullest confidence of Johnson's inner circle.
In 1965 as an assistant secretary in the Labor Department of President Johnson's cabinet, Moynihan wrote a report entitled The Negro Family: The Case for National Action, which careened him to the lowest point in his career. In the report he warned that rising illegitimacy rates and a "tangle of pathology" threatened the stability of African American families and put at risk the income and equality gains African Americans had achieved through the Civil Rights Movement. Instead of receiving recognition for his perceived keen insight, he was widely criticized by African Americans and liberals as a racist.
In the 1960s Moynihan began his association with Harvard University and the Harvard-MIT Joint Center for Urban Studies. A popular work of scholarship called Beyond the Melting Pot brought him national attention even though his co-author, Nathan Glazer, wrote most of the work. Moynihan's principal (but not sole) contribution was the chapter on New York's Irish. He moved in and out of government, and unsuccessfully sought the New York City Council presidential nomination.
Moynihan's commitment to the Democratic party was deeply rooted in his family. Yet it did not prevent him from serving the Nixon administration in an unusual and extremely influential way. President-elect Nixon, finding Moynihan's thinking "refreshing and stimulating" (as he later recounted in his Memoirs), named him head of the newly created Urban Affairs Council.
Moreover, Moynihan became a presidential mentor who could always be relied upon to speak his mind candidly. He even provided reading lists for Nixon's edification. The president accepted his advice on many matters, but was especially sympathetic to him as a fellow "outsider" whose humble origins he shared. One major incident that proved embarrassing to the administration consisted of an observation made by Moynihan that African American families might benefit from being left alone a bit to work out their own destinies. This apparently innocent possibility was described by Moynihan as "benign neglect," and the press and some segments of the public inferred from it a diminished ardor for civil rights, which the administration—rightly or wrongly—had never been noted for previously. Notwithstanding this flap, Nixon retained complete confidence in Moynihan, viewing his chief domestic adviser as an invaluable public servant.
After his reelection, Nixon offered Moynihan the post of ambassador to India, a selection demonstrating Moynihan's Chaucerian adaptability and Nixon's perspicacity in recognizing it. He served for two years under both the Nixon and Ford administrations, receiving an appointment in 1975 by President Ford as the nation's permanent representative to the United Nations. In this latter capacity he became a powerful voice of post-Vietnam American moralism, condemning Soviet obstructionism and imperialism and excoriating the venality of many Third World countries. He refused, as he once put it, to apologize for his fallible nation, challenging his listeners to "find its equal."
In 1976 he was elected to the United States Senate and served New York in this capacity for the next decade and a half, being reelected in 1982 and 1988. Although he can put his Johnson report and Nixon memo behind him, his past follows him. During a recent campaign the Reverend Al Sharpton, an African American protestor, made his own run for Senate and tried to remind voters of the latter incidents.
Known for his quirkiness (Elise O'Shaughnessy's profile of him in Vanity Fair described his gestures and speech patterns as belonging to someone with "intellectual Tourette's syndrome"), Moynihan's oddity, nevertheless, has worked for him. Recognized for his ability to recall and process voluminous amounts of information and popularize the ideas of others than for facilitating his own scholarship or original thinking, Moynihan has significantly contributed to the Senate. His popularity among voters (he's been elected for four terms and served in the cabinets or sub-cabinets of four presidents) and his firm belief that a government's purpose is to promote goodness in society earned him the chair of the Finance Committee when Lloyd Bentsen left to become head of the Treasury Department. Although he also has a reputation for making his own government nervous (he criticized President Clinton's health-care bills; battled for better welfare reform—his pet issue—calling Clinton's ideas "boob bait for the Bubbas;" and suggested that a special prosecutor ought to look into the controversial Whitewater affair), most people realize that his candid personality contributes to the forward motion of government. "Pat Moynihan does a very simple thing that at the end of the 20th century has become the most inexplicable trait a politician can have: he says what he thinks," Laurence O'Donnell, Jr., the director of Moynihan's Finance Committee said.
Wherever he traveled in government or academic life, Moynihan brought his wit and capacity for innovative thinking. His brief assignment to the United Nations produced A Dangerous Place, a zesty account of America's rendezvous with world government. On the Law of Nations briefly but trenchantly continues the subject of the nation's efforts to carve its place in world history. Counting our Blessings, dedicated to his colleague Nathan Glazer, ranges far and wide, but never very far from his first loves: the family, the needy, and those deprived of participating in the dream by racial or ethnic factors. He is, as Time reporter Hugh Sidey stated, "the Senate's most eccentric, brilliant and fearless purveyor of uncomfortable truth. He has probably shaped as much national, social, and economic policy … as any other person.
Read more
Latest headlines