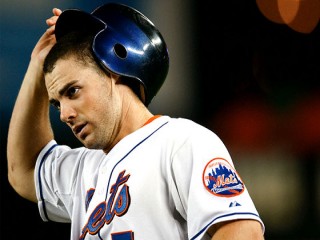 David Wright biography
Date of birth : 1982-12-20
Date of death : -
Birthplace : Norfolk, Virginia
Nationality : American
Category : Sports
Last modified : 2010-11-16
Credited as : Baseball player MLB, Third base with the New York Mets,
David Allen Wright was born on December 20, 1982 in Norfolk, Virginia. His parents, Elisa and Rhon Wright, would have three more boys—Stephen, Matthew and Daniel. The Wrights lived in the suburb of Chesapeake. David's father was a police officer who rose to the rank of captain in the Norfolk Police Department.
The Wrights were a tight-knit, no-nonsense family. David's grandparents all lived locally, and they were also very involved with their grandkids. It was a strict household with lots of rules and responsibility.
Competition was encouraged both inside and outside the Wright home, but always with respect and sportsmanship. David first excelled on the athletic field in T-ball, and though he played other sports, including basketball, baseball was always his primary focus. Like many kids in the Mid-Atlantic states, his sports idol was Cal Ripken. He also liked Michael Jordan.
On the baseball diamond, David had great instincts but a lousy body when he was a kid. He didn't look like a ballplayer, but he could hit and field and throw as well as anyone—including BJ Upton, who played in the same Little League. The two would become close friends, frequently playing against each other and occasionally teaming up with one another.
David was a fan of the Atlantic Coast Conference schools. In fact, he made up his mind early on that he would play college sports in the ACC. He also had his heart set on becoming an engineer. The big leagues were not in his plans.
Nonetheless, David loved pro baseball. He reguarly attended games of the Tidewater Tides, the top farm team of the Mets. Over the years, he saw players like Jeromy Burnitz, Fernando Vina, Todd Hundley and Bobby Jones on their way to the majors. David also watched the inaugural game at the new Harbor Park in 1994. The stadium was just 10 minutes from his house.
David played organized baseball both in and out of school. He started at Hickory High School in 1997 and made the varsity as a freshman third baseman the following spring. Under coach Steve Gedro, David blossomed into a great all-around player during his sophomore year. He moved to shortstop that season and batted .471 and slugged .779, knocked in 18 runs, and earned Honorable Mention All-State Honors. David and senior first baseman Josh Melvin supplied most of the power for the Hawks that year.
In David's junior campaign, Upton enrolled at Hickory. The talented teen was 20 months (and two grades) younger than his good buddy, but they had already played together on the Virginia Blasters, a summer AAU travel team that won its share of tournaments. Off the field, the two locked horns in epic PlayStation battles. They also played basketball together. BJ could dunk and David couldn't. In their ultra-competitive friendship, Upton used this ammo whenever they got into one of their can-you-top-this discussions. The pair remains close to this day.
David probably spent more time in the batter's box than any other high school player of his era. Besides team batting practice and his own work in the local cages, he arranged his class schedule at Hickory High so he could get an hour of extra hitting every afternoon. David would snag a teammate and a bucket of balls, and they would take turns throwing to each other—even on game days.
David and the Hawks had a great season in 2000, falling one game short of the state championship. He was one of the most heavily recruited shortstops in the country. Prior to his senior season, he signed a letter of intent to Georgia Tech, where he could follow in the footsteps of Nomar Garciaparra. With an ACC scholarship in his pocket and an engineering future within reach, David played great baseball all spring. He finished the season with a .538 average, six homers, and 19 RBIs, and was named Virginia High School Player of the Year. He suddenly had to rethink his college plans.
At some point that 2001 campaign, it dawned on David that he might be a high pick in the upcoming draft. He had anticipated being drafted in a middle round and was ready to turn down the offer to attend Georgia Tech. But now the big picture was changing. After talking it over with his family, David decided he would pass on college and sign a pro contract provided he were selected in the first or second round. The Mets, who had a supplemental pick at the end of the first round after losing Mike Hampton to free agency, selected David 38th overall. Former player Randy Milligan had an easy job scouting the youngster—and an even easier one convincing him to become a Met.
ON THE RISE
It took more than a month to get David's deal done, but he signed for a $960,000 bonus and joined the Kingsport Mets of the Appalachian League in late July. He played 36 games and batted an even .300. David's manager was former major league infielder Joey Cora. Among his teammates was catcher Justin Huber, a highly regarded teenager from Australia. The Mets had moved David to third base and were prepared to shift him to the outfield if his new position proved too much for him.
David was promoted to the Capital City Bombers of the low Class-A South Atlantic League for the 2002 campaign. He worked out like crazy in preparation for his first full professional season. He continued pushing himself in practice once the year started. David was shocked when he got off to a slow start. It took him a month to find his stroke. Eventually, David settled into a nice groove. He tied Huber for the team lead in homers and finished third in the league behind Andy Marte and Walter Young with 93 RBIs. He also stole 21 bases, which was a testament to his baserunning instincts.
That winter, when the Mets asked the Mariners whether they could hire manager Lou Piniella, the player Seattle wanted back was David. New York hired Art Howe instead. The M's weren't the only club feeling out the Mets. David was the first player mentioned in nearly every one of the club's trade discussions.
David logged the entire 2003 campaign with the St. Lucie Mets of the high Class-A Florida State League. Determined to succeed and keep moving up the ladder, David intensified his pre-game workouts and may have overdone it again. For the first couple of months, his bat speed was down, and he struggled to keep his average above. 250. He turned his season around in the second half, hitting over .300.
Most of the headlines went to the St. Lucie pitchers that year, as teammates Matt Peterson, Tyler Yates, Wayne Ough and Scott Kazmir were untouchable at times. David had a solid campaign, batting .270 with 15 homers and 75 RBIs—by far the best numbers on the team—and leading the Mets to the FSL championship. He improved in every area, including slugging and fielding. He also stole 19 bases.
After the '03 season, David was sent to the Arizona Fall League to continue honing his game. He joined the Peoria Saguaros, where his teammates included Rickie Weeks, a hot prospect for the Milwaukee Brewers. David wowed the scouts with his hitting approach. He drove balls from alley to alley and regularly adjusted to the pitchers as quickly as they adjusted to him. David also got to play against Upton, who was on the taxi squad for the Mesa Solar Sox.
David was invited to the Mets' 2004 major league camp as a non-roster player and impressed everyone who watched him. There was no chance he would break with the team in April, but management got the feeling he would destroy minor-league pitching. David was assigned to the Class-AA Binghamton Mets, and many expected him yo be in New York by the end of the year.
David ripped the ball starting on Opening Day and played good, solid defense. He was totally zeroed in to what the pitchers were doing—and not doing. In years past, if a pitcher hung a breaking ball, he would let it float by. Now he was mashing these deliveries. When New York third baseman Ty Wigginton went on the disabled list early in the year, fans and the press screamed for the club to call up David. Instead, the Mets kept him at Binghamton until early June, when he earned a promotion to the Class-AAA Norfolk Tides. David batted .363 with 10 homers and 40 RBIs during his 60-game stay at Binghamton.
The Mets believed a short stint with the Tides would give them an idea how ready David was for the pressure of big-league life. Having grown up in the Norfolk area, he would be playing in front of family and friends. Harbor Park was not exactly the fishbowl of Shea Stadium, but it provided an interesting test nonetheless.
Though he looked cool as a cucumber, David was incredibly nervous before his first game in a Norfolk uniform. During infield warmups, he bounced his first throw to first, and he was awful in batting practice. When David popped up in his first at-bat with a man on third and one out, it raised some eyebrows. Those eyebrows were lowered, however, after his next three at-bats, when he collected three hits.
There were several more multi-hit days for David during his brief stay at Norfolk. Tides manager John Stearns marveled at the way his young star battled with opposing pitchers, and how he was never satisfied even after getting a couple of hits. David was unfazed at Norfolk. He hit with timeliness, intelligence and power, and made all the plays in the field. David took hot smashes off his chest unflinchingly and picked up slow rollers barehanded and threw on the run to record outs. It was obvious to anyone who knew baseball that his stop at Triple-A would be a temporary one, regardless of how things shook out in New York.
Before David was promoted, a decision about the incumbent third baseman, Wigginton, had to be made. There was some thought of moving him to second base, where he could sub for oft-injured Jose Reyes, but Wigginton hit well in July and increased his trade value.
After batting .298 with eight homers in 31 games with Norfolk, David was called up on July 21 and anointed N'ew Yorks starter at the hot corner. Wigginton, still with the club, did the stand-up thing and took David under his wing. But he was gone weeks later, when the Pittsburgh Pirates offered pitcher Kris Benson and Jeff Keppinger for him and Matt Peterson. From there, Mike Piazza took over the role as David's tutor, talking with him daily about his approach on the field and the pressures off it.
In mid July, the Mets were a .500 club. But so was everyone else in the National League East. With an outside shot at a playoff berth, there was some question as to whether David should be thrown into the fire. The more the Mets saw of him, however, the more they realized he was exactly the kind of player who could handle the heat. Rarely was he overmatched at the plate, and he held his own in the field.
David did okay on the team bus, too. As part of the Amazins' hazing ritual, the rookie was forced to sing "Take Me Out to the Ball Game."
David belted out his first home run on July 26 in a slugfest with the Montreal Expos. A week into August, he had a breakout game against the Brewers, crushing a 445-foot homer and knocking in six runs. David was up and down the rest of the month. By the end of August, though, David had shown manager Art Howe enough to earn a chance to bat third in the order. Later in the season, Howe bounced him all over the lineup, hoping to shake things up. David hit wherever he ended up, but the rest of the Mets never found their groove.
By mid September, David had reached double digits in homers and his average was up around .300. He was not only the club's best hitter, he was being looked up to by many of his teammates as the kind of young leader who could pull the Mets out of their doldrums. August had not been kind to the club, as they tumbled out of contention despite pulling off big trades for starters Benson and Victor Zambrano. But injuries to Reyes, Kaz Matsui and Piazza had decimated the team. The Mets wound up 20 games under .500 and nowhere close to the playoffs.
The 2005 season marked the beginning of what New York fans hoped would be a new era of success. The Metshad the most dynamic young third base/shortstop combo in the game and a pitching staff featuring Tom Glavine, Pedro Martinez and Benson. They played solid ball most of the year. But in a super-tight NL East, New York could not overtake the Atlanta Braves.
David certainly did his part, leading the club with 24 doubles, 72 walks, 102 RBIs, a .306 batting average and a .523 slugging average. His 27 homers were second on the club to Cliff Floyd's 34. David tied Reyes with 99 runs scored.
The highlight of David's breakout season was a defensive play. In a game against the San Diego Padres, he made a great bare-handed catch of a blooped by Brian Giles. Otherwise, the '05 season was a learning one as far as fielding was concerned. David finished tied for the most errors in baseball.
MAKING HIS MARK
TIn 2006, David provided plenty more highlights. He delivered clutch hits all year, including early-season walk-off knocks against closers Mariano Rivera, Jose Valverde and Jorge Sosa. David was voted the NL's starting third baseman in the All-Star Game, and he hit a solo homer in his first at-bat against Kenny Rogers. The blow did not come as a surprise. The previous night, David launched 16 homers in the first round of the Home Run Derby. Ultimately he finished second in the competition to Ryan Howard.
David's final numbers were even better than the year before. He had 71 extra-base hits, including 26 homers, and tied Carlos Beltran for the team lead with 116 RBIs. David batted .311—one of four Met regulars to reach that vaunted mark.
New York cruised to the NL East title with 97 wins and polished off the Los Angeles Dodgers in three straight NLDS games. David batted over .300 in the series. Against the Cardinals in the NLCS, David had less success. The series went seven games, but the Mets fell short on a ninth-inning homer by Yadier Molina.
David continue to improve in 2007. He set personal highs in almost every offensive category, including 196 hits, 113 runs, 30 homers, .546 slugging and a .325 batting average. He also stole 34 bases, making him just the third Met to join the 30-30 club. Howard Johnson and Darryl Strawberry were the first two.
David was an All-Star once again, and he earned a surprising Gold Glove for his improved defensive work. The Mets weren't as fortunate. They finished second in the NL East—a result that cost manager Willie Randolph his job. The team blew a seven-game lead in September, losing 12 of their final 17 games. Prior to that, David was in the running for the MVP; when the voting was tallied, he finished fourth.
History repeated itself in 2008, as the Mets again coughed up a late-season lead and were eliminated from the postseason on the final day for the second year in a row. The team wasted another monster year by David, who hit 34 home runs, drove in 124 and scored 115. He finished in the Top 10 in MVP voting and played in the All-Star Game for the third year in a row. He also won his second Gold Glove.
The opening of the 2009 season was a landmark occasion for the Mets. They moved into their beautiful new ballpark, CitiField. Unfortunately, the team gave its fans little else to cheer about. There would be no late-season failures this time—the losing started early and continued through an injury-riddled season. David let CitiField's ample dimensions get inside his head, as his power number dropped monumentally. Focusing singles and doubles instead of honing his power stroke, he hit over .300, but his slugging average nosedived almost 100 points to .447.
In August, David was beaned by Matt Cain with a fastball and suffered a concussion. The Mets put him on the DL, where he had plenty of company. At one time or another in 2009, Reyes, Beltran, Billy Wagner, John Maine and Carlos Delgado logged significant time on the injured list. David returned in September but never really got it going. he hit a mere 10 homers in over 600 plate appearances. The Mets lost 92 games.
David decided to start swinging for the fences again in 2010. The new approach delivered immediate results. He was on pace for 30 homers and 100 RBIs, but his batting average was low and his strikeouts were high. Although he still struggled to launch balls out of CitiField, he was raking on the road, so the Mets just encouraged him to keep swinging.
It was hardly a stroke of genius. Even the most casual Mets fans knows that the Mets will only go as far as David's bat takes them. With more protection in the lineup in the persons of Jason Bay and Ike Davis, it should only be a matter of time before Mr. Wright reemerges in Flushing ... and the Mets start playing meaningful baseball in September again.
DAVID THE PLAYER
David is a classic, middle-of-the-order hitter. He learned this the hard way in 2009, when he tried to hit for average at home and for power on the road. The result was the most unproductive season of his career—at a time when many were forecasting an MVP. He is swinging for the fences again and showing the power stroke that should turn him back into a 30-to-40 homer guy.
The high strikeout rate that came with his renewed power approach is a bit of a concern. Is it merely part of David's readjustment? Have enemy pitcher found a flaw that didn't used to be there? Or is David still a little gun-shy from his 2009 beaning?
On the basepaths, David has good speed and instincts. He has a success rate close to 80 percent when stealing, and he's rarely thrown out taking an extra base.
In the field, David has his good days and bad, but overall he is an above-average fielder. He uses a big glove and lets it work for him, taking balls on the backhand that others might move in front of. As a former shortstop, he has quick feet and good reactions. His arm is strong and usually accurate.
Everyone who spends time with David talks about what a good person he is. They mean this on a number of levels, including his approach to baseball. David works hard and respects the game. He plays baseball above the neck. David has superstar talent, but he knows that ability is where baseball begins, not where it ends.
Read more
Latest headlines