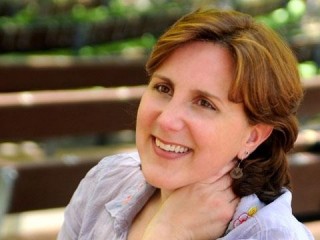 Dawn Upshaw biography
Date of birth : 1960-07-17
Date of death : -
Birthplace : Nashville, Tennessee, U.S.
Nationality : American
Category : Arts and Entertainment
Last modified : 2012-03-01
Credited as : soprano, awarded a MacArthur Fellowship, Grammy Award winner
Dawn Upshaw is an American soprano described as "one of the most consequential performers of our time" by the Los Angeles Times. The recipient of several Grammy Awards and Edison Prize-winning discs, Upshaw is at home both in opera and art song, and in repertoire from Baroque to contemporary. In 2007 she was awarded a MacArthur Fellowship.
Even though Dawn Upshaw is one of the most sought-after contemporary performers on the operatic and concert stage, she is in some ways an unlikely star. Raised by parents who, as amateur performers, specialized in songs by folk greats Peter, Paul and Mary and Bob Dylan, her early musical heroes were Linda Ronstadt and Barbra Streisand, and she even briefly considered a career singing commercial jingles. She was not at all impressed by her first exposure to opera---a production of Rossini's Barber of Seville---while she was in high school, and she did not become serious about singing operatic roles until her audition in 1984 for the Metropolitan Opera's (Met) Young Concert Artists program.
Even after achieving international fame, Upshaw remained something of an atypical celebrity, an "anti-diva," as David Patrick Stearns of Stereo Review called her. In a profession where monumental egos have become legendary, Upshaw remains modest and self-critical, once telling Gramophone 's Edward Seckerson, "I don't have an incredible voice; I don't think that I have a particularly individual sound." The rigorous demands of a performing career have been known to wreak havoc on the families of many artists, but Upshaw has carefully guarded her private life, often bringing her husband and daughter with her on tour, and insisting on at least one full month off each year to spend with them. As she confided to Stearns, "I've always found my sense of identity from my family, not through performing. And that will always be most important."
As remarkable as Upshaw's path to stardom has been, her choice of repertoire and the manner in which she has presented it in recital and on recordings are equally noteworthy. Although she has been widely acclaimed in mainstream operatic roles, such as those in Mozart's operas, she made a commitment early in her career to champion contemporary music, especially works by American composers. She has followed through on her decision by premiering such roles in her recitals, and recording works by such American composers as John Harbison, Gian Carlo Menotti, Samuel Barber, and Charles Ives.
Upshaw has also tried to bring a new freshness to the time-honored traditions of the vocal recital; she enjoys chatting with the audience during her performances and occasionally builds recitals around a single theme. In one performance she chose "Childhood," beginning with the Mussorgsky song cycle The Nursery and ending with Brahms's lullaby. Her inventiveness is even visible in the packaging of her second solo recording, The Girl With Orange Lips, which featured a provocative photo of her taken at the Bronx Botanical Gardens. "People have an idea of what classical records should look like," she expressed to Stearns, "and I think that's a little ridiculous."
Although she sang informally with her parents and was a choir member in high school, Upshaw began her formal music training at Illinois Wesleyan, where she studied with David Nott. Nott's son Michael, a musicologist, became Upshaw's husband in 1986. After graduating, the singer moved to New York, where she studied voice with Ellen Faull at the Manhattan School of Music. During summer workshops in Aspen she became acquainted with Jan DeGaetani, considered one of the country's outstanding vocal interpreters of contemporary music. DeGaetani had a profound impact on Upshaw's career; as Upshaw told Susan Elliott of the New York Times, "I was always aware of Jan's particular devotion to 20th-century music; but also, just from watching and listening to her, I learned how important it is to have a lot of respect for myself. To do things I think are important."
The first important stepping-stone in Upshaw's career was her success in 1984 at international auditions sponsored by Young Concert Artists, which led to an apprenticeship at the Metropolitan Opera. Upshaw made her operatic debut there during the 1984-85 season, singing the small role of Countess Ceprano in Verdi's Rigoletto. She also developed a friendship and important working relationship with the Met's artistic director, James Levine, with whom she has since appeared on several recordings.
In 1985 Upshaw shared first prize in the Naumberg competition, subsequently giving a recital at the Lincoln Center and recording her first solo disc for Musicmasters. Another major break came at the Met in 1988, when she filled in for an ailing Kathleen Battle in the role of Adina in Donizetti's L'elisir d'amore. Upshaw's career has skyrocketed ever since. She has received requests to perform at opera houses and festivals throughout the United States and Europe, has traveled on lengthy recital tours, and has appeared on several highly acclaimed recordings, three of which have won Grammy Awards.
Throughout her career Upshaw has been praised for the warmth and freshness of her tone and the effortlessness of her vocal technique. Reviewing Upshaw's performance as Pamina in Mozart's Magic Flute, Bernard Holland of the New York Times called her "the radiant pure center of the evening." In addition, David Stearns has written of her "spring-water-fresh vocal quality, rare directness, and simplicity of manner."
Yet part of what has made Upshaw a truly outstanding artist has been her quest for more than just sheer beauty of tone. As she told Connoisseur 's Elizabeth Riely, "I don't think about sound alone in singing. That comes before. Ultimately, in performance I forget about the technique. I try to get the message across through the music the composer has written." To do this, Upshaw studies in depth the texts of the pieces she sings, exploring the details and nuances of the words in order to communicate them to her audience. "I try to have a solid understanding of the text---not just what it's saying, but what it means and why the composer has set it in a particular way," she commented to Elliot. "And I go for a certain naturalness and simplicity, because through that, the message gets across much more easily than fussing about how I'm standing or even singing."
It is the unlikely collection of elements she embodies---the informal, "girl-next-door" image combined with a brash sense of musical adventure and a profound dedication to the art of singing---that has endeared Upshaw to audiences, critics, and fellow musicians. Although the singer herself may at times seem surprised at the turns her life has taken, there are those who find her talent a natural gift that could not go unexpressed. As the famous conductor Robert Shaw declared, according to Elliott, "It's [Upshaw's] nature to sing, just like it's a bird's nature. That's why she's here on earth."
As Upshaw's career developed, she intensified each part of her musical personality while still holding them all in a delicate balance. The woman-next-door quality was underscored when Upshaw revealed to a reporter that she herself still cleaned the bathrooms of her family's suburban New York City home---hardly traditional diva behavior. As for music itself, Upshaw continued to champion new music, giving the premieres of some 40 new works in the early 2000s alone. But she also developed into an ideal interpreter of Broadway show material, as on 1996's Dawn Upshaw Sings Rodgers & Hart. Her light voice occupies that space between classical and theatrical vocal technique where many of the Great White Way's early performers operated. Upshaw's pop recordings have often had the same adventurous spirit she brought to classical music. Her Dawn Upshaw Sings Vernon Duke album of 1998 resurrected the work of an immigrant composer whose hits included "April in Paris" and "I Like the Likes of You," and whose work has gradually been forgotten in recent years.
Ironically, it was a contemporary classical recording, not a pop disc, that became Upshaw's biggest seller and brought her worldwide fame. Her 1992 recording of Polish composer Henryk Górecki's Symphony No. 3 ("Symphony of Sorrowful Songs"), a grim yet meditative work on the theme of the Holocaust, sold over a million copies worldwide and became the best-selling contemporary classical release of all time. The texts Upshaw sang included a 15th-century Polish prayer, another prayer by an 18-year-old girl that was found inscribed on the wall of a Nazi prison, and a Polish folk song about a mother trying to find the dead body of her child. The recording, conductor David Zinman told Salon, "changes people's lives. They're stunned. They don't know what it is. I'm told people stop their cars when they hear it on the radio."
Perhaps the most versatile singer of her time, Upshaw has continued to perform traditional operatic repertory, art song recitals, and vocal music from the earlier eras of classical music. By the early 2000s, she could have her pick of the new vocal works written by the top composers worldwide, and her name was associated with major premieres such as that of John Adams's modern Nativity oratorio El Niño in 2003. She worked several times with the innovative Kronos Quartet of San Francisco, earning her third Grammy Award for the 2004 recording she made with them of Alban Berg's Lyric Suite in 2004. That year, Upshaw became a faculty member at the Bard University Conservatory of Music in Annandale-on-Hudson, New York, and became the first artist to appear in a brand-new "Perspectives" series at Carnegie Hall.
Dawn Upshaw joined the Saint Paul Chamber Orchestra as Artistic Partner beginning with the 2007-08 season, and she is Artistic Director of the Graduate Program in Vocal Arts at the Bard College Conservatory of Music, which accepted its first students in the 2006-2007 academic year. She also is a faculty member at the Tanglewood Music Center.
She holds honorary Doctor of Arts, honoris causa, from Yale University, the Manhattan School of Music, Illinois Wesleyan University and Allegheny College.Upshaw is divorced and a mother of two. She lives near New York.Upshaw was diagnosed with and treated for early-stage breast cancer in 2006.
Read more
Latest headlines