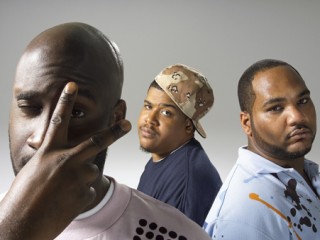 De La Soul biography
Date of birth : -
Date of death : -
Birthplace : Long Island, New York, U.S.
Nationality : American
Category : Arts and Entertainment
Last modified : 2012-04-25
Credited as : Hip hop group, 3 Feet High and Rising album, Feel Good Inc. single
De La Soul is an American hip hop trio formed in 1987 on Long Island, New York. The band is best known for their eclectic sampling, quirky lyrics, and their contributions to the evolution of the jazz rap and alternative hip hop subgenres. The members are Kelvin Mercer, David Jude Jolicoeur and Vincent Mason, known under a variety of nicknames.
De La Soul's pioneering sound, incorporating sampled children's records and television themes, humorous sketches, and thoughtful lyrics, challenged the rap status quo, which until De La Soul's appearance had been dominated by machismo, serious social commentary, and heavy beats. The trio's approach, tagged by critics as psychedelic, represented one of the first forays into rap and hip-hop by middle-class, African American artists.
Formed in 1985 in Amityville, Long Island, New York, De La Soul consists of Posdnuos (Kelvin Mercer), Trugoy the Dove (David Jolicoeur), and Maseo (Vincent Mason, Jr.), also known as Baby Huey Maseo and Pasemaster Mase. The three chose their stage names from "inside" jokes and references; "Trugoy" is "yogurt," Jolicoeur's favorite food, spelled backwards, and "Posdnuos" is a reversal of Mercer's former nickname as a DJ. The three met in high school, and after playing in various groups began putting together a rap act distinguished by an offbeat selection of beats and samples and the three friends' personal slang. De La Soul presented their first demo, "Plug Tunin'," to local rap star Prince Paul (Paul Houston) of the band Stetsasonic. Houston was impressed enough to play the tape for a number of DJs and other music figures, and De La Soul became the unsigned sensation of the New York rap scene. The band decided to sign with Tommy Boy Records in 1988.
The trio's debut album, Three Feet High and Rising, produced by Prince Paul and featuring guest turns by rappers the Jungle Brothers and Q-Tip from A Tribe Called Quest, hit the stores in 1989. It was a smash, and introduced a new look to the rap world: the psychedelic style of The D.A.I.S.Y. Age, which stands for "Da Inner Sound, Y'all." The flowers that adorned the album's cover led many listeners to pigeonhole De La Soul as hippies. But, as Trugoy told New York's Matthew Weingarden, the band refused the label from the start: "We don't mind if people say, 'You remind us of the hippie days, of sixties things,' because there is some of that in our music. But we're not trying for that look--we're just being us."
Compared with many other late-1980s pop artists under the sway of 1960s and 1970s culture, De La Soul used their influences creatively and often subversively. Their samples frequently came from obscure sources like cartoons, game shows, and non-rock pop records, some of which came from their parents' collections, as well as familiar R&B, funk, and rock tunes. "The Magic Number," one of several popular tracks from Three Feet High, sampled a 1970s educational cartoon about the number three, turning the refrain into an anthem for De La Soul's three members.
Indeed, anyone who accused De La Soul of trendiness and image obsession only had to listen to "Take it Off," nearly two minutes of the group listing various trendy articles that their listeners should cast aside. "We don't wish to offend people with our suggestions of taking off these certain items we've named (which are capitalizing on fads)," declared the album's liner notes, "BUT if you're offended then take it off." Despite this celebration of individuality, the group's flowerpower look became one of the fashion markers of late 1980s.
Reviewers of the album were almost as enthusiastic as the group's fans, who drove record sales to platinum. Cosmopolitan's Michael Segell called Three Feet High not only funny but "funky, sexy, literate, romantic, and eminently groovable.... Whereas rap's more muscular shock troops preach a kind of urban guerilla warfare, De La Soul is psychedelic sugar and spice, with some safe sex thrown in.... Psychedelic may be too thin a word for a prankster trio with the bold idea of tacking sixties flower power onto late-eighties angst. Whatever it is, however they do it, it works." According to Alan Light of Rolling Stone, Three Feet High "represented the triumphant coming of age of middle-class, black suburban children of the Seventies."
On a less triumphant note, the first album brought about a $ 1.7 million lawsuit by former members of the pop band the Turtles, who wrote some of the music sampled on Three Feet High and hadn't been approached for permission to use it. Though the issue was settled out of court in 1990 for an undisclosed sum, De La Soul had to be much more careful about getting permission for everything they sampled. For a time, the band members admitted, it seemed that everyone was listening to their records carefully for signs of unacknowledged sampling.
De La Soul's popularity extended to many audiences rap didn't usually reach, particularly white college students, who, some speculated, found the D.A.I.S.Y. sound less threatening than the violent intensity of N.W.A. or the political force of Public Enemy. The "sugar and spice" and "suburban" qualities noted by Segell and Light may well have translated into accusations of softness to De La Soul, who decided to ditch the D.A.I.S.Y. image in favor of a tougher stance.
Their second album made no bones about the change. Released in 1991, it was titled De La Soul is Dead. The cover showed an overturned pot of daisies, and the contents of the album, while still making liberal use of off-the-wall humor and unusual samples, showed an increased seriousness. While the first album used a game-show format, the second was arranged like a read-along recording with tones signaling the turn of a page. Among the more disconcerting lessons in this new storybook were drug addiction, addressed in "My Brother's a Basehead," a bonus track on the CD based on Posdnuos' personal experience, and incest, illustrated by "Millie Pulled a Pistol on Santa," the tale of a young girl sexually abused by her social-worker father, who also works as a department store Santa Claus. The unusual style and language of De La Soul created a different effect from the upbeat humor of their debut.
Though the second record featured plenty of jokes and sketches, critics for the most part gave mixed or negative reviews. Billboard commented that De La Soul is Dead "finds the rap group in a darker, albeit still experimental mood.... [The] trio swings its way through its menu of children's-record samples and off-kilter beats with brio.... [The] Outfit may not be quite at [the] top of its game, but major sales are still a natural." According to Musician, the album "isn't simply about the Soulsters' aversion to image; it's about learning to deal with reality--whether that's things not being the way they seem ... or not being seen for who you are.... On that front, De La Soul is all the way live." People's David Hiltbrand called the record "a boisterous package of playful, clever, suburban rap." Unfortunately, the album didn't find the mass audience that their previous album had, only reaching number 22 on the American charts--and had only one single hit with "Ring Ring Ring (Ha Ha Hey)"--before fizzling out. Even with the momentum of their previous album, De La Soul is Dead only reached gold record status.
De La Soul released their third album, Buhloone Mindstate, in 1993. While the album was even harder and funkier musically than De La Soul is Dead, it returned to the stylings of their earliest release. "It didn't succumb to gangsta rap," noted All Music Guide Stephen Thomas Erlewine, and it received strong reviews before falling off the charts from number 40.
The group's fourth album, Stakes is High, followed Mindstate in 1996 and had a similar fate. With the harder edge of De La Soul is Dead, it received good reviews but had little audience. For their fifth album, De La Soul started what they predicted would be a trilogy, and began with releasing Art Official Intelligence: Mosaic Thump. They again reached the audience they wanted, and the album debuted in the top ten. But reviews were once again mixed, even though MTV.com called it "one of the year's most inventive albums." The group released the second album in the trilogy, AOI: Bionox, in 2001.
De La Soul seemed committed, in any case, to following its own path. After a critically acclaimed and enormously popular debut, the three young rap artists faced the task of staying vital and original in a business that encourages pigeonholing and duplication of successful formulas. As Posdnuos remarked to Weingarden, "Everything is coming from within--our own thoughts, not the guidance of others."
In 2004, De La Soul released a new full album: The Grind Date on Sanctuary/BMG Records because the venture between Tommy Boy and Warner Bros. Records was shut down and the group's contract was shopped to the other WEA labels. The band thought about having its contract absorbed by Elektra Records, but it decided to leave WEA altogether. Although it was not the third AOI album fans had been expecting, the album was released to some critical acclaim and was well-received by most fans. The album features guests MF Doom, Ghostface Killah, Butta Verses and Flavor Flav, with production from 9th Wonder, Jake One, Madlib and more.
In 2005, De La Soul collaborated with Gorillaz on the hit single "Feel Good Inc.," which won a Grammy for Best Pop Vocal Collaboration (the first Grammy win in the group's career) after being nominated for a total of three Grammys. De La Soul also appeared on the LA Symphony single "Universal" and Posdnuos collaborated with the Portuguese MC Boss AC on a track called "Yo (Não Brinques Com Esta Merda)" (which translates to "Don't Play with This Shit").
In 2006, De La Soul released a mixtape of new and old songs titled Hip-Hop Mixtape. This album was covermount into British dance magazine Mixmag. The same year, De La Soul released another mixtape of new and old songs, this time titled The Impossible: Mission TV Series - Pt. 1 on its AOI Records label. De La Soul collaborated with the athletic sneaker giant Nike to produce two versions of the Nike Dunk under their skateboarding division, Nike SB. The sneakers were an instant hit and sold out at most retail stores.
On April 2, 2012, the group released De La Soul's Plug 1 & Plug 2 presents... First Serve with very little promotion, the album was released to positive reviews. The album was released without Plug 3, Maseo. The reason for his absence is unknown, but it is certain that the group is intact and have not broken up.De La Soul have confirmed that they are again collaborating with Prince Paul and have "a lot" of music on the way, including the tentatively named eighth album, You're Welcome.
Discography:
3 Feet High and Rising (1989)
De La Soul is Dead (1991)
Buhloone Mindstate (1993)
Stakes Is High (1996)
Art Official Intelligence: Mosaic Thump (2000)
AOI: Bionix (2001)
The Grind Date (2004)
"First Serve" (2012)
Read more
De La Soul Picture Gallery
Latest headlines