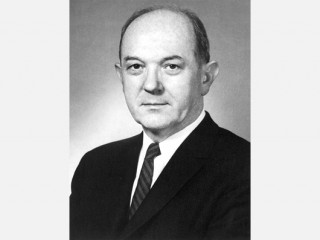 Dean Rusk biography
Date of birth : 1909-02-09
Date of death : 1994-12-20
Birthplace : Cherokee County, Georgia
Nationality : American
Category : Politics
Last modified : 2011-02-15
Credited as : Politician, U.S. Secretary of State,
America's 54th secretary of state and second only to Cordell Hull in length of service, Dean Rusk presided over the Department of State during the turbulent Kennedy-Johnson years of the Vietnam War.
The life and career of David Dean Rusk, 54th Secretary of State of the United States, is a textbook case of barefoot poverty to black tie success. It must almost inevitably begin: "Where else but in America … ?" This judgment should be modified, however, by recognition of the family, character, and personality traits which marked his life and by the nebulous but indispensable final element luck which often accounts for greatness.
On February 9, 1909, David Dean Rusk was born to school teacher Frances (Clotfelter) Rusk and her minister-farmer husband Robert Rusk. The latter, a Presbyterian minister, had taken up farming in Georgia's Cherokee county after a throat condition forced him to retire from his vocation. Four years after Rusk's birth, the family moved to Atlanta, where Dean's father became a postal worker. There, in the city's public school system, Dean Rusk was educated through secondary school. His two sisters and two brothers excelled in school and, as the fourth child of this family, Rusk profited from sibling example and parental encouragement.
By scrimping and with some scholarship assistance, he successfully matriculated in politics at North Carolina's Davidson College. At Davidson he was accepted into Phi Beta Kappa, participated in student government and other school activities including Reserve Officers Training Corps (R.O.T.C.), and graduated with honors in 1931.
Reception of a Rhodes scholarship gave Rusk three years at Oxford, where he earned a Master's degree in 1934. Specializing in international relations, he wrote an essay on Britain's international relations, thereby winning the coveted Cecil Peace Prize.
On his return from Oxford he was hired as an assistant professor to teach international relations and politics at Mills College in Oakland, California. During the next few years he married, took up the study of law at the Berkeley campus of the University of California, and served as dean of faculty at Mills. So the war found him.
Rusk was commissioned a captain in December 1940, spending the year before Pearl Harbor performing a variety of military tasks. His qualifications and performance brought him transfer to Army Intelligence in Washington, where he specialized in Britain's Asian empire, then under Japanese siege.
Sent overseas in 1943 to the China-Burma-India Theater, he came to the attention of General Joseph Stilwell, serving as "Vinegar Joe's" deputy chief of staff. Already a skilled administrator, service with Stilwell sharpened his abilities further, bringing him to the attention of General George C. Marshall's recruiters, then assembling talented leaders for postwar duties.
Colonel Rusk, therefore, did not return to higher education after his 1946 discharge; instead he briefly joined the State Department and later that year moved to the War Department. Less than a year afterward, in 1947, he returned to State as successor to Alger Hiss as of Director of the Office of Special Political Affairs, coming under the wing of Under Secretary Dean Acheson and his boss, newly named Secretary George C. Marshall.
Rusk served in his first State Department post for five years, his work involving United Nations and Far Eastern affairs. When Acheson became secretary of state, Rusk moved up to the critical post of assistant secretary of state for Far Eastern affairs three months before the North Korean Communists crossed the 38th parallel. In this crisis Rusk played a significant role in every Korean War decision: the armed American response; U.N. Security Council involvement; Seventh Fleet protection for Taiwan; and the recall of MacArthur.
In 1952 he accepted the presidency of the Rockefeller Foundation. This choice reflected Rusk's deep commitment to an international policy of old fashioned Christian morality. His frequent speeches and articles were always based on the self-help ethic, government non-intervention in citizens' lives, a dedication to peace through international organization, and the desire to help the world's impoverished peoples. Permeating all this was a quiet but unyielding anti-Communism which made him a strong supporter of Chiang Kai-shek's Republic of China and a vigorous advocate of containment of Communism as developed and interpreted under Acheson.
When the John F. Kennedy administration began its staffing, several choices were considered for the post of Secretary of State, including Adlai Stevenson and J. William Fulbright. After much consideration, President-elect Kennedy invited Rusk for a meeting in December 1960 and selected him immediately.
Thus began a career which would make Rusk Secretary of State during one of the most turbulent and contentious eras in American history and for a length of service exceeded only by one other secretary, Cordell Hull. From January 21, 1961, to January 20, 1969, Rusk served Presidents Kennedy and Johnson, two of the most different and difficult bosses any public servant ever had. As their principal foreign policy adviser, Rusk made it a cardinal rule never to disagree with his boss in public and never to deny him the benefit of his advice in private, however much it diverged from the president's own views.
Rusk was not as much at home with the New Frontier as he became in the Great Society. Such men as Ambassador John Kenneth Galbraith, who served Kennedy in India, and Arthur M. Schlesinger, Jr., a Kennedy special assistant, led the so-called Eastern Liberal Establishment in their suspicion of him. At meetings, Schlesinger reported, "Rusk would sit quietly by, with his Buddha-like face and halfsmile … ." It was also reported by Schlesinger that the president called all cabinet members by their first names, with the single exception of Rusk.
Rusk disapproved of the Bay of Pigs invasion and played an important part in scaling down American air cover, a factor which brought him blame from conservative quarters. He opposed an air strike against Russian offensive weapons in 1962 during the Cuban missile crisis, supporting the naval quarantine alternative ultimately adopted. In these instances he was, a biographer noted," … the good soldier. He opposed the operation, expressed his dissent to the President privately, and accepted the President's decision… ."
It was in the Vietnam War that Rusk's instincts and loyalties were most tested. Initially he strongly opposed Kennedy's introduction of ground troops to South Vietnam in 1961 and disapproved of the regime of President Ngo Dinh Diem. Yet his loyalty to the chief executive and his strong anti-Communism caused him to support the war unwaveringly from that time until he left office in 1969.
The succession of Lyndon B. Johnson to the presidency dramatically changed Rusk's relationship with the White House. This alteration is remarkably recorded by historian Henry Graff, who sat in on the weekly luncheons held by L.B.J. and his top advisers. Flanked by Rusk and Secretary of Defense Robert McNamara, President Johnson at these "Tuesday Cabinet" sessions wrote " … the scenario for the conduct of the war…."
Johnson's contribution to the Vietnam War was to magnify American involvement and to treat North Vietnam as a logical bombing target. Both of these decisions were initially privately opposed by Rusk, although he would advocate them once the decision became public. The vast "Americanization" and militarization of the war moved its locus of responsibility to the Defense Department. Yet Rusk was still totally involved and, like McNamara and the president himself, his movements around the country were marked by well-publicized and frequently ugly demonstrations.
During his career Rusk achieved eminence while remaining a somewhat enigmatic and unassuming person, regardful of others and their ideas and unfailingly civil to all. One insightful observer, journalist Joseph Kraft, saw his secret in " … a quality native to the pious poor of the South, … a quality of respect."
His day to day conduct of foreign relations was praised for its technical competence, and he won the respect of the American foreign policy apparatus. Nevertheless, as his biographer asserts, "Inevitably, he will be remembered as the man who defended the long and unpopular war in Vietnam."
Upon leaving office Rusk returned to his homeland as the Samuel H. Sibley Professor of International Law at the University of Georgia, a post he held until his death in 1994. That institution honored Rusk in the summer of 1996 with the dedication of a campus building constructed in his name. The Dean Rusk Hall became home to the Dean Rusk Center for International and Comparative Law and the Institute of Continuing Judicial Education. The Center, first established in 1977, was pledged to the service of state, national, and international leaders.
With characteristic reserve, the elder statesman resisted temptations to tinker with historians' assessments of his State Department career, insisting his collected papers at the University of Georgia, the Lyndon B. Johnson and John F. Kennedy Presidential Libraries, and the National Archives should be left to speak for themselves, "If anyone is interested…"
Instead, Rusk chose in his later years to spin an optimistic world view for his audiences, sprinkled with a folksy wisdom borne of his humble origins and years of public service. Speaking in 1985 at his alma mater following Davidson's dedication of a new program of international studies in his name, Rusk asserted a faith in the ultimate sanity and good sense of world leaders, "frail human beings" though they might be. Admitting, "I have never met a superman or a demigod," Rusk still preferred to believe that those holding the ultimate fate of humanity in their hands would act responsibly.
Closing his Davidson address, Rusk predicted, "You will not have many dull moments in the decades that lie ahead. I shall not be able to go with you on that journey, but I have no doubt about how it is going to come out. You are going to make it. In any event, you carry with you the best wishes and the blessings of an old man."
Read more
Latest headlines