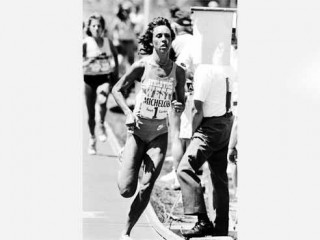 Decker Mary biography
Date of birth : 1958-08-04
Date of death : -
Birthplace : Bunnvale, New Jersey, U.S.
Nationality : American
Category : Sports
Last modified : 2010-06-21
Credited as : Olympic athlete, track and field athlete,
Mary Decker
(also known as:
Mary Decker Slaney, Mary Teresa Decker, Mary Slaney, Mary Decker Tabb, Mary Teresa Decker Slaney
) born August 4, 1958 in Bunnvale, New Jersey, United States is an American track and field athlete.
Mary Decker
is remembered by many for what she did not do, rather than what she did. Although Decker, who started her impressive career as a pre-teen, is one of the world's fastest middle-distance runners ever, bad circumstances interfered in Decker's attempts to win an Olympic gold medal. Throughout her long running career, Decker pushed her body past its breaking point, courting the spotlight and injuries with her intensity and drive. Unfortunately, this determination and relentless commitment to her sport led to related injuries that kept her out of the 1976 Olympics. In 1980, when it looked like she would get a second chance, the American government--caught up in Cold War politics--boycotted the Olympic games, which were held in Moscow. In 1984, Decker made it to the Games, and was in good shape to win the 3,000-meter event, when she was tripped by another runner and knocked out of the race. In 1988 and 1996, Decker qualified for the Olympics again, but failed to medal each time.
Little Mary
Mary Decker was born on August 4, 1958, in Bunnvale, New Jersey, although her family moved to Southern California ten years later. It was in California that Decker first got interested in running. At age eleven, a year after taking up running, Decker won her first local racing competition. She immersed herself in running, competing in several other local and regional events. She also joined a running club and ran for her school teams. Decker showed an amazing determination and pushed herself to the limits of her endurance. During one week when she was twelve, Decker completed a marathon and four middle- and long-distance races, ending the week with a trip to the hospital to get an appendectomy.
By the time she was in her early teens, Decker had won enough competitions and posted low-enough times that she was recognized as a world-class runner. Despite this fact, Decker, nicknamed Little Mary (because she was under five feet tall and weighed only eighty pounds) was ineligible to attend the 1972 Olympic trials, since she was too young. This did not stop Decker from competing with Olympians, however. Decker won the 800-meter event in her first international competition later that year--beating the silver-medal winner from the 1972 Olympics in the process.
By 1973, Decker was ranked first in the United States and fourth in the world in the 800-meter race. The same year, she scored her first record, by running an indoor mile in 4:40.1. A year later, thanks in part to a tremendous growth spurt, Decker developed a case of compartment syndrome, a muscle condition. In 1978, Decker had leg surgery to correct this problem, and the surgery kept her out of competition temporarily.
Olympic Struggles
By 1980, however, Decker had recovered from her surgery and was running in top form, setting several records in the process, including an American record in the 800-meter race and world records in the 880-yard and 1,500-meter races. At the Olympic trials for the 1980 Moscow Olympics, Decker qualified and was expected to medal, but never even had the chance to try. United States President Jimmy Carter authorized an American boycott of the Olympics. This political decision meant that Decker would miss her chance for an Olympic medal once again. Decker set her sights on the 1984 Olympics in Los Angeles, and qualified for both the 1,500-meter and the 3,000-meter races--the latter being a new Olympic event. Since the two events overlapped on the schedule, she chose to run the 3,000-meter race.
Decker was in the best shape of her life and she was competing in her hometown of Los Angeles. She--and the general public--felt that this would be her time to shine. The 3,000-meter finals race was very dramatic. Although Decker led from the beginning, setting a world-record pace at the start, a tight pack of competitors trailed just behind her. Just past the midpoint of the race, the second-place competitor, Zola Budd, pulled slightly ahead of Decker and tried to cut in on her. In the resulting collision, both runners lost their balance, but it was Decker who ultimately fell, tumbling over the infield barrier and pulling a hip muscle in the process, knocking her out of the race that she was favored to win--and bringing the total of failed Olympic attempts to three.
Repairing the Damage
Following the Olympics, Decker underwent six weeks of therapy to heal her injuries, which included a pulled hip muscle. Once her body was healed, Decker started training again. At the same time, she married Richard Slaney--a former discus thrower--and tried to move on with her life. Unfortunately, it was not that easy. Besides working to repair the physical injuries she sustained in the Los Angeles Olympics and build up her family life, Decker also worked to repair her image. Although many initially felt bad for Decker after her collision with Budd, public attitude soon changed when Decker refused to acknowledge Budd's apology and maintained her own innocence in the incident. Decker earned the reputation as a bad loser, and received criticism from fellow runners and the news media. Some speculated that Decker's harsh treatment of Budd also cost the runner additional endorsement contracts from major sponsors.
In January 1985, Decker competed at the Sunkist Invitational indoor track meet in Los Angeles--her first race since the Olympic accident. Some of the public still rankled over Decker's unwillingness to apologize, as was evidenced by the combination of boos and cheers that greeted Decker's pre-race introduction. Still, at this event Decker began repairing the damage to her reputation, and her runner's ego. Throughout the 2,000-meter race, Decker steadily increased the lead between her and Ruth Wysocki--who had trounced Decker's attitude in the press in the weeks leading up to the race. By the time the race was over, Decker had broken the world record and finished nearly twelve seconds ahead of Wysocki.
While this race was a crowd pleaser, nothing matched the hype drummed up for the 3,000-meter rematch with Budd, nearly a year after their collision at the Olympics. The event took place at London's Crystal Palace in July 1985. Although Decker and Budd had privately resolved their issues with each other, they both looked forward to the rematch, so they could put the track issue to rest, too. In this memorable race, Decker ran strong from the beginning, and although Budd tried to keep up, Decker buried her after the 2,000-meter mark--and everybody else for that matter. Decker's time was nearly six seconds faster than the second-place finisher, and nearly thirteen seconds faster than Budd's time.
Over the next two decades, Decker continued to surprise the world by remaining competitive despite frequent injuries and the effects of aging. Decker qualified for two more Olympic teams, in 1988 and 1996--the latter when she was 38 years old--although she failed to medal in either of them.
Decker's Legacy
While many will undoubtedly remember Decker for the medals that got away, her consistent and impressive record for middle-distance running has made her a star--Olympic medal or not. Decker started her career at the ripe age of eleven and began setting world records in her teens. More than three decades later, with a teenage daughter of her own, Decker continued to impress her peers with her relentless drive. Decker remained competitive in her sport despite her advancing age, a host of injuries, more than twenty operations and exercise-induced asthma. Decker will long be remembered for her determination and never-wavering commitment to running, as well as her sheer athletic talent. Decker is the rare athlete who is born with both stunning natural ability and limitless drive, a potent combination which, for Decker, led to countless records and a hard-won respect.
AWARDS
1972, Set an age-group world record in the 800-meter race; 1972, Won an international race in the 800-meters; 1973, Set three world records: the outdoor 800-meter, the indoor 880 yards, and the indoor 1,000 yards; 1973, Ranked first in the United States and fourth in the world in the 800-meter race; 1974, Set a U.S. high school record of 2:02.29 in the 800-meter run; 1979, Gold medal in the 1500-meter race at the Pan American Games; 1980, Set a world record in the mile, with a time of 4:17.55, becoming the first woman to break the 4:20 barrier; 1982, Set seven world records; 1982, Won Sullivan Award for best amateur athlete; 1982, Became first woman to win the Jesse Owens award, presented annually to the best American track and field athlete; 1982, Named Associated Press Female Athlete of the Year; 1983, Becomes first woman to run 880 yards in less than two minutes; 1983, Gold medals in 1,500 meter and 3,000 meter races at the inaugural World Track and Field Championships; 1983, Named Sports Illustrated's 1983 Sportsman of the Year; 1984, Held American record at every distance between 800 and 10,000 meters; 1985, Set a world record in the mile; 1985, Set a world record in the indoor 2,000-meter race; 1985, Named Sportswoman of the Year by the United States Olympic Committee; 1997, Set a new record in the 1,500-meter event in masters competition.
CHRONOLOGY
* 1958 Born August 4 in Bunnvale, New Jersey
* 1968 The Decker family relocates to southern California
* 1969 Enters and wins her first running competition, a parks board cross-country race
* 1972 Recognized as a world-class runner, but is too young to try out for the 1972 Olympics
* 1974 X-rays reveal several improperly healed stress fractures in her lower legs
* 1976 As a high school senior, misses the chance to compete in the 1976 Olympics due to her stress fractures
* 1977-78 Attends University of Colorado at Boulder on a track scholarship
* 1980 Sets American record in the 800-meter race and world records in the 880-yard and 1,500-meter races
* 1980 Qualifies for and is favored to medal at the 1980 Moscow Olympics, which she misses due to the American boycott of the Games
* 1981 Marries Ron Tabb
* 1983 Divorces Ron Tabb
* 1984 Favored to medal in the 3,000-meter event at the Los Angeles Olympics, but gets her feet tangled with South African runner, Zola Budd; Decker stumbles over the railing into the infield, pulling a hip muscle and falling out of the race
* 1984 Unable to compete for the rest of the year due to hip injury sustained at the Olympics
* 1985 Marries Richard Slaney
* 1986 Misses the 1986 indoor and outdoor running seasons due to the birth of her daughter, Ashley
* 1987 Misses 1987 outdoor season because of injuries
* 1988 Misses 1988 indoor season because of injuries
* 1988 Qualifies for the 1988 Olympic team, but does not medal
* 1992 Fails to qualify for the 1992 Olympic team
* 1996 Qualifies for the 1996 Olympic team, but does not medal
* 1997 At the age of 38, in her first appearance at the U.S. Indoor Championships in 23 years, wins the women's 1,500-meter run
* 1998 Tests positive for a high level of testosterone, and undergoes a series of related court hearings to determine if she is on steroids
* 1999 Her name is cleared by the U.S. Track Federation, but the International Federation removes her name from all post-1996 records
Read more
Latest headlines