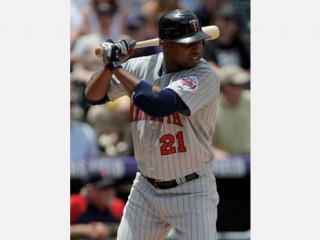 Delmon Young biography
Date of birth : 1985-09-14
Date of death : -
Birthplace : Camarillo, California
Nationality : American
Category : Sports
Last modified : 2010-11-16
Credited as : Baseball player MLB, Outfield with the Minnesota Twins,
Delmon Damarcus Young was born on September 14, 1985 in Camarillo, California. He was Vernell and Larry Young's middle child and the product of a highly coordinated, high-achieving family. Larry piloted an F-14 in the Navy, and older brother Dmitri was a baseball star. Younger sister, DeAnn, could hit the ball a mile, too.
Dmitri had used sports as a way to make friends. The Youngs moved to a new base every couple of years while he was growing up. Larry had just retired when his second son came along. Th elder Young eventually went to work as an airline pilot. That allowed Delmon to grow up in one place, Camarillo, a quiet town in southern California.
Larry explained to his sons that talent would only take them so far in a game like baseball—the real edge they had on the competition would be mental. He compared playing ball to landing jets on aircraft carriers—the more they concentrated, the better off they would be.
Delmon's baseball education started at eight months—the first time he attended one of Dmitri's games. As soon as he could walk, he would find a stick and swing it like his big brother. Delmon's father would pitch him pebbles and remembers that the toddler hit them more often than not.
At age three, Delmon was hitting grounders and flies to his 15-year-old brother. Dmitri repaid his hard work by teaching him about the nuances of the game. That process continued even after Dmitiri was drafted in the first round by the St. Louis Cardinals in 1991.
Five years later, Dimitri was called up to the big leagues. He never lived up to expectations with the Cardinals and only found his rhythm in the majors after leaving St. Louis. In subsequent seasons, he visited the clubhouses of the Cincinnati Reds, Detroit Tigers and Washington Nationals. Five times in the next 10 seasons, Dmitri batted batter than .300.
Whereas Dmitri had been a reluctant student of the game, Delmon was eminently coachable. When he decided to make baseball his full-time sport at age 13, he soaked up knowledge wherever it came from. This instantly set him apart from other baseball phenoms, who tended to cruise through practices. If Delmon detected a weakness in his game, he would work at it until it became a strength.
Not surprisingly, Delmon usually played above his age group. During the summer of 1999, he was the only player on his American Legion team without high school experience. He started in centerfield and led the team in hits. It was the first time he had ever competed on a regulation-size diamond. Prior to that, he had been making a mockery of Pony League and 13-and-under AAU ball. The idea for Delmon to join a Legion club was cooked up by Scott Cline, the coach at Adolfo Camarillo High School. He hooked the Youngs up with Scott Frash, who managed the Legion team.
That same summer, shortly before his 14th birthday, Delmon was invited to participate in the prestigious Area Code Games, which brings together Southern California's best juniors and seniors in a week-long tournament. Delmon was the first incoming freshman ever to participate in the event.
Delmon made the Adolfo Camarillo High School varsity as a freshman and began what was to be one of California's most heralded schoolboy careers. Just before Delmon's first season started, Dmitri mailed him a baseball card that had his high school stats on the back—along with a note that read "Beat these numbers." Delmon developed into the Scorpions' best player. He hit .460 as a freshman.
Delmon was so good at 14 that he was invited to play on the U.S. National 16-and-under team. He spent the summer of 2000 taking his cuts against top-flight international competition. Delmon batted.308 on a club that won two games and the gold medal during the Pan American Youth Baseball Championships in Mexico. That winter, he traveled to Australia as part of a youth All-Star team.
By Delmon's sophomore year, he stood 6-1 and weighed 180-pounds. The teenager upped his average to .468 that season and corrected an upper cut in his swing. Scouts everywhere began to take notice of the strapping young power hitter.
The following spring, in 2002, Delmon distinguished himself as one of the best players in the nation. He batted .542 for the Scorpions and added 17 homers and 56 RBIs. The junior shattered the school mark for long balls, which was previously shared by Joe Borchard and Coach Cline. Borchard, who had earned a scholarship to Stanford, eventually made it to the major leagues with the Chicago White Sox.
At season's end, Delmon and Florida star Lastings Milledge were the only juniors named First-Team high school All-Americans. Camarillo went 30-4 and finished the year ranked 15th in the country.
After his sensational junior campaign, Delmon suited up for Team USA. Playing alongside Milledge, he hit .474 and topped the squad with 16 homers and 49 RBIs. He also pitched, showing off his 95-mph heater in five relief appearances. The Americans posted a 25-4 record under manager Edgar Soto and captured the bronze medal in the World Junior Championships. Delmon hit over .500 in the tournament and pounded nine homers in five games.
Delmon did nothing to diminish his reputation as a senior in 2003. A sprained ankle suffered in a basketball game kept him out for two weeks, and a sore shoulder limited his time on the mound. Nevertheless, he had a great year in the field and at the plate. Delmon played 22 games and batted .523 for Camarillo. His numbers would have been even better if it weren't for 26 intentional walks. Once again, he was named a First-Team All-American. When he was handed his diploma, he stood 6-3 and tipped the scales at 205 pounds.
ON THE RISE
As the June draft neared, it became clear that Delmon would be one of the first two players picked. Two-time NCAA batting champ Rickie Weeks of Southern University was being considered strongly by Tampa Bay. Ryan Harvey, a Florida high-schooler, was also a possibility. Delmon went to Miller Park to work out for the Milwaukee Brewers, who owned the second pick. During his batting session, he lined a pitch over the centerfield scoreboard 500 feet from home plate.
The Rays started with Delmon at the top of their list and could not find anyone to knock him off. The night before the draft, GM Chuck Lamar finalized his choice. He contacted Larry Young with the good news, but Delmon's dad decided not to breath a word to his son. He wanted Delmon to have the fun of hearing his name called first.
Another surprise for Delmon was the arrival of Dmitri, who was on the road with the Tigers. He rolled up to the house in a limo in time to hear his little brother's name announced on the live-via-internet feed. When Dmitri was drafted 12 years earlier, Delmon was out in the yard hitting balls off a tee—oblivious to his brother's big moment.
After a summer of negotiating—during which he was the last first-rounder to sign—Delmon finally got a deal done with Tampa Bay in September. Since Delmon had been offered a scholarship at Arizona, he had the Rays over the proverbial barrel. He received a $5.8 million signing bonus and was added to the team's 40-man roster.
Delmon headed for the Arizona Fall League, where he joined fellow Tampa Bay studs Dewon Brazelton and BJ Upton on the Mesa Solar Sox. Other teammates included future major leaguers Brad Hawpe, Kelly Johnson, Jason DuBois and Brendan Harris. Delmon outhit everyone in the league at a .417 clip.
The following spring, Delmon worked out at Tampa Bay's major league camp. He saw action in some B games before being optioned to the minors. One of those outings was against the Tigers. It marked the first time Dmitri and Delmon had faced each other on a baseball diamond.
Delmon began his first pro campaign with the Charleston River Dogs of the Class-A South Atlantic League. One of the first adjustments he made was on the basepaths. Coach Jimmy Hoff told Delmon that the organization wanted him to attempt at least 25 steals during the season. He had been discouraged from swiping bases most of his life and really had no technique except for his sheer speed. Once Delmon learned to read pitchers , he becamea competent thief. During his first year in the minors, he swiped 21 bags in 27 attempts.
Delmon's other numbers were even more impressive. After a sluggish start, he batted .368 with 16 homers in the second half. For the year ,he ended with a .322 average, 25 homers and a league-best 116 RBIs. He also led the SAL with 165 hits. Many first-year players fade as the schedule grinds on, but Delmon got stronger. Manager Steve Livesey was amazed. The River Dogs advanced to the playoffs but lost to the Hickory Crawdads in the first round. Delmon was named the league's most outstanding prospect.
During spring training in 2005, Delmon sought out Carl Crawford. He asked for pointers on base stealing and learned some valuable insights from the American League's reigning stolen base champ. Each pitcher, Crawford said, does something subtle that tells you whether he's going to the plate or to first. Study them, find out what that little thing is, and you'll own them.
When Delmon reported to the Class-AA Montgomery Biscuits of the Southern League, manager Charlie Montoyo informed him he would be green-lighted all season long. Lighter and stronger after a winter of working out, Delmon found he was getting much better jumps on the basepaths and tracking down flyballs much esier in the outfield.
Delmon was leading the Southern League in everything through June, batting .336 with 20 homers and 71 RBIs. He was promoted to the Class-AAA Durham Bulls in July, where he joined Uptom the team's other great prospect. Despite playing just 84 games with Montgomery, Delmon was later voted the Southern League's MVP.
Delmon adjusted well to the new level of pitching in the International League, hitting .286 with six homers and 28 RBIs. Durham manager Bill Evers was impressed at how quickly Delmon learned the tendencies of hurlers who were five years older than him or more. Evers claimed Delmon would have been the league's top player had he been there from the start. Overall, his numbers for the 2005 campaign were a .315 batting average with 26 homers, 99 RBIs, 32 steals and a .526 slugging average.
Delmon was expecting a call-up by the Rays in September, but the team announced that his season was over. It was clearly a money-saving maneuver to delay his future arbitration by a year. At first, Delmon said Tampa Bay's penny-pinching decision didn't bother him, but as he sat around with no baseball to occupy his time, he began to fume and later told reporters the Devil Rays were being cheap. His agent, Arn Tellem, and his mother backed him up, pointing out that while dozens of minor leaguers were promoted by contending teams, the Minor League Player of the Year was not.
A winter of simmering did not do Delmon much good. He started the 2006 season back in Durham. In an April game against Pawtucket, he lost total control of his temper after being called out on strikes. Delmon stood in the batter's box doing a long stare-down with the umpire. As he sauntered to the dugout, he truned and flipped his bat toward home plate, striking the umpire in his chest. Delmon apologized the next day, but the International League came down on him like a ton of bricks. Delmon was suspended for 50 games. Though he claimed he didn't mean to hit the ump, he though better of appealling the suspension.
Delmon was back in action my mid-June—and in the majors by the end of August. As usual, the Rays were going nowhere. Delmon faced Freddy Garcia of the White Sox in his inaugural at-bat and was plunked with a first-pitch fastball. After whiffing in his next appearance, Delmon launched a 400-foot bomb into the leftfield stands for his first hit as a big-leaguer.
MAKING HIS MARK
Delmon played in 29 more games and finished with a .317 average and three home runs. Despite showing virtually no patience at the plate, he was selective enough to sock 12 extra-base hits in 120 at-bats. Delmon performed well in the field, gunning down four runners in September alone. The Rays penciled him into their starting lineup for 2007.
Tampa Bay had been careful to keep Delmon under the rookie minimums in 2006. He did not exceed 30 games or 145 at-bats, thus keeping him eligible for al first-year awards the following year. Delmon settled into a nice groovema early in his rookie campaign. By the All-Star break, he had proven he was a star in the making. Delmon's best two months of the year were July and August, when he hit better than .300 and legged out 17 double. Though his numbers dropped off in September, Delmon still launched a nice run at Rookie of the Year. Overall, he batted .288 with 13 homers and 93 RBIs, and led all AL newcomers in hits and RBIs.
Like most rookies, Delmon ran hot and cold, but his hot streaks were something to behold. He produced five hitting streaks of 10 games or more. The Rays hoped to see more power from him but didn't worry that it would not materialize. That, however, didn't stop Tampa Bay from shopping Delmon.
Blessed with a wealth of talented outfielders—particularly after Upton was converted to centerfield, the Rays began to take offers for Delmon after the season. Even after his solid rooke campaign, the Tampa Bay brass still viewed Delmon as a potential disruptive influence. When the Twins proposed swapping pitcher Matt Garza for Delmon, the Rays pulled the trigger.
In Minnesota, Delmon replaces the bat of Torii Hunter, who left in the offseason as a free agent. He will likely move from rightfield to leftfield, with Carols Gomez—acquired from the New York Mets in the Johan Santana deal—in center. With its two signature stars departed, Minnesota is rebuilding around Justin Morneau and Joe Mauer. The Twins would like Delmon to be a third prong of that centerpiece. They have made it clear that he comes to town with a clean slate. What he does between the white lines and outside of them should be one of the most interesting stories in baseall.
DELMON THE PLAYER
Delmon projects as an above-average outfielder with 40-homer power, particularly in the Metrodome. Comparisons to Vladimir Guerrero at the same age are fair, though Delmon is advanced from an analytical standpoint. He still hacks at anything between his chin and his ankles, but like Vlad, he makes it work for him. Delmon swung at the first pitch more often than anyone else in the majors in 2007, and took fewer pitches than anyone else. With a little more maturity and experience, he should be able to reach the numbers predicted for him.
Delmon never gets too high with his successes and is eager to learn from his mistakes. After striking out, he can often be seen at the lip of the dugout, watching how the pitcher works the next batter. Many young players storm back to th benach after a rough at-bat. Delmon appears to have moved past this point.
Delmon has a photographic memory when it comes to pitchers. He can recall the pitch sequence from nearly every one of his at-bats, going all the way back to his high school days.
On defense, Delmon moves well in the outfield but does not always take the best route to the ball. His arm has been rated a 70 on the 20-to-80 scale, and he has supported this evaluation by throwing out lots of runners in his brief major-league career.
Read more
Latest headlines