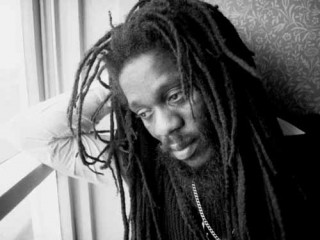 Dennis Brown biography
Date of birth : 1957-02-01
Date of death : 1999-07-01
Birthplace : Kingston, Jamaica
Nationality : Jamaican
Category : Arts and Entertainment
Last modified : 2011-10-31
Credited as : reggae singer, The Crown Prince of Reggae, Dennis Brown Trust
Dennis Emmanuel Brown was a Jamaican reggae singer. During his prolific career, which began in the late 1960s when he was aged eleven, he recorded more than 75 albums and was one of the major stars of lovers rock, a sub-genre of reggae. Bob Marley cited Brown as his favourite singer, dubbing him "The Crown Prince of Reggae", and Brown would prove hugely influential on future generations of reggae singers.
Early in his career as a child star during the late 1960s, reggae singing legend Dennis Emmanuel Brown, received the nickname of "boy wonder of Jamaican music." In 1981, reggae fans unanimously ordained Brown with a new title, "Emmanuel, the Crown Prince of Reggae" and the undisputed heir apparent, following the death of reggae "king" Bob Marley. Brown, with his extremely powerful tenor and distinctive singing voice, established himself easily as one of the most impressive reggae artists of the twentieth century. A happy and friendly man, Brown amassed a loving and loyal following throughout his career, and upon his death at the early age of 42, he was widely eulogized for his outgoing personality. He recorded more than 100 records, including over 50 albums, from the time he was in his teens. The world of reggae music lost a "towering talent," noted Billboard magazine, when Brown passed away on July 1, 1999.
Dennis Brown was born Dennis Emmanuel Brown on February 1, 1957 in Kingston, Jamaica; he grew up in Chocomo Lawn in West Kingston. Show business in a sense was his birth right, as he was the son of Arthur Brown, a prominent Jamaican actor. Dennis Brown was well-known as a child star, and some hailed the young boy as a prodigy during the 1960s. By the age of nine years old he sang regularly with Byron Lee and the Dragonaires, standing on beer crates in order for the admiring audiences to get a glimpse of his small frame.
During the course of his lifetime, Brown worked with virtually every one of the noted producers of contemporary reggae and ska. Initially, during his childhood career, he maintained an association with Derrick Harriot and Byron Lee before earning a reputation as a recording artist while a teenager in the 1970s. He signed his first recording contract in the late 1960s with the legendary Clement S. "Sir Coxsone" Dodd of the Studio One label.
Brown's first hit with Dodd, "No Man Is an Island," sold well also as an album, and during his extensive career with the innovative Dodd, Brown earned a reputation as a versatile talent, capable of performing a variety of different styles. Brown, known as one of the most melodious voices in reggae, proved himself to be not only a crooner and a wailer, but a raucous dance music afficionado as well. "Brown is blessed with a lithe, crooning tenor that gives him more-than-passing resemblance to Marvin Gaye," wrote J.D. Considine in Rolling Stone, "something that set many hearts aflutter in the reggae community." Throughout the 1970s, his recordings were produced on the Impact! and Aquarius labels, including numerous collections of his single hits which accounted for much of his popularity during that era. He went on to record on many of the prominent reggae labels of his time.
As Brown approached adulthood during the 1970s, he recorded with the Observer label with producer Winston "Niney" Holness, a collaboration that resulted in such albums as Just Dennisin 1975, and Wolves and Leopards in 1978. Through his association with Holness, Brown achieved a level of international stardom and set the stage for superstardom in the field. From 1977-82, Brown worked extensively with the prominent reggae producer Joe Gibbs. The two collaborated on a variety of songs, including "Visions," "Words of Wisdom," and "Joseph's Coat of Many Colours." Brown was heard repeatedly with Gibbs's partner Errol "ET" Thompson as well, their most popular hit together by far being the 1979 release, "Money in My Pocket."
Additionally, Brown went on contract with the mainstream label, A&M Records, in 1980 and near the end of that decade the crooner worked for King Jammys, and for "Gussie" Clark's Music Works. "Big All Around," Brown's 1989 duet with Gregory Isaacs, was recorded by Clark's Music Works and surfaced as a global hit. At the time of his death, Brown had recorded most recently for Don One Sound, and his final release, Believe in Yourself, appeared on that label.
Throughout the 1980s and 1990s, Brown's presence at the Montego Bay Sunsplash Festivals was a regular occurrence. His 1983 appearance at Sunsplash was long after regarded as one of his finest moments. After signing with A&M Records, he released two albums for the label in 1983 and also embarked on a venture into producing independently around that same time, under his DEB Music and Yvonne's Special labels. He moved to London, England for a time where he was associated with producers Robbie Shakespeare and Sly Dunbar during the early 1980s and recorded with that duo on their Taxi label. The bass and drum duo of Sly & Robbie was heard later on Brown's 1990s hit, "Cosmic Force."
In 1995, Brown's rendition of "Light My Fire" received a Grammy nomination from the National Academy of Recording Arts and Sciences. Additionally, in 1978, Brown appeared in the movie Heartland Reggae.
Brown assumed the billing of "Emmanuel, the crown prince of reggae" in deference to "king" Bob Marley, who prior to his own death had acknowledged Brown as a personal favorite. Brown's untimely death occurred after he and several members of his tour group became ill during a visit to Brazil with Gregory Isaacs, Max Romeo, Lloyd Parker, and We the People in May of 1999. Romeo, Isaccs, and Parkes were said to have fully recovered. However, Brown was not so fortunate as his colleagues. Upon his return to Jamaica, he was rushed to the hospital on the evening of June 30, 1999, in serious distress and suffered cardiac arrest. He died on July 1, 1999 in Kingston, Jamaica, of a collapsed lung at the University Hospital.
Brown, who was survived by his wife, Yvonne, was father to at least one dozen children. Elena Oumano of Billboard remembered him upon his death as "a towering talent and beloved son." The country of Jamaica afforded Brown one of its highest honors, with burial in the National Heroes Park in Kingston. Posthumously, on March 7, 2000, Hip-O Records released Dennis Brown: The Ultimate Collectionas an addition to its compilation series.
He was honoured on the first anniversary of his death by a massive memorial concert in Brooklyn, which featured performances from Johnny Osbourne, Micky Jarrett, Delano Tucker, and Half Pint. In 2001, a charitable trust was set up in Brown's name. The Dennis Emanuel Brown Trust works to educate youngsters, maintain and advance the memory of Dennis Brown, and help to provide youngsters with musical instruments. The trust awards the Dennis Emanuel Brown (DEB) bursary for educational achievement each year to students between the ages of 10–12 years.
In 2005, George Nooks, who had worked with Brown in the mid-1970s in his deejay guise as Prince Mohamed, released an album of Brown covers, George Nooks Sings Dennis Brown: The Voice Lives On, with Nooks stating "I was always inspired by his talent and I used to sing like him. Dennis had a whole heap of influence on me. To me he was the greatest. He was my number one singer."
In the same year, Gregory Isaacs paid a similar tribute with the album Gregory Isaacs Sings Dennis Brown. In February 2007, a series of events were staged in Jamaica in celebration of the lives of both Brown and Marley (both would have had birthdays that month).
In 2008, the Dennis Brown Trust announced a new internet radio station, dedicated solely to the music of Dennis Brown,and in the same month a tribute concert was staged by the Jamaican Association of Vintage Artistes and Affiliates (JAVAA) featuring Dwight Pinkney, Derrick Harriott, Sugar Minott, George Nooks, and John Holt.
Songs about or dedicated to Brown include "Song for Dennis Brown" by The Mountain Goats, "If This World Were Mine" by Slightly Stoopid, "Drive" by Pepper (band), and Whitney Houston's "Whitney Houston Dub Plate" on The Ecleftic: 2 Sides II a Book album by Wyclef Jean.
On 26 April 2010, Brown was featured on NPR Morning Edition news program as one of the '50 Great Voices - The stories of awe-inspiring voices from around the world and across time'. The NPR '50 Great Voices' list includes Nat King Cole, Ella Fitzgerald, Mahalia Jackson and Jackie Wilson amongst others.
On 6 August 2011, being the 49th anniversary of the country's independence, the Governor-General of Jamaica posthumously conferred the Order of Distinction in the rank of Commander (CD) upon Brown, for his contribution to the Jamaican music industry.
Selected discography:
Singles:
"No Man Is an Island," Dodd, 1968.
"Money in My Pocket," Joe Gibbs, 1979.
"Big All Around" (with Gregory Isaacs), Music Works, 1989.
"Liberation," Alvin Ranglin, 1994.
Albums:
-No Man Is an Island , Dodd, 1968.
-Just Dennis ,Trojan, 1975.
-Visions , Shanachie, 1977.
-Westbound Train , Third World, 1978.
-Wolf & Leopards , EMI, 1978.
-Live in Montreux ,Laser, 1979.
-Joseph's Coat of Many Colours ,Laser, 1979.
-Words of Wisdom , Shanachie, 1979.
-Spellbound , Laser, 1980.
-Foul Play , A&M, 1981.
-Love Has Found Its Way , A&M, 1982.
-The Prophet Rides Again , A&M, 1983.
-Satisfactory Feeling , Tad's, 1983.
-Money in My Pocket , Trojan, 1983.
-Walls & Letters ,Joe Gibbs, 1984.
-Love's Got a Hold on Me , Joe Gibbs, 1984.
-Reggae Superstars Meet , Striker, 1985.
-Halfway Up, Halfway Down ,A&M, 1986.
-Hold Tight , Live & Learn, 1986.
-Brown Sugar , RAS, 1986.
-Slow Down ,Shanachie, 1987.
-Inseparable , VP, 1988.
-My Time , Rohit, 1989.
-Good Vibrations , Rohit, 1989.
-No Contest , VP, 1989.
-Unchallenged , VP, 1990.
-Go Now , Rohit, 1991.
-Sarge , VP, 1991.
-Overproof , VP, 1991.
-Victory Is Mine , RAS, 1991.
-Cosmic Force , Heartbeat, 1992.
-Blazing , Shanachie, 1992.
-Friends For Life , Shanachie, 1992.
-Some Like It Hot , Heartbeat, 1992.
-Another Day In Paradise , Trojan, 1992.
-Live in Montego Bay , Sonic Sounds, 1992.
-General , VP, 1993.
-Hotter Flames , VP, 1993.
-Unforgettable , VP, 1993.
-Early Days , Sonic Sounds, 1994.
-Light My Fire , Rounder, 1994.
-3 Against War , VP, 1994.
-Vision of a Reggae King , VP, 1994.
-Blood Brothers , RAS, 1994.
-Joy in the Morning , Lagoon, 1995.
-Dennis Brown & Friends , JA, 1995.
-Love Light , Blue Moon, 1995.
-Live at Montreux , Magnum America, 1995.
-I Don't Know , RAS, 1995.
-Musical Heatwave , Trojan, 1995.
-Nothing Like This , RAS, 1995.
-Open the Gate , Heartbeats, 1995.
-Temperature Rising , VP, 1995.
-Super Reggae , Rooney, 1996.
-Songs of Emanuel , Sonic Sounds, 1996.
-Dennis , Burning Sounds, 1996.
-Could It Be , VP, 1996.
-Lover's Paradise , House of Reggae, 1996.
-Beautiful Morning , World, 1996.
-Milk and Honey , RAS, 1996.
-He's One of a Kind , Imaj, 1998.
-Tracks of Life , Recall, 1998.
-Watch This Sound , Jamaican Vibes, 1998.
-Tribulation , Heartbeat, 1999.
-Love Is So True , Prestige World, 1999.
-Generosity , Gator, 1999.
-Bless Me Jah , Ras, 1999.
-Stone Cold World , VP, 1999.
-Believe in Yourself , Don One Sound, 1999.
-Live in Montreux , Magnum Collect, 1999.
-Here I Come Again , Culture Press, 2000.
-Academy , Orange Street, 2000.
-Dennis Brown: The Ultimate Collection (posthumous), Hip-O, 2000.
Read more
Latest headlines