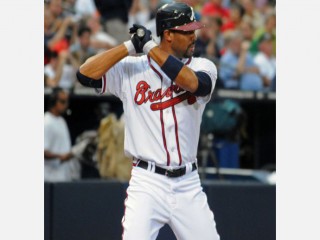 Derrek Lee biography
Date of birth : 1975-09-06
Date of death : -
Birthplace : Sacramento, California
Nationality : American
Category : Sports
Last modified : 2010-11-04
Credited as : Baseball player MLB, first base with the Atlanta Braves,
Derrek Leon Lee was born in Sacramento, California on September 6, 1975. His parents, Pamela and Leon, would welcome two more children into the world, Bryan andIsRaya, came in the years that followed.
Derrek's father and uncle Leron ranked among the top all-around athletes in Northern California during the 1960s. Leron was the top draft choice of the St. Louis Cardinals in 1966 and gave up a potential NFL career for a $50,000 signing bonus with the Redbirds. He reached the big leagues in 1969 and hit .300 for the San Diego Padres in 1972. Leron would play his final game, for the Los Angeles Dodgers, in 1976 before taking his act to Japan.
Derrek's dad never made it to the majors. The highest level he reached was Class-AAA for the Cards. He had his best year in 1975, when he hit over .300 in the minors, but the September call-up never came. In 1978, Leon decided to join his brother on the Lotte Orions. It turned out to be a great decision. Leon spent 10 seasons with the Orions, Taiyo Whales and Yakult Swallows.
Derrek enjoyed summers in Japan with his dad and uncle. Their teammates welcomed him as a sort of mascot. Like his father, who learned Japanese and understood the country's culture of respect in baseball, Derrek was quiet and observant as he soaked up the knowledge around him. Leon was a popular player who retired after the 1987 season with a .308 lifetime average, 1,436 hits and 268 home runs. He continued working in Japan for the next 16 years, as a scout, coach and manager.
Leron was just as successful. He logged 11 seasons with the Orions and retired as the team's all-time leading hitter. By the time his career was done, Japanese baseball fans had gained a new appreication for American players.
Derrek's lifelong exposure to professional baseball combined with his inherited gifts helped him develop into a terrific hitter and fielder. In fact, he was pretty good at anything he tried in the athletic realm. In the summer of 1987, Derrek attended a baseball camp run by Dusty Baker in Sacramento. Baker had just finished his career in the Bay Area with the Giants and A's, and was a year away from the start of his coaching career with San Francisco. He knew talent when he saw it and kept tabs on Derrek. They ran into each other again a couple of years later at college football game and renewed acquaintances.
Little did either suspect that one day Derrek would be Dusty's best player.
At this point, Derrek had begun the growth spurt that would eventually take him to 6-5 by his senior year at El Camino High School in Sacramento. His long arms, quick hands, sharp eyes and great balance made him a terrific point guard, and for a while it was assumed he would go that route when he graduated. Among the schools that recruited Derrek was North Carolina, which agreed to let him play basketball and baseball. Derrek committed to the Tar Heels, with the understanding that he would turn pro if he was picked high in the June 1993 draft.
As draft day approached, it became increasingly clear that Derrek would be selected in the first round. Alex Rodriguez was the hottest property, but among the remaining high school sluggers Derrek was part of a small blue-chip group that included Trot Nixon and Torii Hunter. All three went in the Top 20 picks, with Nixon going seventh to the Boston Red Sox and the Twins taking Hunter with the 20th selection.
Derrek's name was called by the Padres at the #14 slot. Saying thanks but no thanks to Dean Smith was one of the toughest decisions of Derrek's young life, but in his heart he felt that baseball was his calling.
Derrek joined Peoria of the Arizona League in July. He played only 15 games for manager Ken Berry, but he was impressive enough during that time to be voted the league's top prospect. He quickly leap-frogged two levels to San Diego's Single-A club in Rancho Cucamunga. He hit .274 for the Quakes in 20 games.
Derrek logged the entire 1994 season with the Quakes. The 18-year-old had a great year, batting .267 in a team-high 126 games. He finished second on the club with 118 hits. The power wasn't there yet, but Derrek was rarely overmatched. By the end of the season, he was ranked as San Diego's fifth-best prospect.
The highlight of the campaign was Rancho Cucamunga's amazing run to the California League championship. The Quakes beat Riverside in four games in the playoffs, and then defeated Modesto by the same margin in the title series. Both series victories were big upsets—Modesto had the best winning percentage in all of professional baseball that year. The Quakes, by contrast, had secured a wild card berth with a win in their final game.
ON THE RISE
In 1995, Derrek began to come into his own. In his third year at Rancho Cucamunga, he had his average up around .350 at midseason and ended up batting .301 with 23 homers. His 151 hits and 239 total bases were third in the pitcher-friendly California League. The Padres were understandbly ecstatic, honoring him as the organization's Minor league Player of the Year.
Derrek was promoted to Memphis of the Southern League the following spring. He responded with a league-leading 34 homers, plus 39 doubles and 104 RBIs. Voted league MVP, he was named Baseball America's second-best prospect behind Andruw Jones. Once again, he was San Diego's Minor League Player of the Year—the first time a Padre had earned that award in consecutive seasons. Derrek finished the year in the Arizona Fall League, where he sharpened up his defense and hit .292 with 22 RBIs for the Sun City Solar Sox.
Heading into the 1997 campaign, Derrek intensified his rigorous winter workouts, boosted his weight to 225 pounds, and came to spring training looking like a major leaguer. He had an outside shot at making the Padres as a backup to veteran Wally Joyner. Despite impressing manager Bruce Bochy, however, he lost the job to Archi Cianfrocco, who could play multiple positions. But Derrek didn't have to wait long to get a taste of big-league life. He was promoted to the Padres at the end of April. His first hit was a ninth-inning single off Florida Marlins' closer Robb Nen.
Overall, Derrek struggled in his first test in the majors. He hit .200 and struck out seven straight times before returning to Triple-A Las Vegas. Derrek was back in San Diego in in September and belted his first home run on the last day of the season. In between his stints in the majors, he scorched Pacific Coast League pitching, batting .325 in 124 games.
With the left-handed Joyner ensconced at first base, Derrek expected to serve as a platoon player for the Padres in 1998. GM Kevin Towers had other ideas. Feeling the team was one stud starter away from contending for the NL West crown, he made a bid for ace Kevin Brown during Florida's post-World Series fire sale. The price? Derrek and a couple of B-level arms. Towers had to pull the trigger.
Derrek was in shock when he got the news. He was clearly being groomed by the club and assumed he would be with the Padres for many years. But the situation in Florida had plenty of upside. Derrek would have an opportunity to play right away. After jettisoning its high-priced talent, the Marlins chose to defend their championship with a starting lineup that averaged 25 years of age. Other up-and-comers getting a shot at regular time were Cliff Floyd and Mark Kotsay.
Not surprisingly, the Marlins were horrible in '98, posting a record of 54-108. Without stars like Gary Sheffield, Bobby Bonilla and Moises Alou to anchor their lineup, young holdovers such as Edgar Renteria and Luis Castillo floundered. Derek did what he could, starting the year like a house afire. During one nine-day span in April, he clubbed five homers, including a pair of grand slams. He had another insane streak in July, but most of the year was spent learning NL pitchers. Derrek finished with 17 homers and drove in 74 runs, which was second among junior circuit rookies.
Overall, the Marlins were encouraged by Derrek's power and patience. Although he fanned a team-high 120 times, he was not afraid to go deep into counts. The club did have some concerns, however, especially when Derrek endured a nightmarish September. He looked lost at the plate. Pitchers were pounding him on the fists, getting him to swing at high pitches, and then putting him away with sliders down and away.
Coach Tony Perez tried to shorten Derrek's swing, but nothing seemed to work. When his slump continued into 1999, Derrek was beside himself. The Marlins did the only thing they could, sending him to Class-AAA Calgary. He remained there until the end of the PCL season. Derrek's minor league numbers were good—19 homers and a .283 average—but his awful showing with Florida had the team worried.
Derrek entered the 2000 campaign eager to clean the slate. He was too good and too smart to go through another year like '99, but he failed to prove it in spring training, when he lost the starting job at first base to Kevin Millar. It took Derrek six weeks to convince second-year manager John Boles that he had the stuff to be Florida's everyday first sacker. Once Boles gave Derrek a chance, however, he was money in the bank.
Derrek finished the season second on the team with 28 homers and fourth with 70 RBIs. He hit .281 and slugged .507. Derrek learned to turn on inside pitches and began seeing more to hit when he worked the count in his favor. He also ended an almost two-year home run drought at Pro Player Stadium, with seven dingers.
The Marlins were now a passable team that included Floyd, Kotsay, Castillo, Preston Wilson and Mike Lowell. Ryan Dempster was the staff ace, and Antonio Alfonseca was one of the league's most formidable closers. The team finished with 79 wins and looked like it was ready to turn the corner.
Unfortunately, that didn't happen. Though Derrek had another nice year in 2001, Florida failed to make progress, and Boles was fired in May. Perez replaced him and brought the team home with 76 victories. The news wasn't all bad, as young guns Brad Penny, Matt Clement and Josh Beckett all worked themselves into the starting rotation. Derrek's final numbers—37 doubles, 21 homers, 75 RBIs and a .282 average—were almost identical to his stats the year before. Once again, he started slowly, waiting until late June before he nudged his average into the .250 range. He hit .317 in the second half, which he attributed to the more relaxed style of Perez.
Over the winter, the Marlins considered trading Derrick, partly because Millar was wrapped up at the bargain price of $900,000. When no reasonable offers came in, Derrek was reinserted at first. Jeff Torborg was now at the helm, the perfect guy to guide a team like Florida. He had helped build strong clubs in New York and Arizona, but was his controlling style had earned him early exits with both those teams.
In 2002 with the Marlins, Torborg had more questions than answers. Florida finished with a disappointing 79-83 record, in part because of injuries to Penny and Beckett.
Derrek appeared more comfortable as the season began, hitting three homers in his first three games. But he cooled off and was batting under .230 after two months. He regained his troke in the final four months, ending up with 27 homers and a .270 average. He also set career highs with 95 runs, 86 RBIs and 98 walks.
Torborg encouraged Derrek to be more adventurous on the bases. Though he only possessed average speed, he was observant and quick. If he suspected a pitcher was ignoring him, he was gone. He surprised many onlookers with 19 steals.
MAKING HIS MARK
Following the '02 season, Derrek was invited to join a group of All-Stars on an exhibition tour of Japan. He met up with his father, who had just been hired by the Orix Blue Wave as a batting coach. It was a wonderful reunion. The two hadn't been together in the Far East for 16 years. Derrek's dad was eventually named manager of the Blue Wave the following spring. He was fired after Orix finished in the cellar for the second straight year.
Back in Florida for the 2003 campaign, Derrek and the Marlins started slowly again. With the Atlanta Braves running away in the East and five other clubs looking like Wild Card bets, Torborg was canned after 38 games. Jack McKeon took the helm, and the Marlins took off. Dontrelle Willis, acquired a year earlir from the Chicago Cubs, got on a roll and drew fans to Pro Player by the tens of thousands. Fellow rookie Miguel Cabrera filled in for an injured Lowell and hit well enough to become an everyday outfielder when the third baseman returned.
Fueled by these two young stars—and new additions Juan Pierre and Ivan Rodriguez—the Marlins began to scratch their way back into contention. McKeon juggled his starting rotation and bullpen, and by season's end he had a club primed for a serious playoff run. Florida entered the postseason as the NL Wild Card.
Derrek was a big part of the Marlins' success. He won a Gold Glove for his defense, slugged 31 homers and stole 21 bases. He was particularly effective down the stretch, batting .351 with five homers and 20 RBIs in September.
There were some great storylines during Florida's remarkable postseason run in '03. The Marlins upended the Giants, Cubs and the mighty New York Yankees to win an improbable championship. Unfortunately for Derrek, he was not a headline-maker that October. Though he played stellar defense and knocked in a run here and there, enemy pitchers were able to neutralize him as he reverted to some old habits when the pressure was on.
Right after their second World Series title in six years, the Marlins again had to make some cost-cutting moves. Believing that Derrek would be too expensive after the final year of his contract expired, they traded him to the Cubs for Hee Seop Choi. Florida owner Jeffrey Loria hated to see Derrek go. He had nothing but good things to say about him. But business was business. Ironically, the man who had scouted and signed Choi for Chicago was Derrek's dad, who had been the club's Pacific Rim Coordinator from 1998 to 2002. The Cubs quickly signed Derrek to a three-year extension for $22.5 million.
Derrek got off to his usual slow start in 2004, hitting .233 through April at Wrigley Field. Choi, meanwhile, was yanking balls out of the park in Miami, causing Chicago fans to think they'd given up a star for a stinker. Come June, however, Derrek got it going, and the Wrigley faithful learned to love him.
Derrekwound up with career bests of 39 doubles, 32 home runs and 98 RBIs. Playing a full slate of day games took a little out of him, and his average dipped a bit in September. But Derrek—one of four Cubs to top the 30-homer mark—proved he had the talent to be a primetime player.
Boosted by the addition of Nomar Garciaparra in July, plus the clutch pitching of young Carlos Zambrano and veteran Greg Maddux, the Cubs stayed in the Wild Card race despite losing Kerry Wood and Mark Prior to injuries. Manage Dusty Baker tried everything he could to push his team home, but their 89 wins fell three short of Houston's 92 victories.
The power Derrek supplied was a crucial component in the Chicago offense. But it was with his glove that he had his greatest impact. A far better fielder than Choi, he was especially good at stretching for errant throws and scooping them out of the dirt. Aramis Ramirez saw his errors drop from 33 to 10, Todd Walker had to dive for fewer balls in the hole, and Nomar knew he could cut lose when he had to.
After the '04 season, the Cubs faced some big decisions. Sammy Sosa had worn out his welcome and was dealt to Baltimore. Chicago declined to pick up the option on Moises Alou, who was 39-years-old. Todd Hollandsworth and Jason Dubois would share the leftfield job, and Jeromy Burnitz was signed to hit behind Derrek, who would now be Chicago's main power threat.
Of course, no one expected to see that power until the weather warmed up. A .230 hitter in April and May heading into '05, Derrek was being written off by some Cubs fans as the season opened. They assumed the rest of the team's stars would get the job done, and Derrek would eventually join them.
That was an unacceptable scenario for him. Over the winter, he had done a lot of thinking about his early-spring slumps and decided to look for pitches he could drive the other way. He knew that's where enemy hurlers would be working him. The results were astonishing. Derrek was the hottest hitter in the majors in April, and he continued his torrid hitting through May. As June began, he was at or near the top of all three Triple Crown categories and drawing raves from fans and teammates.
That was the good news. The bad news was that injuries to Wood, Prior and Garciaparra, an unsettled closer situation and slow starts by Ramirez and Corey Patterson had sent the Cubs into a tailspin. Derrek literally carried the club, delivering clutch hits and late-inning home runs game after game. He was even leading the club in stolen bases.
Named NL Player of the Month in April, Derrek was just as good in May, as the Cubs stayed among the Wild Card contenders and waited for their wounded troops to return. The last time a Cub had been this hot? When Sosa hit 20 homers in June of 1998. It was simply amazing.
As Derrek stepped into the spotlight for the first time in his career, the baseball world discovered one of the most intelligent, level-headed players in the game. No longer a well-kept secret, he handled his sudden fame with humility and grace. And he kept on pounding the ball.
Baker had seen players get hot before and knew that they all eventually cool off. In May, fearing Derrek might tumble into a slump, the Chicago skipper was about to sit him for a game with the Pirates. He decided against it, and Derrek went 4-for-4 with two homers against Pittsburgh. His second round-tripper came off Jose Mesa and won the game 4-3. Ten days later, he blasted two homers against the Colorado Rockies, and then launched two more the next night. That gave him a league-leading 16 long balls in the season's first two months.
Derrek stayed hot the rest of the way, blasting 46 homers and finishing with a .335 average. That was good enough to win the NL batting title, five points ahead of Albert Pujols. Derrek also led the NL with 199 hits, 50 doubles, 393 total bases, and a .662 slugging average. He also won his second Gold Glove. Unfortunately, the Cubs did not share in Derrek's success. They failed to reach .500 and finished in 4th place in the Central.
Early in 2006, Derrek signed a five-year contract extension with the Cubs worth $65 million. Less than a month later, he was on the disabled list with a broken wrist, suffered in a collision with Rafael Furcal on a play at first base. In the 59 games Derrek missed, the Cubs went 19–40. Worse, Derrek went back on the DL when his wrist did not heal properly. In all, he played in a mere 50 games, and Chicago tumbled into the NL Central cellar with a 66–96 record.
In terms of misery and disappointment, an injury-plagued campaign was nothing compared to the health issue facing Derrek's daughter, Jada. She was diagnosed with Leber's Congenital Amaurosis, a rare condition that results in blindness. Derek partnered with Wyc Grousbeck, a co-owner of the Boston Celtics, to create Project 3000 toraise money and awareness of the disease. A few years later, Derrek and his wife learned that Jada had been misdiagnosed. They still continue to work for Project 3000.
Meanwhile, the Cubs needed a big bounce-back year from their first baseman in 2007. He didn't let them down. Although Derrek lacked the ram power he possessed prior to his injury, he made the appropriate adjustments and hit .300 all year. His season almost ended in June when Kake Peavy plunked him on the wrist. A bench-clearing brawl ensued. Derrek was relieved to learn that the injury was not serious. He finished the campaign at .317 with 22 homers and 82 RBIs. Derrek made the All-Star team for the second time and won his third Gold Glove.
That was more than enough to lead the Cubs to first place in the NL Central. Derrek, Ramirez and newly acquired Alfonso Soriano supplied the pop, while Ted Lilly, Zambrano and Dempster anchored a capable pitching staff. Chicago fans had visions of a World Series run until the Cubs ran into the Diamondbacks in the Division Series. The wheels came off quickly, as the Arizona trio of Brandon Webb, Doug Davis and Livan Hernandez quieted the Chicago bats in a three-game sweep.
Undaunted, the Cubs returned to the postseaon in 2008, this time with the best record in the NL. Derrek contributed 20 homers, 91 RBIs and a .291 average to go along with his usual stellar play around the bag. He finished among the league leaders in at-bats, hits, singles and doubles. Alas, Chicago was doomed to fall in the Division Series yet again, this time to the Dodgers. Los Angeles took three straight behind the standout pitching of Derek Lowe, Chad Billingsley and Hiroki Kuroda. None of the games were very close.
The Cubs had a quiet offseason, preferring to allow young players like Geovanny Soto and Randy Wells to develop instead of beefing up through trades and free agent acquisitions. The result was a second-place finish in the Central, eight games behind the Cardinals and nine games out of the Wild Card race.
No one, however, was accusing Derrek of having an off year. On the contrary, after a so-so first half due to an aching back, he set a blistering pace beginning in July. He smacked 35 homers and drove home 111 runs—his highest total as a major leaguer. His batting average climbed back above the .300 mark, while his .579 slugging average was third in the NL.
The 2010 campaign marked the final year of the contract extension Derrek had signed in '06. The Cubs were among the preseason contenders for the NL Central crown, but they never got it going. By July, they were sellers. Not surprisingly, Derrek was on everyone's shopping list, including the Angels. As a 10-and-5 player, he had the option of nixing any deal, and he let it be know he did not want to join Los Angeles.
The Braves were also in search of a first baseman. With Derrek hitting around .250 , they figured the best part of his year was still to come. Atlanta packaged a trio of mid-level prospects after the veteran agreed to leaving Chicago. Derrek joined the Braves amidst a struggle for supremacy in the NL East with the Philadelphia Philles. Atlanta almost immediately lost its leader, Chipper Jones, to a season-ending injury, putting the pressure on Derrek to lead a team of young stars including Brian McAnn, Martin Prado and Jason Heyward.
Once a generation, a position player comes along to pick up his teammates and carry them singlehandedly to a pennant. No one is kidding themselve into thinking that Derrek is that guy anymore. His days as a dominant slugger are likely over. Most fans now view him as more of a "cog." But that isn't to say that Derrek doesn't have some magic left in his bat. With Chipper on the shelf, Atlanta fans are hoping Derrek can provide the veteran leadership that will propel the Braves to the World Series.
DERREK THE PLAYER
Derrek has always been at his best at the plate when he is able to extend his arms. He put the final touches on his offensive game in 2005 when he improved his pitch recognition, began taking outside pitches to right field and laid off fastballs up in the zone. This forced opposing pitchers to alter their patterns, and Derrek went to town.
Considered a below-average runner when he came to the majors, Derrek worked hard to become a threat on basepaths. He no longer steals many bases, but he is smart and understands when to take an extra bag.
Derek's forte has always been his defense. He is nimble around the bag and a master at hauling in bad throws. He saves his pitchers several runs a months—and his fellow infielder lots of errors—with his scoops and stretches.
The knock on Derrek has always been that he doesn't play with any obvious passion. That may be so. But few players are more serious about winning.
EXTRA
# Derrek began his 1994 season as a third baseman. The Padres had another first base prospect, Jason Thompson, on the same minor league team and wanted to see how versatile Derrek was. He moved back to first when Thompson was promoted to Class-AA ball.
# In a 1995 California League game at Stockton, Derrek's mom and dad and grandparents were in the stands when he hit for the cycle.
# After his 1995 minor league season, Derrek began working out with a group of major league veterans who lived in the Sacramento area, including Greg Vaughn and Fernando Vina.
# In 1996, Derrek homered in six straight games to establish a Southern League record.
# Derrek led all rookies with two grand slams in 1998.
# Derrek blasted a 482-foot homer off Ruben Quevedo in 2000. It was the longest homer ever hit by a Marlin at Pro Player Stadium.
# Derrek's 52 steals from 2000 to 2004 ranked first among all first basemen.
# Derrek became the Marlins' all-time leader in home runs and extra-base hits in 2003.
# In June of 2004, Derrek reached base 12 straight times and 10 straight times in two separate streaks.
# Derrek's .335 average in 2005 was the highest by a Cub since Bill Madlock won the batting title with a .339 average in 1976.
# On Chicago's first West Coast trip in 2005, Leon came down from Sacramento to watch his son play back-to-back games in Los Angeles and San Diego. Derrek went 8-for-8 with his dad in the stands.
# In 2005, Derrek became the first Cubs righty to make an Opening Day start at first base since Andre Thornton in 1976.
# Derrek was the first American to hit a home run in World Baseball Classic. He belted one for Team USA during the 2006 tournament.
# In 2007, Derrek became the first player in a half-century to hit a double in eight straight games.
# Derrek reached base safely in 32 consecutive games in 2007. He nearly matched that streak with a 31-game mark in 2009.
# Derrek hit his 300th homer, against the Milwaukee Brewers, in 2010.
# Derrek and Hall of Famer Rogers Hornsby are the only Cubs to have two seven-RBI games in the same season.
# Derrek's two 30 HR–100 RBIs–.300 seasons for Chicago put him in fast company. The only other Cubs to reach those numbers multiple times were Hack Wilson, Ernie Banks, Billy Williams and Sammy Sosa.
# Dusty Baker nicknamed Derrek "Rodan" because of his enormous wingspan.
# The Sporting News once named Derrek among the Top 5 basketball players in the major leagues. The others were Mark Hendrickson, Kenny Lofton, Chris Young and Randy Winn.
# Derrek appeared in a 2008 episode of "ER" on NBC. He agreed to be on the show (which was set in a Chicago hospital) in exchange for the writers building an episode around his daughter's disease.
# Derrek's dad had a significant part in the 1992 movie Mr. Baseball, which starred Tom Selleck as an American player adjusting to the Japanese game.
# Hee Seop Choi calls Leon Lee his "American grandfather." That makes the swap of Choi and Derrek the first of a son for a "grandson" in baseball history.
Read more
Latest headlines