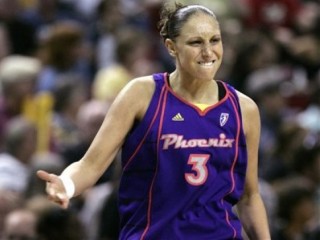 Diana Taurasi biography
Date of birth : 1982-06-11
Date of death : -
Birthplace : Chino, California, U.S.
Nationality : American
Category : Sports
Last modified : 2010-08-02
Credited as : Basketball player WNBA, plays for the Phoenix Mercury,
Great atheltes often look the part. In the case of WNBA All-Star Diana Taurasi, appearances aren't near the top of her priority list. Awkward and gangly as a kid, she learned that her size and length gave her a distinct edge on the basketball court. Today, Diana loves to joke about what some call her her most noticeable feature—her big nose. Of course, big is also a fitting way to describe her game and career. Diana may be the best all-around star women's basketball has ever seen, and her three NCAA championships prove that she's most dangerous with the pressure on. To fans of the Phoenix Mercury, Diana looks like a perfect fit.
GROWING UP
Diana Lurena Taurasi
was born on June 11, 1982 in Chino, California. Her parents, Lili and Mario, already had one girl, Jessika. Diana was their second and last child.
The Taurasi home had a decidedly international flair to it. Lili was from Argentina. Everyone in the Taurasi family spoke her native Spanish dialect. Mario, meanwhile, hailed from the Italian town of "Taurasi."
Lili and Mario made life simple for their two daughters. They offered Diana and Jessika three simple rules for happiness: Be loyal, be happy and be on time for dinner. Meals, in fact, were an adventure for the Taurasis. The TV was always on in the background, the conversation was lively, and virtually no topic was taboo.
The Taurasi girls were raised to be ashamed of nothing. For Diana, who was often the tallest kid in her class, this was sometimes a hard lesson to grasp. As soon as she started playing basketball, however, she realized her height was a great advantage.
Diana was a talented natural athlete, thanks in part to her dad, who had logged several years as a goalie in one of Italy's pro soccer leagues. Her idol during her childhood was Magic Johnson, and she patterned much of her game at the Los Angeles Lakers legend. Like Johnson, Diana understood basketball was more than putting the ball in the hoop. While she was no better than an average shooter as a kid, Diana was a wonderful ballhandler, passer and defender. She could dominate a game scoring just a few baskets.
Diana learned just about everything she knew about basketball by playing. If there was a pick-up game in the neighborhood, she would undoubtedly find it. When it was time to go home, Diana dribbled her ball every step of the way. Not only did this habit help her develop a tremendous feel for her own talents, but it often got her in hot water with Lili. Diana would not stop bouncing the ball in her bedroom until her mom had heard enough of the constant thumping.
Diana got her first taste of organized ball as a sixth grader, after being spotted by a local AAU coach named Lou Zylstra. He noticed how mature Diana looked, and she noted his 6-5, 260-pound frame. Zylstra convinced her to join his squad. On the first day of practice, Diana turned to her coach and his equally large assistant and quipped, "We may not have the smartest AAU coaches, but we sure have the fattest!"
By the time Diana entered Don Lugo High School, she was a local star. Soon she became known throughout Southern California. As a freshman for the Conquistadors, she posted two 51-point performances. As a junior, she poured in 56 points in a game. At one point in her career, she won five games in a row with a shot in the final minute.
Diana's senior season was one for the ages. She averaged 28.8 points, 12.9 rebounds and 4.2 assists and helped Don Lugo High, normally a non-contender in girls hoops, challenge for the 2000 state title. After the year, Diana received the Cheryl Miller Award from the Los Angeles Times as the region's top player. She was also named a Parade Magazine All-American and NIKE All-American.
Every major college program wooed Diana. Her mom hoped she would stay close to home and go to UCLA. UConn coach Gino Auriemma had other ideas. A pisano like Mario, he recruited Diana's father as aggressively as pursued her. When Auriemma hosted the family during a visit to Connecticut, he plied Mario with a bottle of wine from the region in Italy where he was born. That more or less sealed the deal. Diana became a Huskie.
That summer, she gave UConn fans a glimpse of what awaited them by leading a U.S. squad to victory in the USA Basketball International Invitational. In wins over Brazil, China and Japan, she scored nearly 14 points and dished out four assists a game. Diana also earned a gold medal with the U.S. Women's Junior World Championship Qualifying Team.
ON THE RISE
Diana arrived in Storrs with little pressure on her heading into the 2000-01 campaign. Coming off a national championship, UConn was ranked the Big East's top team , Shea Ralph was the conference's best player, and Sue Bird and Svetlana Abrosimova were easy all-league choices. With the squad's eight leading scorers returning, Auriemma didn't ask much of Diana. Initially, however, what he got from his prized frosh he didn't particularly like.
Diana brought her free-spirited attitude with her to Connecticut, and Auriemma wasn't exactly sure what to make of her. He preferred a decidedly disciplinarian approach to the game. Diana liked to joke around, said what was on her mind, and never backed down form anyone. Auriemma's challenge was finding a way to harness her considerable skills without stunting her instincts and creativity.
The coach's tough love worked. Diana played with unusual poise during her first college season, focusing most of her energy on the defensive end. Auriemma often asked her to cover an opponent's most dangerous scorer, and she responded with one shut-down effort after another. Diana was at her best in the NCAA Tournament. In the regional semifinals against Louisiana Tech, she completely frustrated guard Brooke Lassiter, limiting her to three shots from the floor and forcing three turnovers.
By this point, Diana also had her offensive game in gear. She was named the East region's outstanding player after scoring 41 points in two games. Against Louisiana Tech, she had 17 points, 10 rebounds and four assists.
In the Final Four for the second year in a row, UConn's season ended against Notre Dame. The Huskies led most of the way until Alicia Ratay nailed a 3-pointer with Diana in her face midway through the second half. Notre Dame went on to a 90-75 victory.
Diana spent another busy summer on the hardwood. Playing for America's squad in the 2001 FIBA Junior World Championship, she topped the U.S. women in scoring (19.3 ppg) and passing (2.7 apg). Diana was selected to the all-tournament team, as the Americans took home the bronze.
Back at UConn, a third-place finish would not satisfy Huskies fans for the 2001-02 season. With Bird and Diana leading the way, Connecticut boasted a deep and talented roster. The team blitzed through the first two months of the year without a loss. UConn's first test came in January against No. 2 Tennessee. Auriemma's crew passed with flying colors, dispatching the Vols 86-72. Diana was sensational, scoring a career-high 32 points.
Connecitcut continued to roll as the postseason approached. The Huskies entered the NCAA Tournament undefeated and showed no signs of letting up. They advanced to the title game against Oklahoma and then capped one of history's most dominant seasons with an 82-70 victory. The win pushed UConn's record to 39-0, matching the perfect mark posted by Tennessee in 1998.
Diana combined with Bird all season long to give the Huskies a terrific one-two punch. Their performance against Oklahoma was indicative of what they meant to the team. With the Sooners trying to cut into UConn's lead with less then two minutes remaining, Diana converted a tough basket in the paint and then made her free-throw to complete a three-point play. When Oklahoma began fouling intentionally, Bird stepped up and hit six straight from the charity stripe.
Heading into her junior year, Diana took over as UConn's unquestioned on-floor leader. Surrounded by a talented supporting cast—including Jessica Moore, Mafia Conlon, Ashley Battle, Ann Strother, Barbara Turner and Nicole Wolff—she did everything for the Huskies. Indeed, Diana topped the team in scoring, rebounding, assists and blocks.
More than her numbers, however, it was Diana's grit and determination that inspired her teammates. Diana suffered through a series of back and ankle injuries but always answered the bell come game time. UConn, in turn, looked to her when the pressure was on. In a game against top-ranked Duke, for instance, Diana made her first four shots, as the Huskies opened a big lead and won easily, 77-65.
Behind Diana, Connecticut moved into March with an eye on its second national championship in a row. The Huskies were derailed temporarily in the Big East final when they fell to Villanova. The loss snapped their NCAA-record 70-game winning streak.
Just as quickly, UConn started a new one. They raced through their first four contests in the national tournament, winning by an average of 23 points. Diana was unstoppable. She had 21 points and seven assists in just 22 minutes against Boston University, poured in 35 points against TCU, and put up 26 points and 12 rebounds against Boston College. In the East Regional final against Purdue, she scored 21 points to send the Huskies to Atlanta for the Final Four.
After beating Texas in the semis, UConn faced Tennessee, hoping for its third national title in four years. Diana saved her best for the Vols. In a hard-fought 73-68 win, she pumped in 28 points, the most in the championship game in a decade. Her pair of free throws with 20 second left on the clock put the finishing touches on the victory. It was the perfect ending to a near-perfect season for the 36-1 Huskies and Diana, who was named the Naismith Player of the Year.
MAKING HER MARK
Could Diana pull off the three-peat in her senior year? That question dogged her throughout the season, though no one could tell from the way she played. Diana followed her sparkling junior campaign with another Naismith Player of the Year trophy and became the first Huskie ever to top 2,000 points, 600 rebounds and 600 assists for a career. She also led UConn back to the title game, again against Tennessee.
Diana and her teammates took the floor the night after Connecticut's men claimed the national championship. No school had ever achieved the double. The Huskies jumped to a comfortable lead, but Tennessee battled back to make the score 30-26 at intermission. In the second half, UConn seized control, thanks in part to Moore and Turner, both of whom contributed clutch hoops down the stretch. Diana, meanwhile, was solid with 17 points, three rebounds and two assists. It was hardly a vintage performance, but Diana cherished her third title just as deeply as the first two.
Among those closely tracking Diana during the tournament were the Phoenix Mercury. The team held the top pick in the WNBA draft, and Diana was the no-brainer choice to reverse the franchise's fortunes. Not only would she help the Mercury on the court, but Phoenix figured to get a big bump in revenue from Diana, too. On cue, the club took her first overall, and sales of Mercury merchandise rose nearly 90 percent, while web site traffic increased by 200 percent.
Before Diana joined the Mercury, however, she suited up for the U.S. Olympic team in preparation for the upcoming Summer Games in Greece. The youngest player on the squad, she scored 13 points in her first game, a win over Japan. The American women would go on to capture gold in Athens. Diana came off the bench to average 8.5 points a contest.
Diana had an equally big impact in her WNBA debut. In a 72-66 loss to the Sacramento Monarchs, she led all scorers with 22 points and added three assists, three rebounds and three blocks. Outside of a 10-game stretch in which she looked worn down, Diana enjoyed an excellent rookie season, topping all first-year players in points, 3-point shooting, free-throw percentage and minutes. With Diana teaming up Australian star Penny Taylor, the Mercury improved by nine wins to 17-17 and served notice that they might soon be a championship contender. The first player in league history to score at least 20 points in her first three games, Diana was named Rookie of the Year and All-WNBA First Team.
She followed her rookie campaign with an equally impressive sophomore season. Diana became the fifth player in Mercury history to surpass 1,000 career points and play in the WNBA All-Star Game. She scored at least 20 points 21 times during the year, including a 31-point outburst in the season finale against the Seattle Storm. Diana's fine play didn't help Phoenix improve in the standings, however. The team finished at 16-18, a game worse than in 2004. The problem for the Mercury was therir performance on the road, where they won just five of 17 games.
In 2006, Diana and the Mercury missed the playoffs for the third year in a row. Still, there was good news. With former NBA head coach Paul Westhead running the show, the club adopted a more upbeat style, and fans loved the results. Phoenix pushed it's record above .500, going 18-16.
Diana benefited as much as anyone on the roster from Westhead's guidance. Named First-Team WNBA, she led the league in scoring at 25.3 ppg, breaking Jennifer Gillom's mark for points in a year in just her 26th game. Her biggest night came in a thrilling 111-110 triple-OT victory over the Houston Comets when she set a league record with 47 points.
Diana, however, was more than a scoring machine. She topped Phoenix in passing (4.2 apg) and cut her turnovers to just over two a game. With Diana pushing tempo and getting her teammates involved, the Mercury ended the year with a seven-game winning streak, serving notice that they were ready to join the league's elite.
Despite all of her fame and accomplishments, Diana has changed little since her days as a high school star in Southern California. She is still as intense as ever on the court, while off it she remains quick with a barb directed at a teammate, coach, or even herself. It was no fluke that Diana won three national titles at UConn, though it may be one if she doesn't repeat the feat in Phoenix.
DIANA THE PLAYER
Diana is a classic do-it-all star. She can score, pass, rebound and defend, and winning is always her bottom line. Diana is just as comfortable taking an opponent off the dribble as he is posting up. She is tireless on the floor, regularly ranking near the top of the league in minutes played.
When Diana entered the WNBA, some questioned her shooting ability, but she has worked hard to improve in that area. In 2006, in fact, she connected on better than 45% of her 2-point attempts and nearly 40% of her 3-pointers.
Diana almost lulls you to sleep with the consistency of her effort and performance. IJust like big-league hitters talk about ending a day against Greg Maddux with a comfortable 0-for-4, WNBA players often feel they've done a good job shutting down Diana, only to find she has posted a double-double.
Diana loves the pressure of the final shot. Few players are as passionate about the game and winning. The bigger the game, the better she performs.
EXTRAS
* Diana scored 3,047 points in her career at Don Lugo High School.
* Diana was named USA Basketball's Female Athlete of the Month in July of 2001.
* When Diana led UConn to the national championship in 2003, the Huskies became the first team in history to win the NCAA title without a senior on the roster.
* In 2004, Diana became just the fourth woman to win the Naisimith Award in back-to-back seasons. The others were Cheryl Miller (1984-86), Dawn Staley (1991-92) and Chamique Holdsclaw (1998-99).
* Diana was named Most Outstanding Player of the Final Four in her last two college seasons.
* Diana named to the NCAA's 25th Anniversary Team on Tuesday. Joining her on the squad were Cheryl Miller of the University of Southern California, Bridgette Gordon and Chamique Holdsclaw of the University of Tennessee, and Sheryl Swoopes of Texas Tech University. Pat Summitt was selected as the coach.
* In her 2004 WNBA debut, Diana banked in a three-quarter court shot at the buzzer to end the first half.
* Diana goes by the nickname "Dee."
* Diana was a Sociology major at UConn.
* "Above the Rim" is Diana's favorite basketball movie. She also loves "Dazed and Confused."
* As a kid, Diana was a big fan of the cartoon "Duck Tales.
* One of Diana's dreams is to play one-on-one against Magic Johnson.
* Diana's favorite cereal is Fruity Pebbles.
* Diana's is a big fan of "The Simpsons." Her favorite character is Homer.
Read more
Latest headlines