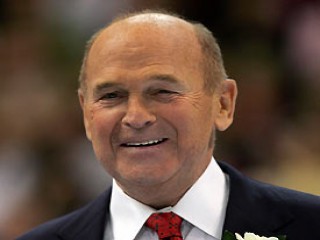 Dick Button biography
Date of birth : 1929-07-18
Date of death : -
Birthplace : Englewood, New Jersey, U.S.
Nationality : American
Category : Sports
Last modified : 2011-02-21
Credited as : Ice skater, grand slam of skating, Olympic champion
Dick Button, a dominant force in figure skating in the late 1940s and early 1950s, was instrumental in developing the sport in America. He is the only male figure skater to clench the "grand slam" of skating, winning the United States, North American, European, World, and Olympic championships in the same year. Button later became a somewhat controversial commentator on figure skating for television.
Richard Totten Button was born on July 18, 1929, in Englewood, New Jersey, the son of George and Evelyn B. (Totten) Button. He and his two older brothers, Jack and George, were raised in wealth and privilege. Button began skating when he was five years old, using his brothers' old skates.
When Button was 11 years old, he received his first pair of skates for Christmas. He wanted figure skates, but received hockey skates from his father. The skates were exchanged, but Button's burgeoning figure skating career was almost cut short again. The youngster was 5'2" and weighed 160 lbs. His first coach did not believe he had any ability and would never learn to skate.
Button's parents found him another coach. He was first taught by Joe Carroll in New York City in 1942 and eventually would train with a coach who would become famous for instructing Olympians, Swiss-born Gustave Lussi. Button attended public schools in Englewood, New Jersey, until high school, when he attended the private Englewood School for Boys. For the next ten years, during his summers off from school, Button would train with Lussi in Lake Placid, New York, where the 1932 Winter Olympics had been held.
Button soon proved he had great natural ability. Combined with intense training and great coaching, he soon had success in competition. Button also grew into a 6'1" frame. In 1943, he placed second at the Eastern States novice single championships. Showing his competitive spirit, Button was unhappy with his second place win. Later that year, he won first title. Button won the major novice singles championship at the Middle Atlantic States competition. He went on to win national men's novice (1944) and junior titles (1945).
In 1946, Button capped his rise to the top of American men's figure skating by winning the U.S. national senior singles championship, in Chicago, Illinois. He was only 16 years old at the time, the youngest man to win the title. Button had to come from behind to win, as he placed second after compulsory figures. This marked the first and only time a figure skater won the novice, junior, and senior titles in succession. Button would go on to win the men's singles title every year through 1952.
Button competed at the 1947 World Championships, the first World's held since 1939 because of World War II. He placed second to Hans Gerschweiler, though some believed Button should have won. This finish prompted Button to change his skating style. In addition to becoming more precise in his school figures, more importantly, he became more bold and daring in his free skate.
The new approach in free skate allowed Button to emphasize power in his spins and jumps, becoming more artistically daring. He also focused on developing new jumps and spins, especially jumps. Button was encouraged in his pursuit by Lussi, who was a disciplinarian but also supported Button's quest for innovation. Button's work in this area paid off in 1948 when he won his first world championship. This marked the beginning of his fame as a powerful figure skater. Button would go on to win the world championship every year through 1952.
While Button was reaching the summit of the figure skating world, he still attended Englewood Boys School. He lettered in football and played baseball there, but figure skating was his main focus. Button skated for hours every day, rising early for school, to skate, and to pursue other sports. He graduated in 1947 then took a year off of school to train for the 1948 Olympics.
To practice for the Olympics, Button competed in the 1948 European championships in Prague, Czechoslovakia. Not only did this competition assist Button in preparing for the Olympic games, it allowed him to show off his newly developed style to the judges so they might be more favorable later on. It was the first time an American competed, and Button impressed the judges enough to win the title. After this victory, non-Europeans were excluded from competing for the championship.
Button cemented his status as a leading figure skater at the 1948 Winter Olympics in St. Moritz, Switzerland. This was the first time the Olympics had been held since 1936. Button was leading after school figures, then won the gold medal with his free skate.
Button's free skate was innovative for several reasons. He did two moves on the ice that had not been done before in world competition. Button did the first double axel (a jump that rotated in the air for two-and-a-half rotations) and the Button camel (the first version of the flying camel, a jump into a spin). Button landed the double axel for the first time two days before the competition, then landed it perfectly in competition.
Button won the Olympic Gold Medal when eight of nine judges gave him first place. In 1948, Button won all five major championships: Olympic, European, World, North American, and United States. He was the only American to accomplish it, and the first man to ever do it. Button's win marked the beginning of American influence in skating, which had been dominated by Europeans for a number of years. Button's new style made free skate more important than the compulsory figures, which had previously been the more important part of competition. Eventually, figures would be eliminated and it was the free skate that would attract audiences.
In the fall of 1948, Button entered Harvard University. He could have gone to Yale University, but Yale would not let him take time off to compete as a skater. While attending college, Button continued to win the World and U.S. championships, as well as a number of North American championships.
In 1949, Button won the Sullivan Award as the United States' outstanding amateur athlete. This was the first time a figure skater won the prestigious the award, the finest honor an amateur athlete could receive. Button's win also showed the increased importance of figure skating.
As Button continued to win major competitions, he also was more innovative as a skater. He developed a number of jump combinations. In 1949, he came up with the double loop combo of two double loops. In 1950, Button devised a triple double loop. In 1951, he did a double axel, double loop. These combinations would go on to become something many high level skaters would learn.
In 1952, Button repeated his gold medal victory at the Olympic Games in Oslo, Norway. Again, button achieved something no skater had done before. He landed a triple loop in his free skate program, the first time he or any skater had done a triple jump in competition. Button was in the lead after school figures, but would have lost the gold medal had he not landed the triple loop.
The evolution of Button's triple loop was one of frustration. Button had spent the summer of 1951 trying to execute the jump, but some coaches thought it would be impossible. He became so focused on the triple loop that it negatively affected his ability to do his other jumps. Button finally let it go for a while, only to try again just before Christmas in 1951. This time, Button finally got the feel for jump and was able to do it at the Olympic Games.
Button liked winning gold medals, but he told Vinny DiTrani of The Record, "Being handed the gold medal is like being presented the Nobel Prize for peace. It's a thrill, but there were even greater thrills along the way when you were doing the things for world peace that earned you the honor."
In 1952, Button graduated from Harvard with his B.A. The university later gave him a special Harvard "H" for athletics. He also retired from amateur competition. Button became a professional figure skater touring with the Ice Capades during his vacations from Harvard Law School. Button graduated from law school in 1956 and passed the bar in Washington, D.C., but never really practiced. He continued to skate, appearing in a Goodwill Tour of Moscow, USSR, in 1959.
In the early 1960s, Button started for ABC and other television networks as a color/expert commentator for figure skating competitions. He was considered as controversial for his opinions as he was hard on skaters. Some considered him fair, but others believed he played favorites.
Describing his technique as an announcer, Button told Jane Leavy of the Washington Post, "I have carte blanche to say anything I want. I've never been cut, called down, or told to shut up. When I've asked for guidance, they say, 'Tell it the way you see it.' If anyone holds back, I do. I'm reporting skating to 200 million people in the country. Probably only 25,000 to 50,000 understand the sport and only 1,000 really understand. My job is to educate them and make them aware of it." Button won an Emmy for his commentary in 1981 as Outstanding Sports Personality Analyst.
Button was also associated with television in another way. He formed a television production company with partner Paul Feigay, Candid Productions. This company produced sport and entertainment series that included national and world figure skating and gymnastics, horse shows, and national pentathlon. Button's company also created sports-oriented programs, such as The Superstars, The Superteams, and The Battle of the Network Stars. These were reality, made-for-television sports competitions that were very popular in the 1970s, but also continued to air in the 1980s and 1990s. Button also created figure skating championships through this company, including the World Professional Figure Skating Championship in 1980.
Button, involved in another aspect of the entertainment world, invested in and produced a number of stage productions in New York City, primarily on Broadway. Among these productions were Sweet Sue with Mary Tyler Moore and Artist Descending a Staircase. Button also did some appearances himself. He skated in Hans Brinker and the Silver Skates for television and was an actor in movies like The Young Doctors and stage productions such as South Pacific.
Married to Slava Kohout, with whom he had two children, Emily and Edward, Button was considered one of the best figure skaters ever. International Figure Skating publisher, Mark A. Lund, as quoted by Business Wire when Button was selected to be man of the century for figure skating, said "No other individual in the 20th century represents the sport better than Dick Button. From his technical innovations to his creation of the world of professional figure skating competitions with the World Pro, Dick Button has by far had the most influence on the sport during the last century."
Read more
Latest headlines