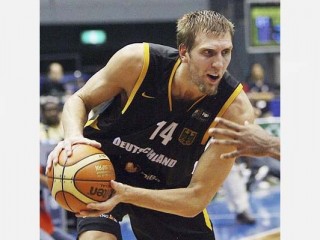 Dirk Nowitzki biography
Date of birth : 1978-06-19
Date of death : -
Birthplace : Wurzburg, Germany
Nationality : German
Category : Sports
Last modified : 2010-06-23
Credited as : Basketball player NBA, forward for the Dallas Mavericks, NBA Draft
Dirk Nowitzki
born June 19, 1978 in Wurzburg, Germany is a German basketball player.
Dirk Nowitzki
is a German-born basketball player who became a dominant force in the National Basketball Association (NBA) in the early 2000s. A 7-foot-tall forward, he was the sixth native of Germany to play in the NBA. Though Nowitzki is often compared to Larry Bird, another talented white NBA star, Nowitzki is his very much his own player, arguably the best European to ever play in the NBA. As Olivier Pheulpin of Basketball Digest wrote, "Nowitzki is unique.... You have to see Nowitzki to understand the amazing superiority of this young German over almost all his peers, to fully understand the impossible matchup he offers opponents."
Born in 1978 in Wurzburg, Germany, he is the son of Joerg and Helen Nowitzki. His father played for West Germany in team handball, while his mother was a star player on Germany's women's national basketball team. Nowitzki was raised in Wurzburg, a small city in Bavaria, where his family had a house painting business. His only sibling, older sister Silke, also became a professional basketball player. Because of his mother's activeness in the sport and the fact that his sister played the game from an early age, the young Nowitzki thought basketball was a sport for girls. As a child, he instead played soccer, tennis, and team handball.
When Nowitzki was about 13 years old, he began playing basketball himself and soon grew to love the sport. Playing pickup games at a local gym, his obvious talents were noticed by Holger Geschwindner. Gerschwindner played on the West German Olympic team in 1972 and holds the record for the most games played on the German national team. Though he promoted the sport in Germany, he found his native country not particularly interested in basketball. Seeing the young Nowitzki play was a revelation for Geschwindner. He told Jackie MacMullan of Sports Illustrated, "One day in 1994, I watched this boy who instinctively was doing all the right things without knowing the game. I was fascinated." Geschwindner began tutoring Nowitzki in the game, and the young player caught on quickly.
When Nowitzki was 16 years old, he began playing for DJK Wurzburg X-Rays, a second division team in German Bundeslinga. He continued to be tutored by Gerschwindner in basketball skills. Gerschwindner was also the team's coach and developed a plan to maximize Nowitzki's skills. While playing basketball, Nowitzki attended high school at the Roentgen Gymnasium. Though he wanted to drop out, he stayed in school because Gerschwindner believed he should continue his education.
While Nowitzki played for his local club, he also gained national and international exposure by playing on German national teams. In 1996, he played on the German National Junior team as well as the German Under-22 National Team, European Junior Select Team, and World Junior Select Team. In 1997, Nowitzki impressed a group of NBA players who came to Europe to play local teams. The 19-year-old played well against them, dunking on NBA star Charles Barkley, among others. This game led to some attention from U.S. colleges and a few offers to play professionally from all over the world, but Nowitzki continued to play for the X-Rays and work with Gerschwindner. In 1997, Nowitzki played for 20 games for Wurzburg. One reason he stayed was that he could play any position he wanted on the X-Rays, a means of learning the game from every angle. That year, Nowitzki averaged 17.5 points per game and 9.9 rebounds per game.
Basketball was not Nowitzki's only focus. From September of 1997 to June of 1998, he fulfilled his mandatory service in the German Army. Yet he was allowed to play basketball abroad during this time as a member of the International Junior Select Team for under-19 year olds at the Nike Hoop Summit in March of 1998. This was Nowitzki's breakout game in which he scored 33 points and 14 rebounds against the American squad. His team upset the Americans by a score of 104-99. His magnificent performance captured the attention of scouts, both college and professional, though he was still not well known.
Because of his army commitment, Nowitzki was not able to play in the pre-draft camp nor attend the NBA draft a few months later. Still, he was drafted in the 1998 NBA draft with the ninth pick by the Milwaukee Bucks. Nowitzki was then traded to Dallas with the number 19 pick, Pat Garrity, for Robert Traylor, the sixth pick, in a pre-arranged deal. He was unsure if he would play in the NBA right away, and thought about staying in Europe for one or more seasons or taking a college scholarship in the United States. Soon after the draft, he decided to join the Dallas Mavericks and to play in the NBA after meeting with new Dallas coach Don Nelson. One reason Nowitzki agreed to come and play in the NBA was that Nelson would allow him to leave twice during the season to play for the German national team so it could qualify for Olympic play in 2000.
When Nowitzki came to Dallas, he was still a raw talent, but very athletic, a sure shot, and had great hands. Yet he did not like physical contact while playing and was still seen as a gamble for even the German national team which did not expect him to play for them for several years. Though Nelson nearly lost his job over choosing Nowitzki, he was sure of his choice as was his son and assistant Donn Nelson. The younger Nelson told Erik Brady of USA Today, "What we liked best about him was his pure shot. That's something that generally you have or you don't have. His form was so good, and so pure, that we had to take a chance on him."
Nowitzki struggled his first season on in Dallas. He had a less-than-stellar rookie year in 1998-99, which made him unsure of his decision to come to the NBA. He only averaged 8.2 points per game, primarily playing small forward. But Dallas worked with him on his footwork, defense, and shot creation, while he adjusted to the warp speed of the NBA game. Nowitzki did much better in the 1999-2000 season, showing his ability to shoot from anywhere on the floor, solid passing, and becoming more physical. His numbers greatly improved, averaging 21.3 points and 9.4 rebounds per game. Nowitzki was also becoming more Americanized, learning English, and becoming more comfortable in his new life.
By 2000, Nowitzki was emerging as a star in the league. In the 2000-01 season, Nowitzki's NBA game greatly improved, but he still had much to work on including how to post up and box out, and his rebounding positioning. The Mavericks were also on a learning curve as they had been a dismal team for much of the 1990s and did not win a playoff game in that decade. During this season, the team was fighting to win its division while Nowitzki became the best scorer on the Mavericks and one of the top 20 scorers in the league. He averaged 23.4 points and 9.9 rebounds per game that season, as Dallas had its first winning record in eleven seasons. The Mavericks made the playoffs and Nowitzki showed his toughness by having a tooth knocked out in a game against the San Antonio Spurs and going right back into the game.
Nowitzki continued to get better over the next few seasons. He developed a reputation as an outstanding scorer and rebounder. The Mavericks also continued to make the playoffs. He made his first All-Star team in the 2001-02 season, and was selected as an all star for several consecutive seasons. At the end of the 2001-02 season, Nowitzki suffered a badly sprained ankle near the end of the regular season, which was hurt slightly again during the playoffs when Dallas played Minnesota in the first round. Despite the lingering injury, Nowitzki scored 39 points in the last game of the series, the most of any Maverick. Dallas ultimately lost in the semifinals to the Sacramento Kings.
Though Nowitzki was an NBA star, he had returned each summer to Germany to work with Geschwindner since he joined the Mavericks. His German coach believed in unique drills. During the 2002 off-season, for example, Gerschwindner helped Nowitzki with his defense by arranging for him to learn to fence with a champion fencer from Germany, since fencers learn defense before offense. Such work paid off as Nowitzki's defense improved the next season in Dallas.
Nowitzki became one of the Mavericks' leaders on the floor during the 2002-03 season. Dallas won 60 games during the regular season, a record for the team. By the 2003 playoffs, Nowitzki's teammate Michael Finley regarded him as the important component to Dallas winning it all. Finley told Ian Thomsen of Sports Illustrated, "Every championship team has a guy who dominates throughout the playoffs. For us, Dirk is that guy." Dallas almost made it to the NBA finals that year, but they lost in six games in the Western Conference Finals to the San Antonio Spurs.
In 2004, Nowitzki's leadership role, still somewhat reluctantly embraced, was expanded and cemented when his best friend on the Mavericks, Canadian point guard Steve Nash, left the team. Nash signed a deal which took him to the Phoenix Suns at the beginning of the 2004-05 season. The loss of Nash did not deter Nowitzki from achieving his goal of winning an NBA championship. Nowitzki raised his game even further, using his improved ball-handling skills and other improved aspects of his offensive game which he worked on the 2004 off-season. He also took more responsibility for the team overall and meshed all the new players as best he could.
Though Nowitzki had ankle and back problems which stymied his game at times, overall he was a better player after Nash left. For part of 2004 season, Nowitzki lead the league in scoring and was discussed as a possible NBA most valuable player. He finished the year with a career best 26.1 points per game average. However, Nowitzki had a poor post-season, only averaging 23.7 points per game, and the Mavericks were eliminated in the semifinals by the Suns, a loss for which he took the blame.
Nowitzki bested his scoring numbers in the 2005-06 season with 26.6 points per game average. During the 2005 off-season in Germany, he worked on playing against smaller defenders, players he struggled against. The result was much improvement offensively with the highest field goal percentage of his career at 48 percent. Nowitzki's defense, which remained somewhat soft, had improved, but he was now seen as an elite player with a complete game.
Led by Nowitzki, Dallas had their best playoffs ever in 2006. He helped knock out San Antonio in seven games in the second round of the playoffs. Peter May quoted Boston Celtics coach Doc Rivers in the Boston Globe during the Western Conference Finals as saying, "Dirk has been a great player, and the only knock on him was, could he step up in the big moments? And he's doing it, not just with his playing, but also with his emotion."
The Mavericks made it to the NBA Finals against the Miami Heat by eliminating the Phoenix Suns in six games in the Western Conference Finals. Dallas, however, lost in the finals. Nowitzki played decently in the championship round, but only had a 39 percent field goal percentage and averaged 22.8 points per game, which was not enough to overcome the Heat.
Soon after play-offs, Nowitzki agreed to extend his contract with the Mavericks. Before the start of the 2006-07 season, he signed the deal, a $60 million extension which ran from the 2008-09 season through 2011. Despite his success, Nowitzki was still hard on himself. He told Thomsen of Sports Illustrated, "After a bad game, I'm telling myself the next day, 'You've got to come in, you've got to shoot, you've got to lift at night, do cardio, you've got to get your game on track.'"
Nowitzki used all his training in the 2006 off-season to have arguably the best season of his career in 2006-07, including scoring his 15,000 NBA point in March 2007. Dallas won 67 games and was the number one seed in the Western Conference. Despite his success, he and the Mavericks faltered in the post-season. They failed to make it out of the first round of the playoffs, losing to the eighth-seeded Golden State Warriors. Nowitzki only scored eight points in game six, the game in which the Mavericks were eliminated from the playoffs. Because the NBA's most valuable player voting took place at the end of the regular season, Nowitzki won the honor for his regular season performance.
After spending two months away from basketball on vacation in Australia, New Zealand, and Fiji, Nowitzki returned to Dallas for the 2007-08 recharged and ready to take on an increased leadership role. While he struggled early in the season, he found his rhythm by December 2007 and was again his team's leading scorer. He also continued to diversify his game, adding a left-handed hook shot and driving to the basket more. However, the Mavericks' season proved disappointing. The team was eliminated in the first round of the playoffs.
Nowitzki continued to be regarded as one of the best players in the league. Seattle coach P.J. Carlesimo told Jeff Caplan of the Fort Worth Star-Telegram, "He's multi-talented and he probably presents as many different looks as any player in the league ... He's an MVP-caliber player and that's what you're going to get."
The 2008-2009 season was also disappointing for Nowitzki and the Mavericks, though it ended with drama and a valiant performance by him. Facing the Denver Nuggets in the second round of the playoffs, the Mavericks suffered three straight losses. After Game 2, TV announcers mocked Nowitzki as uncompetitive for acknowledging that the Nuggets had played good defense against him. The Mavericks' loss at the buzzer in Game 3 was widely blamed on a missed call by the referees. During the series, Nowitzki's fiancee, Cristal Taylor, was arrested at his house on theft charges and alleged to be a serial criminal with numerous aliases. However, Nowitzki still rose to the Nuggets' challenge, staving off elimination with a gutsy performance by scoring 44 points, 19 of them in the fourth quarter, to lead the Mavericks to a 119-117 win. Denver won the next game to eliminate Dallas.
Nowitzki's troubles continued into the off[season. In late May, Taylor told news reporters she was pregnant with Nowitzki's baby. Nowitzki filed suit seeking full custody of her unborn child if tests proved he was the father. A Dallas judge ordered DNA testing. Also, Mavericks owner Mark Cuban told Nowitzki the team would not give him permission to play on the German team in the European Championship in Poland.
AWARDS
All-National Basketball Association (NBA) Third Team, 2001; All-NBA Second Team, 2002; Most Valuable Player Award, World Basketball Championships, 2002; All-NBA Second Team, 2003; NBA Player of the Month, December 2004; All-NBA Third Team, 2004; NBA Player of the Month, February 2005; All-NBA First Team, 2005; named All-NBA, 2005-06; Most Valuable Player Award, National Basketball Association, 2007; NBA Community Assist Award, December 2007.
CAREER
Began playing basketball at the age of 13; began working with coach Holger Geschwindner at the age of 15; began playing for local team, DJK Wurzburg X-Rays, a second division team in German Bundeslinga, at the age of 16; played on the German National Junior team, German Under-22 National Team, European Junior Select Team, and World Junior Select Team, 1996; completed mandatory service in German Army, 1998; played for International Junior Select Team, Nike Hoop Summit, 1998; drafted with the ninth pick in the National Basketball Association (NBA) by the Milwaukee Bucks, 1998; traded on draft day to the Dallas Mavericks; signed with the Mavericks and began playing in the NBA, 1998; named to the NBA All-Star Team, 2002-06; signed contract extension with the Mavericks, 2006.
Read more
Latest headlines