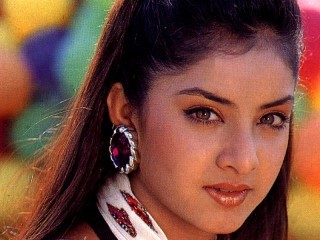 Divya Bharti biography
Date of birth : 1974-02-25
Date of death : 1993-04-05
Birthplace : Bombay, India
Nationality : Indian
Category : Arts and Entertainment
Last modified : 2011-07-12
Credited as : Film actress, ,
Divya Bharti was an Indian film actress. She started her career in the South film industry with the 1990 Telugu film Bobbili Raja. After several other hits in the South, she entered Hindi films with Vishwatma in 1992, for which she earned accolades for her performance in the song Saat Samundar Paar. She appeared in more than 14 Hindi films between 1992 and 1993.
Divya was in the ninth standard when she began to get film offers. As her face resembled superstar Sridevi, she got noticed by many directors and producers. At first her parents were hesitant, till Nandu Tolani offered her Gunahon Ka Devta in 1988. Divya was 14 and a 1/2 at that time.
Meanwhile, Divya learned via a friend that Dilip Shankar wanted a new girl opposite Aamir Khan in Aatank Hi Aatank and Rudra Avtaar. With her parents' permission, she signed up both films. During those times, Kirti Kumar, Govinda's brother noticed the charming Divya at a video library. He followed her to her residence and then called up director Nandu Tolani, who lived in the building next to hers and asked about Divya.
Then Kirti Kumar was eager to sign up Divya for Radha Ka Sangam opposite Govinda. Kirti went personally to meet Dilip Shankar and managed to release Divya from their contract. Kirti quoted in March 1989 in Showtime Magazine "I told Dilip that he could take any girl, but he'd never be able to find another Radha". Kirti changed her name from Divya to Radha. Producer Kirti launched her with much fanfare. He gave interviews on how he found his perfect Radha after scouring the whole of India for her. And then before the first shot was taken, Divya "Radha" Bharti was out of the film after being groomed for two years and replaced by Juhi Chawla. The reasons each side gave for the fall-out were different. Various magazines wrote different things behind the dropout. Some said "Kirti became over-possessive about her", others said "Lawrence D'Souza, who was to direct the film, left the project. Then Kirti decided to take over the film. Being new to direction, he had to drop Divya because he felt he could not handle a newcomer". Other magazines wrote that Divya was having an affair with Govinda and the smitten, jealous, Kirti could not tolerate that. Others wrote it was Divya's immaturity that made her drop out of the film.
And that was the green signal for other film makers to enter the fray. She was screen-tested by big names Boney Kapoor, Shabnam Kapoor, Shekhar Kapoor and Subhash Ghai. They all raved about her but no one signed her up. There were rumors that her childish reputation had preceded her. In magazines, she had earned a name for being wild and crazy. In fact, for his big budget film Prem, Boney Kapoor signed up Divya. Eight days later, Divya was out and Tabu was signed in. Later Subhash Ghai too called her for Saudagar opposite Aamir Khan and 20 days later she was out and he signed up Manisha Koirala and Vivek Mushran. By then, the rejections had affected fifteen year old Divya. Since she was already out of school, they would not accept her back. As a result, she was forced to sit idle. Fortunately, D. Ramanaidu, one of the biggest producers of Telugu cinema, landed up at Divya's doorstep. He offered Divya Bobbili Raja opposite his son Daggubati Venkatesh. Immediately, Divya got a Tamil Film and Rajiv Rai approached her for Vishwatma.
After being dropped out of so many big projects, Divya got depressed and left Mumbai. On the evening of her return, the producer of Bobbili Raja approached her for his upcoming project. They wanted Divya to fly down the same night. As Divya quoted in the Nov 1991 "Movie" magazine, "I didn't want to go. I said no but mummy said yes. Imagine, the film became a super-hit and I became a superstar". The move paid off. Bobbili Raja released in the summer of 1990 & became a colossal hit. She had captured the South by storm, and she was a goddess there. With more hits, she became a bigger name in Telugu cinema. In box-office ratings, she figured next only to the indomitable Vijayshanti. Her price, according to an insider, had touched a whopping 25 Lakhs per film and 1 lakh each additional day (If shooting was postponed, the South producers were paying 15 lakhs for 15 days), which was a big amount in 1991. In Bollywood, only Madhuri Dixit and Sridevi were getting that kind of price. In 1991 Divya gave back-to-back hits including Rowdy Alludu, and Assembly Rowdy opposite Chiranjeevi & Mohan Babu. In north India, she was known as the Sridevi of Telugu films. But, that was not what Divya was looking for. She wanted to make it big in Bombay. And she was back with fresh determination. She did not want to disappoint her Telugu audience and cut down to do one movie per year.
When Divya heard that Rajiv Rai was on the lookout for a new face for his film Vishwatma opposite Sunny Deol, she daringly walked into Rajiv Rai's office with her portfolio. And the same day signed the film. Rajiv was making the sequel to his Blockbuster film Tridev.
The film was produced by Trimurti Films Pvt. Ltd., one of the biggest and oldest film production houses. Vishwatma was launched in late 1990 with grand mahurat with Dharmendra giving the mahurat shot. Soon Divya left for long outdoor shooting in Nairobi. By the time Divya came back, film offers started pouring in. Without a single release so far, Divya had signed 14 films.
Vishwatma was released on January 2, 1992. Although it did do well, the film's success did not come close to that of Tridev and the film was declared an average grosser. Notably, the film's most popular song "Saat Samundar", which focused on Divya, became a hit and even to this day, the audience remembers Divya's dance sequence in that song.
Seven days later, Divya's musical bonanza Dil Ka Kya Kasoor released. It was supposed to establish her as popular heroine but opened to empty theaters. No one expected the film to bomb so badly. Although, the film failed to impress an audience, Filmfare magazines started including Diyva in the list of 1992 top ten best actress performances. Surprisingly, even when other now-well known newcomers was being introduced to showbiz, Divya's collapsed debut made a magazine headline. This was the time when stardom eluded many actresses including Madhoo and Chandni (whose debut movies (Phool Aur Kaante) and Sanam Bewafa, respectively) were superhits. Divya's flops made her a star. Divya defended herself by saying, "I wanted to prove myself. But, I've fallen flat on my face. Now, I have to begin my climb all over again. Yet, I'm positive that one day success will be mine" (Stardust, March 1992).
Thus Divya too was deleted from the ranks of the promising newcomers for a while. Then Pehlaj Nihlani's Shola Aur Shabnam came along. The film was a box office hit and Divya was riding high again. Not only did it present Divya in a noble character role, it also gave a big boost to Govinda's career, as well as launching David Dhawan as an established director.
Four months later, Raj Kanwar's love story Deewana became the biggest hit of 1992, where she held her own against veteran Rishi Kapoor and debutant Shahrukh Khan. With the super success of Deewana, Divya got rid of her promising newcomer status and entered the A-list. Her performance in Deewana was highly appreciated. Around that time, Divya's other films Balwaan with another debutant Sunil Shetty and Jaan Se Pyaara with Govinda released and did well at the box office. By the end of the year, Hema Malini's Dil Aashna Hai was released, in which Divya played a bar dancer who searches for her biological mother. Although the film was a box-office failure, her performance in the film was much appreciated by critics.
Suddenly, with big hits under her belt, Divya had become the hottest property in showbiz. And many predicted that she was poised to hit the number one slot soon. In September, magazines such as "Movie", "Stardust" and "Filmfare" put her at the 3rd position in the list of actresses based on price, popularity and position right after Madhuri Dixit and Sridevi.
Barely 16, Divya met Sajid Nadiadwala in 1990 at Film City, when Sajid dropped by the sets to meet his friend Govinda on the sets of Shola Aur Shabnam. It was Govinda who introduced Sajid to Divya. Soon, it became a routine for the unit to see Sajid on sets every day.
As Sajid quotes in Movie June 1993 issue "Somewhere around 15 January 1990 Divya told me that she wanted to get married. The very next day she was tense because her name was being linked with all heroes. She wanted to marry and put an end to all these controversies. People expect me to have a relationship with everyone, she would complain."
Around midnight of 5 April 1993, Divya fell to her death from a 5-story Versova apartment building, Tulsi 2 in Mumbai. There was much speculation by the media regarding Divya's sudden demise, including the possibility of accidental death, suicide and even murder. Divya's dress designer Neeta Lulla is believed to have been present at the apartment at the time of death but the unfortunate event could not be avoided. Police closed the investigation into her death in 1998, but the circumstances of her death still remain a mystery.
Divya's body was released to her family who had arranged for a cremation ceremony that very same day. However, her supposed Muslim husband wanted to arrange for a Muslim burial. On 7 April 1993, Divya Bharti was cremated in Hindu fashion with about 500 people in attendance including Anil Kapoor, Govinda, Kamal Sadanah, Raj Babbar, Yash Chopra, Jimmy Nirula, Aruna Irani, Raza Murad, Chiranjeevi, Vikas Anand, Venkatesh, Ram Mohan, Javed Khan, Raj Kanwar, Nitin Manmohan and Pehlaj Nehlani. A large number of film personalities, including Hema Malini, Urmila Matondkar, Saif Ali Khan, Shahrukh Khan, Shilpa Shirodkar, Sonu Walia, Somy Ali, Babita, Karisma Kapoor, Sangeeta Bijlani, Tabu, Manisha Koirala and Asha Parekh, offered condolences to the bereaved family members at their residence. Her husband, Sajid Nadiadwala, was not allowed to attend her last rites. At the time of her passing, Divya Bharti had been the youngest leading lady of Indian cinema.
She was scheduled to star in movies such as Mohra, Laadla, Andolan, Angrakshak, Kartavya and Vijaypath before her death. Divya had started filming Laadla before her death but the entire movie was re-shot with Sridevi. The footage of her performance was seen in a special television programme in 1994 which compared her performance with Sridevi's. The film was to be released in 1993 had Divya completed the movie but it was eventually released in 1994.
Divya's two completed films, Rang and Shatranj, were released months after her death. These films, in addition to several films produced by her husband Sajid Nadiadwala, were dedicated to her memory.
Read more
Latest headlines