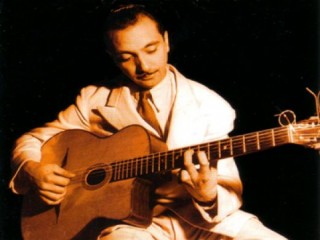 Django Reinhardt biography
Date of birth : 1910-01-23
Date of death : 1953-05-16
Birthplace : Liverchies, Belgium
Nationality : Belgian
Category : Famous Figures
Last modified : 2012-01-16
Credited as : jazz musician, Guitarist, Composer
Django Reinhardt was a pioneering virtuoso jazz guitarist and composer who invented an entirely new style of jazz guitar technique (sometimes called 'hot' jazz guitar) that has since become a living musical tradition within Belgian gypsy culture. With violinist Stéphane Grappelli, he co-founded the Quintette du Hot Club de France, described by critic Thom Jurek as "one of the most original bands in the history of recorded jazz."Reinhardt's most popular compositions have become jazz standards, including "Minor Swing", "Daphne", "Belleville", "Djangology", "Swing '42", and "Nuages".
The first European musical virtuoso to influence American jazz was Django Reinhardt, a French-speaking Belgian gypsy who had only two working fingers on his left hand. He is regarded as the jazz guitar's most dazzling soloist, most exciting improvisor, and most important innovator. Despite the fire injury at age 18 that crippled his fretting hand and challenged his very will to live, this extravagant, romantic, and illiterate genius went on to hasten the acceptance of the guitar as a popular solo instrument and to inspire musicians as varied as Yehudi Menuhin, Julian Bream, Les Paul, Barney Kessel, Chet Atkins, Joe Pass, and Carlos Santana.
Not only did Reinhardt become France's most famous jazz performer, but during World War Il he also assumed the status of national hero by refusing large sums of money to perform for the Nazi occupiers. After the war, expecting to reap some of his reputation's benefits, he eagerly went to the United States to tour with the Duke Ellington Orchestra. Disappointed by his reception in America, he returned to France and spent the remaining seven years of his life playing and recording with a variety of combos, fishing, playing billiards, and painting. He died unexpectedly of a stroke at the age of 43.
Born Jean Baptiste Reinhardt on January 23, 1910, this musical prodigy began his uncommon life in a gypsy roulotte (or caravan, a horse-drawn wagon) in the Belgian town of Liverchies, near the French border. A gypsy of the Manouche band, he is said to have possessed the gypsy's wandering impulse throughout his life, joining passing caravans while on tour, going off with various questionable "cousins" for meals or drinks instead of making gigs, and never really feeling comfortable unless he lived and traveled in a wagon. According to Rich Kienzle in Great Guitarists, Reinhardt most likely inherited his musical talent from his "probable father, Jean Ve'es," who was a comic and violinist. At the age of ten, Django (a gypsy dialect name meaning John, alternatively spelled "Jiango," or "Djengo," as on his gravestone) was given a banjo-guitar, which he practiced obsessively, becoming good enough by age 13 to perform as a sideman in low-level Parisian dance halls. Thereafter he was also playing violin and banjo, and within a few years he had recorded with a singer named Chabel.
Reinhardt reportedly first heard American-style jazz in 1925 or 1926, and soon he had garnered such local attention that he was playing with the accordionist-bandleader Maurice Alexander in the Belleville section of Paris. In his 1961 biography Django Reinhardt, author Charles Delaunay indicated that by 1928 Reinhardt had been signed by English bandleader Jack Hylton to appear in London with his orchestra. Before he could meet that obligation, however, a disastrous fire struck the caravan in which he and his wife were living, leaving him seriously injured and threatening an end to his musical career.
Most of the accounts of this terrible accident follow Delaunay's description, but some sources differ in their description of Reinhardt's resulting physical impairments: Was it his left or right leg that a doctor wanted to amputate? Or was it his left arm below the elbow? Were his "two middle fingers seared together," as George Hoefer related in Down Beat, or is Art Wrightman's account, as told to Down Beat interviewer Dennis Hensley, more accurate? "His leg mended well enough for him to walk without a limp," Wrightman was quoted as saying, "but his left hand was extremely mutilated. His ring finger and pinky were permanently hooked, his skin was scarred, and his hand muscles were distorted." In any case, Reinhardt spent the next two years in relentless and courageous self-conducted therapy, and he taught himself a compensatory technique that allowed him once again to play the guitar. As Wrightman related: "Eventually, he was able to play certain ninth chords by hooking his little finger against the solo E string, but even that was rare. He was strictly a two-fingered player."
With his brother Joseph, Reinhardt was playing again by 1930 in front of the cafes and in the courtyards of Paris, passing the hat for money. The pair then toured the south of France, encountering artist Emile Savitry, who introduced Reinhardt to recordings by Louis Armstrong, Duke Ellington, Joe Venuti, and American guitar player Eddie Lang. Back in Paris in late 1931, he met Stephane Grappelli, then a pianist with alto saxophonist Andre Ekyan's band. In the same year, the University Jazz Club was established in Paris, sponsored by Hugues Panassie, one of Europe's first jazz critics. Within a year this became the Hot Club of France. Between 1934 and 1939 the club would become world famous for presenting the Quintet of the Hot Club of France, the unique jazz group formed around Grappelli, playing the violin with elegance, and rough-hewn guitarist Reinhardt.
The mid-1930s saw the phenomenal growth of the quintet's quality and renown--and also of Reinhardt's individual artistry as both player and songwriter. During these pre-World War II years, the unlikely string quintet recorded swinging renditions of American pop and jazz standards like "Dinah," "Tiger Rag," "Lady Be Good," "Stardust," "St. Louis Blues," and dozens of others well known to traditional jazz and swing aficionados. But Reinhardt also showed creative genius and sensitivity to his mixed European roots in original compositions, some in collaboration with Grappelli, such as "Djangology," "Minor Swing," "Bricktop," "Swing 39," and the international hit "Nuages." In the latter years of the quintet's existence, he continued to compose in earnest while also recording often with several other European bands and visiting with American artists such as Benny Carter, Coleman Hawkins, Rex Stewart, Barney Bigard, and Billy Taylor. As in the United States, the years just before World War II in Europe produced a great flowering of happily popular jazz in the four-beat, swinging mode. For his efforts with this sizzling Quintet of the Hot Club of France, Django Reinhardt quickly became famous as the world's greatest jazz guitarist. With Grappelli electing to live in England during the war, Reinhardt kept the quintet going in Vichy, France, by adapting it to available musicians.
In addition to recording with a modified quintet, Reinhardt put together a number of big bands with French musicians, and in November of 1945, he recorded four sides with Django Reinhardt and His American Swing Band, made up of so-called American GIs newly arrived in liberated Paris. At about the same time, rampant and unsubstantiated rumors of Reinhardt's death gained such currency abroad that Down Beat actually printed an erroneous announcement that he had died. Delaunay and other writers have furnished anecdotal information about Reinhardt's adventures in occupied France during the early 1940s, including a bungled escape attempt to Switzerland that briefly put him into German custody and another attempt to flee during which he was turned back by the Swiss immigration officials because he was neither a Negro nor a Jew.
Reinhardt first enjoyed his postwar freedom and international fame in 1946 when Duke Ellington invited him to tour the United States with his orchestra. The tour was only mildly successful, the guitarist was less than thrilled, and the American jazz critics were scarcely impressed. Within two weeks of the tour's end, Reinhardt returned home disappointed with America, despite learning some bebop, trying out the electrically amplified guitar, and listening to Frank Sinatra.
From 1947 until 1953, Reinhardt led a somewhat reclusive life, performing irregularly, touring his cherished south of France only seldom, but recording plentifully with a revived Hot Club quintet. With three different clarinetists, and occasionally with Grappelli, these recordings were devoted predominantly to his original French-flavored songs (like "Babik," "Crepuscule," "Feerie, Artillerie Lourde"), as well as his symphony from the war years, Manoir de mes Reves. In the first two months of 1949, he and Grappelli recorded 68 numbers in Rome--a session which, because of the modern Italian rhythm section and the soloists' brilliance, "made this far more than a trip down Memory Lane preserving pre-war swing," according to Kienzle.
He continued experimenting in the bop style and with the amplified guitar (much to the discouragement of his older devotees), jammed with Dizzie Gillespie in February of 1953, and made his last commercial recording on April 8, 1953, with a progressive group consisting of vibes ("Fats" Lallemand), piano (Martial Solal), bass (Pierre Michelot), and drums (Pierre Lemarchand). After returning from a strenuous Swiss tour in mid-May, he complained of headaches and numbness in his arms. Refusing to see a doctor, he collapsed from a severe stroke and died in a Fontainebleau hospital the next day.
Reinhardt's innovations in guitar virtuosity included devices (some now common) like double-string picking, octave melodic voicing, flamenco-like "rumbling," and fiercely percussive chordal attacks. His trademark, however, is still not so common: bursts of extended melodic runs, astoundingly executed with just two fretting fingers. American guitarist Charlie Byrd, who played with Reinhardt in Paris while serving with the U.S. Army in 1945, described this facility for "scintillating passages of single notes," concluding in Down Beat that "it would take years of concentrated study" to imitate. In the same article, Barney Kessel, who was equally influenced by Reinhardt, cites the "intensity and emotion, the real fire " of his playing. "He was one of the real originals," Kessel proclaimed, adding, "If Django had wanted to stay in the United States and learn the language, I'm convinced he would have altered the course of the music itself."
What seems to astonish jazz fans and critics about Reinhardt's playing is its inventive range--a lyrical blend of European romanticism, classical regularity, gypsy nonchalance, and the forcefulness of jazz. Reinhardt's ear was infallible, according to virtually every musician who played with him. He is said to have been able to detect mistakes or intonation problems in individual instruments performing a symphony. His intuitive feeling for the guitar was unconstrained, and his technique was unsurpassed. Nobody playing the acoustic jazz guitar in the 1930s and 1940s could match his "biting attack and unremitting drive" and "the utterly fearless manner in which he positively leaps into his up-tempo solos," noted Stan Britt in The Jazz Guitarists. Reinhardt is credited as the only modern jazz guitarist--in any mode, at any tempo--to have produced improvisational figures of such constantly breathtaking inventiveness.
The variety and contradictions in Reinhardt's playing style complement the fluctuations in his personal life and behavior. He was notoriously unreliable, missing gigs or showing up hours late just because he happened to meet some old friends. At the same time, he is said to have been extremely sensitive, capable of being reduced to tears by the beauty of a piece of music or someone's playing. Perhaps it is true that he gradually tired of the impositions placed on him by his celebrity, as claimed by his longtime friend, critic Andre Hodeir. In his book Toward Jazz, Hodeir related that Reinhardt, "only a few weeks before his death, muttered: 'The guitar bores me.'"
Despite his premature death, Reinhardt succeeded in joining the ranks of the few indisputable giants of jazz: Armstrong, Ellington, Charlie Parker, and Art Tatum. Like them, he was a natural musician who overcame substantial obstacles to become a household name in the realm of musical artistry.
Discography:
1945 Paris 1945
1947 Ellingtonia – with the Rex Stewart Band – Dial 215
1949 Djangology
1951 Django Reinhardt and the Hot Club Quintet
1951 At Club St. Germain
1953 Django Reinhardt et Ses Rythmes
1954 The Great Artistry of Django Reinhardt
1955 Django's Guitar
1959 Django Reinhardt and His Rhythm
1980 Routes to Django Reinhardt
1991 Django Reinhardt - Pêche à la Mouche: The Great Blue Star Sessions 1947/1953
1996 Imagine
1997 Django Reinhardt: Nuages with Coleman Hawkins
1998 The Complete Django Reinhardt HMV Sessions
2000 The Classic Early Recordings in Chronological Order (5 CD boxed set)
2001 All Star Sessions
2001 Jazz in Paris: Swing 39
2002 Djangology (remastered) (recorded in 1948, discovered, remastered and released by Bluebird Records)
2003 Jazz in Paris: Nuages
2003 Jazz in Paris: Nuits de Saint-Germain des-Prés
2004 Le Génie Vagabond
2005 Djangology (Bluebird)
2008 Django on the Radio (radio broadcasts, 1945–1953)
Read more
Latest headlines