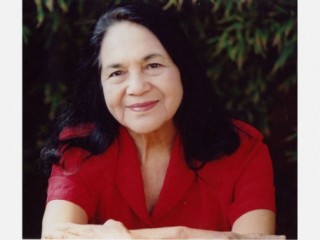 Dolores Huerta biography
Date of birth : 1930-04-10
Date of death : -
Birthplace : Dawson, New Mexico, United States
Nationality : American
Category : Famous Figures
Last modified : 2010-07-15
Credited as : Labor leader and teacher, activist,
Dolores Huerta
, also known as:
Dolores Fernandez Huerta, Dolores Fernandez
born April 10, 1930 in Dawson, New Mexico, United States is an American-Hispanic labor and activist.
One of the most influential labor leaders of the twentieth century,
Dolores Huerta
's accomplishments include economic, social, and political gains for workers across the United States. While her most significant achievements have been made through the United Farm Workers (UFW) union, which she helped to establish in 1966, Huerta has also worked as a lobbyist for proworker legislation in Sacramento, California and Washington, D.C. She has also earned a place as a respected feminist spokesperson and role model to two generations of activists. Even after her retirement from day-to-day management of the UFW, Huerta continues to serve as its vice-president emeritus while promoting the union's agenda in legislative chambers and media outlets around the country.
Initial Career as Teacher
Dolores (Fernández) Huerta was born on April 10, 1930, in Dawson, New Mexico, to Juan Fernández and Alicia Chaves Fernández. The Fernández family already had one son, and another son was born after Dolores's arrival. In the mid-1930s Juan and Alicia Fernández divorced, and Alicia Fernández moved with her three children to Stockton, in northern California's San Joaquin Valley. Juan Fernández, who had earned a living as a miner in New Mexico, eventually earned a college degree and was elected to the New Mexico state legislature in 1938.
Life in Stockton for the Fernández family was not easy at first; however, with the support of her extended family, within a few years Alicia Fernández earned enough money as a cannery worker and waitress to purchase a small hotel and restaurant. After her mother remarried, Dolores Fernández had two additional siblings, and all of them helped out at the hotel. The family made the hotel a success, and after Dolores finished high school, she planned on continuing her education by attending college. It took her a few years to realize this ambition, but she completed her associate's degree with a certificate in teaching at the Delta Community College division of the University of the Pacific in the early 1950s.
She also married and began a family; her first marriage produced seven children but ended in divorce. Although she subsequently married Richard Chavez, younger brother of Cesar Chavez, the renowned American labor leader, she retained her married surname, Huerta. With Chavez, Huerta had four more children, for a total of eleven children.
Founded Community Service Organization
Huerta's career as an elementary school teacher in Stockton was a brief one. Upset that many of her pupils came to school without decent clothing or enough food, she decided after just a few months in the classroom to work against poverty in a more direct manner. In 1955 she thus helped to found the Stockton chapter of the Community Services Organization (CSO). Like the civil rights organizations led by African-American activists in the South, the Stockton CSO began to organize Mexican-Americans on the grassroots level to implement social, economic, and political changes. Under Huerta's leadership, the CSO immediately began a voter registration program and put pressure on politicians to provide equal services to poorer, predominantly ethnic neighborhoods in Stockton. It also served to publicize cases of discrimination and police brutality against Mexican-Americans.
Located in California's San Joaquin Valley, one of the most productive agricultural regions in the United States, Stockton had a significant number of migrant farm workers among its residents during various times of the year. Many of the migrant workers had come to the region from Mexico; lacking American citizenship and in many cases permanent resident status, the migrants were often subjected to brutal and exploitative working conditions along with low wages and no job security. To address these problems, Huerta formed the Agricultural Workers Association (AWA) in 1960. Through the AWA, Huerta lobbied the California State Legislature to end the state's citizenship requirement to qualify for public assistance or enter state pension programs. Continuing the political aims of the CSO, Huerta was also instrumental in passing legislation that allowed citizens to vote with Spanish-language ballots and take driver's license tests in Spanish.
United Farm Workers Union Founder
In 1962 Huerta joined forces with one of the most charismatic labor leaders in California, Cesar Chavez, who was working as the national director of CSO. With Chavez, Huerta founded the National Farm Workers Association (NFWA) to organize agricultural laborers into labor unions and enter into collective bargaining agreements with commercial growers. From the start, the NFWA's success depended upon the strength of Chavez as an inspired and dynamic leader and Huerta as a tireless organizer and tough negotiator. As Huerta recalled in a February 2000 interview with National Public Radio's Morning Edition, "I think we really built on each other's strengths a lot. I think I had more experience in dealing with Anglos than he did because Cesar was always very uncomfortable because he always felt that politicians would sell you out." Indeed, Huerta used her lobbying skills to make additional gains for agricultural workers while working for the NFWA. In 1963 the California State Legislature allowed farm workers to participate in the state's disability insurance program and to claim benefits under the Aid for Dependent Families program.
A milestone in Huerta and Chavez's efforts to organize farm workers came in 1965 with a strike in Delano, California by the Agricultural Workers Organizing Committee (AWOC). When the leaders of the AWOC asked NFWA members to join the strike against area grape growers, it grew to include over 5,000 farm workers. It also led to the formation of a new union, the United Farm Workers (UFW) union, out of the AWOC and NFWA.
The new union had its first success in 1966, when Huerta secured a collective bargaining agreement recognizing the union as the agent of workers at the Schenley Wine Company. The fight to organize grape growers struggled on for five years, however, before the UFW declared success and ended its national boycott of California grapes.
Political and Social Activism
The UFW continued to organize workers and fend off challenges from competing unions such as the Teamsters throughout the 1970s. It also broadened its agenda to fight for better working conditions for all agricultural workers; the UFW was instrumental in publicizing the use of lethal crop chemicals that included DDT, parathion, and methyl bromide. As the UFW's vice-president, Huerta was also an important feminist symbol of the inroads made by the women's movement. Although she faced sexism in the UFW during its early years, Huerta never passed up the opportunity to educate her male colleagues about the impact of gender issues on the union's work.
In a 2000 National Public Radio interview, Huerta reflected on the balance she had to make between her role as a union leader and as a mother: "I guess the political and the work has always come first with me and then I just tried to catch up on the other because I often felt that for every unmade bed and for every unwashed dish some farm worker got one dollar more in wages somewhere. You know, some family out there was made better. And it's sort of the decision that I made and thank God my children, you know, understood that decision." Huerta also paid a physical price for her work; she was arrested over 20 times during her career while on the picket line and in 1988 suffered two broken ribs and a ruptured spleen, when San Francisco police arrested her during a protest against the Bush Administration.
After Cesar Chavez's death in 1993, Huerta continued to foster the UFW's work in the political arena and at the collective bargaining table. In 1999 she stepped down from her post and assumed the title of vice-president emeritus of the UFW in order to devote her time to the presidential candidacy of Al Gore. In October of 2000 Huerta suffered from a bleeding ulcer that led to an extended stay in the hospital for treatment of an intestinal infection; she resumed her work after a lengthy recovery period. Among the many awards that Huerta has collected during her career include honorary doctorates from the New College of San Francisco, San Francisco State University, and the State University of New York at New Paltz; the Outstanding Labor Leader Award from the California State Senate, 1984; an induction into the National Women's Hall of Fame; the American Civil Liberties Union's Roger Baldwin Medal of Liberty Award; the Eugene V. Debs Foundation's Outstanding American Award; the Ellis Island Medal of Freedom Award; and the Eleanor Roosevelt Award, which was presented to her by President Bill Clinton in 1999.
PERSONAL INFORMATION
Born Dolores Fernández on April 10, 1930 in Dawson, New Mexico; daughter of Juan Fernández and Alicia Chaves Fernández; divorced from first spouse; second marriage to Richard Chavez; eleven children Education: Completed associate's degree in teaching at the University of the Pacific in the early 1950s. Religion: Roman Catholic
AWARDS
Outstanding Labor Leader Award, California State Senate, 1984; Honorary doctorate, New College of San Francisco, 1990; Honorary Doctorate, San Francisco State University, 1993; National Women's Hall of Fame Inductee, 1993; American Civil Liberties Union Roger Baldwin Medal of Liberty Award, 1993; Eugene V. Debs Foundation Outstanding American Award, 1993; Ellis Island Medal of Freedom Award, 1993; Honorary doctorate, State University of New York at New Paltz, 1999; Eleanor Roosevelt Award, 1999.
CAREER
Stockton Public Schools, teacher, early 1950s; Community Service Organization, Stockton, CA, founder and staff member, 1955-60; Agricultural Workers Association, Delano, CA, founder and staff member, 1960-62; National Farm Workers Association, founder and staff member, 1962-66; United Farm Workers Union, vice-president, 1966-99, vice-president emeritus, 1999-.
Read more
Latest headlines