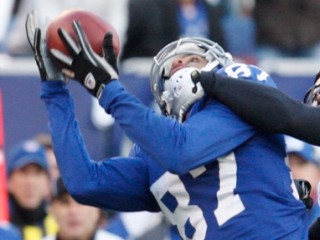 Domenik Hixon biography
Date of birth : 1984-10-08
Date of death : -
Birthplace : Columbus, Ohio
Nationality : American
Category : Sports
Last modified : 2010-10-04
Credited as : Football player NFL, wide receiver for the New York Giants, Super Bowl/NFL Draft player
Originally a 4th round (130th pick overall) draft choice by the Denver Broncos in 2006… Placed on reserve/non-football injury list (left foot) by Denver Aug. 29, 2006 and remained there the rest of the season...Waived by the Broncos on Oct. 2, 2007…Awarded off waivers to the Giants on Oct. 3, 2007.
GIANTS NOTES
Will miss the entire 2010 season after tearing his right anterior cruciate ligament in a minicamp practice on June 15.
Provides major contributions to the team as a receiver, punt returner, kickoff returner and on special teams cover units.
Hixon's 290 kickoff return yards in 4 games set the Giants' career postseason record in 2007…The previous mark of 272 yards was held by Ron Dixon.
Hixon's 303 total yards at New Orleans on Oct. 18, 2009 shattered Joe Scott's 61-year-old franchise record by 24 yards. He holds 2 of the 5 largest single-game yardage totals in Giants history.
CAREER HIGHLIGHTS
Has played in 46 regular season games with 10 starts and in 5 postseason games…Career totals include 59 receptions for 788 yards and 3 touchdowns, and 3 rushing attempts for 18 yards…Has returned 48 punts for 530 yards (11.0-yard avg.) and a touchdown,and 80 kickoffs for 1,966 yards (24.6-yard avg.) and a touchdown…Also has 25 career special teams tackles.
In 2009, Hixon played in 14 games with 2 starts (the season's first 2 games…Was inactive at Tampa Bay (9/27) and at Kansas City (10/4) with a knee injury…Caught 15 passes for 187 yards, including a career-long 61-yard touchdown reception vs. Philadelphia (12/13)
Hixon set Giants single-season records with 57 kickoff returns for 1,291 yards. The former marks of 55 returns for 1,117 yards were set by Brian Mitchell in 2003…Led the Giants with a 22.6-yard average on 57 kickoff returns, with a long of 68 yards, and a 15.1-yard average on 17 punt returns, including a 79-yard touchdown…Ranks 7th in Giants history with 1,692 kickoff return yards and 9th with 498 punt return yards.
Hixon had 303 total yards at New Orleans (10/18), breaking Joe Scott's 61-year-old franchise record by 24 yards. Returning kickoffs for the first time in 2009, Hixon had 230 yards on 7 runbacks, including a 68-yarder and a 45-yarder to set up touchdowns. He returned 2 punts – for 27 and 24 yards, the latter setting up another score. Hixon also caught 3 passes for 22 yards. Hixon was the 1st player to gain at least 300 yards in a game since Arizona's Steve Breaston totaled 324 yards on Sept. 28, 2008. Breaston had 192 yards on kickoff returns 122 receiving and 10 on punt returns.
Hixon now owns 2 of the 5 largest single-game yardage totals in Giants history. Scott, a halfback who played for the team from 1948-53, set the previous yardage record on Nov. 14, 1948 in a 52-37 loss to the Los Angeles Rams in the Polo Grounds. Like Hixon, Scott gained most of his yards on kickoff returns (207). He also had 22 yards rushing, 35 receiving and 15 after fielding laterals. Tiki Barber's 276-yard effort vs. Philadelphia on Dec, 28, 2002 fell to 3rd on the Giants' one-game list. Barber rushed for 203 yards and caught eight passes for another 73 yards. Hixon is tied for the 4th spot with wide receiver Del Shofner at 269 yards. In a victory at Arizona on Nov. 23, 2008, Hixon had 180 yards returning kickoffs, 57 receiving, 21 on punt returns and an 11-yard rush. Shofner had 269 receiving yards on Oct. 28, 1962, the day Y.A. Tittle tied an NFL record with 7 touchdown passes vs. Washington.
Hixon was the first Giants player with 2 punt returns of at least 24 yards apiece in a game since Barber did it vs. the Jets on Dec. 5, 1999…His 230 kickoff return yards in New Orleans were the 2nd-highest total in Giants history. Willie Ponder had 259 kickoff return yards vs. Pittsburgh on Dec. 18, 2004.
Hixon was selected as the NFC Special Teams Player of the Week for his performance in the Giants' 31-24 victory vs. Dallas (12/6)…He returned 3 punts for 95 yards and 4 kickoffs for 70 yards and made one of the game's biggest plays when he ran back a punt 79 yards for a touchdown to increase the Giants' lead to 31-17 with 5:33 remaining in the game…It was the Giants' 1st punt return touchdown since Sept. 11, 2005, when Chad Morton brought one back 52 yards in a victory over Arizona. The Giants had gone 74 regular season games and 7 postseason games without a punt return touchdown. Hixon's punt return was the Giants' longest since Barber's 85-yard touchdown on Oct. 18, 1999 – also against Dallas. Hixon was the first Giant to be named Special Teams Player of the Week since linebacker Chase Blackburn in Week 9 of the 2008 season. He was the first Giants player to be honored for his returning exploits since Amani Toomer in Week 8 of the 1997 season (when Toomer scored on a 53-yard punt return).
In 2008, played in all 16 games with 7 starts and started the NFC Divisional Playoff Game vs. Philadelphia….Caught 43 passes for a team-high 596 yards and 2 touchdowns…Also had 2 rushes for 26 yards…Returned a team-high 24 punts for 242 yards, a 10.1-yard average, and 3 punts for 180 yards.
Had a career-high 102 receiving yards vs. Seattle (10/5). That included a 32-yard score that was the 1st touchdown reception of his career – on his 8th catch. It was his 2nd career score; he returned a kickoff 74 yards for a touchdown on Dec. 29, 2007 vs. New England.
Hixon gained 269 total yards (180 on kickoff returns, 57 receiving, 21 on punt returns, plus an 11-yard rush) at Arizona (11/23), which was then tied for the 3rd-highest total in Giants history.
In 2007, played the first 4 games of the season with Denver and the final 12, plus the playoffs, with the Giants…Hixon caught 1 pass for 5 yards and returned 8 kickoffs for 221 yards (a 27.6-yard average) and 1 touchdown for the Giants…He also had 12 kickoff returns for 274 yards and 7 punt returns for 32 yards for the Broncos…In the postseason, Hixon set a Giants postseason record with 290 kickoff return yards on 12 runbacks.
Made his only start of the season when the Giants opened the game in a 4-wide receiver formation vs. Washington (12/16), but did not have any receptions…Had 3 special teams tackles…Assumed kickoff returns vs. New England (12/29) due to Ahmad Bradshaw's calf injury…Took advantage of the opportunity by returning 8 kickoffs for 221 yards including a 74-yard touchdown in the 2nd quarter….It was the Giants' 1st kickoff return touchdown since Willie Ponder brought one back 95 yards vs. Arizona on Sept. 11, 2005.
Returned 2 kickoffs for 37 yards and had a special teams tackle in the NFC Wild Card Game at Tampa Bay (1/6)…Returned 3 kickoffs for 93 yards and added a special teams tackle in the NFC Divisional Playoff Game at Dallas (1/13)…Returned 5 kickoffs for 121 yards with a long return of 36 yards in the NFC Championship Game at Green Bay (1/20)…Made a key recovery late in the 4th quarter of an R.W. McQuarters fumble on a punt return with the score tied 20-20…Also had 1 special teams tackle…Returned 2 kickoffs for 39 yards in Super Bowl XLII vs. New England (2/3).
In 2006, Hixon was selected by the Broncos in the 4th round of the NFL Draft…Was placed on the reserve/non-football injury list on Aug. 29 with a left foot injury suffered while preparing for the draft…Hixon, who did not play in any preseason games, spent his rookie season on that list with Denver.
COLLEGE
Hixon started 44 career games at the University of Akron, posting 20 starts as a free safety during his first 2 seasons and 24 as a wide receiver in his final 2 years…He caught 141 passes for 2,092 yards (14.8-yard avg.) with 14 touchdowns while returning 42 punts for 475 yards (11.3-yard avg.) with 1 touchdown…Added 49 kickoff returns for 1,171 yards (23.9-yard avg.) with 1 touchdown.
Defensively, Hixon totaled 176 career tackles (117 solo), 1 interception, 3 pass breakups and 2 fumble recoveries…He was a team captain as a senior, starting all 13 games and setting school single-season records with 75 receptions and 1,210 yards (the nation's 8th-highest total) and 8 touchdowns…Was a 2nd-team All-Mid-American Conference choice.
OFF FIELD ACTIVITY
Adopted Lyndhurst Public Schools in spring 2009 and Carlstadt Public Schools in 2010 for the Giants' Play 60 Challenge, making multiple visits to encourage the kids to play 60 minutes every day.
Participated in the Giants Foundation 2009 Golf Outing.
Hosted youth from the American Heart Association at Training Camp, filming a public service announcement for television promoting healthy food choices.
Attended the Champions for Children fundraiser gala benefitting the Tom Coughlin Jay Fund Foundation.
Joined NFL Commissioner Roger Goodell and Giants President John Mara to install new fitness equipment at Lyndhurst High School with the United Way of Bergen County and The American Heart Association as part of the 2009 "Hometown Huddle."
Attended the Taste of the Giants fundraiser event benefitting local food banks, featuring chefs from the area preparing their signature dishes.
Attended the annual Meet the Giants fundraiser benefitting the Ronald McDonald House of New York City, a home away from home for kids fighting cancer and blood disorders.
Made a Play 60 fitness visit to Bloomfield Middle School, encouraging students to play 60 minutes every day.
Joined Danny Clark as he hosted kids from Abbott House for a holiday shopping spree at Wal-Mart.
Attended the Giants annual Jingle Jam holiday party at Giants Stadium for 500 N.J. foster children.
Attended the Erie Pennsylvania Charity Sports Banquet, raising money for youth athletics.
Visited South Brunswick High School, signing autographs as a fundraiser for their upcoming Project Graduation.
Joined the NFL to host local NYC youth for a Play 60 youth football clinic in Central Park during the week of the NFL Draft.
Hosted Giants fans and season ticket holders during the team's Draft Day Party at New Meadowlands Stadium.
Attended the Giants Kickoff Luncheon benefitting St. Vincent's Medical Center.
PERSONAL
Hixon was a 2-way standout at Whitehall-Yearling High School in Columbus, Ohio…As a senior, he had 33 receptions for 429 yards and 4 touchdowns, plus 140 tackles, 5 sacks and 4 interceptions as an honorable mention all-district choice…Hixon also was an honorable mention all-state point guard on Whitehall-Yearling's basketball team and was a 3-year letterwinner in baseball.
Hixon majored in sports science at Akron…Born Oct. 8, 1984 in Neukirchen, Germany, Hixon moved to Columbus, Ohio, after spending his formative years in Germany.
Read more
Latest headlines