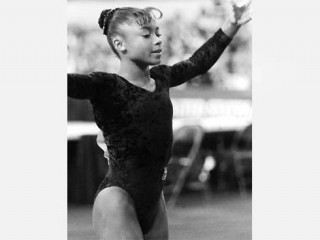 Dominique Dawes biography
Date of birth : 1976-11-20
Date of death : -
Birthplace : Silver Spring, Maryland, United States
Nationality : American
Category : Sports
Last modified : 2010-07-07
Credited as : Olympic gymnast, ,
Dominique Margaux Dawes
(also known as:
Dominique Dawes
) , born November 20, 1976 in Silver Spring, Maryland, United States is an African-American gymnast.
Dominique Dawes
changed U.S. amateur sports forever by becoming the first African American to represent the United States in Olympic gymnastics. Her lifetime achievements are impressive, including a clean sweep at the 1994 U.S. National Championships and three appearances in the Olympic Games (1992, 1996, and 2000). Her reputation has been defined by powerful and risky performances that raise the bar for her competitors. Her famous move of tumbling up and back from one corner of the mat to the other without stopping originated when her coaches asked her to do a full maneuver on the tiny mat in her gym; a fitting signature for a young woman who overcame many obstacles to accomplish things no one else had before.
Determination
Dominique Dawes was born in 1976 in Silver Spring, Maryland. From an early age, she displayed the energy required to be a future gymnast. At six years old she had made a hobby of cart wheeling around the house. Her parents were impressed by her talent but also wanted to give her an outlet to express herself away from their more delicate items. "I had a lot of energy around the house, so my parents thought it would be good to put me in a gym," she told CBS Sportsline. They found a trainer with a good reputation in nearby Gaithersburg, Maryland at Hill's Gymnastics. Kelli Hill, the owner, immediately spotted talent. "There are other people with God-given ability, but it takes a very special person to pursue it day after day," Hill told People. Dawes didn't know a thing about the sport of gymnastics but she immediately took to the discipline and hard work. While other children bowed out, she stuck with it.
When Dawes began to compete in local meets at the age of nine, she would write the word "determination" on the mirror in shaving cream. "[At that age] I was amazed she even knew how to spell it," her father told People, "but it worked." She began her amateur career as a gymnast in 1991 at the age of fifteen when she joined the U.S. Senior National team. By the end of the year she was ranked ninth in the nation, making a distinct impression for a young girl from a small town and an unknown gym.
With a strong performance at the Olympic trials and a blossoming reputation for unusual strength and poise, Dawes became a member of the Olympic team in Barcelona's 1992 games. This is noteworthy because she became the very first African American woman to represent the U.S. Gymnastics Team. When asked about her place in history by Susan Stamberg, Dawes was humble but showed the wisdom of a young woman who had seen racism up close. "I think [my attitude] has to do with having a good outlook on things ... And, you know, that's what I constantly try to tell young kids. ... You know there's going to be negative things there and they're going to get you down. ... But you need to think positive and think that there's a brighter side to everything." Hopes were high for the 1992 team and they managed to take home the bronze medal. But there were even more incredible accomplishments ahead for the young talent.
The following year proved to be as successful when Dawes pulled off a solid performance at the 1993 World Gymnastics Championships in Birmingham, Great Britain. Her two silver medals in the uneven bars and balance beam were a personal best and a first for a black gymnast in a world championship competition. Dawes' reputation was being built on solid and risky performances across all different gymnastic events. USA Gymnastics named Dawes the 1993 Athlete of the Year.
Awesome Dawesome Struts Her Stuff
But it was the 1994 Coca-Cola U.S. National Championships in Nashville where "Awesome Dawesome" earned her nickname. She won first in all the main events. Her clean sweep easily gave her the coveted First All-Around to top it off. The accomplishment was the first of its kind in twenty-five years. Once again, USA Gymnastics named Dawes 1994 Athlete of the Year.
In high school, she practiced seven times a day; two hours before school and five hours after and still managed to maintain an A average. Like any other young woman in her teens, college beckoned. She had her pick of many great schools with her combination of accomplishments and hunger for self-improvement. Stanford offered a scholarship, but she deferred twice due to the strong draw of her favorite sport.
After a wrist injury sidelined her in 1995, Dawes returned with a tremendous effort at the 1996 Coca-Cola U.S. National Championships in Knoxville. Reminiscent of the 1994 Nationals, she took first in a number of events. At twenty, an age when most gymnasts consider retiring, Dawes looked like she was just getting started.
The Magnificent Seven
Dawes excelled at the 1996 Olympic trials and joined six talented young women, penned as the "Magnificent Seven," for the 1996 Olympic Games. The potential that the team displayed made all of the gymnasts household names overnight. Expectations were high for the female team since it was made up of promising talents; unknowns and veterans alike. The Magnificent Seven delivered. As a team they won the gold medal for the U.S. while Dawes, with one stumble in the floor exercise, fought back from disappointment to grab the bronze. She cried as she left the mat, which many took to mean she was disappointed that she didn't win the gold.
Retiring to College
Dawes retired from amateur gymnastics at the end of 1996 and found a number of outlets for her talents. She appeared in the Broadway production of Grease and also danced for a Prince video. She attended college at University of Maryland where she considered a career in medicine as well as law enforcement. But competitive gymnastics beckoned. Only a few months before the 2000 Olympic trials she began to train for a third appearance in the Games. The comeback was primarily due to a discomfort with life outside the sport. "It was very boring having a non-gymnastics life," she told Paula Parrish of the Gazette. "I would wake up and I wouldn't be nervous and I didn't have to go and do anything. I just kind of made up my schedule as I went along." She might have woken up nervous on the morning of the 2000 trials, but she didn't show it. Dawes stunned everyone with a seventh place finish, proving her veteran ability to stay calm under pressure.
Her climb back to the top was not without controversy. The Selection Committee, which decides who will attend the Olympics, changed an old policy and based their decisions on a gymnast's specific abilities, instead of overall performance. However, they allotted two spots for strong performers. Considering this criterion and her stunning performance in the trials, Dawes was chosen to go to her third Olympics; even though she was picked over Vanessa Atler, who finished one spot ahead in the trials. The controversy that followed could have been huge, but Atler exited gracefully. "I wasn't having fun," she told the Cincinnati Enquirer. "When my name wasn't called, I almost had a sense of relief because deep down, I knew I shouldn't be going."
Time to Move On
Dawes' performance at the 2000 games was disappointing. The U.S. team struggled to avoid being eliminated in the early rounds. Eventually, they ended up in fourth place and Dawes, the sentimental favorite to win gold, went home empty-handed. But she insists she's been made stronger by this and finds comfort in her curiosity, her optimism, and her religious faith.
Many consider Dawes a primary example of the new generation of athlete. She exemplified the surge of powerful and innovative sports figures who proliferated in the 1990s. Her consistently powerful performances through some of the highest drama in recent sports memory, endeared her to millions of Americans and her fellow competitors. The fact that she broke down a stubborn wall for African American gymnasts adds to her already impressive legacy.
Now retired, Dawes has stayed very involved in both gymnastics and inspirational speaking. She completed a stint with Washington D.C.'s local CBS affiliate where she profiled exceptional citizens. She was also a commentator for TNT at the Goodwill Games.
But Dawes' focus after retiring has been primarily on self-esteem issues. Her experiences on the road and in competition made Dawes acutely aware of the pressures girls go through. "Dig deep inside and celebrate yourself," she told Teenwire.com. "Find out who you are as a person and what's good about you. Both negative and positive attitudes are contagious; make sure to surround yourself with positive ones." She's been an official speaker for the Girl Scouts, speaking at events with a consistent message that success comes from respecting yourself first.
On the gymnastics front, Dawes was recently named Co-chair of The 2003 Visa American Cup, the first step on the road to the 2003 World Championships.
AWARDS
1988, U.S. Gymnastics Championships, Houston; tied 17th All Around (AA); 1989, American Classic, Oakland; 4th-AA, 2nd-Vault (V), 3rd-Uneven Bars (UB), 6th-Floor Exercise (FX), 9th-Balance Beam (BB); 1990, U.S. Gymnastics Championships, Denver; 3rd-AA (junior division); 1991, U.S. Gymnastics Championships, Cincinnati; tied 1st-FX; 1992, Olympic Games, Barcelona, ESP; 3rd-Team, 26th-AA; 1993, Coca-Cola National Championships, Salt Lake City; 2nd-AA, 1st-V & BB, 2nd-FX, 3rd-UB; 1994, American Classic/World Championships Trials, Orlando; 1st-AA; 1995, Coca-Cola National Championships, New Orleans; 4th-AA, 1st-UB & FX; 1996, U.S. Olympic Trials-Gymnastics, Boston; 1st-AA; 1996, Olympic Games, Atlanta; 1st-Team, tied 17th-AA, 3rd-FX; 1998, American Classic, Orlando; 8th-AA, tied 1st-V; 2000, Olympic Games, Sydney; 4th-Team.
CHRONOLOGY
* 1976 Born November 20, Silver Spring, Maryland
* 1982 Begins training at Hill's Gymnastics
* 1991 Begins amateur career--U.S. Senior National team
* 1992 Becomes first African American woman to represent the U.S. gymnastics team
* 1992 Appears on the cover of Wheaties cereal boxes
* 1993 Wins two Silvers--World Gymnastics Championships
* 1994 Sweeps the Nationals
* 1995 Sits out World Championship in Sabae, Japan due to a stress fracture in her right wrist
* 1996 Places First in Vault, Balance Beam, Uneven Bars and Floor Exercise at the Nationals
* 1996 Becomes the first African American to win a medal for the U.S. gymnastics team; Bronze for Floor Exercise at the Olympics in Atlanta. Helps team win Gold
* 1996 Retires from amateur sports
* 2000 Comes out of retirement to train for 2000 Olympics. Qualifies after only four months
* 2000 Women's gymnastics team places fourth
Read more
Latest headlines