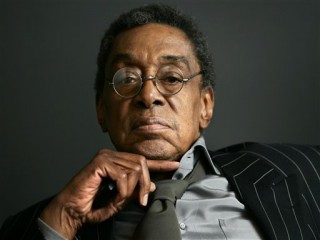 Don Cornelius biography
Date of birth : 1936-09-27
Date of death : 2012-02-01
Birthplace : Chicago, Illinois, USA
Nationality : American
Category : Arts and Entertainment
Last modified : 2010-08-30
Credited as : television personality, broadcasting executive, Soul Train
Like the cartoon locomotive that opens every episode of
Soul Train
, silky voiced
Don Cornelius
has become a staple of the popular dance show. Host and producer of
Soul Train
, Cornelius pioneered the dance party, which is one of television's only shows geared toward the musical tastes of black teenagers. A shrewd businessman conscious of his position as a black independent producer, he has also been a critic of the television establishment's attitudes toward African Americans.
Donald Cortez "Don" Cornelius
was born in Chicago on September 27, 1936. He grew up on Chicago's predominantly black South Side and attended DuSable High School, where he studied art and drew cartoons for the school newspaper. After graduating from DuSable in 1954, he joined the U.S. Marines and served on a Korean airbase for 18 months.
Upon returning to Chicago in 1956, Cornelius married his childhood sweetheart, Delores Harrison. The young couple soon had two children--Anthony in 1958 and Raymond in 1959--and money was too short for Cornelius to afford college. "I needed money to support my family," he told Billboard, "so I sold tires, cars, and insurance."
Cornelius did well as a salesman; by 1966 he was making $250 a week. But the arts tempted him. He wanted to become a radio announcer. "People always talked about my voice," he recalled in Billboard, "so I took a broadcasting course as a lark."
The $400 Cornelius paid for the course was money well spent. In 1966 he landed a part-time job as an announcer with WVON in Chicago. His take-home pay wasn't quite what he was used to--only $100 a week--but he was fulfilling an ambition. "I started as a newsman, but I was also the swing [overnight] man," he explained in Billboard. "I filled in as an all-around substitute at WVON. I felt I had to justify my job there.... It was a very black station. I was sitting in for DJs and newspeople, doing public affairs outside the station, doing the talk show, and doing commercials." The job was a whirlwind, though, and the constant schedule changes began to wear on Cornelius. When Roy Wood, Cornelius's superior and mentor at WVON, moved to WCIU-TV, a small UHF television station, young Don began moonlighting for his former boss.
When Cornelius joined WCIU, he already had Soul Train in mind. He took the name from a traveling music show he had hosted for WVON. The format--featuring dancing teenagers and popular records--came from Dick Clark's American Bandstand. What made Soul Train different was its black music format. WCIU's management was already attempting "ethnic" programming, so when Cornelius pitched his idea, they agreed to give it a try.
Cornelius had the go-ahead from the station; all he needed was a sponsor. His Soul Train pitch, however, landed on deaf ears in the corporate community, until he met George O'Hare, a merchandise manager at Sears, Roebuck & Co. who offered some assistance. "George was a guy that ... was always receptive to new concepts," Cornelius commented in Billboard. "When I went in I expected him to tell me what so many others had said about programming for Blacks. The theory that Blacks 'need' cultural or historical programs and not necessarily entertainment."
On August 17, 1970, the very first Soul Train premiered on WCIU-TV Channel 26. "The show centered on a live appearance by singer Jerry Butler [then of the Impressions] and dancers and myself in some goofy outfit we came up with," Cornelius related in Billboard. "But aside from the fact that it was the most inexpensive package imaginable, it was basically what we do today, same style and attitude."
Cornelius hosted the show, produced it, and sold all the advertising. Within weeks Soul Train became Chicago's Number One show among blacks. Yet many companies still did not see a need to advertise on Soul Train. They felt they could get the same audience by advertising on "white," or general audience, shows. It was a struggle, but Cornelius and his winning ratings finally convinced Wate-On, Joe Louis Milk, and Coca-Cola to join Sears as sponsors.
Cornelius realized that Soul Train would do well in other cities where there was no black-oriented television programming. He began to plan a nationally syndicated Soul Train to be broadcast throughout the country. Sponsorship was again the key. But this time things went a little more smoothly. He found the perfect primary sponsor in George Johnson, president of Johnson Products, a black-owned manufacturer of hair and facial cosmetics. Soul Train' s audience was composed of the same people who bought most of Johnson's products--young blacks.
Soul Train went on the air October 2, 1971, and was aired once a week. Produced at Hollywood's Metromedia Studios, it was glitzier and more colorful than the Chicago version, but in all other respects it was the same. Cornelius was confident of success. "Because of Chicago, I knew something that most of my doubters didn't know, and when they smirked, I smiled," he noted in Billboard. "I also knew George Johnson's criteria for quality and I was determined to attain it."
The national show had its doubters, however. The syndicating agency was able to debut Soul Train in only 7 of the 25 areas Cornelius had targeted. "Practically all the stations that turned the show down had no other black-oriented entertainment shows running," Cornelius pointed out in Billboard. Luckily, even television stations find it hard to argue with success. Within eight months all 25 were showing Soul Train. And, in August of 1972, Cornelius signed a $1 million advertising deal with Johnson Products.
Soul Train' s popularity brought Cornelius into direct conflict with Dick Clark and American Bandstand. In 1973 civil rights activist Jesse Jackson--whose Chicago-based Operation PUSH was regularly boosted on Soul Train-- told Rolling Stone, " Soul Train 's success ... has partially been at the expense of Dick Clark's American Bandstand.... Soul Train has consistently outrated and overshadowed Bandstand. "
According to Jackson, the powerful Clark was taking steps to get his audience back. First he recruited Soul Train dancers for Bandstand. Then he began producing Soul Unlimited, a program that essentially copied Soul Train. Backed by the powerful ABC-TV network, Soul Unlimited posed a serious threat to Soul Train, which had no network affiliation. According to a Rolling Stone correspondent, Cornelius called Clark's action an "overt attempt to seize control of the black-oriented TV."
The Soul Train / American Bandstand controversy was short-lived. Clark and Cornelius discussed the matter, and Clark dropped Soul Unlimited while offering to coproduce some black specials with Cornelius for ABC. Despite its racial overtones, the conflict seemed less a struggle between black and white and more a contest over the Saturday afternoon audience.
By 1974, 95 stations were showing Soul Train. "I'd like to say it was a struggle," Cornelius told Billboard, "but it really wasn't; it just was a thing that was so long overdue that it caught on instantaneously. The point is that there should be far more than just that one hour of Black-oriented entertainment. Anybody could see that there was a market there, but it's so difficult to get something like that started unless you get ... money and some kind of reputation."
In 1975 Cornelius and Dick Griffey--a promoter and talent coordinator on Soul Train --formed Soul Train Records. Distributed by RCA, the label concentrated on a few new artists and released only 12 albums a year. Initial disks included Soul Train '75, which featured participants from the television show, and an album by the Whispers, a group that included Jody Watley, a former Soul Train dancer and later a popular solo recording artist. After three years Soul Train Records folded when Cornelius and Griffey went their separate ways. Cornelius concentrated on television, while Griffey formed SOLAR Records.
As successes such as 6:20 Soul Train, the British version of the dance show, continued, Cornelius remained true to his original idea--a dance party featuring black performers and dancers. "Most of the people who get invited to do our show don't get any other national television," he observed in the Washington Times. "It's a very important responsibility to keep it going, so that black folks in music have a means of getting on television."
One problem that did come up was scheduling. Many stations were putting Soul Train on late at night rather than keeping it in its regular Saturday morning slot. "There was and still is," Cornelius acknowledged in Billboard, "a trend toward putting all music shows on at night or in the middle of the night.... I disagreed with it because so many young people watch our show and they obviously can't see it at 2 o'clock in the morning."
In December of 1982 Cornelius was hospitalized to undergo life-threatening brain surgery. The operation, which lasted 21 hours, was performed to prevent the risk of possible leakage or hemorrhaging of blood vessels in his brain. After an absence of six months, Cornelius began taping new episodes of Soul Train in March of 1983.
In 1986 Cornelius established the Soul Train Music Awards, the first and at that time, the only music awards show dedicated exclusively to black musicians. The show has proven astonishingly popular, drawing the kind of advertising Cornelius and Soul Train have always tried to attract. For the 1990 awards Chrysler Corporation became Soul Train' s first advertiser from the automotive industry. "We're finally getting--particularly for the awards show--the major advertisers ... that probably should have been advertising on Soul Train for the last 20 years." Cornelius declared in the Los Angeles Times in 1990. "We were stereotyped to where we weren't supposed to sell anything but black hair-care products and records. Of course, now it's known that we buy tires and shoes and houses too."
By 1992 Soul Train had become the longest-running music program in the history of syndication. Distributed by Tribune Entertainment Company since 1985, the show has influenced the way people listen and dance to music. "Twenty years ago every region of the country had its own style," Cornelius pointed out in Interview. "But now dancing--at least street dancing--has become a universal language, and I think that's due to television in general and Soul Train in particular."
Despite his personal success, Cornelius remains critical of the television establishment. "Programs produced by blacks specifically aimed at blacks" are still scarce, he was quoted as saying in the Washington Times. "Blacks have the option to listen to black radio stations or white radio stations. Read black magazines or white magazines.... But with television we're not able to choose the kind of television entertainment we see, except maybe once or twice a week."
CAREER
Insurance salesman, Golden State Mutual Life, 1956-66; announcer, WVON, Chicago, IL, 1966; sports anchor, A Black View of the News, WCIU-TV, Chicago, beginning in 1968; creator, producer, and host of Soul Train, first aired on August 17, 1970, nationally syndicated, 1971--; founder, with Dick Griffey, of Soul Train Records, 1975; creator of Soul Train Music Awards, 1987, and Soul Train Comedy Awards (nationally-syndicated special honoring African-American comedy performers), first annual telecast, August 3, 1993.
On February 1st, 2011 the Soul Train creator was found dead in his home, after it appears to have committed suicide.
Read more
Don Cornelius Picture Gallery
Latest headlines