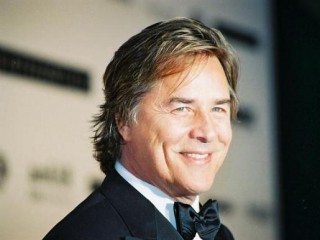 Don Johnson biography
Date of birth : 1949-12-15
Date of death : -
Birthplace : Galena, Missouri, U.S.
Nationality : American
Category : Arts and Entertainment
Last modified : 2010-09-06
Credited as : Actor, role of Sonny Crokett in the tv series "Miami Vice", won a Golden Globe 1985
"Sidelights"
American television audiences are familiar with distinctively dressed detectives. What Bruce Weitz's Mick Belker ("Hill Street Blues") lacks in panache he more than makes up for in prime-time police busts. And Peter Falk's laconic but inescapable deductions were as much a trademark of "Columbo" as was his lived-in trenchcoat. But Don Johnson, Sonny Crockett of
"Miami Vice"
, is something different. On a typical episode, Crockett and his partner, Ricardo Tubbs, played by Philip Michael Thomas, wear from five to eight different outfits--always in shades of pink, blue, green peach, fuchsia or other "approved" colors (earth tones are banned on "Miami Vice")--from such chic designers as Vittorio Ricci, Gianni Versace and Hugo Boss. "The concept of the show is to be on top of all the latest fashion trends in Europe," Costume Designer Bambi Breakstone told Time magazine before she left on a fashion-finding mission to Europe. And it's not just fashion that "Miami Vice" has fused into the detective genre but also a driving rock rhythm that often includes popular songs and rocks stars written into each episode.
Yet despite such departures from traditional television cops and robbers, it is Johnson's brooding Crockett--a lawman with seemingly as much in common with his prey as his partners--who has galvanized intense interest around the slick NBC program. "The only wars he's ever seen were on the streets of Los Angeles, but he's still a combat veteran," Michael Mann, the show's executive producer, told Newsweek about Johnson. "He brings to Crockett a humanity and a value system born of some very hard experience. He's been around the block, and the audience senses it." Indeed, like his television character, Johnson is divorced (although unlike the fictional Crockett, Johnson has been married three times), and he has a son. And Johnson has escaped from some messy scrapes. His past, in fact, has attracted almost as much media attention as his television work.
Don Johnson
was born
Don Wayne
in his grandmother's house in Galena, Missouri, on December 15, 1949. Galena was a very backwoods, Southern Baptist-influenced area of the country. His father worked on his grandfather's farm until Johnson was about five, and then the family moved to Wichita, Kansas, where his father found work with an aircraft company. "Dad is really the salt of the earth, a jack-of-all-trades who's a master mechanic and a master carpenter," Johnson told Rolling Stone. "My mother, who died of cancer in 1975, eventually became a beautician once we moved to Kansas. I was the oldest of four children. My sister, Jamie, is a singer/songwriter, and my brothers are very normal, red-blooded American boys. Greg, the third oldest, lives a quarter mile from our farm in Missouri and works in a glass-cutting factory. My brother K.C. is in an automobile-parts department in California, and I also have a stepsister, Deanna."
Johnson's parents married young--his father was eighteen and his mother was fifteen--with high hopes but little resources to achieve them. The family always had plenty of food, but little money for much else, especially clothes--ironic, perhaps, for a man whose career would eventually be enhanced by the world's most noted designers. The couple fought often, and by the time Johnson was eleven they were divorced. "Suddenly there were major choices I had to make that you shouldn't have to make when you're eleven years old," Johnson told Rolling Stone. "I realized that it was dog eat dog, every man for himself. However, even before they were divorced, I never really felt a part of the family, even though I'm very caring, loving, careful and considerate of them. I knew I was going to go off and do other things."
He stayed with his mother for a year after the divorce, but he had developed into the arch-typical product of a broken home. "I was very...uh, inventive, a hell-raiser, and got bored easily," he told Rolling Stone. "I had a lot of the wrong kinds of friends. Most of the guys I hung out with are now either dead or in jail." Indeed, Johnson was once sent to a detention home for several weeks after he and a friend hot-wired a neighbor's car and took off for a joy ride. That's when he moved in with his father. He was in the ninth grade at the time, and his father had decided to move back to Missouri, where he bought a country store and garage. "That's when my problems at home really began," he told Rolling Stone. "It was my age, my stepmother, whom I resented, and the fact that I had a reputation for being a bad guy. We had major, major fights until I was sixteen, and one day I said, 'F--k it,' and ran away, to Wichita. I knew I could make it on my own, and I also knew that the most important thing was to finish high school. So I got a job, worked after school and lived with a friend until I moved in with a lady who was twenty-six."
During his senior year, when he was in jeopardy of flunking a business course, a counselor urged him to take a drama class. he thought it would be easy, although a bit effeminate, perhaps. At the time, Johnson was more interested in becoming a full-time jock. But needed to graduate, so he talked to drama coach Karen Slater, who discovered he could sing and cast him in the lead in "West Side Story." Despite his initial apprehension, Johnson soon became hooked on acting; and found it was something that in a sense he had been practicing much of his life. "It struck something in me that was true and real," he told Rolling Stone. "It was like having lost one's mother and all of a sudden being reunited. For the first time in my life, I felt that I belonged to something." In reality, acting wasn't really as alien to him as Johnson had first feared. When he moved to Kansas, Johnson had found a job in a meat plant. His forte was tricking the customers into buying suspicious meat. "I had one of those faces that people trusted," he told Newsweek.
From the school play Johnson auditioned for one of eight scholarships to the University of Kansas and won a full ride. He performed in theatrical classes at school, and true to his other interest--women--he also moved in with his favorite female professor, Anita Sorrels. "She had three kids, was twenty-nine, and I was eighteen," he told Rolling Stone. "We were the scandal of the University of Kansas. She was dark complexioned and hot looking. Everybody in the school was after her--the professors, the deans. She knew all the inner workings of the drama department, and one day informed me that Ed Hastings, resident director at the American Conservatory Theater, was coming to direct Stravinsky's 'The Rake's Progress.' I prepared an audition and pestered him so much that he finally let me read and gave me a grant."
At the ACT in San Francisco, Johnson took a series of classes--mime, juggling, acting, dance, jazz, ballet, voice, diction, and he studied the classics. Barely two weeks after he moved to San Francisco, a Broadway show coproduced by the ACT called "Your Own Thing," came to town, and Johnson was hired for it. "I was flying," he told Rolling Stone. "I was 18 years old, got my Equity card and $150 a week, which in 1968 was like a million dollars. I was being paid as an actor. It was San Francisco. I got married for the first time, to a dancer in a road-company cabaret. The marriage got annulled very quick--about two months." That was the first of three unlucky marriages Johnson would enter into. But it didn't matter. He was finally acting for a living.
That December, Sal Mineo was casting "Fortune and Men's Eyes" for a theatrical production in Los Angeles. When he flew up and saw Johnson, Mineo hired him. The play, starring Johnson, was supposed to go to New York. But instead, Johnson decided to make a movie, "The Magic Garden of Stanley Sweetheart." An undistinguished film directed by Leonard Horn, it was nonetheless well suited for Johnson, centering as it did on the sexual and drug-oriented experiences of an aimless college student trying to put his head together.
That failure devastated Johnson. Although he continued to work through the 1970s, he also began a long period of drug and alcohol abuse. "I never drank or did drugs while I was working," Johnson told People magazine. "But brother, when they said'Wrap,' I would try to set the land speed record. I knew how to party too--I was one of those people, if I had it, you had it. I traveled in a crowd. I would say, 'Hey, I have an idea. Let's all go to Mexico City and have some Mexican food. Call the airport and let's go.'" "I remember a period in Hollywood when you would go to a meeting for major projects," he added to Rolling Stone, "Walk in, sit down, and the director with whom you were having the meeting would hand you a coke vial and ask if you wanted a drink. Or there would be reefer. It was commonplace. I didn't think it got in the way of my work, performance. but as I look I see that it was impairing my performance. I look at some of my old movies and it looks like there's a scrim over the character." A typical day of drinking for Johnson would mean a case of beer, several martinis before dinner, several bottles of the best wine during dinner and some good Napoleon brandy after dinner. "I always had very expensive drunks," he told Newsweek.
Drugs and alcohol were only some of Johnson's inspiring activities. In 1973 he appeared in "The Harrad Experiment," starring Tippi Hedren, the mother of melanie Griffith, who at the time was fourteen. Although she was barely a teenager and he was twenty-two, the two quickly developed what would turn out to be a four-year liaison. They moved in together in 1975, broke up, and then later got married in an effort to save the relationship. "We'd been broken up for about two months, and were both miserable," Johnson told Rolling Stone. "I had been with [ex-Miss World] Marjorie Wallace most of the night. I left her place and came back to [mine], and Melanie called at about four or five in the morning. We professed undying love and flew to Las Vegas and got married." That marriage only lasted a few months.
From 1982 until 1986, Johnson lived with actress Patti D'Arbanville, who is also the mother of his three-year-old son, Jesse, and the woman responsible for straightening out both Johnson's life and his career. They met in 1970 and ran into each other again in 1982 in a hyperchic Los Angeles restaurant. Johnson was with singer Tanya Tucker at the time, but he left her that night to begin his relationship with D'Arbanville in earnest. "I first met Patti...in Andy Warhol's studio in New York, when I was doing 'Stanley Sweetheart,'" Johnson told Rolling Stone. "She was there posing nude. I didn't see her again for a while until Melanie and I ran into her when she was married to her second husband...A few years later we ran into each other again. She wasn't with anybody, but I was. More years go by, and I'm seeing Tanya Tucker off and on. We'd been at the races one day and decided to go to Mr. Chow's for dinner. I had the limo take me home first, and by the time I got to the restaurant, Tanya was already there holding court. I didn't want to get involved in that, so I stayed at the bar. Though I didn't see Patti, who was at a table with friends, she saw me. Later she sent her friends home and joined me at the bar. We were having a drink and chatting and she said, 'How many times have you been married?' And I said, 'Three.' And she said, 'Well, say hello to number four.' She ended up going home with me that night, and we stayed in bed for eight days."
Three months later Patti became pregnant with Jesse, and although she and Johnson both wanted the baby, he didn't want to get married, again. "She said, 'You don't have to marry me. I'm not into that,'" Johnson told Rolling Stone. "So I said, 'Fine. Let's roll.' We both had been major party people, but she stopped drinking, smoking, stopped using drugs. Jesse was born nine pounds seven ounces." According to Johnson's publicist, D'Arbanville and Johnson ended their relationship in early 1986.
It was around the time Jesse was born--on September 11, 1983--when Johnson also decided to give up drinking and drugs, cold turkey. "I knew my life was not working, knew a long time before I quit that if I didn't get a grip on things, I'd have no career, no future. I was probably going to kill myself with my abuses. Then my son, Jesse, was born, and I finally just got bored, bored with the lifestyle, the people, the bullshit that goes with it." D'Arbanville, who was already going to Alcoholics Anonymous meetings regularly, invited Johnson to go with her. He did, and ended up going twice a day for forty-five days straight to kick his habits. And he still goes regularly. "What I realized was not to feed an insecurity by going along with the masses," he explained to Rolling Stone. "Looking for acceptance by doing what everbody else was doing--no matter how destructive--was not intelligent."
From those depths Johnson has risen to the heights of a critically acclaimed television series. In late 1985 he cut a substantial film contract with Universal Pictures, completed work on his first record album, and filmed a version of "The Long Hot Summer" for a 1986 television mini-series with Cybill Shepherd. He and Patti even attended a White House state dinner in 1985 in honor of the prime minister of Denmark, and invitation he received because Nancy Reagan wanted his help in a national anti-drug campaign. As for the future Johnson told Newsweek: "I want to act and I want to direct and I want to produce and I want to sing and dance. I want to do it all."
PERSONAL INFORMATION
Real name, Don Wayne; born December 15, 1949, in Galena, Mo.; father worked as a farmer, worked in an aircraft factory, and owned a store and garage; mother worked as a beautician; first marriage, 1968, annulled after two months; second marriage, also very brief, annulled; married Melanie Griffith (an actress), 1976 (divorced); children: Jesse (with actress Patti D'Arbanville). Education: Studied acting at University of Kansas for two years and with American Conservatory Theatre, San Francisco, Calif.
AWARDS
Antoinette Perry (Tony) Award nomination, 1979, for play "Zoot Suit"; Golden Globe Award and Emmy Award nomination, 1985, for "Miami Vice."
CAREER
Began acting in high school; began professional career, 1968, in a production of "Your Own Thing," coproduced by the American Conservatory Theatre; appeared in other plays, including a Los Angeles production of "Fortune and Men's Eyes," in films, made-for-television movies, and in several pilots for television series; regular cast member of series "Miami Vice," National Broadcasting Co., 1984--. Feature films include "The Magic Garden of Stanley Sweetheart," 1970, "Zachariah," 1971, "The Harrad Experiment," 1973, "Return to Macon County," 1975, "A Boy and His Dog," 1975, and "Cease Fire," 1986. Made-for-television movies include "Amateur Night at the Dixie Bar and Grill," "Elvis and the Beauty Queen," "First You Cry," "From Here to Eternity," "The Long Hot Summer," and "The Rebels"; also made guest appearances on a number of television series, including "Police Story." Singer, songwriter, musician.
WORKS
* Selective Works
* Hearbeat (includes "Heartbeat," "Can't Take Your Memory," "Heartache Away," "Love Roulette," "Star Tonight," "Lost in Your Eyes," "Voice on the Hotline," and "Last Sound Love Makes") Epic, 1986.
* Writings
* Co-author, with Dickey Betts, of "Love Blind" and "Can't Take it With You" on the Allman Brothers' Enlightened Rogues album, 1979, and co-author of two songs on his own Heartbeat album, 1986.
Read more
Latest headlines