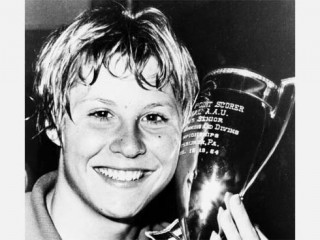 Donna De Varona biography
Date of birth : 1947-04-26
Date of death : -
Birthplace : San Diego, California, United States
Nationality : American
Category : Sports
Last modified : 2010-07-07
Credited as : Olympic swimmer, broadcast journalist,
Donna de Varona
(also known as:
Donna DeVarona
), born April 26, 1947 in San Diego, California, United States is an American swimmer and broadcast journalist.
When she qualified for the U.S. swim team for the 1960 Summer Olympic Games in Rome, Donna de Varona was only 13 years old, the youngest member of the Games that year. Four years later she won two gold medals at the Tokyo Olympics. She remains a world record holder in numerous events, including the sport's most challenging one, the 400-meter individual medley, and the 100-meter backstroke. The individual medley requires enormous strength, flexibility, and endurance; competitors must swim four 100-meter laps, one for each stroke, including backstroke, freestyle (crawl), butterfly, and breast. Always up for a challenge, it is no surprise that the individual medley was always de Varona's favorite event. De Varona went on to become ABC's first full-time female sportscaster. In a controversial legal dispute, de Varona sued ABC Sports, charging age and gender discrimination. That battle won, she continues her award-winning career as a broadcast sports journalist.
Team Member "0"
De Varona was raised in Southern California by a family she has characterized as tightly knit and supportive. Her father, David, was an insurance salesman and a former All-American football player and rower at the University of California who encouraged his four children in athletics. De Varona's sister, Joanna Kerns, (best known for her role as the mother on ABC's Growing Pains) studied gymnastics until she took up acting, as did sister Sandra. Brother David joined Little League until a knee jury sidelined him and he took up swimming.
Young Donna had been eager to play baseball with her brother and the neighborhood boys but was denied the chance due to her gender. "I spent all my money on bubble gum so I could bribe my way into the Little League," she said in an interview with Women's Sports & Fitness magazine. But all she got for her effort was a uniform with the number "0" on it and the privilege of retrieving the team's bats. She stored that memory, which motivated her to fight for equality later.
Swimming gave the spirited youth the outlet she needed. "I got in trouble until I started to swim," de Varona admitted to Women's Sports & Fitness. As an adolescent, she trained with some of the sport's top coaches, including George Haines, the legendary coach of seven U.S. Olympic teams between 1960 and 1984. She was soon committed athletically and academically, maintaining a B average while training up to six hours a day.
When de Varona returned to the Olympic team in 1964, the 17-year-old had broken 18 world swimming records and ten American records while capturing two gold medals at the Summer Games in Tokyo. In winning the 400-meter individual medley, de Varona set a world record of 5:18.7. She and teammates Sharon Stouder, Pokey Watson and Kathy Ellis won the gold in the 400-meter freestyle relay, another record-breaking achievement at 4:03.8. But even before the Olympics, the blonde de Varona had come to define swimming in America. She had appeared on the cover of newspapers and magazines such as Life, Time, Saturday Evening Post, and Sports Illustrated.
She enrolled in the University of California, Los Angeles (UCLA), and majored in political science. Like most colleges of the time, UCLA had no women's athletics department. Seeing that she couldn't compete for a college team, de Varona formally retired from swimming. This freed her to accept a job with ABC, which had previously consulted the young student about where they should focus their cameras. While under contract with ABC and while still at UCLA, de Varona volunteered in the government-funded program Operation Champ, which worked with inner-city children. De Varona testified before Congress advocating government's continued and increased funding of programs for kids. Suddenly, she realized she was learning so much outside of college that she left, two finals short of her degree.
Broadcasting Beckons
In 1964, the Associated Press and United Press International voted de Varona most outstanding female athlete in the world. At the 1965 men's Amateur Athletic Union national championships, she made her debut in swimming commentary for ABC's Wide World of Sports with Jim McKay. She was a trailblazer at age 17, the first female network television sportscaster.
She became host, special reporter, and analyst for many of the network's high-profile programs, including ABC Sports and ABC News. She covered the Summer Olympics for ABC from 1968 to 1976, and again in 1984 and 1996, and the Winter Olympics in 1984, 1988, and 1994. From 1978 to 1983, she worked for the NBC network on Sportsworld and the sports segments of the Today Show. As part of the team of journalists telecasting the 1998 Nagano Winter Olympics for Turner Network Television, de Varona, who presented feature stories on female athletes, was instrumental in the cable network's exceptional ratings.
The former Olympic champion received a prestigious Emmy Award, for her coverage of an athlete competing in the 1991 Special Olympics. Seven years later she received an Emmy nomination for Keepers of the Flame, an ABC Olympic television special, which she co-produced, wrote, and narrated.
De Varona in 1994 provided extensive coverage of the feud between American figure skaters Tonya Harding and Nancy Kerrigan. (In January, Harding's boyfriend, Jeff Gillooly, clubbed Kerrigan in the knees in an attempt to eliminate her from the 1994 Winter Olympics in Lillehammer, Norway. Harding claimed to have no foreknowledge of the event.) De Varona appeared on ABC's World News Tonight, Good Morning America, Weekend News, ABC's Wide World of Sports, and various talk shows. She also followed the story to Norway, and covered the athletic events. Two years later, when the Summer Olympics were in Atlanta, de Varona anchored Good Morning America's Olympic coverage, while broadcasting the days' results on ABC Radio.
Since 1998, de Varona has been a weekly commentator for Sporting News Radio, a 24-hour sports radio network. De Varona covered her 12th Olympic Games in 2000 when she signed on with NBC for the Games in Sydney, Australia. At those Games, the International Olympic Committee presented de Varona with its highest award, the Olympic Order.
Asterisk After Her Name
De Varona has been active in a variety of organizations and committees. She has been an adviser to President Ford's Commission on Olympic Sports and President Carter's Women's Advisory Commission, and served five terms on the President's Council on Physical Fitness and Sports. From its inception in 1969, to 1988, de Varona has sat on the board of the Special Olympics. She was also consultant on Title IX legislation, which became law in 1972 and prohibits sex discrimination in sports. She finally earned her degree in 1986 upon completion of two assignments: one on the history of amateur sports legislation and the other on the impact on women's sports of Title IX.
Shortly after the adoption of Title IX, de Varona and tennis champion Billie Jean King founded the Women's Sports Foundation in 1974, de Varona serving as its first president. "The effort I had put forth in my swimming career gave me the stamina to become an activist for Olympic athletes and women, raising money and awareness," de Varona told USA Swimming online. "The world is political and you have to fight. Once you've been able to reach goals, like winning Olympic gold medals, no one can take that effort away. That accomplishment opens doors. It's like having an asterisk after your name." De Varona has received dozens of honorary degrees and awards, including the National Collegiate Athletic Association's highest honor, the Theodore Roosevelt Award.
A $50 Million Lawsuit
In April 1998, ABC did not renew de Varona's contract. Their reason for firing her was, allegedly, her "failing to appeal to a male demographic of ages eighteen to thirty-nine." Charging age and gender discrimination under federal law, de Varona shot back with a $50 million lawsuit. In her complaint, de Varona asserted that male veteran colleagues, such as Frank Gifford, then 69, received preferential assignments. "It took a lot of soul-searching," de Varona told People. "It would have been much easier to walk away, but I felt I had to do it."
The suit was settled out of court in 2002, and de Varona rejoined ABC Sports as a commentator and reporter.
Fights for Women's Sports
De Varona left ABC once before, in 1976, after facing what she termed "discriminatory barriers" as a female sportscaster. The NBC network soon swept her up. ABC Sports enticed her back in 1983, when de Varona assumed a management position and went on to cover such events as the Harding-Kerrigan scandal, the New York City Marathon, the Indianapolis 500 auto race, and several Olympic Games.
De Varona has never backed down from supporting justice for women in amateur and professional athletics. "I will always be an activist," she told Women's Sports and Fitness. "That is a lifetime commitment."
These days, de Varona balances her life between broadcasting, family, and women's advocacy. She has been writing commentary for Sporting News Radio, and working as a sports and organizational consultant for the ABC, ESPN, and Disney networks.
The former Olympian chaired the 1999 Women's World Cup Soccer Organizing Committee, which resulted in what some have called "the most successful women's sporting event ever," according to Marty Benson of the National Collegiate Athletic Association (NCAA). Still, de Varona believes the media gives women short shrift. "I thought as cable permeated the airwaves that women's sports would get a better piece of the action," she told NCAA's Benson, adding, "I'm frustrated that we don't read, hear, and see more about women's sports." De Varona, who remains active as chair of the Women's Sports Foundation's Board of Stewards, is still an honorary trustee for the Foundation. Most recently, de Varona was awarded the Overcoming Obstacles award from the Community for Education Foundation, given to those who have achieved professional excellence and fostered growth within their sphere of expertise.
De Varona and her husband, John Pinto, a lawyer, live in Greenwich, Connecticut. The couple have two teenage children, John David and Joanna, both of whom participate in sports.
AWARDS
1960, Youngest member of U.S. Olympic team at Rome; 1960-64, 37 national swimming championships; 1963, Two gold medals at Pan American Games; 1964, Two gold medals at Tokyo Olympics; named Most Outstanding Female Athlete by Associated Press and United Press International; world record holder in 400-meter individual medley and 100-meter backstroke; 1969, International Swimming Hall of Fame; 1983, Women's Sports Hall of Fame; 1986, Yale Kephuth Fellowship and New York State Board of Regents' Medal of Excellence; 1987, Girl Scouts Humanitarian Award, U.S. Olympic Hall of Fame; Bay Area Sports Hall of Fame; 1988, Member of National Women's Law Center advisory board; receives Honorary Doctor of Humane Letters, Drury College, Springfield, Missouri; receives Lifetime Fitness Award from National Fitness Foundation; 1989, Outstanding Mother of the Year from Mother's Day Committee; receives Woman of the Year Award from Mew York Athletic League; 1990, National Handicapped Sports Hero Award; 1991, Gold Medallion Award from International Swimming Hall of Fame; 1991, Emmy Award as producer of Special Olympics feature; 1992, American Woman Award for Leadership from Women's Research and Education Institute; receives Olympia Award from U.S. Olympic Committee; 1995, Ellis Island Medal of Honor; 1995, Flo Hyman Award from Women's Sports Foundation; 1997, HOBY International Award for youth leadership from the Hugh O'Brien Youth Leadership Organization; 1998, Honorary Doctor of Humane Letters, St. Joseph College, West Hartford, Connecticut; 1998, Emmy Award nomination for Keepers of the Flame, as co-producer and co-writer; 1999, Honorary Doctor of Humane Letters, Springfield College, Springfield, Massachusetts; Thurman Munson Award; 2000, Gracie Award, American Women in Radio and Television, for excellence in broadcasting; Honorary Doctorate, United States Sports Academy; Olympic Order for leadership and service; 2001, Gracie Award; Susan B. Anthony "Trailblazer" Award from University of Rochester; Albert Schoenfield Journalism Award; led the delegation accompanying US Women's National Soccer Team to China; 2002, Overcoming Obstacles Achievement Award from Community for Education Foundation; 2003, Theodore Roosevelt Award, highest honor from the National Collegiate Athletic Association.
CHRONOLOGY
* 1947 Born in San Diego, California
* 1950 Learns to swim
* 1956 Enters first competition
* 1964 Retires from competitive swimming after Olympics
* 1965-76 Becomes sportscaster for ABC, Wide World of Sports, Olympic coverage (1968, 1972, 1976)
* 1966-68, 1984-88 Named member of the President's Council on Physical Fitness & Sport
* 1969-88 Sits on founding board of Special Olympics
* 1974 Co-founds the Women's Sports Foundation
* 1974-76 Appointed to President Ford's Commission on Olympic Sports
* 1976-80 Named member of President Carter's Women's Advisory Commission
* 1966-68, 1984-88 Named member of the President's Council on Physical Fitness & Sport
* 1978-1983 Hired by NBC for Sports World, Today Show (sports programs)
* 1983-97 Promoted to ABC commentator, consultant, writer, co-producer to Wide World of Sports, ABC News, Good Morning America, ESPN, ABC Radio
* 1986 Graduates UCLA with Bachelor of Arts degree
* 1988 Appointed member of President Reagan's Olympic delegation to Seoul, South Korea
* 1989 Joins U.S. Olympic Foundation
* 1991-94 Voted board member of World Cup Organizing Committee
* 1997, 1999 Named chairman of Women's World Cup
* 1998 Advises White House's Office of National Drug Control Policy (ONDCP); named member of World Anti-Doping Agency Committee on Ethics and Education; covers Olympic Games in Nagano, Japan, for TNT; hired as sports commentator for Sporting News Radio (to present)
* 1998 Sues ABC for age and gender discrimination
* 1999 Becomes member U.S. Soccer Foundation
* 2000 Covers Olympic Games in Sydney, Australia, for NBC Cable
* 2001-02 Chosen senior advisor to U.S. Olympic Committee (USOC) President; co-chairs USOC Government Relations Committee and joins International Relations Committee; advises ONDCP on anti-doping
WORKS
* (With Barry Tarshis) Donna de Varona's Hydro-Aerobics, New York: Fawcett, 1986.
Read more
Latest headlines