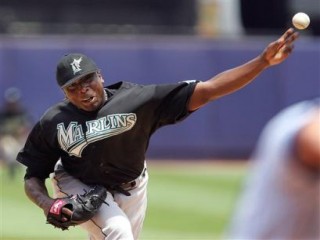 Dontrelle Willis biography
Date of birth : 1982-01-12
Date of death : -
Birthplace : Oakland, California
Nationality : American
Category : Sports
Last modified : 2010-11-12
Credited as : Baseball player MLB, Pitcher with the Florida Marlins,
Dontrelle Wayne Willis was born on January 12, 1982, in Oakland, California. Dontrelle's mother, Joyce Harris, was a welder who worked atop the Golden Gate Bridge and Bay Bridge in San Francisco. His father cut out before he spoke his first word, leaving his uncle, Frank Guy, to provide him with a male role model.
It was Joyce, however, who mentored Dontrelle in baseball. She was the catcher on an elite-level softball team into her seventh month of pregnancy, and as soon as her son could throw a ball, Joyce—who continued playing through Dontrelle's childhood—began teaching him the finer points of pitching. She was a huge A's fan, and her favorite player was Vida Blue, one of just 20 African-Americans to win 20 games, and whose pitching motion her son's would one day be compared to.
Dontrelle grew up in Alameda, just outside Oakland. His earliest memories are of watching his mother on the softball field. She was a much sought after slugger who combined toughness and intelligence
Joyce had a second child, Walter, in 1988. He idolized Dontrelle, whose pitching prowess made him something of a celebrity in Alameda, even as a youngster. By fourth grade, Dontrelle was miles ahead of other boys his age. He understood the math, the mechanics and the strategy of pitching. After his ninth birthday, he unveiled his breaking ball in a fourth-grade game.
Dontrelle and his friends, the Muskar brothers, spent many a day playing a tennis ball and broomstick game called Strikeout in the driveway. After a couple of years, each boy could hit the others easily, so they started fiddling with deceptive motions. Dontrelle tried kicking his leg so high the tip of his right shoe actually went higher than his head. He also began twisting so that his back briefly faced the batter while his shoe was at eye level. When the ball finally appeared, it was whipped homeward at three-quarters, so it looked like it was emerging from his shirt. This motion worked equally well with a hardball and since the age of 12, Dontrelle has used it exclusively.
Dontrelle became an A's fan like his mother. His favorite player was Dave Stewart, and he rooted for Oakland during their pennant-winning years and the lean ones that followed. Dontrelle says he admired Stewart's mound presence. Win or lose, the righty never gave an inch. After Stewart retired, Dontrelle took a cotton to fellow lefties Randy Johnson and Tom Glavine.
Dontrelle also liked Ricky Henderson. In fact, as a 10-yar-old, he got an autograph from the speedster, the first piece of memorabilia he ever collected. (The next time Dontrelle saw Ricky in person was duriing a game he was pitching in his rookie year with the Marlins. After walking him, the lefty promptly picked his hero off first base.)
Baseball prodigies in Northern California typically come under the tutelage of private coaches, but in Dontrelle's case, he was on his own. Joyce went for stretches without regular work, and money was so tight at times that there was no car to take her son to practice. This might have been a blessing in disguise, for a private coach would almost certainly have tinkered with Dontrelle's delivery.
Dontrelle enrolled at Encinal High School in 1996 and by his junior year was the star of the team. The summer before his final season at Encinal, he was invited to join an elite traveling team. Other mothers asked Joyce about Dontrelle's pitching coach. She laughed, thinking to herself, "That wall I kept telling him to stop throwing the tennis ball against."
Dontrelle's senior campaign was fantastic. He went 12-1 with an 0.82 ERA and 111 strikeouts in 70 innings. He had scouts salivating and scratching their heads simultaneously. No one doubted his talent, but his crazy motion was difficult to describe in their reports. One scout called him a "poor man's C.C. Sabathia." His fastball occasionally hit 90 on the gun, and he had decent command of a slurvy breaking pitch. Dontrelle was also fooling around with a change-up. What ultimately worked in his favor was his obvious athleticism. He appeared to be a good bet to master control of his pitches.
ON THE RISE
Dontrelle was selected in the eighth round by the Chicago Cubs and assigned to the organization's Arizona League rookie team in Mesa. Playing for former Cubs slugger Carmelo Martinez, he pitched middle relief and exhibited good control in fashioning a 3-1 record.
Dontrelle was bumped up to the Boise Hawks of the Northwest League for 2001, and teamed with righty Angel Guzman to help the Cubs to the league's best record. Both hurler's were named to the NWL All-Star team. Dontrelle finished second in the league to his teammate with eight wins, and turned in a nifty 2.98 ERA. Enemy hitters managed a meager .217 average against Dontrelle, who spent the entire year as a starter. In a Baseball America poll, several NWL managers said Dontrelle was Boise's best player.
Dontrelle went to spring training in 2002 as a Cub but left as a Marlin.Chicago, desperate for pitching, dealt Dontrelle and veteran Julian Tavarez to Florida for closer Antonio Alfonseca and starter Matt Clement. Though they knew it was a salary dump, fans in Miami still screamed highway robbery. Dontrelle was shipped out to the Kane County Cougars of the Midwest League, while Tavarez was hammered all season long in Florida's starting rotation.
Dontrelle's first workout after arriving from the Cubs was a disaster. In fact, Marlins pitching coach Wayne Rosenthal described it as the worst he had ever seen. Dontrelle, however, had considerably more luck once the season began. He blew through batters in low Class A to the tune of a 10-2 record, then finished up with the high Class-A Jupiter Hammerheads with a 2-0 mark in five starts. Dontrelle won the Midwest League ERA title with a 1.83 mark and was named the Marlins' Minor League Pitcher of the Year—no small feat considering the arms in Florida's system.
In anything other than Dontrelle's universe, that might have been the sum total of his professional career. In February, he dropped his girlfriend off at her house and pulled onto highway 101 in Palo Alto. Going around 65 mph, a rear tire on his Mustang popped, and he lost control of the car, which careened into the guard rail and flipped over five times. Dontrelle, who was wearing his seatbelt, was miraculously unhurt. Peering through what was left of his rear window, he could see motorists crossing themselves, certain he was dead. The car was so badly wrecked that he never got his CDs out of the trunk.
Ten days later, Dontrelle reported to Jupiter for spring training. The plan for 2003 was to start him with the Class-AA Carolina Mudcats. The hope was that he would make the leap to AAA, and potentially be available for a spot start in Florida or a back-of-the-bullpen job late in the season. The Marlin brass was amazed when Dontrelle showed he could throw three pitches for strikes, and sent him to Carolina with instructions to work on consistency. He was also told to expect a promotion sooner rather than later.
Carolina skipper Tracy Woodson knew he had a powerhouse team—he just wondered how long he would have his players. On the roster that spring were Dontrelle, Miguel Cabrera, Adrian Gonzalez, Josh Willingham, Donnie Bridges, each of whom was a highly regarded prospect.
Dontrelle made six starts for Carolina and was dominant. His record stood at 4-0 with a 1.49 ERA when Woodson got a call from Miami on May 6. The Marlins had placed Mark Redman on the DL and shut down A.J. Burnett's season, and were now looking for lightning in a bottle. The Mudcats were in Orlando when Woodson called Dontrelle into his office. After playing a little possum with his young lefty, he told him he was being promoted to the big leagues. Dontrelle later admitted he felt like kissing Woodson. (His Mudcat teammates, meanwhile, went on to win the 2003 Southern League title. He called outfielder Chip Ambres for regular updates during their championship series against Huntsville.)
MAKING HIS MARK
On May 9, Dontrelle walked into the Marlins' clubhouse and stared in wonder at uniform number 35 hanging in his locker. He started against the Rockies, and collected his first strikeout against Preston Wilson in the second. He pitch six innings in all, limiting Colorado to three runs in a no decision. His first victory came in his second start, on the road against the Padres.
The Marlins were a mess when Dontrelle arrived. The team—already six games under .500—was nosediving. Two days after Dontrelle's debut, Florida announced the firing of Jeff Torborg and pitching coach Brad Arnsberg and hiring of Jack McKeon, a 72-year-old manager who was asked to keep the bench warm until the clubfound a younger guy. Meanwhile, Wayne Rosenthal assumed pitching coach duties. The perception that McKeon immediately turned around the Marlins is not entirely accurate. In fact, in his first 10 games at the helm the team won only three times. But from that point (May 23) on, Florida fashioned the best record in baseball.
Many of those victories came courtesy of Dontrelle, who displayed amazing mastery over major league hitters. His unorthodox delivery made a lot of batters look silly, as they swung at his motion instead of the ball. Dontrelle's fastball was explosive, with a hard, late sink at the plate. Beginning with his fourth start, he went on an 8-0 tear with an ERA of 1.05.
Dontrelle-Mania swept the baseball world. On June 11, Dontrelle's start against the Milwaukee Brewers generated the highest TV ratings of a Marlins broadcast since 1998. There were also 10,000-plus walk-up tickets purchased for that game—an unheard of number for that ballpark. Dontrelle's July 2 start against the Atlanta Braves drew even greater TV ratings.
Dontrelle also got a chance to start against Tom Glavine, one of his childhood heroes. He won 1-0, twirling a one-hitter against the New York Mets. He later faced his other hero, Arizona's Randy Johnson, and beat the Diamondbacks, 4-1. After that game, the Big Unti left him a message saying, "Good luck, keep working hard."
McKeon, meanwhile, was campaigning hard to get Dontrelle a spot on the All-Star team. Both he and Roger Clemens had been left off the initial rosters, which outraged fans. When Kevin Brown of the Los Angeles Dodgers begged out of the game, Dontrelle was named his replacement but did not see any action.
Dontrelle was honored by the All-Star nod, but it was an earlier gesture, by teammate Derrek Lee, that let him know he had really arrived as a big leaguer. The first baseman bought Dontrelle two super-expensive tailored suits to wear on road trips.
Dontrelle was just the shot in the arm Florida needed. His joy at being in a major league uniform woke up the team. His broad smiles, high-fives and glove-slapping rituals reminded the moribund Marlins how much fin baseball can be. Less than six weeks after Dontrelle's call-up, he was joined by fellow ex-Mudcat Miguel Cabrera, who began crashing home runs with eye-popping regularity. The Marlins were too far behind the Braves to catch them, but they kept gaining ground on the Wild Card contenders, including the Dodgers, D-Backs, Houston Astros, St. Louis Cardinals and Philadelphia Phillies.
As July melted into August, Dontrelle began to struggle with his stamina. In turn, he lost some of his movement and batter's started to work him deeper into counts until they got a ball the could hit hard. Rosenthal advised Dontrelle to use his slider and changeup more, and suggested he carry a ball around at all times so he could become more comfortable with the required grips. He took it everywhere except church. His off-speed repertoire improved, but he was a different pitcher than the one who dazzled in May.
After taking a 9-1 record into the All-Star break, Dontrelle split his 10 second-half decisions and saw his ERA balloon to 4.60 over that period. On his good days, he was still brilliant, including a nine-strikeout performance against the Phillies in a key September game. He finished 14-6 with a 3.30 ERA. The wins were the most ever by a Florida rookie, and tied for best on the team in 2003. The Marlins won 19 of his 27 starts, accounting for more than 20 percent of their victories.
Thanks to brilliant play down the stretch, Florida edged the Phillies for the Wild Card. Worn down by a personal-high 197 innings and the relentless media crush, Dontrelle ended the regular season without his best stuff. When the playoffs rolled around, McKeon used Dontrelle out of the bullpen in Game Two against the San Francisco Giatns, and he produced a crucial out, popping up Barry Bonds. Three days later, in Game Four, he got the start and went 3-for-3, including a triple. He also took a 5-1 lead into the sixth inning, but ran out of gas in the sixth. The Marlins went on to win 7-6 and take the series in four games.
Dontrelle stayed in the bullpen against the Chicago Cubs in the National League Championship Series and was hammered in two relief appearances. Like everyone else, he figured the Marlin season was done when they fell behind Mark Prior and the Cubbies in Game Six. But Florida's legendary eight-run eighth forced a seventh game, as Redman, Brad Penny, Josh Beckett and Ugueth Urbina combined for an unlikely 9-6 victory to give Florida the pennant.
In the World Series against New York, Dontrelle sucked it up and held the Yankees scoreless in three relief appearances. He baffled the Bronx Bombers in Florida's Game One win, and held them off in Game Five to set the stage for Beckett's brilliant Game Six shutout. McKeon's decision to throw the righty on short rest drew criticism form Florida fans, who felt Dontrelle should pitch so that the overworked Beckett could recover. Obviously, the manager made the right choice. And Dontrelle was ready in the bullpen until the final out was recorded.
The Marlins, given up for dead in May, were world champions. It was the perfect ending to a story that, in many ways, started the day Dontrelle arrived on the scene.
To be a world champion, Rookie of the Year and one of the most famous 21-year-olds on the planet is something only a handful of athletes have ever experienced. Dontrelle described his ensuing winter as a dream. As February approached, however, the wake-up call came.
Dontrelle and the Marlins headed into the 2004 season with high spirits but labored under low expectations. Predicted to defend their world championship in name only, the Phillies and Braves were rated above them once again. It was a case of diminishment by subtraction, as Florida lost Ivan Rodriguez, Juan Encarnacion, Braden Looper, Lee and Urbina to free agency, and Burnett was not scheduled to return until June.
On the bright side, the team would have Mike Lowell, Cabrera and Dontrelle for a full season.
Newcomers to the roster included Armando Benitez, whose penchant for yielding dramatic homers obscured his otherwise solid numbers as a closer, Korean slugger Hee Seop Choi, who had flopped in Chicago, and journeyman starter Darren Oliver.
Oliver's presence sent a message to Dontrelle: When Burnett came back, McKeon would either put Oliver or Dontrelle in the bullpen. It thus became crucial to show that he could hold up under the strain of a 162-game schedule. Dontrelle opened the year with 7 2/3 innings of shutout ball in a win over the Cubs, and erased any lingering doubts that he was just a one-year wonder by taking three of his next four decisions. Dontrelle was also getting it done with the bat, starting the year 7-for-7. Including his final three post-season at bats, he had reached base safely 10 consecutive times.
The Marlins fooled the experts and surged into first place, showing that there's nothing more dangerous than a young and hungry ballclub that already knows how to win it all. But the Braves surprised onlookers by taking control of the division in the second half, leaving Florida in a struggle for the Wild Card. The team hoped for a shot in the arm after pulling off a blockbuster deal for All-Star catcher Paul LoDuca, premier setup man Guillermo Mota and former Marlin Encarnacion from the Dodgers. In exchange the club shipped Penny and Choi to Los Angeles.
The departure of Penny put more pressure on Dontrelle down the stretch. Unfortunately, he didn't respond particularly well. Dontrelle went 2-5 after the trade and finished the season a game below .500. His ERA rose to 4.02, and the Marlins dropped off the pace in the playoff race.
As Dontrelle has realized, the baseball season is long and unforgiving. But no matter what the standings say, there is one thing the experts can predict with 100 percent certainty...Dontrelle is enjoying the heck out of his baseball career, and Marlin fans still enjoy the heck out of watching him.
DONTRELLE THE PLAYER
Dontrelle can land himself in trouble when he fails to get ahead in the count. But when he starts out with first-pitch strikes, he is devastating. His two-seamer is one of the most explosive pitches in baseball.The key for Dontrelle, besides throwing strikes, is maintaining a consistent arm slot. He sometimes rushes his delivery and drops his release point, which causes his pitches to lose velocity and movement.
Dontrelle has added to his repertoire by throwing more sliders and changeups, even when he is behind in the count. This has kept batters off-balance and will save wear and tear on his young arm. He has also smoothed out his delivery, adopting a more controlled throwing style while maintaining his signature leg kick. Lefthanders still can't pick up his fastball until it's right on top of them.
Dontrelle's move to first is another weapon. His leg kick is tough to read, and he has a good feel when a runner may become adventurous.
Lefthanders typically gain velocity until they are 23 or 24, so it is possible that Dontrelle's fastball could top out close to 99. If he continues to fine tune his mechanics and build up his stamina, he's looking at a big career as a starter. If not, he could be a lights-out closer.
Read more
Dontrelle Willis Picture Gallery
Latest headlines