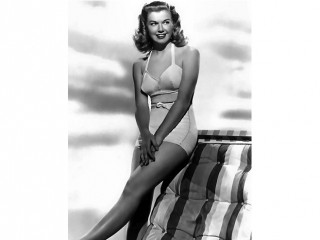 Doris Day biography
Date of birth : 1924-04-03
Date of death : -
Birthplace : Cincinnati, Ohio, U.S.
Nationality : American
Category : Arts and Entertainment
Last modified : 2011-11-09
Credited as : Singer, actress, My Heart
Doris Day (born Doris Mary Ann Von Kappelhoff) is an American actress, singer and, since her retirement from show business, an animal rights activist.
The post World War II period brought out some of the finest musical entertainers in this century, but one of those not only enhanced her career through her singing, but also with her talent as an actress in the film industry. Doris Day was born in the middle class Cincinnati suburb of Evanston, Ohio to first generation American parents, Frederick Wilhelm (William) and Alma Sophia Welz, whose parents had immigrated from Germany. Her mother named her Doris after her favorite silent film star, Doris Kenyon, and her professional name "Day" was suggested by a local bandleader, Barney Rapp, because she frequently sang a requested song entitled "Day After Day" and also felt von Kappelhoff was inappropriate for a professional stage name. Doris expressed dissatisfaction with the name "Day" likening it to the headliner at the Gaiety Burlesque House in Cincinnati.
Her father was a piano and violin music teacher, St. Mark's Catholic Church organist and choral master who enjoyed classical music and listening to the opera. Conversely, her mother loved the sounds of Country and Western music as well as Hillbilly tunes and later worked in the Welz family bakery. As a child she attended ballet and tap dancing schools at the Hessler Dancing School and by 1936, she and dancing partner Jerry Doherty had won a local amateur contest enabling them to travel to Hollywood and advance their careers with the prestigious and professional Fanchon and Marco stage show. Her parents divorced in 1934 and her mother played a dominant role in directing her career. The family returned to Cincinnati and movde their belongings to Hollywood to further advance their daughter's careers by touring with the Fanchon and Marco vaudeville circuit.
On October 13, 1937, Day the car Day was riding in became involved in an accident with a train in Hamilton, Ohio. The accident shattered her right leg and inflicted a double compound fracture. Her condition was further exacerbated during a lengthy 14 month recuperation when she fell causing additional damage to her leg. The second injury served as a catalyst for her to begin studying singing and abandoning any hopes of furthering her dancing career. She was kept away from attending school and turned to the radio where the voice of Ella Fitzgerald helped inspire her to develop her singing voice. Her mother took her to Grace Raine, a local voice coach, where she took three lessons a week. Through contacts Raine had with local radio station WLW, Day appeared in a 1938 radio show without pay. A local band leader, Barney Rapp, heard her on the air and before long, she was appearing for $25 a week at his newly opened Cincinnati nightclub "The Sign of the Drum," choosing her over 200 artists who had auditioned for him.
In 1939, Raine also encouraged her to audition for Bob Crosby's orchestra and his "Bobcats" in Chicago at the Blackhawk Club where she remained for three months during that summer. During a later Crosby gig at the Strand Theater in New York City, she was noticed by bandleader Les Brown and his "Band of Renown" She left Crosby and joined Brown where she remained from 1939 until 1941 when she married her first husband, Al Jorden, a trombonist from Rapp's Ohio based band, who had gone to New York as a member of the Jimmy Dorsey Band. The marriage was marked by frequent physical abuse, crazed jealousy and stalking. Her only child, Terry was born in 1942. They divorced in 1943.Day returned to Cincinnati and again appeared on WLW radio and later rejoined Les Brown and his traveling band in 1943 in Columbus, Ohio. She remained with Brown until 1946 and during that period had two number one recordings, "My Dreams Are Getting Better All The Time" and "Sentimental Journey,, which eventually became Brown's theme song. She had 12 charted hits while working with Brown.She married George Weidler, a saxophonist musician, in 1946. She also left Brown's orchestra and went with Weidler to his home state of California in search of work in Los Angeles. Eight months later she was performing in New York and received a devastating letter from Weidler informing her that their marriage was over. She returned to Los Angeles but they could not reconcile their differences and were divorced in 1949. Weidler later played with the Stan Kenton Orchestra and formed his own band in the early 1950's.
In 1948 she auditioned for the part of Georgia Garrett, a singer in a sleazy nightclub for the Warner Brothers film "Romance On the High Seas." She won the part after singing "Embraceable You" and it opened the doors and paved the way for her to becoming a celebrated singer and the top box office motion picture star in the late 1950s and early 1960s. Two of her biggest hits, "It's Magic" and "Put `em in a box, tie it with a ribbon, and throw it in the deep blue sea," written by Sammy Cahn and Julie Styne were major contributions to the recording industry. Her single of "It's Magic" topped over a million in sales and remained on the Hit Parade for many weeks. "Romance On the High Seas" was also nominated for an Academy Award for its film score. Sammy Cahn recalls, "I'll remember this to my grave, We all walked into a room to see the screen tests. The first screen test was Marion Hutton's. Then came Janis Paige. Then on the screen came Doris Day. I can only tell you, the screen just exploded. There was absolutely no question, a great star was born, and the rest is history."
Over the next 20 years, Day appeared in 39 films including at least one film each year from 1948 through her last role in "With Six You Get Egg Rol" in 1968 with actor Brian Keith. She showed her versatility by playing roles in suspense films, musicals, and a variety of comedies opposite actors such as Clark Gable, Rex Harrison, Danny Thomas, Stephen Boyd, Rock Hudson, Rod Taylor, James Cagney, Louis Jordan, Robert Cummings, James Stewart, Richard Widmark, Jack Carson, Jack Lemmon, James Garner, Peter Graves, Stephen Boyd, Kirk Douglas, Ronald Reagan, David Niven, and singer actors, Frank Sinatra, John Raitt, Ray Bolger, Gene Kelly, Howard Keel and Gordon MacRae.
In the early 1950s, actor Ronald Reagan divorced actress wife Jane Wyman and began to date Day at about the time they were making the film "The Winning Team," a biography of baseball great, Grover Cleveland Alexander of the St. Louis Cardinals. They dated but Day had already changed agents in 1950 and had become involved with her new agent, Marty Melcher, who had entered in divorce proceedings with his wife, Patty Andrews, of the famous Andrews Sisters. Melcher was a one time music song plugger from Leeds Music Company.
On April 3, 1951 they were married on her twenty-seventh birthday in a Burbank, California civil ceremony. Melcher later adopted Doris's son Terry and his name was changed to Terry Melcher. The marriage appeared initially to be made in heaven but as the years passed, many thought the reason Melcher married Day in the first place was to gain control of her money. The very fine father-son relationship that began with Marty Melcher and Terry dissolved over the years and deep resentment set in between the two men.
Her work in films frequently produced top hits. In 1953 Day played the lead role in the lively western musical, "Calamity Jane", and an Academy Award was given to Sammy Fain and Paul Francis Webster for their composition, "Secret Love." Day's recording made it a top hit with sales in the seven figures. In 1955 she appeared in "Love Me or Leave Me," a biography of 1920s singer Ruth Etting opposite James Cagney. Day's motion picture soundtrack recording became a number one best seller and Sammy Cahn and Nicholas Brodszky's "I'll Never Stop Loving You" also became a hit for her. In 1956, she starred in Alfred Hitchcock's suspense drama, "The Man Who Knew Too Much" and sang "Que Sera, Sera" winning an Academy Award or songwriters Jay Livingston and Ray Evans. The song became a number one hit and sold over a million copies. In 1961, she appeared opposite actor Rock Hudson in "Pillow Tal" and received an Academy Award nomination. The awards were given for best screenplay and story for this imaginative sex comedy about two people sharing a party line without knowing each other's identity. Day turned down the role of "Mrs. Robinson" in the film "The Graduate" because she felt it was not a favorable fit with her artistic talent. Anne Bancroft later went on to win an Academy Award for the role.
At the same time Day was making Hollywood films, she engaged in recording hundreds of singles and albums for Columbia Records that began in 1947 with her first 78 rpm singles through 1972 collaborating with arranger/conductors Paul Weston and Frank DeVol. During the 1950s she frequently teamed with male artists from the Columbia label including Johnny Ray, Don Cherry, Frankie Laine, Frank Sinatra, Andre Previn and her first gold duet hit with Buddy Clark, "Confess." Clark was killed in a private airplane when it crashed on a Los Angeles street the year after their big hit of "Confess." During the period 1949-55, eight of her ten albums charted and only one did not reach the top five.
When third husband, Marty Melcher died in 1968 at age 52, she learned that he had committed her to a television show without her knowledge. But the news was even worse when son Terry acting as administrator for Melcher's estate, learned that Melcher had squandered millions of dollars of her money on "hair brain" get rich schemes and she was nearly a half a million dollars in debt. Melcher had been fooled by entrusting her financial assets to a lawyer who provided false, misleading and inaccurate financial information directly leading to the losses. Broke and needing money, she agreed to host a television series the, "Doris Day Show" on the Columbia Broadcasting System (CBS) from 1968 to 1973 and later "Doris Day's Best Friends" on CBS from 1985-86.
In 1976 she married for a fourth time to Barry Comden, who she had met at a Beverly Hills restaurant where he worked as a greeter. After a tempestuous marriage, they were divorced in 1981. Afterward, she became very interested in the welfare of animals and formed several organizations including the Doris Day Pet Foundation and Doris Day Animal League, which is located in Washington, D. C., and serves as a direct lobbying group for the welfare of animals. Day relocated to a scenic eleven acre estate at Carmel, California, which she shares with numerous dogs and cats and affectionately calls it "Casa Loco." She has been known for her reclusiveness and rarely makes a public appearance. Her contributions to the music and film industry have made her an American icon forever.
A Greatest Hits CD released in 1994 became another entry into the British charts, The song "Perhaps, Perhaps, Perhaps" included in the soundtrack of the Australian film Strictly Ballroom, and a theme song for the British TV show "Coupling". Mari Wilson performed the song "Perhaps, Perhaps, Perhaps" for the title sequence.
In 2006, Day recorded a commentary for the DVD release of the fifth (and final) season of her TV show. Recently Day has participated in telephone interviews with a radio station that celebrates her birthday with an annual Doris Day music marathon. In July 2008 she appeared on the Southern California radio show of longtime friend, newscaster George Putnam, reported in the Los Angeles Times.
While Day turned down a tribute offer from the American Film Institute, she received and accepted the Golden Globe's Cecil B. DeMille Award for lifetime achievement in 1989. In 2004, Day received the Presidential Medal of Freedom but declined to attend the ceremony because of her fear of flying. Day did not accept an invitation to be a recipient of the Kennedy Center Honors for the same reason.Both columnist Liz Smith and film critic Rex Reed have mounted vigorous campaigns to gather support for an honorary Academy Award for Day to herald her film career and her status as the top female box-office star of all time. Honored in absentia, Day also received a Grammy for Lifetime Achievement in Music in February 2008.
Day released My Heart in the United Kingdom on September 5, 2011, her first new album in nearly two decades. The album is a compilation of previously unreleased recordings produced by Day's son, Terry Melcher, prior to his death in 2004. Tracks include the 1970s Joe Cocker hit "You Are So Beautiful", the Beach Boys' "Disney Girls" and jazz standards such as "My Buddy", which Day originally sang in her 1951 film I'll See You in My Dreams. Day dedicates this song to her son.
She has become the oldest artist to score a UK Top 10 with an album featuring new material, according to the Official Charts Company, entering at Number 9. British singer Vera Lynn reached the top of the chart in August 2009 at the age of 92, but that was with the greatest hits album We'll Meet Again – The Very Best of Vera Lynn.
Selected discography
Albums:
-Love Me or Leave Me , Columbia, 1955.
-Day by Day , Columbia, 1957.
-Day by Night , Columbia, 1957.
-Cuttin' Capers , Columbia, 1959.
-Bright and Shiny , Columbia, 1960
-Listen to Him , Columbia, 1960.
-Love Him Columbia, 1964.
-Sentimental Journey Columbia, 1965.
-Young At Heart , Columbia, 1955.
-Que Sera Sera Bear Family, 1994.
-Secret Love Bear Family, 1995 .
-Move Over Darling Bear Family, 1996.
Selected Filmography:
-Romance on the High Seas , Warner Brothers, 1948.
-Calamity Jane , Warner Brothers, 1953.
-Love Me or Leave Me , MGM Studios, 1955.
-The Man Who Knew Too Much , Paramount, 1956.
-Pillow Talk , Universal Studios, 1959.
Read more
Latest headlines