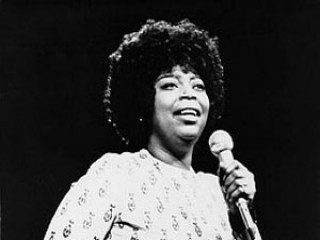 Doris Troy biography
Date of birth : 1937-01-06
Date of death : 2004-02-16
Birthplace : Bronx, New York City,U.S.
Nationality : American
Category : Famous Figures
Last modified : 2012-02-27
Credited as : Singer-songwriter, R&B/soul singer, Known as Mama Soul
Doris Troy was an American R&B singer, known to her many fans as "Mama Soul". No other "one-hit wonder" can boast a record of survival as impressive as Doris Troy's. Best known for the 1963 hit single "Just One Look," the soul chanteuse kept an enviable career going long after the majority of her contemporaries had packed it in. A songwriter, in-demand backup vocalist, and seasoned club performer, she was paid the ultimate compliment when her sister wrote a long-running musical stage play based on her life called Mama, I Want to Sing. More than 40 years after its debut her one American hit remained popular in commercials and on oldies stations worldwide.
Born Doris Higginsen on January 6, 1937, in New York City, she sang in several choirs while growing up, especially in the Mount Calvary Church, where her Barbados-born father was the minister. Although no secular music was allowed in their strictly run home, their proximity to the Apollo Theater made it difficult for young Doris to stay away from jazz and R&B. At 16 she fibbed about her age and got a job as an Apollo usherette, where she soaked up influences from some of the greatest female stars of all time: Pearl Bailey, Etta James, Dinah Washington, and especially Sarah Vaughan, who occasionally hired her to do a little sewing.
Higginsen's mother made her quit the usherette job, but apparently couldn't stop her from forming a jazz vocal trio called the Halos with a couple of friends. The group didn't last long, but the youngster was not discouraged. Using her grandmother's name, Payne, she began writing and pitching songs to various artists. Through sheer youthful nerve, she got a song through to R&B/pop hitmaker Dee Clark--best known for such hits as "Hey Little Girl" and "Nobody But You"--and scored a hundred-dollar advance for "How About That." Clark's 1960 Abner/Vee Jay recording of the song, complete with his trademark happy flute, was a respectable hit, climbing to 33 on the pop charts and ten on the R&B charts. Soul stars Chuck Jackson and Jackie Wilson also recorded some of her material, although none of those compositions charted.
Higginsen learned that the best way for a singer to stay connected to the recording industry was to work as a backup vocalist. Teaming with friends Dionne and Dee Dee Warwick, she supplied gospel-fed harmonies for recordings by Solomon Burke, the Drifters, Chuck Jackson, and Ben E. King. This not only supplied a steady paycheck, it gave her opportunities for solo recordings. Billed as Doris Payne, she recorded her first single, "I Want to Be Loved," for the Everest label, and, as part of a duo known as Jay & Dee, released "Heart" on Arliss Records. Both releases stiffed, but in the process, a legend was born.
According to the book One-Hit Wonders, no less a personage than Soul Brother Number One--James Brown himself--saw Higginsen perform in a nightclub and walked her into Atlantic Records. Years later she told David Nathan a different story for his book Soulful Divas. After working up a studio demo of a song she cowrote with Gregory Carroll called "Just One Look, " she took it to the head of Sue Records. "He just sat on the tape," she told Nathan, "so I took it over to Jerry Wexler at Atlantic Records, and they flipped out! Next thing I know, they put it out in the form we recorded it, as a demo!" For the record's release she officially changed her stage name to Doris Troy--although she still wrote under the name Payne.
A true classic of early 1960s pop, "Just One Look" was youthful enough for teens and seductive enough for adult listeners with a contralto gospel edge that caught the R&B crowd. Touring as an opening act and backup singer for Chuck Jackson--then cresting on a string of hits--helped turn the song into a bona fide hit, hitting number ten on the pop charts and number three on the R&B charts. Stardom seemed to be within her grasp.
Despite this success, Troy's next single "Whatcha Gonna Do About It?" flopped. Worse, her debut album, a first-class blend of northern soul and classy uptown R&B, fizzled. She fared better with Atlantic's Apollo Saturday Night, a live 1964 album featuring established stars like the Coasters, the Falcons, Ben E. King, Otis Redding, and Rufus Thomas. To the delight of her hometown crowd, Troy held her own with these legendary figures, delivering a jazzy version of "Misty" before rousing the Harlem faithful with the churchy "Say Yeah." If Atlantic took any notice of her burgeoning star power, it wasn't apparent in their actions. A little over a year after "Just One Look" slipped off the charts, the label dropped her from their roster.
Meanwhile, Troy received a strong boost overseas. A British Invasion group called the Hollies cut a hit version of "Just One Look" in 1964 that soared to number two on the British charts, and the Small Faces scored their first English hit with "Whatcha Gonna Do About It?" in 1965. Many Brits of that era were simply mad for American R&B, and they sent Troy's original of "Whatcha Gonna Do About It?" into their top 40 lists twice: number 37 in 1964 and number 38 in 1965. Heartened, the singer flew to London to appear on that country's premier pop music telecast Ready, Steady, Go!
Finding enthusiastic audiences for her work, Troy eventually moved to England, touring Europe and Japan from her new base; her singles for Cameo, Capitol, and Calla, unfortunately, failed to make an impression in the United States. Further discouraged by disappointingly small royalty payments for her hits, Troy focused more on singing backup than writing during this time. A session with keyboard wizard Billy Preston led to a contract with the Beatles record label Apple. Despite its reputation as a failed, irresponsibly run experiment, Troy told Richie Unterberger in his book Unknown Legends of Rock 'n' Roll that it was a fun, creative place for collaboration.
"We really got into taking care of business and writing good tunes," she informed Unterberger. "Some of the stuff we did in the studio, I'd be messing around on the piano and somebody would walk over and say, what is that? I'd say, this what I got so far. And they'd so [sic], okay, try this, try this, and that's how come on the [songwriting credits] you see Ringo [Starr] on some of it, Stephen Stills on some of it, and George [Harrison]. Nobody stopped to say, well, you can't do this or you're signed to this company or you're signed to that company. We were all just doing it."
The album, simply titled Doris Troy, featured some of that era's biggest stars: Eric Clapton, Delaney & Bonnie, Peter Frampton, Leon Russell, and the Beatles' Harrison and Starr. The fusion of soul and rock should have been a star-making relaunch of her career, but during the Beatle's messy public breakup, their record label withered for want of attention.
Troy never stopped working and never gave up hope. She continued singing backup on sessions for the likes of Long John Baldry, Jimmy Cliff, the Spencer Davis Group, Humble Pie, Tom Jones, and Gary Wright. The most famous examples of her work as a background singer are on Carly Simon's 1972 smash "You're So Vain," where Troy supplies both harmony and the famed gospel counterpoint vocal, as well as Pink Floyd's classic 1973 LP Dark Side of the Moon, one of the biggest-selling concept albums of all time.
Polydor Records gave Troy and her new group the Gospel Truth a chance to apply their talents to a 1972 album called Rainbow Testament. A deeply spiritual project, the live set featured Troy at her mature best, singing soulful renditions of such popular contemporary hits as "Games People Play," "Put Your Hand in the Hand," "Rose Garden," and Troy's intense performance of "Steal Away." It didn't sell. She tried again two years later with Stretching Out, a strong reggae-influenced disc that highlighted her mellower side. Because it was poorly distributed and barely promoted, though, these high-water marks in her solo career faded into obscurity. With bills to pay, she settled in Las Vegas and took a job singing backup for Lola Falana's stage show, and did session work when she could.
In 1981 her sister Vy Higginsen, a popular New York deejay, cowrote an inspirational tribute to Doris's life and career called Mama, I Want to Sing. Filled with true-life events and uplifting musical numbers, the stage show--which sometimes included star turns by Chaka Kahn and Deniece Williams--proved a long-running off Broadway success, and was novelized for a 1992 Scholastic book. "I absolutely couldn't believe what I was seeing," Troy is quoted on the MAMA Foundation website. "Vy was a baby when our father died, yet she had come so close to completely capturing the essence of what he was about.... I cried when I first saw the first show. In fact, after joining the cast for the first three weeks I cried especially during the funeral scene." Playing the role of her own mother in 1984, Troy stole the show nightly and toured with the production on and off for over a decade.
The success helped Troy and her sister in form the MAMA Foundation for the Arts, a community-focused organization that helps train and employ people for work in music and theater. Their second full-scale production, Gospel Is ... !, gave Troy a chance to show off her still-formidable chops. Despite needing an off-stage oxygen tank between numbers, she imbued her performance with sanctified soul and flair. Health problems continued to plague her, but, she told the New York Amsterdam News her future lay in helping her foundation's students. "That's why I'm going to be one of the teachers in the school of music," she told journalist Arlene McKanic. "With the experience I have from 1963 till today, I can show them how to do the song-writing, the stage presence, so there's a place for me." Emphysema claimed her life on February 16, 2004.
Selected discography:
-Just One Look Atlantic, 1963.
-(With others) Apollo Saturday Night Atco, 1964.
-Doris Troy Capitol, 1970.
-Rainbow Testament Polydor, 1972.
-Stretching Out Polydor, 1997.
-Just One Look: The Best of Doris Troy Soul Classics, 1994.
Read more
Latest headlines