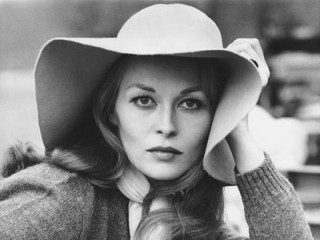 Dorothy Faye Dunaway biography
Date of birth : 1941-01-14
Date of death : -
Birthplace : Bascom, Florida
Nationality : American
Category : Arts and Entertainment
Last modified : 2011-01-14
Credited as : Actress, A Man For All Seasons, Three Days of the Condor
Faye Dunaway is an American actress.
Born prematurely on Jan. 14, 1941 in Bascom, FL,
Dorothy Faye Dunaway
was the daughter of MacDowell Dunaway, Jr., a career Army officer, and his wife, Grace April Smith. After a stint as a teenaged beauty queen in Florida, she intended to pursue education at the University of Florida, but switched to acting, earning her degree from Boston University in 1962. She was given the enviable task of choosing between a Fulbright Scholarship to the London Academy of Music and Dramatic Arts or a role in the Broadway production of "A Man For All Seasons" as a member of the American National Theatre and Academy. She picked the latter, enjoying a fruitful stage career for the next two years, which was capped by appearances in "After the Fall" and "Hogan's Goat." The latter – an Off-Broadway production in 1967 – required Dunaway to tumble down a flight of steps in every performance, earning her a screen debut in the wan counterculture comedy "The Happening" (1967). Just two months after its release, however, she was wowing audiences across the country as Depression-era bank robber Bonnie Parker in Arthur Penn's controversial "Bonnie and Clyde." Her turn as the naïve but trigger-happy and sexually aggressive Parker earned her Academy Award and Golden Globe nominations, and provided a direct route to the front of the line for Hollywood leading ladies in an unbelievably short amount of time.
Dunaway followed this success with another hit, "The Thomas Crown Affair" (1968), in which her coolly sensual insurance investigator generated considerable sparks with playboy and jewel thief Steve McQueen. She then bounced between arthouse efforts like "Puzzle of a Downfall Child" (1970), directed by her then-boyfriend, photographer Jerry Schatzberg, and the revisionist Western "Doc" (1971), as well as big-budget efforts like "Little Big Man" (1970), which cast her as a predatory preacher's wife with designs on Dustin Hoffman's reluctant Native American hero. Dunaway also balanced these projects with several well-regarded theatrical productions, including a 1972-73 stint as Blanche Du Bois in "A Streetcar Named Desire," and notable TV-movies like "The Woman I Love" (1972), which cast her as the Duchess of Windsor, and TV broadcasts of "Hogan's Goat" (1971) and "After the Fall" (1974). But her turn as the duplicitous Lady De Winter in Richard Lester's splashy, slapstick take on "The Three Musketeers" (1973) and its 1974 sequel "The Four Musketeers" preceded a long period of critical and box office hits, starting with her mast performance in 1974's "Chinatown."
Dunaway's performance as Evelyn Mulwray, the mysterious woman who draws detective Jake Gittes (Jack Nicholson) into a dark and complicated web of murder, incest and catastrophic business deals, seemed the epitome of every femme fatale to ever stride across a chiaroscuro-lit scene in classic noir. But Dunaway also found the horribly wounded core of her character as well, and turned Evelyn from a pastiche to a full-blown and emotionally resonant human being. Critics and award groups rushed to nominate Dunaway for the role, and she netted her second Academy Award nod, as well as Golden Globe and BAFTA nominations. Dunaway had fought hard for her performance – her battles with director Roman Polanski were no secrets – but sadly, she lost the Oscar to Ellen Burstyn for "Alice Doesn't Live Here Anymore" (1975). However, it would be Dunaway's performance which stood the test of time.
High-gloss turns in Sidney Lumet's political thriller "Three Days of the Condor" (1975) and "The Towering Inferno" (1976) preceded one of her best television performances; that of Depression-era radio preacher Aimee Semple MacPherson in "The Disappearance of Aimee" (1976). Even more startling was her sterling role in "Network" (1976), Paddy Chayefsky's blistering take on the television industry. Dunaway pulled out all the stops as an executive on the rise who stops at nothing to advance her career – even bedding veteran producer William Holden. Critics again rose in unison to praise Dunaway, and she finally netted an Oscar for the role, as well as a Golden Globe.
Surprisingly, Dunaway's career began to fall away after her Oscar win. She was effective as a fashion photographer who experiences disturbing visions in "The Eyes of Laura Mars" (1978), but was wasted in thankless roles as girlfriend to washed-up boxer Jon Voight in "The Champ" (1979) and the ailing wife of Frank Sinatra's detective in "The First Deadly Sin" (1980). And then came "Mommie Dearest" (1980), director Frank Perry's biopic of actress Joan Crawford based on the tell-all book by her daughter Christina. Crawford herself had praised Dunaway in the early stages of her career, and while some critics gave positive reviews to her performance – in particular, the extent to which she physically transformed herself into Crawford – most fixated on the hysterical dialogue and garish scenes of child abuse. Clips of Dunaway as Crawford bellowing "No more wire hangers!" became immediate laugh-getters on late-night television, and a substantial gay following rose up in response to the film's high camp value. Dunaway, however, found none of the response amusing, and later admitted her regret in taking the role. Whether laughable or pure genius, no one could deny that Dunaway threw her everything into the role of the screen legend. The film's continued cult success proved she had succeeded in becoming Crawford – a bit of high camp diva, herself.
The fallout from "Mommie Dearest" obscured Dunaway's follow-up projects, which included the title role in the 1981 TV-movie "Evita Peron" and a return to Broadway in 1982's "The Curse of an Aching Heart." Discouraged, she moved to London with her second husband, photographer Terry O'Neill, who had also served as a producer on "Mommie Dearest." For the next few year, Dunaway appeared sporadically in films, most of which underscored her newly minted status as a camp icon. "The Wicked Lady" (1983) was an absurd, near-softcore period drama by Michael Winner, with Dunaway as an 18th-century highway robber. Fans of her early dramatic work were similarly aghast by her turn as a shrieking witch battling Helen Slater's Girl of Steel in "Supergirl" (1984). Only a Golden Globe-winning appearance in the cumbersome miniseries "Ellis Island" (1985) offered any respite from the negative press which now continued to follow her.
Dunaway returned to the United States in 1987 following her divorce from O'Neill, and attempted to rebuild her career and reputation by appearing in several independent dramas. She was widely praised for her performance as a once-glamorous woman felled by alcohol in Barbet Schroeder's "Barfly" (1987), and served as executive producer and star of "Cold Sassy Tree" (1989), a TV adaptation of the popular novel by Olive Ann Burns about an independent-minded woman who romances a recently widowed store owner (Richard Widmark). Dunaway was exceptionally busy for the remainder of the decade in both major Hollywood features and independent fare, though her strong women now occasionally sported an unfortunate shrill side. She was Robert Duvall's frosty wife in the dystopian thriller "The Handmaid's Tale" (1990) and contributed a vocal cameo as Evelyn Mulwray in "The Two Jakes" (1990), the ill-fated sequel to "Chinatown." Other notable performances came as the unhappy wife of psychiatrist Marlon Brando in "Don Juan DeMarco" (1995), as the daughter of imprisoned Klansman Gene Hackman in "The Chamber" (1996) and as a bartender caught in the middle of a hostage standoff in Kevin Spacey's "Albino Alligator" (1996). She later received Screen Actors Guild and Golden Globe nominations as the matron of a wealthy Jewish family in turmoil in "The Twilight of the Golds" (1998). Perhaps her best turn of the decade was as a seductive murderess who attempts to sway the unflappable Lt. Columbo (Peter Falk) in "Columbo: It's All in the Game" (1993), which earned her a 1994 Emmy. In 1998, she won her third Golden Globe as modeling agency head Wilhemina Cooper in the biopic "Gia," starring Angelina Jolie as doomed model Gia Carangi.
The 1990s were also not without incident for Dunaway. She was embroiled in an ugly lawsuit against Andrew Lloyd Webber after he closed a Los Angeles production of his musical version of "Sunset Blvd." with claims that she was unable to sing to his standards. The suit was later settled out of court for an undisclosed sum. A national tour of Terrence McNally's "Master Class," about the legendary opera diva Maria Callas, ended with her involvement in a suit over legal rights to the play. The project was expected to become her next great film role, but remained uncompleted more than a decade after the 1996 tour. Her attempt at sitcom stardom in "It Had To Be You" (CBS, 1993), co-starring Robert Urich, was met with universal disinterest, and the project was announced as being retooled without Dunaway prior to its cancellation.
Dunaway's schedule remained busy from 2000 onward, mostly in television and small independent features. She co-starred with Mark Walhberg and Joaquin Phoenix as the wife of career criminal James Caan in "The Yards" (2000), then made her directorial debut with the short "The Yellow Bird" (2001), based on the play by Tennessee Williams. Younger audiences got their first taste of Dunaway's particular star power as Ian Somerhalder's mother in "The Rules of Attraction" (2002), Roger Avary's amped-up adaptation of the Bret Easton Ellis novel, before Dunaway turned up the heat as a merciless celebrity judge on the reality series "The Starlet" (The WB, 2005).
Dunaway penned her memoirs, Looking For Gatsby, in 1995, one year before receiving her star on the Hollywood Walk of Fame. Attached throughout her professional career to intriguing men ranging from Lenny Bruce to Marcello Mastroianni, she was twice married; her first husband was singer Peter Wolf of the popular seventies rock group, The J. Geils Band. Liam Dunaway O'Neill, her son by second husband Terry O'Neill, followed in her footsteps with minor acting roles beginning in 2004. His father later dropped a bombshell in 2003 by revealing that Liam was not their biological son, but was adopted – a claim that Dunaway had previously denied.
Films
# 1966 The Happening
# 1967 Hurry Sundown
# 1967 Bonnie and Clyde
# 1968 The Thomas Crown Affair
# 1969 The Arrangement
# 1970 Little Big Man
# 1971 Puzzle of a Downfall Child
# 1973 The Three Musketeers
# 1974 The Four Musketeers
# 1974 Chinatown
# 1974 The Towering Inferno
# 1975 Three Days of the Condor
# 1976 Network
# 1978 The Eyes of Laura Mars
# 1979 The Champ
# 1981 Mommie Dearest
# 1987 Barfly
# 1990 The Handmaid's Tale
# 1993 Arizona Dream
# 1995 Don Juan DeMarco
# 1996 Dunston Checks In
# 1996 The Chamber
# 1996 Albino Alligator
# 1997 Drunks
# 1998 Fanny Hill
# 1999 The Messenger: The Story of Joan of Arc
# 2002 Colored Eggs
# 2004 Jennifer's Shadow
Theatre
# 1962 A Man for All Seasons
# 1964 After The Fall
# 1964 But For Whom Charlie
# 1965 Tartuffe
# 1965 Hogan's Goat
# 1972 Old Times
# 1973 A Streetcar Named Desire
# 1985 Circe and Bravo
Television
# 1976 The Disappearance of Aimee
# 1984 Ellis Island
# 1989 The Cold Sassy Tree
# 1997 Rebecca
Read more
Latest headlines