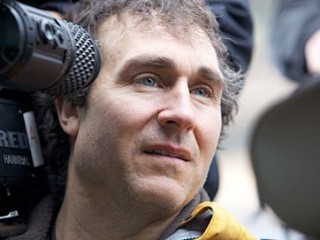 Doug Liman biography
Date of birth : -
Date of death : -
Birthplace : New York City, New York, USA
Nationality : American
Category : Arts and Entertainment
Last modified : 2011-09-06
Credited as : filmmaker, producer, Swingers
Douglas Eric "Doug" Liman
is an American film director and producer best known for Swingers (1996), The Bourne Identity (2002), Mr. & Mrs. Smith (2005), Jumper (2008), and Fair Game (2010).
Filmmaker Doug Liman made an impressive debut with a small independent movie, Swingers , that was shot on a budget and went on to earn a small fortune. Since then, Liman has been given increasingly large sums to make his movies, which have been relatively few in number but major screen events nonetheless, such as The Bourne Identity and Mr. & Mrs. Smith . He claimed that he was the black sheep among his siblings, one of whom is a professor of neurobiology and the other the attorney who failed to keep ImClone founder Sam Waksal out of jail for insider trading. "At the end of the day, I'm still completely overshadowed by Lewis and Emily," Liman told the New York Post about his brother and sister. "Before you get to the movie section, you have to pass the business section."
Born in 1965, Liman grew up in a well-heeled Manhattan world thanks to his father's lucrative career as an attorney. A highly regarded figure in legal circles, Arthur L. Liman had a high-profile corporate clientele, and during his son's college years served as chief counsel to the U.S. Senate committee investigating the Iran-Contra affair. When Liman was six years old, one of his father's clients, audiovisual equipment maker Bell and Howell, gave the senior Liman a Super-8 camera as a Christmas gift, which he then promptly passed on to his son. Liman was thrilled by the camera, and began making short films. His first featured frolicking dogs in Central Park, and they quickly grew more complex. Within a few years, he had cast his father as a mummy who escapes from a museum in a special-effects extravaganza that was shown at a film festival in Albany.
During his high school years, Liman took courses at the International School of Photography, but he also fell in with a fast crowd and ran afoul of the law after stealing a traffic light. He entered Brown University in Rhode Island, where he majored in history, but satisfied his creative urges by starting up a college television network and hosting his own David Letterman-style show. After earning his degree in 1988, he studied film at the University of Southern California's film school before moving to Paris.
It was there that Liman became captivated by the films of Luc Besson, which began when he went to a showing of La Femme Nikita . He heeded a friend's suggestion to check out Besson's other works, among them 1985's Subway and 1988's Le Grand Bleu . Liman singled out the latter a deep-sea thriller as his all-time favorite movie in an interview with the Sunday Telegraph . "I've got a short attention span, so it makes sense that I like movies, because for the most part they immerse you in lots of action," he told the London paper's Mark Monahan. "But this is a movie that in the long [163-minute] version doesn't have that much happening. I was just riveted, and I couldn't believe how riveted I was, given that there were no guns or villains. So little was happening, and it was such a simple story."
Liman made his directorial debut with a forgotten medical-school murder mystery, Getting In , that featured yet-to-be-famous actors Dave Chappelle, Matthew Perry, and Calista Flockhart. The 1994 movie was never released, and Liman put it behind him and began work on his next project. Written by a struggling Hollywood actor named Jon Favreau, the movie's script focused on four young entertainment-industry hopefuls in Los Angeles and was shot for just $250,000. Favreau played one of the leads, the self-esteem-deficient Mike, who is wary of the dating advice doled out by his fast-talking buddy, played by Vince Vaughn.
Swingers premiered at the 1996 Toronto International Film Festival and was picked up for distribution by Miramax. Within six months it had made stars of both Favreau and Vaughn, grossed $4.5 million at the box office, and introduced the phrase "You're so money" to the vernacular. It also secured Liman's status as one of Hollywood's hottest new directors. Critics showered it with praise, with Entertainment Weekly which later named it as one of the year's ten best movies asserting that Liman "captures something hilarious and touching a new attitude of wistful modesty on the part of young macho cruisers, a recognition that what works today is raw testosterone in a velvet glove," noted the reviewer, Owen Gleiberman.
Writing in the New York Times , Janet Maslin called Swingers "irresistible" and claimed that "just watching Mike feigning savoir-faire, bar hopping with his friends and failing spectacularly with women, is enough to keep the film buoyantly entertaining." Time critic Richard Corliss liked the way the movie "bends to the mood of each scene. Liman knows where the human comedy in Favreau's engaging script is: at the edges of the film frame, in the taut corners of a sensitive loser's mouth, in an unheard 'I love you' (the film's subtle climactic shocker) on the other end of a phone line."
Despite his new status in Hollywood, Liman did not make another film for three years. The hiatus was voluntary, for Arthur Liman had been diagnosed with cancer and Liman wanted to spend time with him before his passing in July of 1997. The esteemed corporate attorney had not initially approved of his son's career choice, Liman admitted two years later to Ruthe Stein in an interview for the San Francisco Chronicle . "I had a really huge argument with him about it. He thought I was asking for too rough a life," the filmmaker said. "But nonetheless he was incredibly supportive. He helped me raise the money for Swingers and did all the legal work."
Liman's next work quickly became a minor cult classic and earned him comparisons to indie director Quentin Tarantino. The film was Go , released in 1999, and it featured a cast of future stars who were generally known only to teenage television audiences at the time. For a $6.5 million budget, Liman hired Sarah Polley, a former child actress whose credits included the Road to Avonlea series; Dawson's Creek star Katie Holmes; and Scott Wolf from Party of Five . The ensemble also included Taye Diggs and Jay Mohr, all of whom are involved in one way or another in a drug deal gone awry. The story is told in three separate vignettes, from the points of view of three different characters, and begins with Polley's Ronna agreeing to help a couple of soap-opera actors (Wolf and Mohr) score some Ecstasy. Subplots revolve around Holmes' character, Claire, who is held as collateral in the dealer's apartment, a stolen credit card, a side jaunt to Las Vegas, the shooting of a strip-club bouncer, and a sinister cop who seems to have designs on the actors. "The movie is rather too frolicsome about drug use," noted Corliss in Time , "but it carries an internal message: If you're on dope, you won't be able to follow the plot."
Go earned Liman overwhelming critical acclaim. Corliss went on to deem it a picture "with a heart so understanding that it lets nobody die." Entertainment Weekly 's Gleiberman called it "the one truly thrilling movie I've seen so far this year…. Everyone on screen is out for kicks, and so is Liman, who seems to be staring, entranced, right along with the audience, as if he'd staged each scene simply because he had to watch it."
Liman's next work, The Bourne Identity , came with an astonishing $75 million budget and starred Matt Damon in the title role as an amnesia-suffering CIA killer on the run in Europe. Adapted from Robert Ludlum's 1980 best-seller, the movie took months to make and had Liman battling with studio executives over various production-related issues as well as script changes for the final third. He managed to win one major decision in his casting of Franka Potente ( Run Lola Run ) as Bourne's unwitting accomplice. Critics were divided over the end result, with some hailing Damon as the unlikeliest new action hero and others deriding Liman for cashing in on his reputation and becoming just another big-budget Hollywood director. Writing in the Village Voice , J. Hoberman found it improbable that Damon's Bourne manages to "instantly escalate from clean-cut Joe College to trilingual, unstoppable action-escape commando killing machine," and asserted that in the director's third major film he "takes a giant step toward hackdom."
Other reviewers gave The Bourne Identity better marks. "Liman intentionally walks a careful line," noted Mick LaSalle in the San Francisco Chronicle . "He plays it straight enough that the movie generates the suspense of a traditional thriller, but he keeps one toe and sometimes two in the zone of farce. The result is not only entertaining but also refreshing, a shameless crowd-pleaser with a healthy cynicism about itself." Writing in the New York Times , Manohla Dargis echoed past reviewers of Liman's work in asserting that the director had a deft talent for making his characters and their actions empathetic. "It's funny when the amnesiac Bourne realizes he speaks German and can throw a mean punch," she remarked, "it's unexpectedly affecting when the woman he's with vomits after she sees another man violently die."Liman did not have to rely entirely on his rankings in the Hollywood opening-weekend numbers race, however, in order to have steady work. He was a partner in Hypnotic, Inc., a production company involved in The Bourne Identity as well as the hit WB series The O.C. during its first season; Liman directed the pilot episode of the phenomenally successful series. Hypnotic also had a piece of the Bourne franchise, which included a 2004 sequel— The Bourne Supremacy , directed by Paul Green-grass—and a planned entry for 2007, The Bourne Ultimatum . He also served as executive producer for the much-lauded FOX series Arrested Development .
Liman signed on for his next project, Mr. & Mrs. Smith , after his hiring received the green light from its star, Brad Pitt. The comedy-action flick would be forever known, however, as the project that spelled the end of Pitt's marriage to Jennifer Aniston when rumors of his on-set romance with co-star Angelina Jolie proved true once the movie was released in June of 2005. Liman's leads played a pair of trained assassins who fell in love, settled into suburban ennui, and then each receive assignments to carry out a hit on the other. Reviews for Mr. & Mrs. Smith were mixed. "It's a high-wire act, pitched above a gaping chasm of implausibility, and the remarkable thing is how well Liman … and his red-hot stars sustain the joke," wrote David Ansen in Newsweek . "It's preposterous, but Liman gives it such a seductive, playfully hip texture that you happily embrace the fantasy."
Liman's subsequent projects included a series for NBC that debuted in March of 2006, Heist , for which he served as executive producer and pilot-episode director, and a television version of Mr. & Mrs. Smith . His next film, Jumper , was scheduled for a 2007 release. It was planned as the first in trilogy about a teen able to teleport himself to other realms. Liman has said that after having been a filmmaker nearly his entire life, the job never really became any easier for him. "When you're in fifth grade and making a 25-minute effects film, you're brilliant just for having done it," he explained to Sheila Johnston in London's Guardian newspaper. "That was one of the transitions I had to go through when I went to Hollywood it was no longer special just to be shooting a film, you had to make good ones."
Filmography:
Getting In (1994)
Swingers (1996)
Go (1999)
The Bourne Identity (2002)
Mr. & Mrs. Smith (2005)
Jumper (2008)
Fair Game (2010)
Read more
Doug Liman Picture Gallery
Latest headlines