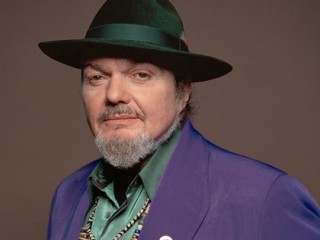 Dr. John biography
Date of birth : 1940-11-21
Date of death : 2019-06-06
Birthplace : New Orleans, Louisiana, U.S.
Nationality : American
Category : Arts and Entertainment
Last modified : 2023-11-21
Credited as : singer-songwriter, Zydeco musician, pianist/guitarist
Malcolm John "Mac" Rebennack, Jr., better known by the stage name Dr. John (also Dr. John Creaux), was an American singer-songwriter, pianist and guitarist, whose music combines blues, pop, jazz as well as Zydeco, boogie woogie and rock and roll.
A prolific session recorder dating back to his mid-teens, Dr. John has also become a headliner in his own right. Exposed to musicians by working in his father's appliance and music store and later performing in sessions with such New Orleans musical greats as Professor Longhair, Frankie Ford, and Joe Tex, Dr. John is considered one of the forerunners of a distinctly New Orleans brand of rhythm and blues, which he described to Jay Cocks in Time as "Afro-Caribbean, Afro-Cuban and Mardi Gras Indian" combined with "natural street rhythms." In fact, some point to him as one of the reasons for the late twentieth-century resurgence of interest in this musical style.
Born Malcolm Rebennack, Jr., in the middle-class third ward of New Orleans, Dr. John soon entered the world of show business when his fashion model mother got his face on Ivory Soap boxes. As a youngster he was fond of hanging around in his father's appliance/music store. "Pop's store catered to a lot of youngsters from Dillard University, which was a very hip black school," the musician recalled in Melody Maker. "The kids were listening to bebop and other modern jazz, also very much to gut-bucket blues; stuff by Memphis Minnie, Champion Jack Dupree, Big Bill and people like that." The young John also followed his father around to local clubs where the older Rebennack repaired sound systems. It was on one of these trips that John met Professor Longhair, whose boogie-woogie, blues, jazz, and New Orleans-style music would have a profound effect on the musician. The two artists, in fact, would eventually develop a close relationship; in later years, Dr. John referred to Longhair as a father figure.
Dr. John also frequented the studio of Cosimo Matassa of J&M Music, which, in the early 1950s, was the only recording studio in New Orleans. At first he would wait there until the studio had closed and then sneak into shows where his idols, including Charles Brown, Amos Milburn and Ray Charles, were playing. At the age of 14, the musician landed a regular job playing guitar with Leonard James' band. Dr. John remembered in Down Beat, "We used to work a lot of clubs and backed up about five or six local singers, like Jerry Byrne and Frankie Ford. At that time we had the only band in town that could read [music], and we picked up a lot of work backing up touring acts. The rhythm section couldn't read, but all the horn players could read good, so we could cut the shows."
Soon hired by Ace Records where he worked illegally in studio sessions, Dr. John made an album of instrumental numbers, but only one single was released, "Storm Warning." The song became a sort of cult hit in 1958, and soon after, Dr. John got together with Frankie Ford and Jerry Byrne, forming the group Morgus and the Three Ghouls for a novelty recording titled Morgus the Magnificent. In 1959, the musician began working with several labels, including Ric and Ronn Records, Spinnet Records, and Instant Records. He also recorded, with Professor Longhair, the classic song "Go to Mardi Gras."
Though still in his teens, Dr. John had already been accepted by the established New Orleans musical clique. "Music was the only thing I was interested in," he noted in Melody Maker. "I left school very early to travel with road bands, and I guess I'd already made up my mind to make my living from music. To tell you the truth, it was one of those unusual incidents that decided me quite suddenly: I saw snow one day in New Orleans and resolved to quit school and go on the road and see the world, 'cos I never saw snow before."
At home in New Orleans, Dr. John also started mixing with such musicians as Papoose, Jesse Hill, and Alvin Robinson, learning creole rituals and voodoo. When saxophonist Harold Battiste and trumpeter Melvin Lastie founded All For One (AFO) Records, a musician's collective, Dr. John joined. He continued to do prolific studio work until 1962, when under-the-table dates began being policed by the musician's union. "They had a union stoppage of all the sessions in ?1963?," John remarked in Down Beat, "and when that happened, AFO Records pulled out of New Orleans and went to [Los Angeles].
"That's when we really got in a lot of trouble, because we kept on doing sessions, and the union had already told me I couldn't do any recordings for the people I worked for. I kept getting caught, then I'd lie to them and get in more trouble because I lied. One good thing came of it, though--a lot of new studios opened. But the union would find out the addresses and they'd come in and bust them all. You'd think it was a police bust the way they would operate."
After he was kicked out of the union, Dr. John continued to pick up small jobs at strip shows and with local bands in New Orleans, eventually moving to Los Angeles, where he would work with musicians like the Allman Brothers and Frank Zappa. He soon found a niche there in a partnership with Battiste, who was working with Sonny Bono. In 1968, Dr. John took a risk that brought him out of the anonymity of session work and backup bands. He and Ronnie Barron planned to come out with elaborate creole personas for a one-shot performance and album, but Barron dropped out, leaving Dr. John to introduce Dr. John Creaux the Night Tripper--a name soon reduced to Dr. John--on his own. In Down Beat Larry Birnbaum described the stage act as "a heavy-lidded, gravel-throated chanter.... Costumed in sequined robe, strings of beads, and a plumed snakeskin hat, the hulking, bearded Dr. John, also known as the Night Tripper, was the self-styled voodoo shaman of the psychedelic generation, a spell-casting, snakedancing, patois-sprouting mystery man whose cajun conceptualism was concocted, seemingly, of two parts Creole gumbo, one part medicinal herbs, and one part Hollywood snake oil."
The album that resulted, Gris-Gris, featured some of the finest New Orleans musicians of the time. "All these cats were really fluent, creative players, and we had a lot of vocalists too," Dr. John recalled to Birnbaum. "I think we had as many people from New Orleans in the [Los Angeles] area at that time as you could have picked up in the studio in New Orleans." The record, nonetheless, was kept off the shelves for a few years until a reluctant Atco--a subsidiary of Atlantic Records--finally released it. Gris-Gris soon picked up a cult following, and the musician toured under his Dr. John persona for a few years. He also won a following among rock and roll fans with such LPs as his most famous, a 1973 collaboration with Allen Toussaint titled In the Right Place. Other albums featured rock heavyweights Mick Jagger and Eric Clapton.
In the 1980s, John enjoyed television, radio, and movie exposure. He recorded several albums while living in New York City and also wrote some commercial jingles for Popeye's Chicken, TicTacs candy, and Wendy's Hamburgers. He has continued to perform at jazz festivals around the country, spreading his distinctly New Orleans style of music. A long proponent of the genre, Dr. John commented in Melody Maker that Louisiana rhythm and blues "will survive as long as there are guys that take some real interest in preserving not only the form and structure but this special quality. It's like if there's one guy that's doing it right, that is better than a hundred of them doing it wrong."
In 1989 John departed from his regular mode of recording by releasing In a Sentimental Mood, a compilation of ballads that won critical and popular success. Jeff Hannusch noted in Rolling Stone that "while tunes like 'My Buddy,' 'In a Sentimental Mood' and 'Candy' might seem to have come off a set list at a piano bar, Dr. John manages to keep from dragging, and the swirling string section makes things sound especially sweet." Another album, entitled Bluesiana Triangle and recorded in 1990 with fellow New Orleans bluesmen Art Blakey and David "Fathead" Newman, won Dr. John further acclaim. Down Beat' s Larry Birnbaum declared the LP "an extraordinary meeting of musical minds--a loose, spontaneous interaction among three mature masters ... that showcases each of their strengths in an unaccustomed context."
Branching out into other media, Dr. John also released a video in 1990 entitled Dr. John Teaches New Orleans Piano, Vols. I and II. The tapes are aimed at intermediate-level piano players and explain the techniques of famous New Orleans musicians, including Longhair, Toussaint, Fats Domino, and James Booker. A reviewer in People found that "Dr. John cuts a colorful figure at the baby grand, singing, playing and dispensing musical wisdom" and concluded that the video "offers a rollicking two hours of fun."
At the end of 1991 Dr. John was scheduled to release yet another album. Never aspiring to superstar status in the music world, he continues to perform his unique type of music. "Do what is true to yourself," the musician commented in Melody Maker. About his long career, Dr. John declared: "If you're sincere about music I think it's worth all the hassles to stick to it."
In 2011 Dr. John, Allen Toussaint and The Meters performed Desitively Bonnaroo at the Bonnaroo Music & Arts Festival in Manchester, Tennessee as part of the festival's tenth year celebration. The name of the festival was inspired by the album.
As leader:
-Gris-Gris (1968) (Atco, SD 33-234)
-Babylon (1969)
-Remedies (1970) (Atco, SD 33-316)
-The Sun, Moon & Herbs (1971) (Atco, SD 33-362)
-Gumbo (1972)
-In the Right Place (1973) (Atco, SD 7018)
-Desitively Bonnaroo (1974) (Atco, SD 7043)
-Hollywood Be Thy Name (1975) (UA-LA552G)
-City Lights (1978)
-Tango Palace (1979) (Horizon, SP-740)
-Dr. John Plays Mac Rebennack Vol. 1 (1981)
-Dr. John Plays Mac Rebennack Vol. 2 (The Brightest Smile in Town) (1983)
-In a Sentimental Mood (1989)
-ZuZu Man (1989) (Trip Records TLP-9518)
-Goin' Back to New Orleans (1992)
-Television (1994)
-Afterglow (1995)
-Trippin Live
-Anutha Zone (1998)
-Duke Elegant (1999) (Parlophone,)
-Creole Moon (2001)
-N'Awlinz: Dis Dat or d'Udda (2004)
-Sippiana Hericane (2005)
-Mercernary (2006) (Blue Note 54541)
-The City That Care Forgot (2008)
-Tribal (2010)
Read more
Latest headlines