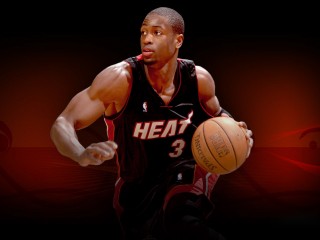 Dwayne Wade biography
Date of birth : 1982-01-17
Date of death : -
Birthplace : Chicago, Illinois, USA
Nationality : American
Category : Sports
Last modified : 2020-10-13
Credited as : Basketball player NBA, Miami Heat, Gabrielle Union
For a unique player,
Dwyane Wade
sure brings to mind a lot of clichés. He can run the break, stop and pop, take it to the hoop, find the open man and make the big defensive stop. He's unselfish, unflappable, unassuming, and often unstoppable. In a league where players are glamorized for "doing it all"—and even more act like they know it all—Dwyane has distinguished himself as a player apart, the kind of difference-maker who carries his team to a championship. Whatever the job, Dwyane gets it done.
GROWING UP
Dwyane Tyrone Wade Jr.
was born on January 17, 1982 in Chicago, Illinois. His parents, Dwyane Sr. and Jolinda, split up when he was young. They maintained a civil relationship, however, so Dwyane and his sister Tragil got to spend plenty of time with both.
Up until his eighth birthday, Dwyane lived on Chicago's South Side with Tragil, their mother, her new husband, and his two daughters. Dwyane and his sister became particularly close during this period. He admired her mental strength and her commitment to their church, the Blood, Water and the Spirit Ministry. Religion was very important to the entire Wade clan.
Well mannered and well adjusted, Dwyane liked sports, particularly football and basketball, but he never really thought of playing professionally. That began to change when he moved in with his father and his new wife and three sons, an arrangement agreed to by Dwyane's mom.
Dwyane Sr. worked in a printing plant, making enough money to afford a home in the Chicago suburb of Oak Lawn. An excellent hoopster in his younger days, he coached a team of teenagers at the Blue Island Recreational Center. He often brought Dwyane to practice, teaching him the basics of the game and schooling him on its nuances. The team's best player was Dwyane's step-brother Demetrius, who also contributed to his basketball development.
With his new family so completely immersed in the sport, Dwyane's love for basketball blossomed. He became a big fan of Chris Webber and Michigan's Fab Five. The team's athleticism and cohesiveness captivated him.
Despite his passion for basketball, Dwyane was not much more than an average player. What he lacked in skills he made up for with toughness and intelligence. He and Demetrius took on all comers on a court in the family's backyard. Dwyane Sr. was their most troublesome opponent. Their dad often challenged them to games of 21, where it was every man for himself under the backboard.
When it came time for Dwyane to start high school, he followed Demetrius to H.L. Richards in Oak Lawn. Known as a football powerhouse, the Bulldogs were also in the process of building one of the area's top basketball programs. Demetrius was the centerpiece of coach Jack Fitzgerald's squad.
Initially, Dwyane made a bigger impression on the football coaches at Richards than he did on Fitzgerald. A gritty cornerback and wide receiver, he showed promise on the gridiron, but he couldn't kick his obsession with basketball. Dwyane spent his second season with the Bulldogs on the sophomore team. Demetrius, meanwhile, led the varsity to a record of 28-2.
Dwyane was able to deal with his shortcomings on the hardwood thanks in part to his girlfriend Siohvaughn. The two had met several years earlier, before either one had any real interest in the opposite sex. They became friends and later began dating as freshmen.
Determined to earn regular time on the varsity hoops teams, Dwyane worked out all summer long before his junior year with Richards assistant coach Gary Adams. He improved his ballhandling skills and his outside game, shooting hundreds of jumpers a day. Dwyane's body cooperated, too, as he shot up up nearly four inches to more than six feet tall.
Always a tenacious rebounder, Dwyane now had the size and skills to excel in all phases of the game. Recognizing an emerging star, Fitzgerald made the junior his go-to guy. With Demetrius lost to graduation, Dwyane did it all for the Bulldogs. If Richards needed to break the press, Fitzgerald put the ball in Dwyane's hands. If the team needed a hoop in close, Dwyane got the ball in the post. For the year, he averaged 20.7 points and 7.6 rebounds, and opened eyes all around Chicagoland.
Among those who took notice was Larry Butler, coach of the AAU Illinois Warriors. Already the state's top amateur squad, the Warriors boasted a roster that included future pro and college stars Darius Miles, T.J. Cummings, Matt Lottich, and a good buddy of Dwyane's, Odartey Blankson. Butler wanted a player to complement Miles, and Dwyane was the perfect fit. No only could he could run the break, he could also start it with a rebound and finish it with a twisting lay-up. (Dwyane didn't start dunking until his senior year at Richards.)
Playing with the Warriors earned Dwyane the one thing he truly needed: exposure. To this point, college scouts barely knew he existed. Now they were checking their programs to find out about the rock-solid swingman. His biggest moments came during the Nike Peach Jam. Though never the dominant player of the floor, Dwyane displayed a knack for the game, especially in crunch time, that savvy evaluators couldn't miss.
Heading into his senior year, Dwyane was becoming a hot commodity among midwest schools. Marquette, DePaul and Illinois State were all interested, and he responded to the extra attention with a marvelous season. Dwyane went for a double-double almost every game, with averages of 27 points and 11 rebounds. Richards surged to a mark of 24-5.
ON THE RISE
The scholarship offers didn't come, however. The problem was Dwyane's low score on the ACT. Fearing he wouldn't be able to cut it academically, most schools backed off. Marquette was an exception. Assistant coach Tim Buckley loved everything about Dwyane, on the court and off. He helped convince head coach Tom Crean to give the teenager a shot. Marquette accepted Dwyane as a partial qualifier, meaning he could practice with the basketball team as a freshman but not suit up for games.
Watching from the sidelines was hard on Dwyane. Crean eased his burden by keeping him intimately involved. The coach made sure Dwyane sat next to him during home contests, constantly quizzing him on how he would handle different situations. The frosh wasn't allowed to travel with the Golden Eagles, so when they played on the road, Crean passed a cel phone around the locker room after each game so that Dwyane could talk with his teammates.
As the season progressed, the frosh gained maturity and confidence. In the classroom, he studied hard and maintained good grades. On the practice court, he added dimension to his game and some 20 pounds of muscle to his frame. By the fall of 2001, Dwyane was champing at the bit to start his college hoops career.
Crean, in his third year at the helm, was just as excited to welcome Dwyane aboard. Formerly an assistant to Tom Izzo at Michigan State, Crean was in the midst of an impressive rebuilding program. The Golden Eagles had finished above .500 in his first two campaigns. Now, with Dwyane and incoming freshman Travis Diener joining senior point guard Cordell Henry, Crean had the makings of Conference USA's most versatile backcourt. Along the frontline, sophomore center Scott Merritt was expected to provide much of the scoring punch.
Dwyane's impact was felt immediately. In his first five games—all wins—he averaged more than 20 points, nine rebounds, and nearly five assists. After a good showing in the Great Alaska Shootout, Marquette shot to #17 in the nation. Dwyane was named the tournament's Most Outstanding Player and the Conference USA Player of the Week.
As the calendar turned to 2002, Dwyane continued his fine play. He torched DePaul for 35 points, including an eye-popping reverse dunk on an alley-oop pass from Henry. In February, he helped Marquette break Cincinnati's 20-game winning streak with 25 points in a 74-60 victory. A crowd of almost 19,000 showed up at the Bradley Center for the contest and mobbed Dwyane and his teammates afterwards.
The Golden Eagles headed into March Madness with high hopes. But they ran into a buzzsaw in the form of cat-quick Tulsa and bowed out in the opening round, 71-69. For Dwyane, the loss was softened somewhat by his selection as First Team All-C-USA and Honorable Mention All-America. Marquette's leading scorer, he set a school record for sophomores with 571 points. Dwyane also topped the team in rebounding, assists, steals and blocked shots.
But Dwyane's most memorable moment of the season occurred away from the court when Siohvaughn gave birth to the couple's first child, Zaire Blessing Dwyane. (They had a second child, a boy named Zion Malachi Airamis, in May of 2007.) Being a father agreed with Dwyane, but he didn't lose his focus on basketball. Over the summer, he pored over hours of game film and noticed that his effort on the court was uneven at times. For the 2002-03 season, he vowed to maintain a more consistent energy level. He also spent plenty of time working on his jumper from beyond the 3-point line.
Marquette returned virtually the same team in the fall of 2002, though Crean scored two recruiting coups with Mississippi State transfer Robert Jackson and prep star Steve Novak. The pair was slotted to join Dwyane, Diener and Merritt in the starting lineup.
Early in the season, the Golden Eagles established themselves as the class of Conference USA. The Wade-Diener backcourt proved lethal, while Jackson and Merritt did excellent work in the paint. Marquette steadily climbed the national rankings, eventually reaching the Top 10.
Dwyane was the player opponents concentrated on stopping, but the job was nearly impossible. Whatever the Golden Eagles needed, he found a way to provide. In a late-season matchup at Louisville, he spearheaded a fierce rally that erased a 19-point deficit. Down the stretch, he nailed a pair of 3-pointers to seal the victory. A week later, Dwyane put up 26 points and grabbed 10 rebounds as Marquette beat Cincinnati to claim its first conference title.
MAKING HIS MARK
As the Golden Eagles prepared for the national tournament, Dwyane was determined to avoid another early exit. In its opener, however, Marquette got a scare from Holy Cross. Diener keyed a 72-68 victory with a career-high 29 points, while Dwyane posted a double-double with 15 points and 11 assists. Typical of the junior, when he realized that Deiner was feeling it, he fed the ball to him as often as possible.
Next came an overtime thriller against Missouri. The Golden Eagles blew a 10-point lead but got a clutch trey from Novak to tie the contest at the end of regulation. Marquette sizzled in the extra period, hitting all of its shots from the field and the foul line. Dwyane finished with 24 points, eight rebounds and seven assists.
Facing defensive-minded Pittsburgh in the Sweet 16, Marquette gutted out another tough win, beating the Panthers 77-74. Dwyane stepped up in the second half, connecting for several big baskets with time winding down. His 22 points topped all scorers.
In the Elite Eight for the first time since 1977, when legendary coach Al McGuire led Marquette to the national championship, the Golden Eagles drew No. 1 seed Kentucky. The Wildcats never knew what hit them. Marquette won easily, 83-69, behind a sparkling performance by Dwyane. With 29 points, 11 rebounds, and 11 assists, he recorded just the third triple-double in March Madness history. He was a no-brainer choice as the MVP of the Midwest Regional Final.
Marquette's magical ride ended in the Final Four against Kansas. The talented Jayhawks throttled the Golden Eagles with their transition game, winning 94-61.
But the season was still a huge success, particularly for Dwyane, who wowed NBA scouts with his versatility, leadership and composure. A consensus First Team All-American, he averaged 21.5 points, 6.3 rebounds, 4.4 assists and 2.2 steals. Now a sure-fire lottery pick, Dwyane opted to enter the NBA Draft. Everyone at Marquette wished him the best. He had been a model student-athlete during his three years at the school and brought the Golden Eagles back to national prominence on the hardwood. With a wife and son to support, he deserved to cash in on his status as a high first-rounder.
Dwyane lasted until the fifth selection on draft day. To no one's surprise, LeBron James went first to the Cleveland Cavaliers. Then three teams that could have used Dwyane—the Detroit Pistons, Denver Nuggets and Toronto Raptors—passed on him. That left the Miami Heat in great position. The team had an interesting collection of players, including small forward Caron Butler, shooting guard Eddie Jones, and big man Brian Grant. Pat Riley also had his eye on free agent Lamar Odom. Dwyane was the type of player who could help this nucleus gel. And between the rookie and Odom, Riley would have two players who could run his offense.
Dwyane slotted into the rookie salary structure at more than $7 million over three years. The 2003-04 campaign opened on an ominous note for the Heat when Riley resigned as head coach. He handed the reigns to assistant Stan Van Gundy, and Miami proceeded to lose its first seven.
Dwyane's adjustment to the pro game contributed to the team's struggles. Opponents wanted to see whether he could knock down the outside jumper consistently, so they backed off when he had the ball on the perimeter. This made Miami's half-court offense bog down at times. On the break, Dwyane had no trouble getting to the hoop, but finishing plays was difficult for him. To cure this problem, assistant coaches Bob McAdoo and Keith Askins gave Dwyane a taste of what it would have felt like if he had pursued a football career. In practice, they donned big blocking cushions and battered him as he took the ball to the rim.
Durability also became an issue. Dwyane missed a couple of games early on with a hip pointer, and then fell hard on his right wrist during a game in late November. When the contusion didn't heal, he sat out nearly all of January.
Ironically, the time off proved beneficial for Dwyane and Miami. He picked up helpful hints by watching and listening to his teammates and coaches. The Heat, meanwhile, began to get more comfortable with Van Gundy. When Dwyane returned, the team had climbed within reach of a playoff spot.
Dwyane recorded his first career double-double (27 points and 10 rebounds) in February against the Orlando Magic. Four days later, he set a franchise rookie record by converting 15 field goals against the Atlanta Hawks. The following week he was named the NBA's Eastern Conference Player of the Week, becoming the first Heat rookie to earn the honor.
By March, Miami had moved up to eighth place in the East, and Dwyane was garnering support as NBA Rookie of the Year. He wound up third in the voting behind James and Carmelo Anthony. Still. at 17 points and more than four assists and rebounds each night, Dwyane was producing in all facets of the game. Just as impressive was his 47.4% shooting from the field, second only to Sam Cassell among the league's guards. With Dwyane and Odom leading the way, the Heat won 17 of their last 21 games to finish at 42-40, good for second place in the mediocre Atlantic Division.
In the playoffs, Dwyane amazed onlookers by rising to the occasion time and again. Miami opened the postseason against New Orleans. In Game 1 they got a feel just how tough the Hornets would be. The visitors kept the contest close, knotting the score at 79-79 with seconds remaining. Dwyane took over from there, nailing a 10-footer at the buzzer for the win. He finished his playoff debut with 21 points.
With the teams trading victories, Miami looked to Dwyane again in Game 5. This time he canned a clutch 3-pointer to break an 80-80 tie and put the Heat ahead for good. Two days later, in a New Orleans win, Dwyane established a franchise rookie playoff record with 27 points. In the decisive Game 7, the Heat relied on a balanced team effort to win, 85-77.
Miami moved on to the Eastern Conference Semifinals and faced the equally athletic Pacers. The Heat pushed Indiana to six games, but Jermaine O'Neal was too much to handle. That's not to say Dwyane didn't put up a fight. For the series, he topped the team in scoring (21 ppg), playmaking (5.7 apg) and shooting (48.9% from the field), all the while logging more than 40 minutes a contest. In the process, he joined Stephon Marbury, Michael Jordan and Billy Ray Bates as the only rookies in NBA postseason history to lead their clubs in points and assists.
Dwyane's sparkling playoff performance helped convince Riley and the rest of management that the Heat were perhaps one impact player away from contending for the NBA title. Of course, that player—Shaquille O'Neal—was a pretty tall order. But with Kobe Bryant unhappy in Los Angeles, and Phil Jackson on his way out as the Lakers' coach, Shaq was looking for a new home. Miami offered Odom, Grant and a first-round pick. Los Angeles wanted Dwyane. The Heat refused but did add Butler to the mix. Eventually they landed the hulking center.
Meanwhile, Dwyane was honing his game with the U.S. Olympic team. He received rave reviews from the coaching staff, including Detroit head man Larry Brown. Dwyane's teammates applauded his professional approach in practice and games. But Dwyane wasn't able to lift the Dream Team to gold. After suffering a head-scratching loss to Puerto Rico, the Americans wound up with the bronze medal. In the win over Lithuania for third place, Dwyane had nine points and a game-high six assists.
Once back in the States, Dwyane and Shaq became fast friends. The big guy loved his new teammate's me-second attitude and talked up Dwyane in the press at every opportunity. Nicknaming him Flash, Shaq also made sure to stick it to Bryant, intimating that Dwyane was the better all-around player.
The duo of Dwyane and Shaq quickly turned Miami into the East's best team. The Jones boys, Eddie and Damon, provided perimeter scoring, while Udonis Haslem was a nice complement on the low block. Some wondered whether Shaq's presence would stifle Dwyane's development, but they had the exact opposite effect on each other. Neither was afraid to defer to a teammate with the hot hand.
As the 2004-05 campaign progressed, that hot hand belonged to Dwyane more and more often. In the preseason, he looked to get his teammates involved. But it soon became clear that the Heat was most dangerous when Dwyane shouldered more of the scoring burden. Thanks to his explosive first step, there were few defenders in the league who could stay with him when he went to hole. The result was usually either a bucket or a trip to the foul line, though the other Miami players learned to be ready for a bulls-eye pass if they were left alone.
By the All-Star break, Dwyane was being mentioned among the league's Top 10 talents. His impact on the Heat was obvious. With help from Shaq, he led the squad to the East's top record at 59-23. Dwyane upped his numbers in every significant category, including scoring (24.1 points), rebounding (5.2 boards), passing (6.8 assists) and shooting (48% from the floor and 76% from the line). He was also a terror on defense, averaging more than a steal and a block per game. Fourteen times Dwyane posted a double-double, and in late December he orchestrated a win over the Pistons in Detroit with a triple-double (31 points, 10 rebounds and 10 assists).
Though the #1 seed in the East, Miami opened the playoffs amid a lot of questions. Most notable was the health of Shaq, who was suffering from a deep thigh bruise. Some in the media predicted the Heat would fall to the New Jersey Nets in the first round. They were dead wrong. Shaq answered the bell in Game 1, going for 17 points and 11 rebounds. Dwyane and Damon Jones, meanwhile, combined for 62 points as Miami cruised to a blowout victory. From there, the Heat never really looked back. New Jersey pushed them when the action moved to the Meadowlands, but Miami still closed out the series in four games.
Next up were the upstart Washington Wizards, and again the Heat registered a sweep. Dwyane was magnificent all series long, pumping in more than 30 a night and dishing out eight helpers a contest.
In the Eastern Conference Finals, the Pistons edged the Heat in seven games. The decider was a particularly painful loss since it came in Miami. Dwyane was a handful for Detroit early in the series, going to the hoop strong, running the break at will, and making one clutch shot after another. But when the Pistons refocused their defensive game plan, Dwayne found his lanes to the basket closed off. When his jumper didn't fall consistently and Miami's other offensive options also stalled, the team didn't have much of a chance.
At the beginning of 2005–06, there were still a handful of basketball fans who were unfamiliar with Dwyane. That would change dramatically. The first sign that he was having a special season came during the All-Star Game. Dwyane was money, taking 11 shots and hitting all but two. His final bucket was his biggest, a put-back of an Allen Iverson miss that provided the winning margin in a 122–120 victory for the East.
Meanwhile, back in Miami, the Heat were living up to their name thanks to Dwyane and O'Neal. They led a club that had added veterans Gary Payton, Jason Williams, James Posey, and Antoine Walker. Miami was specifically tailored for postseason success. For his part, Dwyane had his best year as a pro, averaging 27.2 points per game, along with 5.7 rebounds and 6.7 assists.
The Heat fell seven wins short of their record from the previous season, but their 52-30 mark was good enough to finish atop the Southeast Division again. The Pistons, with a 64–18 record, were the odds-on favorite to return to the NBA Finals. Their main challenges figured to come from Cleveland and Miami.
The Heat began their playoff run against the up-and-coming Chicago Bulls. The teams split their first four games. Miami took the final two to win the series. In Game 5, Dwyane took a nasty spill but hobbled back onto the court to give his team a much-needed lift. Shaq finished off the Bulls in Game 6. Chicago's big men simply couldn't handle him.
The Heat got a break in the second round. They played the Nets, while the Pistons and Cavs went at each other in a brutal series. Detroit bounced back from a one-game deficit and won the final two in Cleveland to advance to the Eastern Conference Finals. After a Game 1 loss to New Jersey Miami got back on track and swept the final four games. In the final moments of Game 5, Dwyane picked off a pass headed for VInce Carter to seal a 106–105 victory. Prior to that play, Dwyane asked Riley—who was once again coaching the team—if he could guard Carter on the do-or-die play. Payton later said that this moment helped define his young backcourt mate as a true team leader.
That leadership was put to the test against the Pistons. Playing Game 1 in foul trouble, Swyanestayed on the court long enough to pour in 25 points and help the Heat grab homecourt away from Detroit, 91–86. After the Piston evened the series, Miami won Game 3 thanks to an amazing fourth-quarter flurry by Dwyane. With the Heat clinging to a slim lead, he netted 10 points in the finals seven minutes as Miami pulled away 98–83.
The Pistons doubled-up on Dwyane for most of Game 4 and kept him at bay. But in the fourth quarter, he broke free again and converted a couple of jaw-dropping baskets. Dwyane scored 31 in all to deliver an impressive 89–78 victory.
The Pistons did not go quietly, taking Game 5. But Miami finished the series with a workmanlike 95–78 win in Game 6. They did so without a superstar performance from Dwyane, who had come down with a flu-like illness. Shaq had a monster game under the boards, while Williams picked up the slack in the backcourt, making his first 10 shots in a row.
The NBA Finals started in Dallas, but the Heat played the first quarter like the home team, scoring 31 points and grabbing an early lead. It was ll downhill from there, however. Jason Terry lit it up for the Mavs and keyed a 90–80 win. Game 2 was even uglier. Dirk Nowitzki was unstoppable in a 99–85 victory. Dwyane was the lone bright spot for Miami in the defeats, leading the team in scoring and assists in Game 1 and scoring and rebounds in Game 2.
When the series moved back to Miami, Dwyane shifted into another gear. Facing a pair of must-have games, the Heat looked to their young leader. Down 13 midway through the fourth quarter, the Heat battled back and won 98–96. Dwyane had a game for the ages, scoring 42 points and pulling down 13 rebounds.
Dwyane was just as good in Game 4, scoring 36 points and contributing to a demoralizing defensive effort that saw Dallas score a meager seven points in the final period. Miami won 98–74.
With a third straight game at home, the Heat had a chance to crush the Mavs in Game 5. Thanks to another spectacular performance by Dwyane, they did just that. Dallas tried to manhandle him, but the result was a flurry of free throws that boosted his point total to 42. Dallas held a two-point lead at the end of regulation, but Dwyane hit a twisting runner to send the game into overtime. Mimai went on to win 101–100 on a pair of free throws by Dwyane. The late foul call had Mavs owner Mark Cuban fuming.
Back in Dallas, Dywane finished off the Mavs with a 36-point performance. Terry, the Game 1 star, had a chance to tie the score at the buzzer but missed a 3-pointer. The Heat won 95–92 to claim their first championship. Dwyane was awarded the MVP trophy for his heroic effort.
Defending a championship can be harder than winning one—a lesson the Heat learned in 2006–07 when injuries decimated the club. Shaq, Payton and Walker all missed significant time. But Dwyane's injury was the killer. He separated his shoulder in a February game against the Houston Rockets and opted for rehab instead of surgery in order to be available for the playoffs. He finished the year with a 27.4 scoring average and upped his assists to 7.5 a night. However, Dwyane suited up for only 51 games and was rusty upon his return.
Thanks to a resurgent O'Neal, the Heat went 16–7 in Dwyane's absence and eked out a third straight division title. Still, at playoff time the team looked like the walking wounded. The spring-legged Bulls swept them out of the first round in four games—the first time that had happened to a defending champion since the 1950s.
The end of the Shaq-Wade era came the following year, when the Heat traded O'Neal to the Phoenix Suns in February for Shawn Marion. Shortly thereafter, Dwyane reinjured his shoulder and hurt his knee. He sat out the rest of the year, and the Heat plummeted to an NBA-worst 15–67 record. Dwyane again managed to make only 51 appearances, and his scoring dipped to 24.6 ppg.
The Heat used their ensuing lottery pick to nab Kansas State phenom Michael Beasley. The a 6–9 forward promised to give them scoring in the post and a fierce rebounding presence. Beasley also freed up the team to trade Marion for a new center, veteran Jermaine O'Neal.
Meanwhile, Dwyane was healthy again—and playing like an MVP. He trailed only LeBron James in the scoring race in the season's first half, and then turned on the jets in February. During the month, he averaged more than 30 points and just under eight assists per contest. He was even better in March, putting together back-to-back 40-point performances—one of which came against the Cavaliers—and netting 50 for the second time that season.
His best performance came against the hated Knicks, when he tied a team record with a 24-point fourth quarter. Dwyane's outburst erased a 15-point New York lead in the final nine minutes, as Miami won 120–115. The next game, against the Cavs, Dwyane netted 40 again. Then, in Shaq's return to Miami, he had 35 and 16 assists to tie a career-high. Less than a week later, he hit a game-winning three-pointer in double overtime. Two games after that, Dwyane scored 50 in a triple-OT victory, during which he surpassed Alonzo Mourning as the club's all-time scoring leader.
When the smoked cleared on a remarkable regular season, Dwyane was the NBA scoring champ, averaging 30.2 per game. In the process, he became the first player in history to top 2,000 points, 500 assists, 100 steals and 100 blocks in the same season. Statistically, Dwyane easily eclipsed the two players that finished in front of him in the MVP voting, Kobe and LeBron. The fact that he elevated the Heat from 15 wins to 43 made no difference to the voters.
Dwyane kept on rolling in the playoffs. He led his team into battle against the Hawks, who fouled him hard on several occasions. With the Heat facing elimination in Game 6, Dwyane scored 41 points to lead Miami to victory. However, the heat could not close the deal on Atlanta's homecourt in Game 7.
Dwyane opened the 2009–10 campaign by scoring his 10,000th career point in the third game, against the Bulls. A few days later, against the Cavs, Dwyane posterized Anderson Varejao with a dunk that LeBrom claimed was one of the all-time 10 greatest. Moments later, Dwyane and Varejao were whistled for technicals when they got in each other's faces.
Playing in his sixth All-Star Game, Dwyane lit it up for 29 points in a 141–139 win by the East. He took home MVP honors. He finished the year with more than 2,000 points for the third time, averaging 26.6 for the season. The Heat made the playoffs, but they didn't have enough to beat for the deep Celtics. Facing a sweep, Dwyane outscored the entire Boston team in the fourth quarter of a 101–92 victory. His 46 points set a new postseason record for the Heat. Miami was eliminated a few nights later.
Some believed that this was Dwyane's final court appearance for the Heat, as he was set to become a free agent. But he had other ideas. Dwyane huddled with LeBron and Chris Bosh. The three discussed the possibility of playing together, even though each would have to sacrifice money when they signed their new deals. The Heat had the manueverability in their cap space to make it happen. Dwyane inked a contract first and tayed in South Beach. Bosh then followed him. When LeBron announced he would do the same, the Heat suddenly had the look of a championship club.
Quietly—which is his style—Dwyane has entered Hall of Fame territory. His numbers are impressive enough, but a look past the stats offers a true gauge his value. Dwyane is a player's player. Always has been and always will be.
Dwyane does so many things like Michael Jordan that the comparisons are inevitable. He is at his best with the ball in his hands, penetrating hard to hoop. His ability to slice through the defense is nothing short of amazing.
Dwyane's outside shot is good enough that he no longer can be left alone on the perimeter, which gives him the opportunity to beat his man off the dribble. Once he beats his man, his options are threefold. He can pull up for a short jumper, continue on to the rim and dish off to an open teammate, or finish the play himself.
Dwyane says he will never compete in the Slam Dunk contest, but that doesn't mean he isn't a regular contributor to the evening highlight reel. Dwyane is a fantastic dunker, though he lays the ball in as often as he slams it home. That's because he prefers to use his dunks at pivotal times, either to wake up his teammates and the home crowd, demoralize an opponent, or shake himself up if his energy is lagging.
EXTRA
* Despite gaudy numbers as a senior at H.L. Richards High School (27 ppg and 11 rpg), Dwyane finished seventh in balloting for Mr. Basketball in Illinois. Darius Miles won the award; Eddy Curry was among those who also got more votes than Dwyane.
* Dwyane wasn't allowed to suit up for games during his freshman campaign at Marquette, but he did participate in—and win—the team's Midnight Madness dunk contest.
* Dwyane played on a traveling all-star team in Italy in the summer of 2001 for Bill Van Gundy, the father of former Heat head coach Stan Van Gundy.
* When Dwyane won Most Outstanding Player at the 2001 Great Alaska Shootout, he joined an impressive list of honorees, including Antawn Jamison, Ray Allen, Sean Elliot, Glen Robinson, Ron Mercer and Steve Smith.
* With 29 points, 11 rebounds and 11 assists against Kentucky in the 2003 NCAA Tournament, Dwyane joined Magic Johnson and Andre Miller as the only players to produce a triple-double during March Madness.
* Dwyane was named both Player of the Year and Defensive Player of the Year for Conference USA in 2003.
* Dwyane started for the Rookies in the Rookie Challenge at the 2004 All-Star Weekend. He finished the game with 22 points, four assists and three rebounds in 27 minutes.
* Dwyane's seven games with at least 20 points in the 2004 postseason were the most by a rookie in the NBA Playoffs since David Robinson had nine in 1990. Dwyane also tied Alonzo Mourning (1997 and 2000) for the most points in a single playoff season by a Heat player.
* Dwyane's 21 free throws in Game 5 of the 2006 NBA Finals set a championship record.
* Dwyane averaged 34.7 points in the 2006 NBA Finals.
* Dwyane was credited with five blocked shots in a 2008 game against the Toronto Raptors.
* During an 11 game stretch in 2008–09, Dwyane scored at least 41 points points six times.
* Dwyane scored a career-high 50 points against the Orlando Magic in a 2008-09 game. He matched that total three weeks later against the Utah Jazz.
* Dwyane set a personal high in a 2008-09 game against the Cleveland Cavaliers with seven steals.
* In 2008, Dwyane became only the second player to score 40 points, dish out 10 assists and reject five shots in a game. The first was Alvan Adams.
* In 2008–09, Dywane became the first NBA player shorter than 6–5 to have 100 blocks in a season.
* In 2009, Dwyane became only the second player to have a 15-assist game after a 50-point game. The first was Wilt Chamberlain.
* In 2009-10, Dwyane set a Heat record when he played in his 148th consecutive game.
* The Heat were just the third team in history to win the NBA Finals after dropping the first two games. The 1969 Boston Celtics and 1977 Portland Trail Blazers were the first two.
* Dwyane was a member of the gold-medal U.S. Olympic team in 2008. He led the team in scoring.
* Dwyane and Alonzo Mourning established a fund to help victims of the Haitian earthquake in 2010.
* Dwyane majored in broadcasting at Marquette. He hopes to be an announcer when his playing career is over.
* Dwyane wears a size 15 shoe.
* Dwyane drives a Cadillac Escalade. He and his family live in a five-bedroom home in the Doral area of Miami.
* Dwyane donated 10% of his rookie salary to the Blood, Water and the Spirit Ministry, his hometown church in Chicago.
* The unusual spelling of Dywane's first name is a proofreader's nightmare. SLAM magazine once ran an entire feature on him calling him "Dwayne."
* Among Dwyane's favorites are:
- Football team - Chicago Bears
- Musical Artist - 50 Cent
- Movies - Love and Basketball, Remember the Titans, He Got Game and Boomerang
- Food - chicken and mashed potatoes
- Country - Italy
* In 2005, Dwyane was named one of People magazine's 50 Most Beautiful People.
* Dwyane and Siohvaughn were married in May of 2002. They have two chidlren, Zaire and Zion. Dwyane and his wife seemed happy until ugly divorce rumors surfaced in 2008, a year after Dwyane was named Father of the Year by the National Father's Day Committee. Siovaughan accused Dwyane of infidelity, infecting her with a sexually transmitted disease and abandoning his kids.
Read more
Dwayne Wade Picture Gallery
Latest headlines