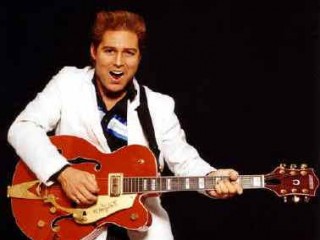 Eddie Cochran biography
Date of birth : 1938-10-03
Date of death : 1960-04-17
Birthplace : Albert Lea, Minnesota,U.S.
Nationality : American
Category : Arts and Entertainment
Last modified : 2011-11-04
Credited as : Singer, guitarist, "Summertime Blues"
Eddie Cochran, was an American rock and roll pioneer who in his brief career had a small but lasting influence on rock music through his guitar playing.
Eddie Cochran was the rock 'n' roll equivalent of actor James Dean. Good looking, supremely talented, and aching to grow beyond the material for which he became famous, he died before he could fulfill his artistic promise. As a songwriter he possessed the same knack for teenage idioms as Carl Perkins and Chuck Berry. Vocally, he could growl like Little Richard or croon ballads in a low register like Elvis Presley. More significantly, he was a gifted guitarist who understood the possibilities of the recording studio. Although his best-known songs--"Summertime Blues" and "C'mon Everybody"--are still being performed in the United States today, Cochran's most enduring impact was made overseas, where he and Buddy Holly inspired countless 1960s British Invasion acts.
Cochran's father, a machinist by trade, moved his family around in search of steady employment. As a result, they went from Oklahoma to Albert Lea, Minnesota, where the youngest of their five children, Eddie, was born. At age six, Cochran's oldest brother Bill gave him his guitar before departing for navy duty. Taught some chords by his other brother Bob, the youngster proved a quick study with a strong desire to learn. In 1951, when the family moved to Bell Gardens, a Los Angeles suburb, the youngest Cochran began to get serious about playing music for a living.
It was there that Cochran cultivated his love of country-and-western music and met Connie "Guybo" Smith, who would become his closest friend and figure prominently in his career. An accomplished stand-up bass player and steel guitarist, Smith teamed with Cochran and fellow student Al Garcia to form a country-swing trio dubbed the Melody Boys. Cochran's ability to ape the guitar styles of Chet Atkins, Joe Maphis, and Merle Travis garnered him special notice and earned the teenaged group immediate professional bookings.
During this time Cochran befriended Chuck Foreman, a guitar player five years his senior, who helped him refine his instrumental chops. Foreman was important to Cochran's musical development in another way as well--he owned a two-track tape recorder. Together they experimented with crude overdubbing, microphone placement, and reverb modeled after Les Paul. The resultant recordings not only gave Cochran the rudimentary technical knowledge he would eventually use on his greatest hits, but helped him develop a distinctive professional approach and sound.
Early in 1954 Cochran joined a western-swing aggregation known as the Bell Garden Ranch Boys that included mandolinist Warren Flock, bassist Dave Kohrman, fiddler Forest Lee Bibbie, and singer Clete Stewart. The band lasted long enough to play a few local television shows and some out-of-town barn dances. After the group dissolved, Cochran and Foreman sat in with various local bands, intimidating them with their superior skills. It was at one of these gigs that the 15-year-old guitar-slinger met 17-year-old aspiring country performer/songwriter Hank Cochran. Mutually impressed, the two formed a duo called the Cochran Brothers.
Initially the Cochrans--who weren't related--played a mix of Hank Williams, Ernest Tubb, Lefty Frizzell, and Wilburn Brothers tunes in VFW halls and the like. As the two began writing original material, their popularity grew and they were invited onto such local TV programs as Hometown Jamboree, California Hayride, and Town Hall Party. Signed by the tiny Ekko label, the team's first two records "Mr. Fiddle" b/w "Two Blue Stars" and "Guilty Conscience" b/w "Your Tomorrow Never Comes," were pure singin' hillbilly music replete with steel guitars, fiddles, and sloppy but exuberant harmony. They sank without a trace.
Both performers admired such R&B acts as Fats Domino and Little Richard, but the idea of combining their sounds with country music didn't fully occur to them until they heard Elvis Presley. Speaking with Marc Bristol of Blue Suede News, Hank Cochran recalled it all. "[W]e worked the Big 'D' Jamboree in Dallas.... I met this policeman and he was just scratched all up, and I asked him what happened to him and he said I wouldn't believe it. But he said they had a guy here last week and his name was Elvis I think he said. And they hired two or three of us to guard him. And we didn't know what we was guardin' him from until he started singin' and the girls just climbed and scratched and just went crazy trying to get to him. And I told Eddie, 'man we oughta look this guy up and see what he's doin'!'" Intrigued, the duo traveled to Memphis and met with Presley at a local radio station. Realizing that there was nothing like Presley's music on the West Coast, Cochran said, "Eddie, we oughtta go home and work on that some and see how long this gets over there, maybe we'll have a handle on it."
The Cochran Brothers' final Ekko single, "Tired & Sleepy" b/w "Fool's Paradise," smartly reflected their new style. Hank aggressively sang half a line country style, which led into Eddie's half a line of Presley-esque bopping and energetic lead guitar break. They had perfected the art of rockabilly, and according to the surviving Cochran, the team was an overnight sensation in California. Yet the new music did not sit well with the team's older member, who was at heart a country purist, unsettled by the thought of girls screaming and clawing at them. Subsequently, he broke off their partnership saying, "Eddie, you know boy I love ya, and we been together a long time. But I can't handle all that!" Parting amicably, the two remained friends until the younger member's death. Hank Cochran eventually left for Nashville and became a major songwriter, crafting such enduring standards as "I Fall to Pieces," "Make the World Go Away," and "A Little Bitty Tear."
The Cochran Brothers had met local musician/producer/songwriter Jerry Capehart early in their association and had worked on several sessions with him. Once the team split up, Capehart and Eddie Cochran became professionally linked, playing sessions and writing songs together. Moreover, the extroverted Capehart became Cochran's manager. Immediately he secured a songwriting deal at American Music where they recorded demos with Cochran on guitar and Capehart smacking a cardboard box drum-style. The setup led to a deal with Crest records where Cochran released the Little Richard-styled rocker "Skinny Jim." Although the record stiffed commercially, Capehart used it as a demo to interest Si Waronker in signing Cochran to Liberty Records in late 1956.
Concurrently, movie producer Boris Petroff sought Cochran for a role in what would be the best rock 'n' roll movie of the 1950s, The Girl Can't Help It. Burning through a Presley-inspired version of "Twenty Flight Rock," Cochran's brief, exuberant performance personifies the playful, sexy nature of rockabilly. Yet for reasons still not clear today, Liberty wanted Cochran to ignore "Twenty Flight Rock" and push a cover of Johnny Dee's (a.k.a. John D. Loudermilk) recording of "Sittin' in the Balcony" as his debut single instead. A cutesy pop number with a corny smooch at the end, the record is notable for Cochran's jauntily executed guitar solo and becoming his first top-20 hit.
Cochran demonstrated a jivey teen quality in his next movie Untamed Youth, and he played on star Mamie Van Doren's soundtrack sessions, but the teen exploitation flick did little for his career. Meanwhile Liberty stopped his chart momentum cold by having Cochran record such ill-suited pop sides as "One Kiss" and the ukulele-led "Drive in Show." Even a fine commercial rocker like "Jeannie, Jeannie, Jeannie"--one of those ditties that throws in references to a dozen other rock hits--barely made the charts. Waronker wanted Cochran to be an all-round entertainer and displayed little faith in true rock 'n' roll. As a result, for every great example of pure 1950s rock he recorded like "My Way," "Nervous Breakdown," or "Milk Cow Blues," Liberty offered up two slabs of teen-oriented material unnecessarily larded with background singers.
Early in 1958 Cochran fashioned his true masterpiece and only American top-ten hit, "Summertime Blues." Eschewing electric leads, he overdubbed a simple three-chord acoustic riff countered by Guybo Smith's insistent, stabbing bass line. The sound was simple, catchy, and its deep voiced hook line--done in the style of Amos & Andy's Kingfish--was comically irresistible. With a major hit record to his credit, Cochran was allowed increasing amounts of creative freedom.
Throughout his short career, Cochran compulsively took on session work for the likes of Jack Lewis, Lynn Marshall, Gary Williams, the Four Dots, Paula Morgan, Ray Stanley, Lee Denson, and many others. (Most of these sides were posthumously collected and released by England's Rockstar label.) Cochran continued this practice even at the height of his fame, most notably by contributing bass vocals to Gene Vincent's doo-wop- tinged rocker "Git It" and a remake of Al Dexter's "Pistol Packin' Mama."
Cochran's follow-up to his biggest hit was the timeless party call "C'mon Everybody." Similar in execution to "Summertime Blues," it hit only number 35 on the charts, but was successful enough to keep its singer in demand for bookings. Appearing in the 1959 Alan Freed vehicle Go Johnny Go alongside the likes of Chuck Berry, Ritchie Valens, and Jimmy Clanton, Cochran turned in a disappointing performance of "Teenage Heaven." A lame reworking of "Home on the Range," the record received curiously good reviews, but stalled at number 99. He rebounded with one of the best rockers of his career, the thumping paean to girls and cars "Something Else." Written by his fiancée Sharon Sheeley, best known for writing Ricky Nelson's "Poor Little Fool," the record peaked at number 58. Rock 'n' roll was dying as a chart force in America and Cochran looked to turn things around with a sophisticated, soulful remake of Ray Charles's "Hallelujah I Love Her So." It was part of the new direction he wanted his music to take, but he never got to follow through.
In January of 1960, Cochran was one of the headliners on a ten-week British tour with Gene Vincent, who had already revived his career there. Wildly successful beyond anything he had experienced in America, Cochran saw his records climbing the charts, and he was in constant demand for live television and radio shows. Although profoundly homesick, his ability onstage and demeanor offstage impressed his English contemporaries. When not taking care of his troubled friend Vincent, he delighted in teaching his British contemporaries little guitar tricks--like how to replace their stiff 20-gauge guitar strings with more flexible banjo strings. Aspiring musicians hung on his every utterance. Indeed, future Beatle George Harrison used to attend shows just to see how Cochran moved his fingers.
Cochran's tour of England was so successful he made immediate plans to return after he went home for yet another recording session. Unfortunately, while trying to meet their flight back to America, the car that held Cochran, Sheeley, and Vincent skidded violently into a lamppost. Although the driver was unharmed, Sheeley suffered a broken pelvis, Vincent, already tormented by a game leg, received a broken collarbone and fractured ribs, and Cochran, thrown through the windshield, was fatally injured. He was only 21 years old.
The news of Cochran's death, coming not long after the plane crash that killed his friends Buddy Holly, Ritchie Valens, and the Big Bopper, received scant notice in America. That said, "Summertime Blues" has been revived by the hard rock band Blue Cheer and country singer Alan Jackson. Also, Cochran's influence lives on in former Stray Cat Brain Setzer, who plays an exact replica of Cochran's Gretsch 6120 with biting skill. Yet more Americans know about the famous tune than they do its creator.
In contrast, Great Britain never forgot Cochran. His singles and albums scaled the British charts well into the 1960s, and a Joe Meek-produced singer simply known as "Heinz" hit the British top five with the bouncy tribute "Just Like Eddie." Since then dozens of English bands, including the Move and the Who, have covered Cochran's tunes. Still devoted, his fans stage an annual Eddie Cochran Memorial Weekend that draws more participants and spectators every year. Like James Dean, Eddie Cochran became an even bigger star after his death.
Selected discography:
-Singin' To My Baby , Liberty, 1957; reissued, EMI-Capitol, 1993.
-Eddie Cochran Memorial Album , Liberty, 1960.
-Never To Be Forgotten , Liberty, 1963; reissued, EMI-Capitol, 1993.
-Legendary Masters Series , Vol. 4 , United Artists, 1971.
-A Legend in Our Time--Eddie Cochran , Union Pacific, 1971.
-20th Anniversary Album , United Artists, 1988.
-LA Sessions , Rockstar, 1992.
-Mighty Mean , Rockstar, 1995.
-Cruisin' the Drive-In , Rockstar, 1996.
-One Minute to One , Rockstar, 1996.
-Rockin' It Country Style--The Legendary Chuck Foreman Sessions , Rockstar, 1997.
-Something Else: The Fine Lookin' Hits of Eddie Cochran , Razor & Tie, 1998.
-(With Gene Vincent)The Town Hall Party TV Shows , Rockstar, 1999.
-Rock 'n' Roll Memories --Eddie Cochran and Gene Vincent , Rockstar, 2000.
Read more
Latest headlines