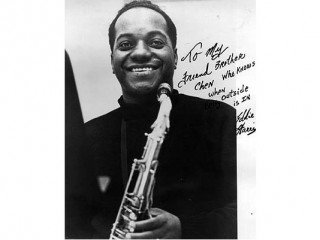 Eddie Harris biography
Date of birth : 1934-10-20
Date of death : 1996-11-05
Birthplace : Chicago, Illinois,U.S.
Nationality : American
Category : Famous Figures
Last modified : 2011-11-28
Credited as : jazz musician, tenor saxophonist, "Freedom Jazz Dance"
Eddie Harris was an American jazz musician, best known for playing tenor saxophone and for introducing the electrically amplified saxophone. He was also fluent on the electric piano and organ. His best-known compositions are "Freedom Jazz Dance", recorded and popularized by Miles Davis in the 1960s and "Listen Here".
One of the few jazzmen to land a million-selling hit, Eddie Harris has emerged over the last four decades as a standard-bearer of hard bop, an inventor of several musical instruments, and an important exponent of soul and fusion jazz. Like his former contemporary trumpeter Miles Davis, Harris has explored numerous musical paths, absorbing the sounds of gospel, electric blues, funk, and rap. Labeling himself an "experimentalist," he puts musical expression before popular and critical recognition. His uncompromising artistic vision has won the praise of musicians and listeners throughout the world.
Eddie Harris was born in Chicago, Illinois. The son of a religious mother, Harris began singing in church at age four; a year later he started taking piano lessons from a cousin, a church keyboardist. At Du Sable High School, famous for producing a number of talented jazz musicians, he played sports and continued to study music. Unable to afford an instrument, the school's band instructor, Walter "Captain" Dyette, selected Harris to play the marimba. Despite the youngster's request to play saxophone, Dyette, a strict instructor and disciplinarian, insisted he then play clarinet. Soon Harris rejoined the band playing an inexpensive pawn-shop clarinet. Twice kicked out of the band for defying Dyette, he eventually switched schools and finished his secondary studies at Hyde Park High School.
Harris longed to attend a southern college on a sports scholarship, but his mother, fearful of the culminating racial tensions in the Deep South, opposed the idea. Harris remained in Chicago and studied music at Roosevelt University. During the evenings, Harris visited nightclubs around the city, performing with such jazz greats as Lester Young, Charlie Parker, and Roy Eldridge. The multitalented young man accompanied musicians on reed instruments as well as bass and drums. While still in high school, he made his professional debut on piano, playing a one-nighter with saxophonist Gene Ammons. "I used to be like Erroll Garner," recalled Harris in the liner notes to The Eddie Harris Anthology, "I played everything by ear." By the early 1950s Harris had taken up tenor saxophone as his primary instrument, often practicing with future sax giant John Coltrane, who visited him during his trips through Chicago.
In the late 1950s, Harris was drafted into the army. With the help of trumpeter Don Ellis, he was able to join the 7th Army Symphony Orchestra and Soldier's Show Company, a musical ensemble featuring a jazz band that included such talent as pianist Cedar Walton and saxophonist Leo Wright. Despite his early opposition to joining the army, Harris explained in The Eddie Harris Anthology how the military "was the best thing that ever happened to me ... because I got a chance to travel and meet people of different cultures." While stationed in Germany, he toured France and played at jazz jam sessions in Frankfurt and Munich.
After finishing his military service, Harris returned to the Chicago music scene, then traveled to New York, where he worked seven nights a week performing in numerous musical settings, including club work with pianists Thelonious Monk and Duke Jordan. During this time, he also played with saxophonists Stan Getz, Wardell Grey, and Sonny Stitt.
Back in Chicago, Harris turned down a job touring with trumpeter Quincy Jones's band to cut an album on the Chicago-based Vee-Jay label. The night before the recording session, in April 1961, Harris was in a restaurant listening to the jukebox when he heard Ferrante & Teicher's film soundtrack piece "Exodus." Drawn to the melody, he put two dollars in the machine, borrowed a pen, and began writing an arrangement of the number on a tablecloth. The next day he cut the arrangement, playing tenor saxophone. Within weeks his version of "Exodus" had sold more than a million copies.
Harris's commercial success, however, brought criticism. As he later explained to Steven Marks in Down Beat, "Exodus actually cost me a lot of jobs. Club owners would think about John Coltrane or Cannonball Adderly, but when my name came up, they'd say, 'Who, that commercial cat?' And many musicians felt the same way." During this period, Harris and pianist Richard Abrams headed a Chicago-based avant-garde ensemble, the Experimental Jazz Band.
In 1965 Harris signed with Atlantic Records and released "Freedom Jazz Dance," a composition he described in the Eddie Harris Anthology "as an exercise ... on how to approach chords without running up and down the scales. By 'Jazz Dance' I was incorporating a constant rhythm, something uninhibited people can dance to. It's a fusion of rhythm and avant-garde." With a cover version recorded by Miles Davis, "Freedom Jazz Dance" became a standard among modern jazz ensembles.
Harris's 1966 LP Tender Storm featured his debut on the electric saxophone--the use of a conventional instrument played through a signal processor, the Varitone. Though Sonny Stitt initially recorded with this device, Harris's technique furthered the creative use of the instrument. As Marks pointed out in Down Beat, despite the opposition of many traditional jazzmen to the amplification of the saxophone, "Harris [made] the instrument and all of its electrical accoutrements a focal part of his music."
In 1968 Harris recorded the Top Ten hit "Listen Here," a funk-style number accompanied by the Latin percussion of Ray Baretto and Joe Wohletz. "Listen Here" ushered in a new phase of Harris's career. As he explained in The Eddie Harris Anthology, "All of a sudden I went from being a jazz artist to funk artist." A year later, Harris's group performed at the Montreux Jazz Festival in Switzerland. During the week of the concert, Harris agreed to join pianist Les McCann and trumpeter Benny Bailey onstage for an unrehearsed performance. Their effort, released as the live recording Swiss Movement, featured the numbers "Cold Duck Time" and the near-militant anthem "Compared to What?" The LP enjoyed substantial commercial success and became one of the most popular soul-jazz albums of the late 1960s.
Harris continued his path of musical and cultural exploration into the next decade. In 1970 he traveled to Ghana with a number of other African American musicians to celebrate the country's 14 years of independence. His albums Is It In, Get on Down, and I Need Some Money spotlighted the use of the electric saxophone. During this time Harris also experimented with self-made instruments: trumpet and trombones fitted with reed mouthpieces, and saxophones fitted with brass mouthpieces. Throughout the 1970s, he published several books such as How to Play the Reed Trumpet, The Intervalistic Concept for Single Line Instruments, and Do You Want to Be a Musician? These works addressed musical theory and aspects of the music business.
Though Harris had begun a return to a more traditional bop style by the mid-1970s, he maintained his experiments with various self-fabricated instruments into the following decade. His 1980 album Playing with Myself, for example, featured him on acoustic and electric sax, reed trumpet, and Yamaha grand piano. By the early 1990s Harris had published his seventh book, Jazz Astrology, Numerology, and Information.
Harris has appeared on over 70 albums, many of which have been collaborative efforts with musicians of diverse musical styles. His 1990 release There Was a Time (Echo of Harlem) marked a return to his earlier jazz roots, showcasing noted sideman such as pianist Kenny Barron, bassist Cecil McBee, and legendary pianist Thelonious Monk's former bandmember drummer Ben Riley. The 1993 LP Listen Here displayed Harris's mastery of electronic instruments, funk rhythms, and vocals that, like his horn style, exhibit a broad palette of musical influences. His original compositions "I Need Some Money" and "People Get Funny When They Get a Little Money" reach into the musical realms of jazz, funk, and the sounds of the black church.
Though his name has faded from the forefront of popular music in recent decades, Harris has not gone unheralded among musicians, as evidenced in bassist Ron Carter's statement in Down Beat: "I've always enjoyed listening to Eddie Harris. He was probably the forerunner in the use of electronic devices played by other musicians today, and he is certainly a fine saxophone player." Harris has prided himself on his versatility and intent on playing music, as he explained in Down Beat, simply "for the enjoyment." He is musically adept in the complex modal textures of hard bop as well as the idioms of traditional swing and funk. Perhaps Harris's impact on the current music scene was best summed up by saxophonist and bandleader Branford Marsalis when he told Todd Barkan, as quoted in the liner notes to There Once Was a Time (Echo in Harlem), "Make no mistake about it: there is no badder cat around than Eddie Harris."
Selective Works:
-Exodus to Jazz, Vee-Jay, 1961.
-The Lost Album and the Better Half, Vee-Jay.
-Mighty Like a Rose, Vee-Jay.
-In the Sound, Atlantic, 1965.
-Mean Greens, Atlantic, 1966.
-The Tender Storm, Atlantic, 1966.
-The Electrifying Eddie Harris, Atlantic, 1968.
-Plug Me In, Atlantic, 1968.
-Silver Cycles, Atlantic, 1969.
-Free Speech, Atlantic, 1970.
-Eddie Harris Sings the Blues, Atlantic, 1972.
-Is It In, Atlantic, 1973.
-Excursions, Atlantic, 1973.
-I Need Some Money, Atlantic, 1975.
-That's Why You're Overweight, Atlantic, 1976.
-Eddie Who?, Impulse, 1986.
-Playing with Myself, RCA, 1980.
-There Was a Time (Echo in Harlem), Enja, 1990.
-A Tale of Two Cities, Night Records, 1991.
-Artist's Choice: The Eddie Harris Anthology, Rhino/Atlantic, 1993.
-Listen Here!, Enja, 1993.
-The Best of Eddie Harris, Rhino/Atlantic.
-With others Les McCann & Eddie Harris, Swiss Movement, Atlantic, 1969.
-Horace Silver, It's Got to Be Funky, Columbia, 1993.
-John Scofield, Hand Jive, Blue Note, 1994.
Read more
Latest headlines