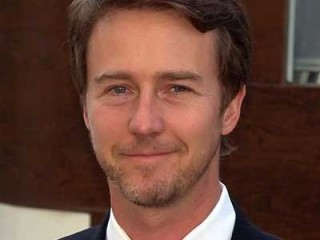 Edward Harrison biography
Date of birth : 1969-08-18
Date of death : -
Birthplace : Columbia, Maryland, U.S.
Nationality : American
Category : Arts and Entertainment
Last modified : 2011-08-04
Credited as : Actor, screenwriter, Red Dragon
Edward Norton
is an American actor, screenwriter, film director and producer.
The ambitious Ivy League grad stood out in Hollywood for his thoughtful, articulate manner and his tendency to eschew the "fame game" in favor of intense involvement in high quality films of varying box office success. He was undaunted and arguably fueled by films that explored darker, controversial sides of human nature, including "American History X" (1998), "Fight Club" (1999) and "25th Hour" (2002), but maintained a reputation as a film enigma with unexpected and successful turns in comedies like "Keeping the Faith" (2000) and period dramas including "The Illusionist" (2006). Fiercely opinionated in matters of art and politics, Norton occasionally found himself the target of verbal sniping from collaborators who clashed with him during productions, yet few questioned his talent and for putting everything he had into whatever project he immersed himself in.
Edward Harrison Norton
was born on Aug. 8, 1969, and raised outside Washington, D.C., where his father was a Federal prosecutor and his mother a teacher. His parents would eventually take on positions with The Enterprise Foundation, an affordable housing financier founded by Norton's grandfather, real estate developer James Rouse. Amidst his well-heeled, highly-educated household, Edward showed a passion for acting from the time the six-year-old was taken a local theatrical production by his babysitter. He promptly enrolled at the Columbia Center for Theatrical Arts, an area conservatory for young performers, making his professional debut at age eight with a dinner theater production of "Annie Get Your Gun." He added "Pippin," "Peter Pan," and "Godspell" to his resume, before adolescent self-consciousness derailed his acting ambitions. While attending Yale as a History major, Norton rediscovered the stage and by his own admission, took as many acting classes as he was allowed without declaring a Theater major. Following graduation, Norton, who had minored in Japanese, spent some time working for The Enterprise Foundation in Osaka before deciding to move to New York City to become an actor.
Norton hit the pavement and landed some off-off-Broadway work, eventually catching the attention of legendary playwright Edward Albee. Albee was so impressed with the young actor that he cast him in a sought-after role in the premiere of "Fragments" in 1994, after which Norton remained active as a member of Albee's Signature Theater players. He made his big screen debut two years later, fooling the casting agents for "Primal Fear" (1996) and landing the role of the schizoid Southerner by affecting an accent he had perfected by repeated viewings of "Coal Miner's Daughter" (1980). An unknown to movie audiences, the young actor's anonymity made his performance as the altar boy-turned-killer all the more riveting and believable. He received a Best Supporting Actor Oscar nomination for his first outing, and by year's end, was at the top of the critics' lists for "Primal Fear" and two very different acclaimed supporting performances as attorneys. In Woody Allen's curious musical "Everyone Says I Love You," Norton was featured as Drew Barrymore's preppy love interest, proving himself a romantic lead and competent comedic actor, even pulling off his unexpected singing quite well. He went on to give a sincere and likable performance as lawyer Alan Isaacman in Milos Forman's biopic "The People vs. Larry Flynt," though "Primal Fear" ultimately proved the best of the busy year and earned him a Golden Globe Award for Best Supporting Actor.
Norton had essentially appeared out of nowhere to become one of 1996's most talked-about newcomers, but it was soon apparent that the actor was not interested in the glory of the Hollywood buzz. He remained in New York and kept tight-lipped about his personal life, especially his rumored relationship with "Larry Flynt" co-star Courtney Love, and earned a reputation for intellectual interviews that dispensed with generic fluff. He again reinforced that he was an actor of substance by adding 30 pounds of sculpted muscle to his reed-like frame, shearing off his hair, and transforming into a monstrous skinhead powerhouse for his starring debut as a violent white supremacist in the controversial "American History X" (1998). As the dynamic young leader of a neo-Nazi movement, Norton took viewers on a journey through the character's evil acts, his epiphany, and his regret, uncovering a character who, despite his deplorable rhetoric and shocking actions, was more human than evil - an even scarier force to comprehend. Norton's undeniable accomplishment earned a Best Actor Oscar nomination, despite poor box office showing and media surrounding first-time director Tony Kaye's demand that his name be taken off of the credits. This rare demand occurred after Kaye accused Norton of editing the film to serve his own narcissistic purposes.
Also in 1998, Norton turned in another excellent performance as Worm, the aptly named slimy poker ace in "Rounders." Fresh out of prison and down on his luck, Worm enlists the help of a friend (Matt Damon) who has given up the underground gambling life to attend law school. Norton's fast-talking con man all but took over the movie, injecting plenty of spark into John Dahl's visually arresting but somewhat predictable atmospheric piece. In a very different kind of buddy drama, Norton co-starred with Brad Pitt in 1999's controversial social critique, "Fight Club" (1999). In the adaptation of Chuck Palahniuk's boldly visionary novel, Norton played the film's emotionally numb, yuppie consumer protagonist who reinvents himself after meeting a charismatic soap maker (Pitt) and who founds a network of secret men's fighting clubs that morph into a network of dangerous political radicals. The film was criticized for its excessive violence and occasionally heavy-handed commentary. As a result, the studio was vexed as to how to promote it, which resulted in sluggish ticket sales. But once the film was released onto DVD, "Fight Club" earned a large and enthusiastic following which only seemed to grow each year.
With "Keeping the Faith" (2000), ambitious Norton took the helm as producer and director of the script by Stuart Blumberg, co-starring alongside Ben Stiller as a priest and rabbi, respectively, who fall in love with the same woman. Norton's directing had its critics, but the comedy did moderately well at the box office and recouped its modest budget. Despite some snickery at his directorial skills, Norton's high standing as an actor remained untouched, as evidenced by his casting alongside Marlon Brando and Robert De Niro in "The Score" (2001). Despite an outstanding lineup of actors, the film received mixed reviews and director Frank Oz took some of the heat for what would be the final film of Brando's career. A very busy 2002 for Norton included a supporting role in the dark comedy "Death to Smoochy" and an uncredited appearance as Nelson Rockefeller in the biopic of painter "Frida" (2002), for which Norton also reportedly wrote the script for then girlfriend and "Frida" star, Salma Hayek. He next took on iconic literary character Will Graham, starring in "Red Dragon" (2002), the prequel to "Silence of the Lambs" (1991), which was a huge hit at the box office and won critical favor as well.
Following his performance as the FBI agent taking on serial killer Dr. Hannibal Lecter (Anthony Hopkins), Norton explored life on the other side of the law in the crime drama "The 25th Hour" (2002). In the Spike Lee Joint, he portrayed a drug dealer reflecting on his life on the eve of beginning a seven-year jail sentence. Norton was praised for his powerful performance in the film - which he had produced and helped finance - but the critical pick did not reach wide audiences. Norton returned to the Off-Broadway stage in 2003, starring in the Signature Theater Company's revival of Lanford Wilson's "Burn This." In another revival of sorts, he joined Charlize Theron and Mark Wahlberg in an updated take on the classic 1960s heist feature "The Italian Job," where Norton breezed through yet another now-familiar, unchallenging role as a dangerous wolf in sheep's clothing in the lackluster film. The outspoken environmental activist also lent his voice to the PBS series "Strange Days on Planet Earth" in 2005, in addition to working with the Enterprise Foundation to develop the Solar Neighbors Program, which financed solar-power technology for low-income neighborhoods in Los Angeles.
Norton returned to the screen as producer and star of the little-seen gem "Down in the Valley" (2005), a low-budget production that blurred the lines between classic Western and examination of contemporary suburban life. He followed up with an outstanding performance in Ridley Scott's historic epic "Kingdom of Heaven" (2005), with his portrayal of King Baldwin the Leper singled out by critics from a cast that included such heavyweights as Jeremy Irons and Liam Neeson. In the turn-of-the-century romantic drama "The Illusionist" (2006), the enigmatic Norton continued to showcase the depth of his character, bringing his flair for dark intellectualism to his role as an Austrian magician embroiled in a doomed love affair with a Prince's bride-to-be. The period piece did surprisingly well in wide release and was also a favorite among critics. Norton followed up with a similarly subtle but powerful performance in another historical journey, an adaptation of W. Somerset Maugham's "The Painted Veil" (2006). He and Naomi Watts starred as newlyweds whose tumultuous start is further tested by months in rural 1930s China where Norton, as Dr. Walter Fane, is doing scientific research. Again, the actor brought a very credible sensibility to the genre and the film did surprisingly well for art house fare.
No sooner did Norton establish himself as a competent new figure in the period drama world, when he turned around to produce and co-star with Colin Farrell in the gritty New York cop drama "Pride and Glory" (lensed 2006). The promising film sought to evoke the classic, early 1970s character-based American films, but a nervous New Line Films pushed the film's release date from March of 2008 to 2009, citing conflict with the stars' simultaneous releases. Norton found himself at the center of still more production controversy with Louis Leterrier's "The Incredible Hulk" (2008). In the screenplay by Norton and Zak Penn, Norton's David Banner struggles to rid himself of the monstrous inner demon that captured the imagination of Marvel comic audiences, 1970s TV fans, and Ang Lee, who directed his own disappointing adaptation of the tale in 2003. Prior to the film's highly anticipated release, rumors were circulating that producer-writer-star Norton was unhappy with the studio's final cut of the film and would potentially back out of promoting the film. The gossip dredged up earlier rumors about Norton's supposed run-ins with production teams, but the actor asserted his confidence by taking on the role of producer, director, screenwriter and star of "Motherless Brooklyn" (2009), a 1950s crime drama adapted from the award-winning novel by Jonathan Lethem.
Norton is generally known for his reluctance to embrace his celebrity status, and has said, "If I ever have to stop taking the subway, I'm gonna have a heart attack." Norton has stated in interviews that he is a fan of the Baltimore Orioles, and was involved in many of Cal Ripken Jr.'s retirement activities in 2001 when he was asked to be a part of Ripken's biography for Major League Baseball (MLB). He attended Ripken's ceremony at the Hall of Fame in July 2007. Norton has a private pilot license and discussed his flight training when interviewed on episodes of The Late Show with David Letterman and Inside the Actor's Studio.
Norton was a strong supporter of former New York State Governor Eliot Spitzer. Norton is a member of the board of trustees of Enterprise Community Partners, a non-profit developer of affordable housing based in his hometown. He is also well-known for his support for environmental causes and renewable energy projects, such as Enterprise's Green Communities Initiative and BP's Solar Neighbors program. He also put time and money toward social activist causes, including improving the quality of living in low-income communities.
Norton's work with the HBO documentary By the People: The Election of Barack Obama led to a soundtrack, with proceeds going to Enterprise Community Partners and United Way. Norton also participated in a 2008 Fast Company story about Enterprise's green affordable housing.
Norton is president of the American branch of the Maasai Wilderness Conservation Trust. To raise money for the trust, Norton fielded a team of 30 runners in the New York City Marathon on November 1, 2009.The team included Alanis Morissette and David Blaine. Norton finished the event first among celebrities with a time of 3 hours, 48 minutes. Norton and his team raised over $1 million for the Trust.
He dated singer
Courtney Love
from 1996 to 1999, and actress
Salma Hayek
from 1999 to 2003. He ended his relationships with both women. He is also rumored to be engaged to Shauna Robertson, a Canadian filmmaker.
In May 2010, Norton launched a website called Crowdrise, which uses a social networking platform to help raise funds for charity.
Read more
Latest headlines