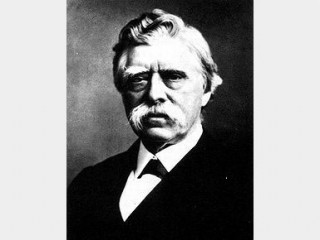 Edward Hughes biography
Date of birth : 1831-05-16
Date of death : 1900-01-22
Birthplace : London, England
Nationality : British
Category : Science and Technology
Last modified : 2010-05-07
Credited as : Scientist and inventor, Co-inventor of the microphone, Morse telegraph
David Edward Hughes
(16 May 1831 – 22 January 1900) was a British coinventor of the microphone, an accomplished Welsh musician and a professor of music, as well as chair of natural philosophy at a seminary for women in Bardstown, Kentucky.
David Edward Hughes was a London-born scientist working in America. He had important contributions in
telephony and telegraphy
. In 1855 Hughes invented the first telegraph system printing the text at the sending and at the receiving end, thus doing away with a special alphabetic code as required with the Morse telegraph.
Hughes also inventer a microphone based on carnom transmitter. He also invented the induction balance and worked with the theory of magnetism. David Edward Hughes was born on May 16, 1831, in London. In Hughes' early life he was an accomplished musician, as was the rest of his family. With their children, Joseph Tudor, David Edward, John Arthur and Margaret, D.E. Hughes' parents and siblings were often musical performers. Margaret was able to play the harp from an early age, and all had been considered as child prodigies. The father, David Hughes, started touring and giving concerts with the first son Joseph when Joseph was only five and they played the major cities in the UK as well as playing before Royalty. As each son attained a suitable age, he joined the group. D.E. Hughes' family emigrated to the United States when he was seven years old.
Immigrating to the USA, they toured giving concerts in the major New England cities. Tragedy struck while they were in New York State when young Joseph died in a drowning accident. After several months, the group decided to restart their concerts and toured extensively including Canada and the West Indies before settling down some years later at a farm they bought in Virginia.
At an early age, David Edward Hughes developed such musical ability that he is reported to have attracted attention of Herr Hast, an eminent German pianist in America who procured for him a professorship of music at St. Joseph's College in Bardstown, Kentucky, in 1850. Simultaneously with his musical studies, he appears to have developed a remarkable fondness for physical science and mechanics, and at the young age of 19 was appointed as chair of natural philosophy at that same college where he was professor of music. He diversified into philosophy and particularly in electrical engineering.
Hughes' sending equipment of 1855
In 1855, at the age 24, David E. Hughes trying to devise a machine to copy extempore music, came up with, by accident, a design for a new type of printing telegraph. It used a vibrating spring as a governor tuned to a particular " tone" to achieve synchronization. It included improved power requirements. With the House printer, power for it was supplied by compressed air produced by a man "Grinder" turning a crank. This required an additional person. With the Hughes printer, power was supplied by two weight driven, clock-like mechanisms requiring just the single operator.
Synchronization between the transmitting and receiving printer was a must and the Hughes printer, with its vibrating spring when first designed had a tendency to spin out of sync. The Hughes printer despite its problems had potential and impressed a group of New York City businessman. They purchased the North American rights to it and formed a new telegraph company with intentions of putting the Hughes printer into commercial service.
In less than two years, a number of small telegraph companies, including Western Union in early stages of development, united to form one large corporation – Western Union Telegraph Co. appeared to carry on the business of telegraphy on the Hughes system.
David E. Hughes used a keyboard in which each key caused the corresponding letter to be printed at a distant receiver. It worked a bit like a 'golfball' typewriter and was produced before the typewriter was even invented. The modern teleprinter, telex system and computer keboards are all direct descendants of this invention.
Hughes type-printing telegraph machine, 1855
That new company was the successful American Telegraph Company. Management of this company immediately gave the Hughes printer to George Phelps to solve its problems. Phelps made two important changes to the printer. He invented a device to resync both the transmitting and receiving printer after the completion of each character. He also combined both drive mechanisms together in such a way to increase the number of characters reaching the platen in the shortest possible time.
These improvements made the Hughes printer a success and they were placed into service on some of American Telegraph Company's lines. Hughes took his Phelps-improved printer to Europe in 1858 where it was widely accepted and was eventually used in most European countries. In 1869 the first six Hughes telegraphs were placed in service in Switzerland. Mr. Hughes was personally present to supervise installation work and to instruct operators.
The Hughes type printers were used in large telegraph offices exclusively, where they worked until 1939 along side more recent systems. 65 years later in 1923, British author H.H. Harrison, reported the Hughes printer was still in use in Europe. Many more years of continued service was predicted. He also claimed it was essentially the same as it was when it left the hands of Hughes and Phelps.
In Europe, Hughes' Telegraph System became the adopted standard and for it he received many honors. He became one of the highest decorated technologists of the period and was honored by the majority of European nations. Honors included a Grand Gold Medal in 1867 awarded at the Paris Exhibition, the Royal Society gold Medal in 1885, and The Albert Gold Medal, Society of Arts in 1897. Reportedly, there is no case on record of these three great distinctions being conferred on any other one person. For his numerous inventions and discoveries, especially the Printing Telegraph and Microphone, Napoleon III created Professor Hughes a Chevalier of the Legion of Honour awarding him Commander of the Imperial Order of the Legion of Honour (France). Hughes also was awarded: The Order of Saint Meurice and Saint Lazare (Italy), The Order of the Iron Crown (Austria) which carried with it the title of Baron, The Order of Saint Anne (Russia), The Noble Order of Saint Michael (Bavaria), Commander of the Imperial Order of the Grand Cross of the Medjidie (Turkey), Commander of the Royal and Distinguished Order of Carlos III (Spain), The Grand Officer's Star and Collar of the Royal Order of Takovo (Servia), and Officer of the Royal Order of Leopold (Belgium).
Hughes' experiment
Hughes noted many unusual electrical phenomena while experimenting on his microphone, telephone, and wireless related projects. The telephone, by the way, had been invented in 1876 and plans for constructing them had circulated around the world. Hughes noticed a clicking noise in his home built telephone each time he worked used his induction balance, a device now often used as a metal detector. Fixing the circuit's loose contact stopped the signal.
Hughes correctly deduced that radio waves, electromagnetic, radiated emissions, were produced by the coil of wire in his induction balance and that the gap the spark raced across marked the point they radiated from. He set about making all sorts of equipment to test his hypothesis. Most ingenious, perhaps, was a clockwork transmitter that interrupted the circuit as it ticked, allowing Hughes to walk about with his telephone, now aided by a specially built receiver, to test how far each version of his equipment would send a signal.
At first Hughes transmitted signals from one room to another in his house on Great Portland Street, London. But since the greatest range there was about 60 feet, Hughes took to the streets of London with his telephone, intently listening for the clicking produced by the tick, tock of his clockwork transmitter. Ellison Hawks F.R.S., quoted and commented on Hughes' accounting, published years later in 1899: "He obtained a greater range by setting 'the transmitter in operation and walking up and down Great Portland Street with the receiver in my hand and with the telephone to my ear.' We are not told what passers-by thought of the learned scientist, apparently wandering aimlessly about with a telephone receiver held to his ear, but doubtless they had their own ideas. Hughes found that the strength of the signals increased slightly for a distance of 60 yards and then gradually diminished until they no longer could be heard with certainty."
Since Hughes moved his experimenting from the lab to the field he had truly gone mobile. Although these clicks were not voice transmissions, I think it fair to credit Hughes with taking the first mobile telephone call in 1879. That's because his sparking induction coil and equipment put his signal into the radio frequency band, thus fulfilling part of our radio definition. Modulation, the act of putting intelligence onto a carrier wave such as the one he generated, would have to wait for others. This was an important first step, though, even though his clockwork mechanism signaled simply by turning the current on and off, like inductance and conductance schemes before. Hughes' experimenting was profound and well researched, it was not accidental discovery.
Group of apparatus used by Professor David Hughes for wireless signalling,
now in the Science Museum, South Kensington
(From the left) A microphone, a battery connected to Hughes' interrupter and coil from induction balance, three microphonic detectors in front of the glass jars in when he mounted them, a battery, and a home made telephone.
Beginning in 1879 Hughes started showing his equipment and results to Royal Society members. On February 20, 1880 Hughes was sufficiently confident in his findings to arrange a demonstration before the president of the Royal Society, a Mr. Spottiswoode, and his entourage. Less knowledgeable in radio and less inquisitive than Hughes, a Professor Stokes declared that signals were not carried by radio waves but by induction. The group agreed and left after a few hours, leaving Hughes so discouraged he did not even publish the results of his work. Although he continued experimenting with radio, it was left to others to document his findings and by that time radio had passed him by.
David E. Hughes invented the loose-contact carbon microphone, vital to telephony and later to broadcasting and sound recording. He discovered that a loose contact in a circuit containing a battery and a telephone receiver – created a situation where sounds in the receiver matched the vibrations upon the diaphragm of the telephone mouthpiece or transmitter. Sir Charles Wheatstone in 1827 was the first to use the word Microphone. Hughes in 1878 revived the term in connection with his discovery. Hughes refused to patent his discoveries, revealing his secrets first to the Royal Society in London on 8th May 1878, and to the general public on 9th June. Hughes's microphone was the early model for the various carbon microphones now in use. He also invented the induction balance and worked with the theory of magnetism.
His long succession of researches in the domain of the experimental theory of magnetism afforded major contributions to electrical science. His papers on this subject were read before many scientific and technical societies and brought him the Fellowship of the Royal Society as well as medals and similar honors from institutions. In 1886, he filled the presidential chair of the Institution of Electrical
Engineers.
David Edward Hughes married Anna Chadburn (1826 " 1919). Born in New Hampshire, she moved to Paris with her first husband who died early in his life. David Edward Hughes met Anna, an accomplished artist, in Paris and they moved to London where they were married. Portrait of Anna (picture at left), painted by notable artist George Healy, is now on display in the Museum of Fine Arts in Boston, Massachusetts. She is credited today with ensuring her husband's notebooks and papers were preserved.
David Edward Hughes died in London on January 22, 1900. The "Electrician", January 26, 1900 noted, "It is with profound sorrow that we have to announce the death, on Monday evening last, of Prof. D.E. Hughes. His death, at the age of 69 years, deprives the world of one of its most accomplished electricians, the electrical profession of one of its most honoured and respected members and a worldwide circle of admirers of a genial and well beloved friend. It truly can be recorded that David Hughes lived without making a single enemy, and died mourned by all whose good fortune it has been to come within the cheery circle of his friendship." Childless, upon his death, it is reported he left 470,000 pounds sterling in his will " a major share of that given to four London hospitals. Lesser amounts were provided to a number of technical societies.
Read more
Latest headlines