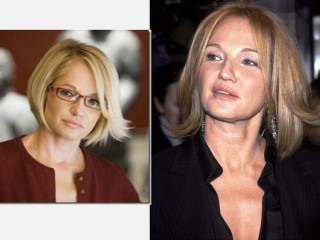 Ellen Barkin biography
Date of birth : 1954-04-16
Date of death : -
Birthplace : Bronx, New York, U.S.
Nationality : American
Category : Arts and Entertainment
Last modified : 2011-01-08
Credited as : Actress, ,
Actress Ellen Barkin made her belated acting debut at the age of 26 in a 1980 New York stage production of "Irish Coffee;" later appearing in the original off-Broadway presentation of "Extremities." She learned the ropes as a cast member of the soap opera "Search for Tomorrow" before making her feature debut as the unappreciated wife who misfiles her husband's records in Barry Levinson's ensemble film "Diner" (1982). Roles as Robert Duvall's headstrong daughter in "Tender Mercies" and Timothy Hutton's wife in "Daniel" (both 1993) followed. But it would not be until "Desert Bloom" (1986) that she opened Hollywood's eyes to her sultry potential, delivering a wonderfully splashy turn as an unlucky but resilient sexpot and enlivening the picture whenever on screen. Barkin had never looked better and soon capitalized on her bold, sexy new image by breaking into leading roles – including that of the uptight lawyer in the sweaty romance, "The Big Easy" (1987) opposite Dennis Quaid, and as the provocative possible murderess in "Sea of Love" (1989) co-starring Al Pacino. Proving sex appeal has no age limit, Barkin returned to feature films as the sole female fatale in the boy's club that was "Ocean's Thirteen" (2007), more than holding her own opposite such dashing co-stars as George Clooney, Brad Pitt and former co-star, Al Pacino.
Ellen Barkin
was born on April 16, 1954 into a working-class Jewish family in South Bronx, NY. Her father was a salesman for Fuller Brush who also worked as an usher at Yankee Stadium; her mother was an administrative assistant at Jamaica Hospital. Always a rebellious child, Barkin once protested her parents' refusal to let her go to Woodstock by staying up all night dropping acid. At 15, she spent a great deal of time hanging out in Greenwich Village and, on a lark, auditioned for the High School of Performing Arts – the infamous "Fame" school. Though accepted, her teachers felt her chances at succeeding were slim at best, citing that she had "a little talent, but no spark." After studying at the school for three years, Barkin moved on to Hunter College, where she worked as a waitress to pay her tuition while studying history and drama. She left college wanting to be an Egyptologist, but instead decided to pursue acting. Though it took no small amount of time to get her first break in "Irish Coffee," the roles started flooding in.
After bit parts in such impressive film fare as "Diner" (1982), "Tender Mercies" (1983) and "Eddie and the Cruisers" (1983), Barkin landed her first major lead in "The Big Easy" (1987), portraying an uptight, recent Northern import to the New Orleans District Attorney's office who falls in love with – against her better judgment – a homegrown local cop-cum-ladies' man (Dennis Quaid), she is forced to eventually prosecute. Despite her initial reservations, Quaid's character finally turns her on and the resultant sex scene – while not tremendously explicit – was certainly a temperature raiser, assuring audiences of even steamier roles to come. Although she missed the mark with her sexy firebrand in "Johnny Handsome" (1989), creating a truly despicable femme gang member, Barkin was in top form as the hard-bitten, voraciously carnal suspect romantically linked to weary, bourbon-slugging cop Al Pacino in "Sea of Love" (1989). Concealing her emotional vulnerability beneath her big city single woman's armor, she matched Pacino stride for stride – with the two presenting a realistic portrayal of an uncertain couple, while the steamy sex scenes between them raised her bombshell quotient exponentially.
Unfortunately, Barkin's tour de force performance was one she would find difficult to top. Her marriage to actor Gabriel Byrne – whom she had met while filming "Siesta" (1987) – and subsequent exploration of motherhood removed her from the loop and hurt her career. Although she was the bright point of Blake Edwards' otherwise flat sex farce "Switch" (1991), there was nothing she could do for the ill-conceived "Man Trouble" (1992), which wasted the talents of everybody involved, including star Jack Nicholson, director Bob Rafelson and screenwriter Carole Eastman. She had her best role since "Sea of Love" in "This Boy's Life" (1993), playing the put-upon wife of Robert De Niro – what basically amounted to a more grown-up version of her "Diner" role – but her hot-and-heavy sex with Laurence Fishburne in "Bad Company" (1995), was the only thing that stood out amidst the never-ending series of double-crosses culminating in a flat ending.
Barkin did not quite cut it as a scruffy Calamity Jane in Walter Hill's artless Western, "Wild Bill" (1995), though she was fine in her small role in Tony Scott's sports thriller "The Fan" (1996) – a film that ultimately squandered the talents of Robert De Niro, Wesley Snipes and John Leguizamo. She appeared in the gangster comedy "Mad Dog Time" (also 1996), which put her in close proximity to ex-husband Byrne; then had a cameo as a waitress in Terry Gilliam's "Fear and Loathing in Las Vegas" (1998). But a return to television provided her best opportunity in ages. Sharing the screen with producer Oprah Winfrey, she earned an Emmy for Outstanding Lead Actress playing the embittered mother of two who turns to the bottle to ease the pain of a tragic past in ABC's "Before Women Had Wings" (1997). Some of her earlier TV-movies were "We're Fighting Back" (CBS, 1981), James Cagney's swan song, "Terrible Joe Morgan" (CBS, 1984), "The Princess Who Never Laughed" (Showtime, 1986), and "Clinton and Nadine" (HBO, 1988), in which she starred opposite Andy Garcia.
In "Drop Dead Gorgeous" (1999) – a mockumentary about a small town beauty pageant showcasing teenage innocence that goes horribly awry amidst back-stabbing rivals – Barkin played the chain-smoking, beer-swilling mother of one of the top contestants (Kirsten Dunst) who once competed for the prize herself. Then after an appearance as a blind prostitute in the straight-to-video adventure drama, "The White River Kid" (1999), she played the host of a big New York talk show in the by-the-book romantic comedy "Someone Like You" (2001), starring Ashley Judd and Hugh Jackman. Barkin was the unhappy mother of a high school cheerleader (Monica Keena) who plots the death of her drunken husband only to be beaten to the punch by her raped daughter in the "Crime and Punishment in Suburbia" (2000), a loose adaptation of Fyodor Dostoevsky's masterwork on murder and redemption.
After a turn as a bio tech executive who fires a whistleblower (Anthony Mackie) in the Spike Lee misfire "She Hate Me" (2004), Barkin played a mom who forces her unwilling daughter to have an abortion in "Palindromes" (2005) – another feel good hit from Todd Solondz. In "Trust the Man" (2006), Barkin gave one of the few funny turns in a lackluster romantic comedy about decaying relationships, playing a hotshot publisher who comes on to the long-suffering girlfriend (Maggie Gyllenhaal) of a ne'er-do-well slacker (Billy Crudup) unable to commit to marriage and having a family. An opportunity to reunite Barkin and Pacino in "Ocean's Thirteen" (2007) was grossly wasted in an otherwise entertaining movie. Barkin provided much needed estrogen as the rapacious and impervious assistant to a Las Vegas casino mogul (Pacino) about to get his comeuppance from Danny Ocean (George Clooney) and company, after double-crossing Reuben Tishkoff (Elliott Gould) and leaving the old school con artist in the hospital.
Chronology:
* 1969 Auditioned for the High School of the Performing Arts in NYC; accepted at age 15
* 1980 First stage role in Irish Coffee at the Ensemble Studio Theatre
* 1981 TV-movie debut in We re Fighting Back (CBS)
* 1982 Appeared off-Broadway with Susan Sarandon in the original production of Extremities
* 1982 Film acting debut in Barry Levinson s Diner
* 1985 Acted off-Broadway in Eden Court : critic Frank Rich said, If it were really possible to give the kiss of life to a corpse, the actress Ellen Barkin would be the one to do it
* 1986 Breakthrough leading role in The Big Easy
* 1987 First role with future husband Gabriel Byrne, Siesta
* 1989 Acted in Walter Hill s Johnny Handsome
* 1989 Starred with Al Pacino in Sea of Love
* 1991 Cast as a man reincarnated in a woman s body in Switch
* 1992 Played an opera singer in disappointing Man Trouble
* 1992 Reteamed with Byrne for Mike Newell s Into the West , written by Jim Sheridan
* 1993 Acted opposite Robert De Niro in This Boy s Life
* 1993 Appeared in John Turturro s directing debut, Mac
* 1995 Portrayed Calamity Jane to Jeff Bridges Wild Bill ; project reteamed her with director Hill
* 1996 Second film with De Niro, The Fan
* 1996 Third film with Byrne, Larry Bishop s Mad Dog Time
* 1997 Won an Emmy for her work in ABC-movie Before Women Had Wings, produced by Oprah Winfrey s Harpo Productions
* 1998 Contributed cameo to Terry Gilliam s Fear and Loathing in Las Vegas
* 1999 Portrayed the mother of beauty contestant (Kirsten Dunst) in Drop Dead Gorgeous
* 2000 Appeared as Monica Keena s mother in Crime + Punishment in Suburbia
* 2001 Signed to co-star with Ashley Judd and Marisa Tomei in Someone Like You
* 2004 Appeared in the Spike Lee Comedy She Hate Me
* 2005 Plays the mother of a teenager girl who is forced by her parents to have an abortion in Palindromes by director Todd Solondz
* 2006 Cast as a book publisher in Bart Freundlich s Trust the Man
* 2007 Joined the cast of Soderbergh s Ocean s 13, as Pacino s right-hand woman
Read more
Latest headlines