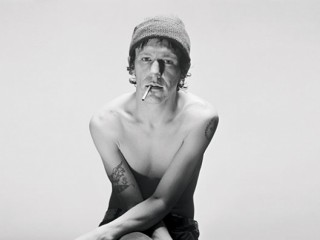 Elliott Smith biography
Date of birth : 1969-08-06
Date of death : 2003-10-21
Birthplace : Omaha, Nebraska, U.S.
Nationality : American
Category : Famous Figures
Last modified : 2012-02-08
Credited as : Singer-songwriter, multi-instrumentalist, musician
Steven Paul "Elliott" Smith was an American singer-songwriter and musician. His primary instrument was the guitar, but he was also proficient at piano, clarinet, bass guitar, drums, and harmonica. Smith had a distinctive vocal style characterized by his "whispery, spiderweb-thin delivery" and use of digital multi-tracking to create vocal layers, textures, and harmonies.
An indie-rock musician who seemingly overnight went from an underground hero to a popularly recognized songwriter, Elliott Smith established his place in music by writing beautiful songs about the pains of life. Penning tunes that often drew comparisons to Nick Drake, Bob Dylan, and the Beatles--his favorite band--Smith was cast in the roll of tunesmith to the downtrodden alternative-rock crowd. "The press at home really like to call me a `folk hero,'" Smith shrugged in a 1998 Melody Maker interview with Neil Mason. "For me, that's a serious fellow who makes grand pronouncements about what's wrong with the world. I'm not quite sure what I'm doing but it's smaller than that." Music critics, as well as listeners, tend to argue with Smith's humble view of his own music. As Boston Globe correspondent Joan Anderman asserted in a feature story following the release of Smith's fourth album, 1999's XO, "His records are filled with unflinching, emotionally raw portraits of drug addicts and alcoholics, and spare, poetic sketches of self-loathing and decayed love. Gorgeously tragic words are melded to melodies that are as simultaneously lush and forthright, and as inevitable-sounding, as those created by Smith's great inspiration, the Beatles." In addition to the Beatles, Smith's other musical heroes included the Clash, Hank Williams, the Kinks, and Elvis Costello.
Because Smith's lyrics feel so intimate, many listeners assume that his life is an open book. However, as writer Chris Mundy explained in a 1998 Rolling Stone feature, "Smith's songs have always been less confession than collage--beautifully rendered glimpses of ugly realities, pieced together with little more than voice and guitar." Likewise, Smith himself offered a similar description of his songwriting: "I don't really have any goals as a songwriter, other than to show what it's like to be a person--just like everybody else who's ever played music does," he told Los Angeles Times writer Richard Cromelin in 1998. "I don't feel like my songs are particularly fragile or revealing.... They're songs. It's not like a diary, and they're not intended to be any sort of super intimate confessional singer-songwriterish thing. I like the Beatles. Dylan. The Saints and the Clash. All the good things about what they did or do is probably the same things that I'm trying to do."
While Smith reveals an openness in singing about life's darkest details, he often hesitates when asked to provide the specifics of his own childhood. Born in Nebraska on August 6, around 1969, Smith spent most of his childhood just outside Dallas, Texas, living with his mother, stepfather, and his stepfather's children. His own parents divorced when Smith was only a year old, and his mother, a singer herself, later remarried when he was four year of age. "There were family problems," Smith, who added that most of his other childhood friends also came from broken families, recalled to Mundy. "It wasn't a good situation." And problems persisted outside the home as well; often picked on by his peers because of his small size--Smith was also extremely thin as a young adult--he spent much of his time getting into fights in spite of his frailty. Known as a soft-spoken performer, Smith believed that all of the fighting, evidenced by scars and a nose broken several times over, impacted his demeanor later on. "It's probably pretty easy to put together why somebody who grew up in Texas getting into fights a lot would not want to get up on stage and start belting out songs at the top of their lungs. I've had enough of people yelling."
At the age of 14, Smith finally left his oppressive life in Texas behind, moving to Portland, Oregon, to live with his biological father, with whom he had remained close, and his new family. A former preacher who served as a United States Air Force pilot in Vietnam and later became a psychiatrist, Smith's father bought his son his first nylon string guitar at the age of 12. Before long, at the age of 13, Smith started to write his own songs. Displaying a talent for music early in life, back in Texas Smith studied piano beginning at the age of ten, playing Debussy and Rachmaninoff pieces until his mother and stepfather abruptly pulled him out of lessons a year later.
Although he had always dreamed of becoming a musician, Smith, lacking the confidence, instead enrolled at Hampshire College, an ultra-liberal school in Massachusetts, where he studied political science and philosophy. Upon graduating, however, Smith "was on this big kick that there's no point occupying a spot because it would be better occupied by someone else," he told Mundy, and at the time seriously contemplated training to become a fireman. Moving back to Portland, he went through a period marked by a series of failed relationships, serious drinking, and bouts of depression. His friend and fellow songwriter Neil Gust stepped in, reminding Smith about his true calling: music.
Giving in to Gust's prodding, Smith joined his friend to form the band Heatmiser in 1992. A punk quartet that featured the melodic-abrasive formula popular in the Northwest, the Portland-based band, taking cues from groups like Fugazi, Hsker D, and Helmet, signed with the small Frontier label and released their first album, Dead Air, in 1993, followed by the Yellow No. 5 EP in 1994. Although Smith enjoyed the success of Heatmiser, he nevertheless started to feel smothered amid the noise of the punk-inspired act. "We would play shows, and afterward he would cordon himself off with an acoustic guitar and start practicing," Smith's former band mate, Sam Coomes, said to Mundy. "That was the first time I'd ever heard him play stuff like that. He was trying to evolve away from the stuff he was playing [with Heatmiser]."
Thus, while still a member of Heatmiser, Smith began to branch out on his own, performing solo at Portland clubs and recording tapes in friends' basements. Taking a stylistic departure from the thrash of his band, Smith instead focused on acoustic songs. By now a minor hipster sensation in Portland recognized for his artistic sensibilities, the singer caught the interest of a local label called Cavity Search. For that indie label, Smith released his first work, an eight-track mini-album entitled Roman Candle, in 1994. Recorded on a home four-track machine, the folksy, acoustic effort earned critical praise for its brittle, brooding, and consistent set of songs. Some highlights included "No Name #1," "Condor Ave.," and "No Name #3." In the meantime, Smith continued to participate in Heatmiser, and the band released a second album entitled Cop and Speeder in 1994. According to reviewers, Smith's solo activities only strengthened the group's music, giving Heatmiser a powerful sense of mood in songs such as "Flame!," "Antonio Carlos Jobim," and the honest confessional "Busted Lip."
In 1995, Smith changed to a new label, Kill Rock Stars, based in Olympia, Washington, for the release of his second solo project, that year's self-titled album. Progressing to an eight-track machine, yet remaining in local basements for Elliott Smith, the songwriter saw his style fall into place. Although many early critics inaccurately placed Smith's music in the folk genre because of his acoustic tendencies, his songs covered much more territory; echoes of the Clash, the Beatles, the Saints, and, most of all, American pop icon Alex Chilton resonated throughout. "The eponymous second album was a dark, disquieting work," noted Rough Guide to Rock contributor Duncan Cooper, "by turns furious (`Southern Belle'), and desperate (`The Biggest Lie')."
Around the same time Smith's solo career was gaining ground--including the signing of a major-label recording deal with Virgin Records--Heatmiser was in the process of dissolving. The band's final album, Mic City Sons, was released in 1996. Consequently, he spent time honing his craft, practicing guitar in his living room while watching countless hours of television re-runs. Unhappy with his relationship with Virgin, however, Smith disentangled himself from the company when he started work on a third album. As before, Smith abandoned the idea of recording in a studio in favor of homes and basements and arrived in February of 1997 with the acclaimed album Either/Or for Kill Rock Stars. Offering expanded instrumentation, as well as glimpses of urban life and intense, telling emotional vignettes, the album earned favorable responses, but remained for the most part unheard of outside the Pacific Northwest.
In the spring of 1997, Heatmiser officially disbanded, and Smith moved to Brooklyn, New York, hoping that the move from Portland would renew his anonymity. But despite his intentions, this did not happen. Soon after leaving Oregon, Smith was approached by film maker Gus Van Sant, who was gathering music for a film called Good Will Hunting. Smith and Van Sant, both sharing mutual friends, had met while both men lived in Portland. When the soundtrack for the film appeared, it featured four songs from Either/Or, one from Roman Candle, and a new original called "Miss Misery," a song that Smith had been working on when Van Sant first contacted him. When he played the work in progress for the director, Van Sant was instantly impressed. "Miss Misery," an impressionistic song about making mistakes and searching for redemption, to Smith's surprise, earned an Academy Award nomination for best original song, along with songs performed by the likes of pop diva Celine Dion and country star Trisha Yearwood. "I had fully armored myself against having to be crushed by the presence of Celine Dion," Smith admitted to Mundy. "But she was the nicest person I've met in a while." Although he did not take home the Oscar, Smith performed his song for the event telecast on February 10, 1998, giving the musician instant exposure.
By now, Smith had signed with a major label, DreamWorks, for the release of his forthcoming album. With a larger budget, Smith strayed from recording in homes and basements, and instead recorded 1998's XO at Sunset Sound studios in Los Angeles, California. Insisting that the decision was his and not that of DreamWorks or co-producers Tom Rothrock or Ron Schnapf (who had previously worked with Beck, the Foo Fighters, and Mary Lou Lord), Smith explained to Washington Post writer Mark Jenkins in 1999, "I wanted to have more things, more instruments. Nobody wants to make the same record over and over. It was something that was new for me to do." Such stepped-up production concerned many fans, who worried that lush instrumentation would overshadow Smith's songs.
However, fears subsided when the album arrived; the instruments used simply served to accent rather than drown out Smith's minimalist tendencies. He added horns to retro-rock song "A Question Mark," discreet strings for "Oh Well, Okay," and rolling piano to the single cut "Waltz #2." XO appeared on several top ten lists for 1998.
In the August of 1999, after a tour with his two-person band to support his album, Smith moved to Los Angeles and started work on the follow-up to XO, a record he hoped would utilize more piano. Since his successes of 1998, Smith grew more comfortable with his rising career fortunes. Adding to his upbeat outlook, he reconciled with his girlfriend and also started to mend relationships with family members. Nevertheless, an element of sadness was always evident in his songwriting. As far as his future as a musician, Smith commented, "I don't have any particular [musical] path," as quoted by Boston Globe writer Jim Sullivan in 1998. "I mean, I don't want to make the same record more than once, but ... as long as I can do something different--or something that feels different to me--I'll be pretty satisfied with that."
On April 18, 2000, Smith released his second album for DreamWorks entitled Figure 8. Working again with co-producers Rothrock and Schnapf, Smith recorded the project at Abbey Road, Capitol, Sunset Sound, and Sonora studios. A collection of 16 flawless songs, Figure 8, like Smith's prior albums, earned stellar reviews. Following in the paths of the Beatles' Paul McCartney and John Lennon, as well as Chilton, Smith proved again why he is perhaps the greatest pop songwriter of his generation.
Around the time he began recording his final album, Smith began to display signs of paranoia, often believing that a white van followed him wherever he went. He would have friends drop him off for recording sessions almost a mile away from the studio, and to reach the location he would trudge through hundreds of yards of brush and cliffs. He started telling people that DreamWorks was out to get him: "Not long ago my house was broken into, and songs were stolen off my computer which have wound up in the hands of certain people who work at a certain label. I've also been followed around for months at a time. I wouldn't even want to necessarily say it's the people from that label who are following me around, but it was probably them who broke into my house." During this period, Smith hardly ate, subsisting primarily on ice cream. He would go for several days without sleeping, and then sleep for an entire day.
One of the few highlights for Smith in 2001 was inclusion of his song "Needle in the Hay" in Wes Anderson's dark comedy The Royal Tenenbaums. The song plays during a suicide attempt. Smith was originally supposed to contribute a cover of The Beatles' "Hey Jude" for the film, but when he failed to do so in time, Anderson had to use The Mutato Muzika Orchestra's version of the track instead. Anderson would later say that Smith "was in a bad state" at the time.
In the first of only three concerts performed in 2002, Smith co-headlined Northwestern University's A&O Ball with Wilco on May 2 in Chicago. He was onstage for nearly an hour, but failed to complete a single song. He claimed that his poor performance was due to his left hand having fallen asleep, and told the audience it felt "like having stuff on your hand and you can't get it off." Smith's performance was reviewed as "undoubtedly one of the worst performances ever by a musician" and an "excruciating...nightmare". A reporter for the online magazine Glorious Noise made the statement, "[I]t would not surprise me at all if Elliott Smith ends up dead within a year."
Smith had attempted to go to rehab several times, but found that he was unable to relate to the popular treatments for addicts that use a Twelve-Step Program basis for treatment. "I couldn't do the first step...I couldn't say what you were supposed to say and mean it." In 2002, Smith went to the Neurotransmitter Restoration Center in Beverly Hills to start a course of treatment for his drug addiction. In one of his final interviews, he spoke about the center, "What they do is an IV treatment where they put a needle in your arm, and you're on a drip bag, but the only thing that's in the drip bag is amino acids and saline solution. I was coming off of a lot of psych meds and other things. I was even on an antipsychotic, although I'm not psychotic."
After his 34th birthday on August 6, 2003, he gave up alcohol, caffeine, red meat, refined sugar, and his longtime (sometimes abused) regimen of psychiatric medication. Director Mike Mills had been working with Smith during his final years and described Smith's troubles and apparent recovery: "I gave the script to him, then he dropped off the face of the earth...he went through his whole crazy time, but by the time I was done with the film, he was making From a Basement on the Hill and I was shocked that he was actually making music."
Smith died on October 21, 2003, at age 34 from two stab wounds to the chest. At the time of the stabbing, he was at his Lemoyne Street home in Echo Park, California, where he lived with his girlfriend, Jennifer Chiba. According to Chiba, the two were arguing, and she locked herself in the bathroom to take a shower. Chiba heard him scream, and upon opening the door, saw Smith standing with a knife in his chest. She pulled the knife out, after which he collapsed and she called 9-1-1. Smith died in the hospital with the time of death listed as 1:36 p.m. A possible suicide note, written on a Post-it, read, "I'm so sorry—love, Elliott. God forgive me." The coroner's report had the name Elliott misspelled as "Elliot," however "a coroner's official told TSG that Smith's first name was misspelled in the report," not on the Post-it note.
While Smith's death was originally reported as a suicide, the official autopsy report released in December 2003 left open the question of possible homicide.
Read more
Latest headlines