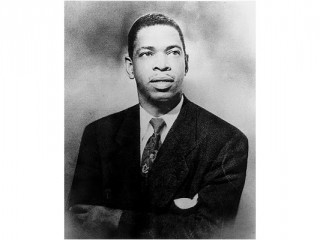 Elmore James biography
Date of birth : 1918-01-27
Date of death : 1963-05-24
Birthplace : Richland, Mississippi, U.S.
Nationality : American
Category : Famous Figures
Last modified : 2011-12-05
Credited as : singer-songwriter, blues guitarist, "the King of the Slide Guitar"
Elmore James was an American blues guitarist, singer, songwriter and band leader. He was known as "the King of the Slide Guitar" and had a unique guitar style, noted for his use of loud amplification and his stirring voice.
Elmore James was a highly regarded blues musician who played regularly in the Mississippi Delta and later in Chicago. In 1992 he was inducted into the Rock and Roll Hall of Fame as a precursor of rock and roll. Although James never played rock and roll as such, his music was admired and performed by such rock bands as the Rolling Stones and the Yardbirds. Best known for his classic blues rendition of "Dust My Broom," James developed a distinctive electrified slide guitar sound that was influenced by fellow Delta blues musician Robert Johnson. Rock critic Greil Marcus, in his book Mystery Train, described James's rough and emotional vocal style as "a slashing vocal attack that traded subtlety for excitement."
James was born in 1918 on a farm near the Mississippi Delta town of Richland. His mother was 15-year-old Leola Brooks. Although James was born out of wedlock, he was raised by his mother and Joe Willie James, the man who was thought to be his father and whose name he took as his own. With Elmore as their only child, his parents supported themselves as sharecroppers, moving about from plantation to plantation in Holmes County, Mississippi.
James's interest in playing music reportedly began at an early age. According to Robert Palmer in Deep Blues, "Elmore taught himself to play by stringing broom wire on the wall of one of their cabins, and by the time he was nineteen, he was a reasonably competent young blues guitarist." According to other sources, his first "guitar" was fashioned out of strings and an old lard can when he was twelve. Like other young boys in rural Mississippi, he learned to play guitar on an instrument made from spare materials at hand.
As a young man James fell in with legendary blues musicians Robert Johnson and Sonny Boy Williamson, whose real name was Rice Miller. Williamson was a noted harmonica player who used several other names as well, including Little Boy Blue. Since another blues musician also used the name Sonny Boy Williamson, he became known as Sonny Boy Williamson #2. After World War II Williamson would play on a variety of radio shows sponsored by various patent medicines, and James would occasionally appear as a guest on those shows. And it was Williamson who would ultimately lead James to the recording session that spawned "Dust My Broom."
Influenced by Johnson, who is usually given credit for writing "Dust My Broom," James developed a distinctive sound using a slide guitar. Playing slide guitar involved putting a piece of glass or metal--often a pocket knife was used--on the frets of the guitar to create a special sound. It was a popular style of playing guitar among many Delta blues musicians, and it survived into the later Chicago blues styles of the 1950s.
As early as 1939 James was playing and singing with a full band that played for dances in the Delta. According to Palmer, "It was one of a number of early attempts to fit traditional Delta blues into a band context." Traditionally, Delta bluesmen were itinerant musicians who typically played and sang without accompaniment. Evidence exists, however, that some Delta bluesmen, notably Robert Johnson and Honeyboy Edwards, were experimenting with bands and performing with backup musicians in the late 1930s. Later, when the Delta sound, along with many of the Delta musicians, reached Chicago, it was necessary to adapt the traditional Delta blues to the electrified blues band sound the Chicago audiences demanded.
James served two years in the U.S. Navy during World War II, when he participated in the invasion of Guam. After the war he picked up again with Williamson. The two men played together over the next two years. When Williamson landed a local radio show in Belzoni, Mississippi, where both men were living, James would occasionally make guest appearances. "By this time," wrote Palmer, James "was a formidable electric bluesman, crying out traditional lyrics in a high, forceful, anguished-sounding voice over his screaming, superamplified slide guitar leads."
Palmer and others have noted that James was initially nervous or reticent about recording in the studio or performing over the radio. In 1951 James and a few other blues musicians accompanied Williamson to a recording session for Trumpet Records in Jackson, Mississippi. Trumpet was a recently established independent label that recorded blues, gospel, country, and rockabilly music. According to Palmer, James's version of "Dust My Broom" was "celebrated throughout the Delta by this time, and Lillian McMurry [who ran the label] asked him to record it. He wouldn't, but ... he was tricked into rehearsing it in the studio with Sonny Boy ... while McMurry surreptiously ran a tape."
James didn't know he was making a record, and his nervousness in front of a recording microphone prevented him from recording a b-side. Trumpet put a song by another artist on the other side of the record and released it. "Dust My Broom" surprised everyone by becoming a national rhythm and blues hit in 1952. As a result, James was sought after by other record labels. He went to Chicago in 1952 at the behest of the Bihari brothers, who owned Modern Records, and recorded a thinly disguised version of "Dust My Broom" under the title "I Believe" for their subsidiary label, Meteor. "I Believe" also became a top ten rhythm and blues hit for James.
While in Chicago, James put together a four-piece band that became known as the Broomdusters. The group included saxophonist J. T. Brown, drummer Odie Payne, Jr., and pianist Johnny Jones. This quartet, with a few changes and additions over the years, remained together for most of the 1950s. James had successfully adapted the Delta sound to an ensemble format that featured keyboards and horns. As Palmer wrote, "The music didn't change much during this time, but it didn't really have to. The Broomdusters rocked harder than any other Chicago blues band."
As the 1950s progressed, James seemed to overcome his fear of recording, making numerous recordings with his band. These were heard on a variety of independent blues labels, including Chess, Checker, Meteor, Flair, and Chief. James and the Broomdusters also played the blues clubs of Chicago. When times were hard in Chicago, they went back to Mississippi and toured the South.
It was also during the 1950s that James developed a heart condition. Combined with his penchant for heavy drinking and fast living, it would eventually prove fatal. However, his music continued to progress from the rural sound that is evident on his first recording of "Dust My Broom." As reviewer Ron Weinstock wrote in Living Blues, "James didn't live to play to white audiences or record albums with rock heavyweights like Eric Clapton or Johnny Winter.... Unlike [Muddy] Waters, and more so than [Howlin'] Wolf, James was able to adapt his own down-home Delta blues to modern tastes." Quoting blues authority Mike Leadbitter, Weinstock continued, "Towards the end, he was becoming better known for his slow blues and had reached his peak as a musician. The great thing about Elmore is that he progressed. Though his basic style remained unchanged he was adding to it and improving it. He seemed to grow more powerful session by session."
James suffered a mild heart attack in the late 1950s and had temporarily retired to Mississippi. Chicago disc jockey "Big" Bill Hill contacted James and persuaded him to come back to Chicago to do some radio broadcasts. On his first day back in Chicago, James played in a small blues club and was heard by record producer Bobby Robinson. As Robinson told Living Blues magazine, "I was lucky, because Leonard Chess [co-owner of Chess Records] would have certainly grabbed him, no question about it."
Robinson and James got together the very next day and recorded James's band in the living room of the house where James was staying. As Robinson described the session, "It was raining that day, very nasty day outside.... I think the weather influenced us somehow. Elmore and I came up with the idea of doing a song called 'The Sky Is Crying.' And it was just a spontaneous kind of a thought and we started to kick it around a little bit there and I got a pencil and a pad, and we sat down by the window and we wrote it out." "The Sky Is Crying" was released in 1960 on Robinson's Fire label and became a top twenty rhythm and blues hit.
Robinson recorded James with a variety of backup musicians from 1959 until James's death in 1963. Robinson told Living Blues, "Of course, Elmore being such a dominant kind of a personality and artist, it was the Elmore James sound wherever we recorded, but the background music was different in each place." James recorded for Robinson with a band in Chicago, a larger ensemble with horns, in New York, and with his Mississippi band, which included harmonica, in New Orleans. Songs recorded at these sessions were released on Robinson's Fire and Enjoy labels.
In the early 1960s James was in trouble with the musicians union in Chicago. When he didn't pay his union dues, he was blacklisted. He was also very ill, and his heart condition appeared to worsen. In the spring of 1963 James was in Chicago to perform at the opening of Big Bill Hill's new establishment, the Copa Cabana Club. He was staying with his older cousin, Homesick James, and his family when he suffered a fatal heart attack on the night of May 24.
Original albums:
1961 Blues After Hours
1965 The Best Of
1965 The Sky is Crying
1965 Memorial Album
1966 The Blues In My Heart, The Rhythm In My Soul (re-release of Blues After Hours)
1967 Original Folk Blues (Kent 5022)
1967 I Need You (Sphere Sound 7008)
1968 The Late Fantastically Great (another re-release of Blues After Hours)
1968 Tough (Chess recordings + tracks by John Brim)
1968 Something Inside of Me
1969 The Legend Of Elmore James
1969 Elmore James
1969 Whose Muddy Shoes (+ tracks by John Brim)
1969 The Resurrection Of Elmore James (Kent 9010)
1969 To Know A Man double album
Compilation albums:
Charly Blues Masterworks Volume 28: Standing at the Crossroad (1993)
The Sky Is Crying: The History Of Elmore James (1993)
Rollin' And Tumblin' (1999)
Legends Of Blues, Pickin' The Blues ; The Greatest Hits (2002)
King of the Slide Guitar: The Complete Trumpet, Chief and Fire Sessions (2005)
A Proper Records Introduction to Elmore James: Slide Guitar Master (2006)
The Final Sessions: New York - February 1963 (2006)
Read more
Latest headlines