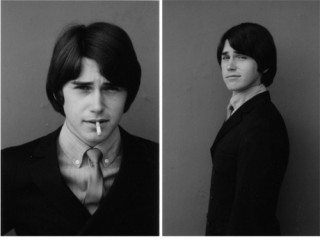 Emitt Rhodes biography
Date of birth : 1950-02-25
Date of death : -
Birthplace : Decatur, Illinois,U.S.
Nationality : American
Category : Arts and Entertainment
Last modified : 2012-01-16
Credited as : Singer-songwriter, recording engineer, Multi-instrumentalist
Emitt Lynn Rhodes is an American singer/songwriter, multi-instrumentalist and recording engineer. When he was five his family moved to Hawthorne, California. Considered by many as "the one man Beatles," his solo recordings of the early 1970s show a clear Paul McCartney influence in both vocals and musicianship. Rhodes began his career in musical ensembles The Palace Guard (as the group's drummer) and The Merry-Go-Round (multi-instrumentalist), leaving the drums to the expertise of Joel Larson.
In the early 1970s Emitt Rhodes was poised to be the next big thing in pop music. Rhode's style of music echoed the emerging style of power-pop played by Paul McCartney and groups like the Raspberries and Badfinger. But Rhodes, after tiring himself playing in bands as a teenager, wanted to be the only one-man-act out there. His youthful naivety proved to be both a blessing and a curse when it came to the music business. Writing, producing, and playing every instrument on his three solo albums between 1970 and 1973, Rhodes never achieved the success of his pop peers. Instead because lack of touring and label support, Rhodes became an influential songwriter to future pop songwriters and bands. After three masterful solo albums, Rhodes almost quit music entirely before he was even 25 years old. "The youthful songwriter was a genius inside the recording studio. A master of melody with a voice dipped in honey, he could play any and all instruments and work the console like a vet," wrote Erik Himmelsbach in Los Angeles City Beat. That genius gave up after three records.
Born on February 25, 1950, in sunny Hawthorne, California---home to fellow pop maestros the Beach Boys---Rhodes grew up in a family that appreciated music. At nine years old, he began to pound on the drums and when he attended Hawthorne High, at 14, he joined a Top 40 band called The Emerals.
Playing drums for the teenage group, the boys wore shiny green satin shirts with their names on them. Tapping into the Beatles and other British pop groups of the early '60s, The Emerals morphed into the Palace Guard who became fashionable enough to get the high school students a regular gig at the Hullabaloo on Sunset Strip. Every once in a while Rhodes would take a break from the drums and come up front to sing the Beatles' "Michelle." One night, A&M employee Russ Shaw, son of music publisher Eddie Shaw, saw the Palace Guard perform and right away, he knew that Rhodes had the potential to be a solo star.
Encouraged to have a solo career, Rhodes left the Palace Guard in 1966. Russ Shaw became his manager and Eddie Shaw handled the money and publishing. Rhodes signed a contract with the Shaw's that read "in perpetuity." He had no idea that he would be legally tied to the Shaw family for the entirety of his career. This was a mere hint at Rhodes future struggles with the business side of making music.
Rhodes needed a band to play behind the songs he was now writing so he put together The Merry-Go-Round, a band that included high school friend Gary Kato on bass, Joel Larson on drums and Bill Rinehart on guitar. At 16 years old, A&M released two Merry-Go-Round singles, "Live" (which was later covered by The Bangles on their 1984 debut) and "You're a Very Lovely Woman" in 1967, both of which charted in the United States. A&M rushed Rhodes to release The Merry-Go-Round's full-length album, You're a Very Lovely Woman, in 1967. "The Merry-Go-Round was loaded with melodic, baroque pop and folk rock punctuated with sweet harmonies and Emitt's wide-eyed South-Bay-meets-North of England vocal stylings," wrote Himmelsbach. Unfortunately, the album failed to meet A&M's expectations and in 1969, the label dropped them. The group disbanded shortly after.
Being dropped from a major label while he was still a teen didn't deter Rhodes from writing and recording more of his own songs. He used the little money he made from A&M to buy a four-track and began recording in his parent's garage. The demos he made of perfect, catchy, heart-on-his-sleeve pop tunes were immaculate enough to earn Rhodes a new solo contract with Dunhill/ABC records.
Unfortunately, since Rhodes had no grasp on the legal side of the business, he signed a deal that required him to produce a new album for Dunhill every six months, not an uncommon deal at the time. "He was just a natural for that time. His songs were very melodic; he was a young, good-looking guy. With Emitt, it was just about his talent and the feeling that we could develop him," Steve Barrie, Dunhill's former vice president of A&R, told Los Angeles City Beat. For the new deal, Rhodes earned $5000. "I knew it was wrong, because it didn't make sense," Rhodes told Los Angeles City Beat. "Six months a record ... and I just spent nine months in the studio every day. When was I going to perform? When was I going to tour? When was I going to have a life? I did it because I was stupid."
Those nine months in the studio produced some of the most melodic and pristine pop of the time where Rhodes sounded like a California version of Paul McCartney. Rhodes played every instrument, produced and recorded his self-titled debut album in his parent's garage. With the release of Emitt Rhodes in 1970, at the age of 20, Rhodes had a minorly successful album that broke into the Top 40 in 1971. The effervescent single "Fresh as a Daisy" charted at number 54. All Music Guide's Matthew Greenwald called Emitt Rhodes: "...probably what most Beatles-maniacs wanted to hear from Paul McCartney's debut album. Rhodes individuality shines through despite this; the album is a true classic of the period." Dunhill quickly sent Rhodes on the road to support his new album, which made it all the more difficult to record his follow-up record, which was technically supposed to be released only six months after Emitt Rhodes. No one at the label seemed to find this a problem, even though Rhodes had to do everything on his album's himself.
In 1971, A&M issued The American Dream, a collection of Rhodes material recorded with a band prior to signing with Dunhill-after releasing the first Merry-Go-Round album, Rhodes was still in contract with A&M to release one more record. To fulfill his contract with Dunhill, Rhodes quickly recorded the follow up to his self-titled debut. But by the time Mirror was released in 1971, Dunhill was already suing Rhodes for breach of contract. The label wanted $250,000 in "damages."
Rhodes seemed to be alone in his legal struggles; his team of people didn't seem to have his best interests in mind. The singer-songwriter settled the suit in 1973 when he released Farwell to Paradise. The record wasn't only his final for Dunhill; it was the last full-length album he ever released. At that point, Rhodes was all but done with being a musician. The way he had been treated as an artist drained him creatively and he would have quit music all together if Elektra/Asylum Records hadn't put him on their staff as an A&R person/producer/engineer for four years.
In 1980, Rhodes released one single, "Isn't It So," for Elektra and recorded a few demos, but for the most part stayed out of the performance light. Diagnosed as clinically depressed, Rhodes was scared to perform live and only came out of hiding once in 1997 for an appearance at the Poptopia festival in L.A. In 2001, Rhodes and his daughter were in a car accident after Rhodes lapsed into a diabetic coma while his car was stopped a stoplight. The car rolled into a truck and crashed. Although Rhodes was a prodigy to pop bands and musicians, he had barely any money to survive on and ended up living in a house across the street from the home he grew up in with his parents in Hawthorne. In 2001, Rhodes had a small career revival with music aficionados when his track "Lullaby" appeared on the soundtrack and in the 2001 film The Royal Tenenbaums.
In January and February 2009, Italian director Cosimo Messeri shot a documentary movie about Emitt Rhodes's vicissitudes: life, past, present, troubles and hopes. The movie, entitled The One Man Beatles, was selected for the International Rome Film Festival 2009, and received standing ovations. In 2010 "The One Man Beatles" was nominated for David di Donatello Award as Best Documentary of 2010. Its US Premiere screening is scheduled for May 29, 2010 at the Rhino Records Pop Up Store in Westwood, California.
Also in 2009, after many years of rumors as to the possibility of a new CD, Emitt once again entered the recording studios with a new band and all new material. He is joined by the co-founder of The Grass Roots and The Merry-Go-Round drummer Joel Larson, co-founder and former bassist for Counting Crows, Matt Malley, and guitarists Jim Rolfe and Dan Mayer. Also participating on three of Emitt's new songs is legendary guitarist Richard Thompson, whose band Fairport Convention covered Emitt's song "Time Will Show the Wiser" in 1967.Bangles' members Vicki Peterson and Debbi Peterson, who covered Emitt's song "Live" on their debut album, also make an appearance.
In 2010, Emitt, along with Rhodes Band's Matt Malley, joined another ex-member of Fairport Convention, Iain Matthews, on a new version of "Time Will Show the Wiser", arranged, produced and performed by Nick Vernier Band. This recording, initially released on Nick Vernier Band's "Sessions"-album, marked Emitt's first new release as a featured artist in almost four decades. Both Emitt and Iain recorded this Rhodes-original early on in their careers, the song being starting points as well as signature works for The Merry-Go-Round and Fairport Convention respectively. The new version united the two singers in an Indian musical setting. Also in 2010, a tribute album titled Long Time, No See was released. It contained Emitt Rhodes songs recorded by various artists.
Studio albums:
-The Merry-Go-Round (1967, with The Merry-Go-Round) reached #190 on the Billboard 200
-Emitt Rhodes (1970)
-Mirror (1971)
-The American Dream (1971)
-Farewell to Paradise (1973)
Read more
Latest headlines