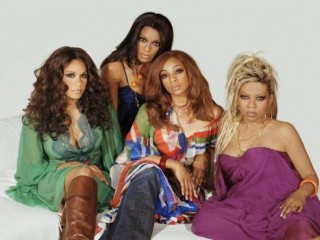 En Vogue biography
Date of birth : -
Date of death : -
Birthplace : Oakland, California,U.S.
Nationality : American
Category : Arts and Entertainment
Last modified : 2012-04-30
Credited as : female vocal group, Born to Sing album, I´ll Cry Later single
En Vogue is an American female R&B vocal group from Oakland, California assembled by music producers Denzil Foster and Thomas McElroy.
When the always modishly attired vocal quartet En Vogue called their debut album Born to Sing, few listeners acquainted with their flawless harmonizing and stylistic range disputed the title's claim. But the name of their follow-up recording, Funky Divas, raised a few eyebrows. How "funky" could a group of fashion-obsessed vocal athletes assembled by a producer really be? They answered with an album that tackled funk, hip-hop, rap, hard rock, reggae, and a bevy of other styles with aplomb, scoring a Grammy nomination and several hits. In the wake of Funky Divas the group seemed to be everywhere, achieving the coveted "crossover" audience that has eluded many artists lumped in the R&B category; in January of 1993 they backed up President Bill Clinton's brother Roger on the song "A Change Is Gonna Come" during inaugural festivities, putting their musical stamp on what looked to be a harmonious new era.
En Vogue was in fact the brainchild of producer-songwriters Thomas McElroy and Denzil Foster. In 1988 the two held auditions in Oakland, California, for a female vocal group they intended to use on an Atlantic Records album called FM2. "We wanted the girls to be beautiful, but not too beautiful," McElroy told Meredith Berkman of Entertainment Weekly. "Intelligent, but not nerds or anything. And more than anything else, when they sang we wanted people to go, 'Wow!'" The other criterion for the group was an element of high style. "We tried to make En Vogue very womanish, with a very sophisticated flair," choreographer Frank Gatson told the New York Times. "But we didn't want to make them slutty."
The finalists for the project were San Franciscan and Miss Black California Cindy Herron, transplanted Californian Maxine Jones, Texan Terry Ellis, and Connecticut native Dawn Robinson. The four had pursued acting and singing careers during the 1980s, and some of their paths had crossed before; Herron met Jones during the course of a San Francisco stage production and encountered Ellis at a Houston audition, while Jones and Robinson became acquainted at their hairdresser's. It seemed a joyous coincidence, then, when the four not only converged at the FM2 auditions, but beat out the competition to become the sought-after stylish vocal quartet.
Robinson began singing in the Youth Voices of Zion Choir at her A.M.E. Zion Church. Herron, who lived with both of her parents in turn after they divorced, saw Motown's famous singing brothers the Jackson Five during her childhood and thought, as she told Upscale, "Kids can do it too." One of Ellis's four sisters was a nightclub singer who "made me aware that I had talent. She heard me humming something one day and wanted me to do it again, and I did. From that day on she had me singing everyday after school and listening to Natalie Cole and all the other people." Jones was born in New Jersey and decided on a musical career after graduating from Patterson's East Side High School; she began singing in church and remains a devotee of the "positive and inspirational" sounds of gospel music. The group was originally called For You, but the quartet wanted something more fashionable and settled at first on Vogue; unfortunately, a 1960s Motown group called the Vogues owned the copyright to the name. En Vogue struck the singers and their manager, David Lombard, as an appealing variation.
Born to Sing appeared on the Atlantic label in 1990; the single "Hold On" reached the top of the charts, uniting R&B, hip-hop, and pop audiences and getting substantial play in dance clubs, where deejays remixed it into numerous configurations. The next single, "Lies," was also a hit, and by the time "You Don't Have to Worry" entered heavy rotation the album was assured of platinum sales. Born to Sing also included a contemporary dance version of the swing classic "Boogie Woogie Bugle Boy (of Company C)" and a reworking of Natalie Cole's "Just Can't Stay Away."
Atlantic compounded the album's momentum with creative marketing: A special edition of Born to Sing modeled on a Vogue magazine spread and including promotional materials went out to press, radio, and larger retailers, and University of California, Los Angeles, film student Tarsem was hired to give the video for "Hold On" a more artsy feel than is usually found in conventional dance-diva videos.
The group endured countless comparisons to the 1960s girl group the Supremes, though their tight harmonizing had more in common with swing's Andrews Sisters. And unlike the Supremes, who were led by the glamorous Diana Ross, En Vogue didn't have a lead singer. "We all sing lead," Ellis explained to Seventeen. "Dawn's sound is funky, Maxine's is sort of sultry/gospel, and Cindy's is more jazz-oriented." In fact, Herron told Dennis Hunt of the Los Angeles Times, "There may be some Supremes-like stuff in our overall concept, but it was hipper groups like the Emotions and Sister Sledge that we've borrowed from. The Supremes may have started a certain kind of soul girl-group thing, but what they did is old-fashioned now."
In 1991 En Vogue received five nominations at the Soul Train Music Awards, and "Hold On" won as best single by a band or group; the foursome was also nominated for a Grammy Award for Best R&B performance by a duo or group. They performed on numerous television shows and went on the road with rap superstar Hammer and popular vocalist Freddie Jackson. That year also saw the release of Remix to Sing, a six-song recording comprised of Born to Sing remixes and the previously unreleased Christmas song "Silent Nite."
Soon En Vogue was everywhere, gracing magazine covers and appearing in a Diet Coke commercial directed by famed filmmaker Spike Lee; Herron, meanwhile had a role in the film Juice. As their fame increased, the members of En Vogue claimed more control over career decisions, leaving musical matters to their producers but participating in wardrobe, photography, and choreographic choices. "Denzil and Tommy are so honest and fair," Jones insisted in Us. "And we want to be that way. We don't want to step on anybody's toes, but at the same time, we want to get what we want." What they want seems to work, particularly onstage. "Humorous and titillating, the fab foursome lived up to its self-described reputation as the 'Funky Divas of Soul,'" attested Variety' s Adrianne Stone in a review of an En Vogue performance.
By 1992 the stage was set for Funky Divas, released on the Atco/EastWest label. The premiere single, "My Lovin' (You're Never Gonna Get It)," was an instant smash, quickly dispelling any concerns about a sophomore jinx. The number was ultimately nominated by the National Academy of Recording Arts and Sciences for R&B song of the year. Other singles further widened En Vogue's already burgeoning and diverse following: the Curtis Mayfield torch ballad "Giving Him Something He Can Feel," the hard-rocking "Free Your Mind," an apparent nod to father of funk George Clinton, and the breezy "Give it Up, Turn it Loose." "En Vogue didn't just try on a few different hats," Spin noted of the album's multifarious styles, "it set up a chapeau shop." As Jim Farber of the Los Angeles Daily News commented, "By combining such slick moves with gritty talent, En Vogue posed a new melding of R&B's past and present, making them models in the best sense of the word." Vogue observed, "En Vogue updates the Motown dream-girl act for a brave new world." And for its part, People offered some criticism but noted that overall, with their second album, En Vogue "dip into a grab bag of styles to distance themselves from the competition." Rolling Stone, on the other hand, did not find the divas sufficiently funky, giving the album only two stars.
As had become customary, each single was accompanied by a lavishly produced video, and each video offered a different side of En Vogue, from slinky sirens to runway revolutionaries. The "Free Your Mind" video took four trophies at the Music Video Producers Association Awards. Funky Divas made numerous critics' best lists and garnered a 1993 American Music Award for soul/R&B album of the year. The group went on to more television appearances, including guest spots on In Living Color and Saturday Night Live. They also performed the theme song for the ABC series Hangin' With Mr. Cooper. And their performance at the 1993 presidential inauguration festivities in Washington, D.C., supporting President Bill Clinton's singing brother Roger led, perhaps unsurprisingly, to a meeting with the chief executive himself. "Is there anything these women can't do?," asked James T. Jones of USA Today rhetorically, answering his question in the negative.
Their ballooning success aside, the members of En Vogue appeared to be having a lot of fun together, often traveling, in Entertainment Weekly writer Berkman's words, "publicly joined at the hip like quadruplet Barbie dolls." In Upscale, Robinson insisted, "We are just like sisters. We love each other." And in her interview with Seventeen, she gave a glimpse of the behind-the-scenes life En Vogue's fans dream about: While on tour, she said, "We hang out, eat junk food, and watch the shows from the night before."
In 2004, En Vogue (now composed of Ellis, Herron and Bennett) released Soul Flower on independent label 33rd Street Records. While the album failed to chart on the Billboard 200, it managed to peak at number forty-seven on the R&B charts. The albums two singles: "Losin' My Mind" and "Ooh Boy", however, failed to chart. Soon after promotion had finished on this album, Maxine Jones returned to En Vogue, turning the group back into a quartet for the first time since 1996. The group teamed with Boyz II Men for select concert dates during the summer of 2004. That same year En Vogue graced the cover of R&B Showcase magazine.
On September 26, 2011, a new single called "I´ll Cry Later" was leaked to select urban adult contemporary radio stations, but has yet to be officially released. Dawn Robinson left En Vogue once again in December 2011.
Studio albums:
1990: Born to Sing
1992: Funky Divas
1997: EV3
2000: Masterpiece Theatre
2002: The Gift of Christmas
2004: Soul Flower
Read more
En Vogue Picture Gallery
Latest headlines