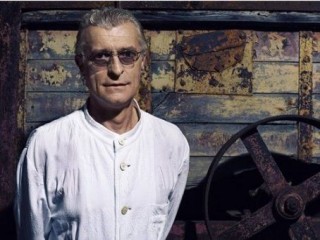 Enigma biography
Date of birth : -
Date of death : -
Birthplace :
Nationality :
Category : Arts and Entertainment
Last modified : 2011-11-11
Credited as : Music band, MCMXC a.D. , The CROSS Of Changes
Michael Cretu, the man who is Enigma, declared his creative philosophy in a Virgin Records press release: "Old rules and habits have to be rejected and dismissed so that something new can be created." Even though Europeans were hip to Cretu's identity, early U.S. press information billed Enigma as the creation of a German producer who preferred to remain anonymous. "With Enigma," Cretu explained to Larry Flick in Billboard, I have created a complete piece of music that I wanted to let stand alone. There is a sense of mystery in the music that I wanted to leave untouched by the perceptions and preconceived ideas that come with the past history of a producer or a songwriter." He continued, "Contrary to the usual record company philosophy, people are open-minded and starved for something unique. This is music that is different from any other available at the moment. I think people have responded to that."
Born on May 18, 1957, in Bucharest, Romania, Cretu pursued an early goal of becoming a concert pianist by studying classical music. In 1965 he attended Lyzeum No. 2--a college for young and gifted musical talents--with piano as his main subject, and he also studied for five months in 1968 in Paris, France. From 1975 to 1978 he attended the Academy of Music in Frankfurt, Germany, where he earned a degree in music. Deserting his goal of classical music, he claimed, "I started writing hits the day I sold my piano."
In 1980 Cretu won his first gold record for his production work. The artists with whom he has been associated include Hubert Kah, Peter Cornelius, Moti Special, and Sylvie Vartan. Cretu has also won gold record awards for producing albums by his wife, Euro-dance chanteuse Sandra, and multi-instrumentalist-composer Michael Oldfield. Since 1985 Cretu has produced seven albums for Sandra, including her first international hit single, "Maria Magdalena," which went to Number One in more than 30 countries. Cretu released his first solo album on Virgin, Legionare (which means legionnaires), in 1983, but his solo efforts before taking the name Enigma failed to earn U.S. distribution.
Inspired by such groups as the Art of Noise and Pink Floyd, Cretu assembled Enigma's debut album, MCMXC a.D. (the roman numeral representation of 1990), on an AudioFrame system at his home studio in Spain. MCMXC a.D. was released on December 3, 1990, in Europe through Virgin Germany and on February 12, 1991, in the U.S. through Virgin/Charisma. The LP eventually sold more than 12 million units worldwide, and won gold and/or platinum awards in 25 countries. In the United States MCMXC a.D. went platinum by the first week in May of 1991 and earned double-platinum status by the fall of 1993.
Cretu told Alan di Perna of Keyboard, "I conceived of the whole album as a single song. The words and sounds are like flashlight beams. They don't show you everything. You have to look at what's between the lines." A mixture of sixth-century Gregorian chants, bewitching French whispers--provided by Cretu's wife, Sandra--and hypnotic, ethereal music set to intoxicating dance rhythms, MCMXC a.D. is definitely more a cathartic aural journey than a collection of individual songs. The video import of MCMXC a.D. is a gorgeous swirl of images seamlessly interpreting the entire album. Even so, "Sadeness Part I," a song marked by its inclusion of Gregorian chant, was destined to become the album's runaway single. "The great misconception of people who have only heard 'Sadeness' is that the whole album is filled with chanting. This is a complete piece of work with many different levels and sounds. 'Sadeness' is only one piece of the puzzle," Cretu explained to Billboard's Flick.
The French lyrics in "Sadeness Part I" are actually a dark homage to the Marquis de Sade, an eighteenth-century erotic novel writer from France from whose name the word sadism comes. In analyzing this element of the debut Enigma album, Vince Aletti of the Village Voice stated, "Cretu isn't celebrating the notorious Marquis ... but his mere presence in this context is a provocation, surely a deliberate and delicious one. Sade reserved his fiercest contempt and some of his most exquisite literary tortures for the pious and the prim, so even if he remains offstage here, the writer is a devilishly successful device. Cretu uses him to introduce questions of virtue and vice, faith and sacrilege, love and lust."
Cretu related to Keyboard's di Perna, "I wanted to use things that there are questions about, that are mysterious. You don't have to go too far to read all kinds of accusations about the Catholic Church-- scandals, inquisitions, and wars--and you wonder how you can reconcile this with the idea that the Church is supposed to stand for universal love. But at the same time, I've been told that the Marquis de Sade was a very religious man, that he wrote what he wrote as a revenge against certain pious people who were hypocrites. So again, there are questions, mysteries."
The Marquis was apparently not the only one out for revenge. As Cretu revealed to Michael Azerrad of Rolling Stone, "[MCMXC a.D.] was like revenge against everything I was hearing. I didn't want to write songs, I wanted to write moods." When Azerrad drew a comparison to the way pop icons Madonna and Prince explored sexuality, Cretu replied, "What Madonna and Prince did is pure marketing--it's predicated on causing scandal. It's not a sexual music that I did. It's a sensual music. And there's a big difference."
Some radio stations in Europe with a large Catholic audience could not see that difference. They banned "Sadeness Part I," considering it "pure blasphemy." Dutch national radio network TROS actually received three bomb threats from listeners said to be shocked by what they heard when the record was proclaimed single of the week-- prompting Cretu to issue a statement refuting rumors about satanic material in the Gregorian passages and insisting he had no desire to offend "any public religious beliefs." Himself an atheist, Cretu told Azerrad of Rolling Stone, "The institution of the Church doesn't really fit with our times. I believe in destiny, which is a much more powerful belief."
In terms of record sales, Cretu's beliefs were apparently embraced by many listeners. By January of 1991 "Sadeness Part I" had reached Number One in seven European countries: Germany (where it eventually became Germany's biggest-selling single ever), Belgium, the Netherlands, Switzerland, Austria, the United Kingdom, and Greece. The record would ultimately attain the Number One position in 15 countries. In the American market, "Sadeness Part I" broke into Billboard's Hot 100 in February of 1991, and by April the record was in the Top Five after 11 weeks at Number One on the combined European charts. Peaking at Number Two on the U.S. pop charts, "Sadeness Part I" became a certified platinum single.
Although Enigma was perhaps singularly responsible for boosting interest in Gregorian chant music worldwide, there was a price to pay--literally. In August of 1991 Munich-based choir Kapelle Antiqua demanded a written apology in addition to financial compensation when the choir, according to Ellie Weinert in Billboard, "recognized its recordings of Gregorian choral works on Enigma tracks. The group sued for damages, claiming Cretu had infringed upon its 'right of personality' by distorting the records sampled on the 'Sadeness Part I' and 'Mea Culpa' album tracks and singles." Cretu and Virgin Germany agreed to pay compensation for samples used on MCMXC a.D. and settled out of court with Polydor and BMG/Ariola, which represented the German choir, for an undisclosed sum. In the end Virgin acquired authorization for the retrospective use of the Polydor and BMG/Ariola masters.
In 1993 film producer Robert Evans asked Cretu to write the title song for the motion picture Sliver. The result was "Carly's Song" and "Carly's Loneliness," both of which appeared as "Age of Loneliness" on Enigma's next album, The CROSS Of Changes. Other Enigma soundtrack credits include songs from MCMXC a.D. used in the films Single White Female and Boxing Helena.
In May of 1991 Cretu told Larry Flick of Billboard, "It is my plan for Enigma to be an outlet for music that boldly strays away from the norm of pop music. I have several ideas for the next album that I think are fascinating. Part of the fun of projects such as these is watching how all of the various elements come together in the studio." Though it was released in Europe in December of 1993, it was not until February 8, 1994, that Enigma's second album, The CROSS Of Changes, was released in the United States. Cretu's belief that "music is part of my soul--and this ultimately decides everything" perhaps best explains the three years it took him to produce his second album.
Reviewing The CROSS Of Changes for Pulse!, Michael Freedberg stated, "Cretu's Wagnerian symphonics [in the manner of composer Richard Wagner], crisscrossed by sleazy beats and train-like machinations, feel enough like midnight to make you dance across the Seine [River in France] with your headset on." Evidently others were dancing with him. The CROSS Of Changes went platinum in the United States just seven weeks after its release, and "Return to Innocence" reached gold status one month later, in July of 1994. In Keyboard Cretu summed up perhaps a major reason for Enigma's success: "Enigma is a vehicle for doing things outside the rules that you normally have to follow when you make a dance record." He went on to say, "Basically, I will keep on doing Enigma records until I run out of new ideas. Then I'll move on to something else."
The 2000 release of The Screen Behind the Mirror included samples from Carl Orff's Carmina Burana on four tracks on the album. This time the Gregorian chants were toned down tremendously, although Shakuhachi flutes and other traditional Enigma signatures remain. Only "Gravity of Love" and "Push the Limits" were released as singles from the album. Ruth-Ann Boyle (from the band Olive) and Andru Donalds mark their first appearances on the Enigma project.In 2001, Cretu released a new single called "Turn Around" together with Love Sensuality Devotion: The Greatest Hits and Love Sensuality Devotion: The Remix Collection to end what he considers to be the first chapter of Enigma. A light show was held at the Munich Planetarium in conjunction of the release of the compilation albums.
To commemorate the fifteen years of Enigma, a special limited-edition album called Fifteen Years was launched, which was the size of an LP vinyl disk, with Leonardo da Vinci's art in the cover, a big booklet with extra art, and featured eight compact discs: all the previous albums, the DVD Remember the Future, and a special and exclusive bonus CD, The Dusted Variations, which included the project's greatest hits remade by another project. All of the songs are different from the originals and use minimal percussion.[citation needed] This disc also contained the single version of "Hello and Welcome", which was later released as a single. On 28 August 2005, Enigma's management Crocodile Music announced the release of "Hello and Welcome" as a single.
On 26 September 2006, Enigma's sixth album A posteriori was released worldwide, containing a new version of "Hello and Welcome" and the new song "Goodbye, Milky Way", which, despite earlier announcements, was not released as a single. The album is more techno- and pop-oriented electronic music than any previous one. The concept is based on such sciences as astronomy, physics, history, and sociology. A DVD version of A posteriori was released on 16 December 2006, which featured kaleidoscope images in synchronization with the multi-channel remastered music.
On 19 September 2008, Enigma's seventh album Seven Lives Many Faces was released worldwide. The lead single, "Seven Lives", is a fusion of modern and classical elements.The Platinum Collection, a 3-CD compilation, was released on 27 November 2009 in Germany, and on 9 February 2010 worldwide. The first CD contains Enigma hits. The second CD contains remixes. The third CD is a collection of "lost tracks", musical experiments which never were finalized and released previously.
On 5 October 2010, to commemorate the 20th anniversary of the first album MCMXC a.D., The "Enigma's Social Song" project began. Enigma fans were asked to submit vocals for a new Enigma song. The public were then asked to vote, with the winning submission "Fei mea" being provided by Latvian singer Fox Lima for the chorus.The final mix of the single named "MMX The Social Song" was released on December 15, 2010.It became the first song ever created for and by the fans via internet.
Selective Works:
-MCMXC a.D. (1990)
-The Cross of Changes (1993)
-Le Roi est mort, vive le Roi! (1996)
-The Screen Behind the Mirror (2000)
-Voyageur (2003)
-A posteriori (2006)
-Seven Lives Many Faces (2008)
Read more
Latest headlines