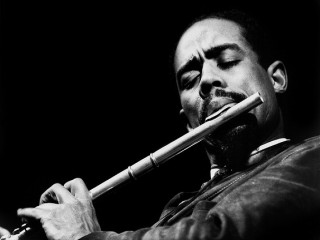 Eric Dolphy biography
Date of birth : 1928-06-20
Date of death : 1964-06-29
Birthplace : Los Angeles, California,U.S.
Nationality : American
Category : Famous Figures
Last modified : 2011-11-10
Credited as : jazz saxophonist, bass clarinetist, Chico Hamilton
Eric Allan Dolphy was an American jazz alto saxophonist, flutist, and bass clarinetist. On a few occasions he also played the clarinet and baritone saxophone. Dolphy was one of several multi-instrumentalists to gain prominence in the 1960s. He was also the first important bass clarinet soloist in jazz, and among the earliest significant flute soloists. His improvisational style was characterized by the use of wide intervals, in addition to using an array of extended techniques to reproduce human- and animal-like effects which almost literally made his instruments speak. Although Dolphy's work is sometimes classified as free jazz, his compositions and solos were often rooted in conventional (if highly abstracted) tonal bebop harmony and melodic lines that suggest the influences of modern classical composers Béla Bartók and Igor Stravinsky.
Eric Dolphy, one of the most creative instrumentalists in jazz, also had one of the most distinctive and exciting styles ever recorded. His innovative play on alto saxophone extended into dimensions far beyond those reached by such influential predecessors as Charlie "Yardbird" Parker. Dolphy's volcanic improvisations are characterized by jagged, twisting, leaping series of notes. His hard, clear, unique sound could alternate between warmth and coldness, yet was often surprising and always inspired. Dolphy had difficulty obtaining the opportunity to lead his own well-rehearsed groups within the immediate post-bop period of the late 1950s and early 1960s. Consequently, the majority of his recorded work is as a sideman with such notables as Chico Hamilton, Charles Mingus, and John Coltrane. Yet Dolphy's intense, passionate work expanded jazz artists' capacity for expression and remains very influential. Though most often recorded on alto saxophone, Dolphy was the first flutist to take the instrument beyond bop conventions, and he also legitimized the clarinet and bass clarinet as solo instruments in jazz.
Dolphy was the only child of parents of West Indian descent. While growing up in central Los Angeles, he frequently accompanied his mother to the People's Independent Church of Christ to attend her choir recitals, where he heard performances such as Handel's Messiah. He eventually became a choir member himself and taught Sunday school there and at the Westminster Presbyterian Church where the father of jazz pianist Hampton Hawes was pastor.
By the first grade, Dolphy was playing the clarinet. He joined a school band at age eight and began studying the oboe while in junior high. In addition to his school lessons, Dolphy also had private music teachers, and he showed great aptitude on clarinet at a young age. He was awarded a certificate for his abilities on that instrument during a California school band festival at age 13. Dolphy picked up the alto saxophone while in junior high and learned by imitating the solos he heard on jazz records and by playing with fellow students, including Hawes. Among Dolphy's early influences were Charlie Parker and the sounds of nature. While in his teens, Dolphy would imitate the sounds of birds with his instrument while practicing in his backyard.
An incessant practicer, Dolphy's parents converted their garage into a soundproof studio so he could practice by himself or play with groups. After graduating from high school he studied music for a time at Los Angeles City College. When he was 20, he became the lead alto player in a group called the 17 Beboppers headed by Roy Porter, a former drummer. Dolphy first recorded with this band late that year and can be heard in a brief alto solo on "Moods at Dusk."
Upon the breakup of Porter's band in 1950, Dolphy enlisted in the Army and was stationed for two years at Fort Lewis, Washington; he later attended the U.S. Naval School of Music in Washington, D.C. After returning home in 1953 he gigged around the Los Angles area, where he met such jazz luminaries as Max Roach, Clifford Brown, John Coltrane, and Ornette Coleman. From 1956-57, he led his own group at the Club Oasis.
Dolphy first received national attention in 1958 when he joined a pianoless quartet led by drummer Chico Hamilton. This group attempted to fuse classical music with jazz, and played tightly arranged popular songs as well as straightforward jazz. Dolphy still had opportunities to improvise within this context, as shown in the film Jazz on a Summer's Day, recorded at the 1958 Newport Jazz Festival. Hamilton's group disbanded in November of 1959, and Dolphy settled in New York, where he began working at Minton's in Harlem. That December, he joined Charles Mingus's band, which had an extended engagement in Greenwich Village.
In April of 1960, Dolphy led his first recording date, titled Outward Bound, which also featured young trumpeter Freddie Hubbard. This sparked an astonishing period of creativity for Dolphy, who through late 1961 would participate in at least 16 recording sessions. His improvisational development through this period is quite apparent. As Steve Holtje remarked in MusicHound Jazz: The Essential Album Guide: "It's possible over that short span to hear [Dolphy] develop in leaps and bounds, going from a good player with interesting compositional ideas that occasionally receive slight awkward execution to a master of his instruments whose every move is fluid and organic."
During this period, Dolphy led two additional recording sessions--Out There, which, like Hamilton's group, did not use piano, and Far Cry, which marks the beginning of his association with trumpeter Booker Little. Dolphy was also in great demand as a sideman at this time. Among his many recording dates were sessions with Ken McIntyre, Oliver Nelson, Mal Waldron, Ron Carter, Max Roach, George Russell, the Latin Jazz Quintet, and the Eddie "Lockjaw" Davis Big Band. He also appeared on Ornette Coleman's 1960 release Free Jazz, a double-quartet session and seminal avant-garde recording. In the spring of 1961 Dolphy joined John Coltrane's group, playing on Olé and providing arrangements for the Africa/Brass recordings.
In July of 1961 Dolphy teamed again with Little and codirected a group for two weeks at the Five Spot Café in New York. The group was recorded there one evening, and the results spread across three live releases. The sympathetic ensemble and surroundings made for some of Dolphy's best live recordings. As John Litweiler noted in The Freedom Principle: Jazz after 1958, "The results are Dolphy's most personal revelations to date ... 'Status Seeking,' 'Fire Waltz,' and especially 'The Prophet' are incredible displays of alto sound and spontaneous creation.... All the circumstances are right for these Five Spot recordings ... resulting in a purposely, successfully, astounding evening of music."
That fall, Dolphy toured Europe and recorded with Coltrane's ensemble as well as other pickup groups composed of often-inferior local musicians. He also made some live recordings with Coltrane's group at the Village Vanguard in New York, collaborations that are often cited among Dolphy's most inspired--he contributed lengthy and memorable bass clarinet solos on "Spiritual" and the two takes of "India" during the Vanguard sessions. His association with Coltrane was also controversial, however. Down Beat associate editor John Tynan inspired a backlash among conservative critics against their form of improvisation, dubbed the "new thing." Tynan called their work "nihilistic," and said "they seem bent on pursuing an anarchistic course in their music that can but be termed anti-jazz."
In response, Dolphy made reference to the inspiration for his improvisations. When asked what he was trying to achieve with his music, Dolphy told Down Beat, "What I'm trying to do I find enjoyable. Inspiring--what it makes me do. It helps me play, this feel. It's like you have no idea what you're going to do next. You have an idea, but there's always that spontaneous thing that happens. This feeling, to me, leads the whole group." But Dolphy's style was not as random as his remarks might lead one to believe. As Ted Gioia remarked in The History of Jazz, "Like Coltrane, Dolphy had mastered the art of jazz through diligence, an openness to new sounds, and assiduous practice. Both saxophonists came to adopt the most radical techniques of improvisation, but--and this was the marvel--did so in careful, almost methodical steps."
Dolphy continued to work as a sideman throughout 1962-63, working with Coltrane, Mingus, Hubbard, Gil Evans, Teddy Charles, and "third stream" orchestras led by John Lewis and Gunther Schuller, which attempted to fuse jazz with classical music; he also led his own sporadically recorded groups during this period. In February of 1964 Dolphy was finally able to assemble an ensemble of improvisational equals: Hubbard, vibraphonist Bobby Hutcherson, bassist Richard Davis, and drummer Tony Williams. The resulting release, Out to Lunch, became a jazz classic and Dolphy's most complete and mature studio effort. As Litweiler remarked, "Now that [Dolphy] is playing with other musicians as advanced as he, especially the innovatory Williams, his style advances in clarity and impact, with increases in both subtlety and scope. In fact, his art seems to have advanced in every possible way; here are the breakthroughs that must have been implicit from his 1960 New York recordings, when those strange sounds and sweeping revisions of Charlie Parker first appeared."
Hutcherson's vibes, in particular, created a new texture for Dolphy and Hubbard's improvisations on Out to Lunchthat could not have been matched by a piano. Williams's direction of the rhythm section also provided an appropriate backdrop for the horns. Writing in Jazz 101: A Complete Guide to Learning and Loving Jazz, John F. Szwed remarked, "For the only time in his recording career, [Dolphy's] own compositions are dominant, and the quintet is finely tuned to his intentions.... What is especially arresting is the free sense of rhythm created by drummer Tony Williams and bassist Richard Davis even as they generally hold to a fixed tempo. Dolphy's solos--on flute on 'Gazzeloni' in particular--are the best he ever recorded." Other notable tracks from Out to Lunch are "Hat and Beard"--Dolphy's tribute to noted pianist Thelonious Monk--and "Something Sweet, Something Tender," which features Dolphy on bass clarinet.
Even after receiving some critical praise, Dolphy was forced to eke out a living teaching private lessons and recording as a sideman. Thinking that he might gain more acceptance as a musician outside the United States, Dolphy joined Mingus's group once again for a 1964 European tour. In an interview with A. B. Spellman, recorded in the liner notes to Out to Lunch, Dolphy remarked, "I can get more work [in Europe] playing my own music ... if you try to do anything different in this country, people put you down for it."
After the tour concluded in April, Dolphy remained in Europe, touring with pickup groups of varying quality. One session with a particularly fine rhythm section was recorded in the Netherlands in June of 1964 and issued as Last Date. Dolphy then recorded at least two radio sessions in Paris before heading to Germany. He arrived in Berlin on June 27 to open the Tangent, a new jazz club, with a trio led by German pianist Karlhans Berger. Dolphy was already very ill and able to complete only two sets on opening night. The following day his condition worsened and he asked friends to take him home. Dolphy died at age 36 on June 29, 1964, in Berlin from a circulatory collapse as a result of diabetes.
Selected discography
-Other Aspects , Blue Note, 1960; reissued, 1987.
-Out There , Prestige, 1960; reissued, Fantasy, 1990.
-Outward Bound , New Jazz, 1960; reissued, Fantasy, 1990.
-At The Five Spot, Volumes 1, 2, 3 , Prestige, 1961; reissued, 1991.
-Berlin Concerts , Enja, 1961; reissued, 1990.
-Candid Dolphy , Candid, 1961; reissued, 1989.
-Eric Dolphy in Europe, Volumes 1, 2, 3 , 1961; reissued, 1965.
-Here and There , Prestige, 1961; reissued, 1965.
-Stockholm Sessions , Enja, 1961; reissued, 1988.
-Far Cry , New Jazz, 1962.
-Vintage Dolphy , Enja, 1962; reissued, GM, 1995.
-Last Date , Fontana, 1964; reissued, Verve.
-Out to Lunch , Blue Note, 1964.
-The Complete Prestige Recordings , Fantasy, 1995.
-Illinois Concert , Blue Note, 1999.
With others:
-(With Chico Hamilton) Gongs East , Warner Bros., 1958; reissued, WEA/London/Sire.
-(With Ornette Coleman) Free Jazz , Atlantic, 1960; reissued, 1999.
-(With Booker Little) Out Front , Candid, 1961; reissued, 1989.
-(With John Coltrane) Africa/Brass; Africa/Brass Sessions, Volume 2 , Impulse, 1961; reissued Africa/Brass Sessions Volumes 1 & 2 , 1974.
-(With John Coltrane) Olé , Atlantic, 1961.
-(With Mal Waldron) The Quest , Prestige, 1961; reissued, Fantasy, 1992.
-(With Max Roach) Percussion Bitter Sweet , Impulse, 1961.
-(With John Coltrane) Coltrane "Live" at the Village Vanguard , Impulse, 1962; reissued asThe Complete 1961 Village Vanguard Recordings , Impulse, 1997.
-(With Andrew Hill) Point of Departure , Blue Note, 1964.
-(With Charles Mingus) Town Hall Concert , Jazz Workshop, 1964.
-(With Charles Mingus) Mingus at Antibes , Atlantic, 1976; reissued, 1986.
Read more
Latest headlines