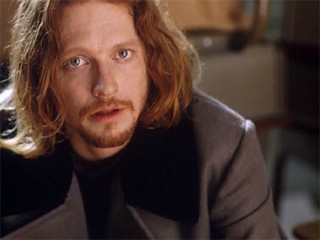 Eric H. Stoltz biography
Date of birth : 1961-09-30
Date of death : -
Birthplace : Whittier, California, USA
Nationality : American
Category : Famous Figures
Last modified : 2010-10-26
Credited as : Actor and director, musician, production assistant
One of cinema's most prolific actors and a favorite of independent filmmakers,
Eric Stoltz
is a witty, charming, intelligent redhead whose versatility has resulted in a decidedly eclectic body of work. His good looks have won him a fair share of leading man parts, but he has also frequently rejected the wholesome image to access his dark side, playing some angry and downright scuzzy types. "I'm not a career builder," he has admitted. "I've never plotted out how to become a 'marketable persona.'" What he has become is a first-rate actor, one who makes time for stage roles and counts having to turn down a chance to act opposite Julie Harris in a Broadway production of "The Glass Menagerie" as one of his major career disappointments. (He did finally portray Tom Wingfield in a Williamstown Theater Festival version of the Tennessee Williams' classic.) Though many of his projects do not afford him a big pay day, he works often enough in big studio releases to subsidize his passion for plays and indies and the rewards they bring.
The son of educators who were both musically inclined, Stoltz studied the piano and trumpet but decided the theater was for him while tickling the ivories for a local community theater group. "I noticed that the actors were this wild, hedonistic, bizarre troupe of gypsies that seemed to be having an uncommon amount of fun." After making his TV-movie debut as Carol Burnett's son in "The Grass Is Always Greener Over the Septic Tank" (CBS, 1978), he knocked around Hollywood with little success before fleeing to Scotland where he performed at the 1981 Edinburgh Festival. When he returned to the States, Stoltz made his feature debut as one of the Stoner Buds in Amy Heckerling's smash hit "Fast Times at Ridgemont High" (1982) and also began getting larger roles in TV-movies like "A Killer in the Family" (ABC, 1983) and "Things Are Looking Up" (CBS, 1984). As for his feature career, he spun his wheels for a while in undistinguished fare before coming to prominence as Cher's horribly disfigured son in Peter Bogdanovich's "Mask" (1985).
Buried under four-hours worth of make-up, Stoltz ventured out into public to get a sense of the ridicule his character had endured. The experience changed him, revealing the ugliness of human nature, and enabled him to deliver the sensitive portrayal that earned him a Golden Globe nomination. Before that movie's release, however, he began shooting "Back to the Future" (also 1985), only to be replaced by Michael J Fox after five weeks. The success of "Mask" helped ease the pain of that humiliation and stimulated interest as to exactly what lay beneath the grotesque exterior of the "beast." Stoltz starred as a clean-cut All-American caught between Mary Stuart Masterson and Lea Thompson in "Some Kind of Wonderful" (1987), produced and written by John Hughes, then returned to the stage, first in "The Widow Claire" off-Broadway, followed by his Tony-nominated Broadway debut as George Gibbs in a revival of Thornton Wilder's "Our Town", a role which he would reprise for PBS' "Great Performances" in 1989.
The independent film "The Waterdance" (1992), written and co-directed (with Michael Steinberg) by Neil Jiminez, cast him as a writer who becomes paraplegic after a hiking accident and learns to adjust in a multi-ethnic rehabilitation center (based on Jiminez's real-life experiences). Stoltz got his best reviews since "Mask", balancing levity with a measure of despair and denial to anchor a wonderful ensemble including Helen Hunt, Wesley Snipes, William Forsythe and Elizabeth Pena. 1994 saw him become a high-profile actor of independent films with appearances in four non-Hollywood projects: "Naked in New York", where he literally was naked, adding to his heartthrob credentials; "Killing Zoe", as a murderous junkie drawn into a Paris bank robbery by his French friend (Jean-Hugues Anglade); "Sleep With Me", playing a thirtysomething trying to adjust to monogamy in a new marriage; and "Pulp Fiction", as Lance, the friendly neighborhood drug-dealing slime who ultimately saves Uma Thurman's life. While none of these films enhanced his star status, they continued to establish the "edge" of the actor once viewed as the redheaded kid next door.
Stoltz likes nothing better than working with friends on small-budget affairs that afford creative control. He began his association with Cameron Crowe, the screenwriter, on "Fast Times" and "The Wild Life" (1984), later joining director Crowe for "Say Anything" (1989, on which he also served as production assistant), "Singles" (1992, his first film with then-significant other Bridget Fonda) and the runaway (anything but indie) hit "Jerry Maguire" (1996). He has also acted in two Noah Baumbach indies (three if you count the unreleased "Highball" lensed 1997), "Kicking and Screaming" (1995) and "Mr. Jealousy" (1998), executive producing the latter. Stoltz first served as a producer for Steinberg's "Bodies, Rest & Motion" (1993), then again (with Steinberg and Roger Hedden) on "Sleep With Me", and all signs indicate the talented carrot-top will enter the directing ranks at some point, capitalizing on the lessons learned producing. He joined the cast of CBS' "Chicago Hope" as a medic with a penchant for holistic healing for the 1998-99 season before turning in his scrubs for the law. In two high profile 2000 releases, the actor played lawyers: "One Kill", a Showtime original, cast him as a military attorney hired to defend a female captain accused of murdering an officer while "The House of Mirth", Terence Davies' exquisite adaptation of the Edith Wharton novel, allowed him to play a confirmed bachelor who engages in a flirtation with heroine Lily Bart (Gillian Anderson).
After that Stoltz made brief appearances in films and telepics of varying quality (he was an effectively comic crime fighting Jesus Christ in the 2001 short film "Jesus and Hutch"), and took supporting roles in the James Toback thriller "Harvard Man" (2001) and "The Rules of Attraction" (2002), the biting Brett Easton Ellis exploration of college in the 1980s. He also took a small role as Uncle Charlie in the 2001 TV movie "My Horrible Year!", a tale about a teenage girl plotting to keep her parents together, erroneously thinking they're considering divorce which he also directed. In 2002 Stoltz began an especially effective recurring stint on the acclaimed Marshall Herskovitz-Edward Zwick life-after-divorce drama "Once and Again" (ABC, 1999-2002), playing high school English instructor August Dimitri, who develops a close--almost too close--relationship with teenage Grace Manning (Julia Whelan).
Stoltz drew good reviews opposite Anthony LaPaglia in the 2003 telepic "Happy Hour" as part of a triangle of friends, but even his well-received acting could not overcome the critical drubbing for the 2003 Showtime mini-series "Out of Order," in which Stoltz and Felicity Huffman played a troubled married pair of Hollywood screenwriters dealing with temptation and their deteriorating relationship. The actor next appeared on the big screen in the sci-fi thriller "The Butterfly Effect" (2004), playing the predatory pedophile father who torments the young versions of Ashton Kutcher and Amy Smart, causing Kutcher to attempt to "fix" the timeline with disastrous results. Stoltz then appeared in the rehash of the famed 1950's sitcom, "The Honeymooners" (2005), playing a character not in the original series. Though promising a fresh take on an oldie-but-goodie, the movie was blasted by critics who complained about a lack of chemistry between characters, a subservient bow to political correctness—particularly with Kramden's famous threat to send Alice to the moon—and a dearth of laughs despite overwhelming comedic talent.
* Also Credited As:
Eric H. Stoltz
* Born:
September 30, 1961 in Whittier, California, USA
* Job Titles:
Actor, Director, Producer, Musician, Production assistant
Milestones
* 1964 Moved to American Samoa with family at age three (date approximate)
* 1969 Moved to Santa Barbara, California at age eight (date approximate)
* 1970 Played piano for a local theater group in Santa Barbara (date approximate)
* 1971 Switched to acting (date approximate)
* 1978 TV-movie debut, The Grass Is Always Greener Over the Septic Tank (CBS)
* 1981 Joined an American repertory company which performed at the Edinburgh Festival in Scotland; performed in Tobacco Road , You re a Good Man, Charlie Brown and Working
* 1982 Film debut, Fast Times at Ridgemont High , playing one of the Stoner Buds (with Anthony Edwards); first association with Cameron Crowe who scripted
* 1985 Made first big impression as a sensitive boy disfugured by a rare disease in Mask
* 1986 Off-Broadway debut, The Widow Claire by Horton Foote
* 1987 Starred in Some Kind of Wonderful , written and produced by John Hughes
* 1988 Broadway debut, Our Town ; received Tony nomination as Best Supporting Actor in a Play for his turn as George Gibbs
* 1989 Portrayed Vahlere in Crowe s Say Anything ; also served as production assistant
* 1989 Second role that required lots of make-up, The Fly II
* 1990 First film with director Michael Caton-Jones, Memphis Belle
* 1992 Acted in Crowe s Singles playing an aggressive mime artist; first film with then-significant other Bridget Fonda
* 1992 Received acclaim for his role as a paraplegic writer in The Waterdance , co-starring Helen Hunt
* 1993 Feature producing debut, Bodies, Rest & Motion , scripted by Roger Hedden; also acted in with Bridget Fonda and Phoebe Cates
* 1994 Headed the ensemble of Sleep With Me , also scripted by Hedden
* 1994 Played in his words a token male in the studio remake of Little Women , standing around with facial hair to prove that the little women are, in fact, heterosexual
* 1995 First film with director Noah Baumbach, Kicking and Screaming
* 1995 Reteamed with Caton-Jones for Rob Roy
* 1996 Played a vice cop partnered with Jeff Daniels in John Herzfeld s 2 Days in the Valley
* 1996 Reteamed with Crowe for the blockbuster Jerry Maguire , playing Ethan Vahlere
* 1996 Starred in Arthur Penn s Inside , a Showtime movie (which also got a limited theatrical release) exposing the excess of South Africa s apartheid policy
* 1997 Earned a large paycheck for the big-budget Anaconda
* 1998 TV series debut as a regular playing a doctor specializing in alternative medicine in Chicago Hope (CBS)
* 1998 Appeared in Roger Hedden s directorial debut, Hi-Life ; had also acted in two films scripted by Hedden, Bodies, Rest & Motion and Sleep With Me (1994)
* 1998 Executive produced and starred in Baumbach s Mr. Jealousy ; reunited with Mask director Peter Bogdanovich who acted in the film; also acted in Highball (lensed 1997), filmed three weeks after Mr. Jealousy with much of the same cast and crew
* 1999 Acted with Cuba Gooding Jr and Tom Berringer in Rowdy Herrington s A Murder of Crows (premiered on Cinemax)
* 1999 Played Nathaniel Brandon in Showtime s The Passion of Ayn Rand , acting for the first time with Peter Fonda
* 2000 Cast as a military attorney representing a female captain accused of murder in the Showtime original One Kill
* 2000 Portrayed lawyer Lawrence Seldon in The House of Mirth , Terence Davies adaptation of the Edith Wharton novel
* 2001 Acted in an L.A. stage production of Betrayal
* 2001 Made directorial debut with the Showtime original My Horrible Year!
* 2003 Starred with Felicity Huffman in the Showtime drama Out of Order
* 2004 Appeared on broadway in the production of Sly Fox
* 2004 Cast in the thriller The Butterfly Effect, starring Ashton Kutcher and Amy Smart
* Appeared in Happy Hour (lensed 2001)
* Director Robert Zemeckis replaced him unceremoniously with Michael J Fox after five weeks of shooting on Back to the Future , charitably saying later I found myself with a very good actor playing the wrong part
* Had recurring role as a teacher on the ABC drama series Once and Again ; also directed episodes
* Played a tabloid reporter in the Sci Fi Channel miniseries Triangle (lensed 2005)
* Returned to Los Angeles after running out of money in Edinburgh
Read more
Latest headlines