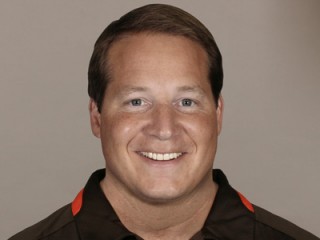 Eric Mangini biography
Date of birth : 1971-01-19
Date of death : -
Birthplace : Hartford, Connecticut
Nationality : American
Category : Sports
Last modified : 2010-10-18
Credited as : Football coach NFL, head coach for the Cleveland Browns, Super Bowl winnings
Eric Mangini is currently the head coach of the
Cleveland Browns
of the National Football League. He is the former head coach for the New York Jets.
The Cleveland Browns announced that the club hired
Eric Mangini
to become the 12th full-time head coach in franchise history on January 8, 2009. The move brought Mangini back to Cleveland, the city in which he started his NFL coaching career. He broke into the league in 1994 with the Browns, first as a ball boy and then as an intern in the club's public relations department, before joining the Browns coaching staff as a coaching assistant in 1995. In all, Mangini boasts 14 years of NFL coaching experience, has been a part of five division title-winning teams, three conference titles and three Super Bowl championships.
Coaching History
Eric Mangini was named the 12th full-time head coach in the history of the Cleveland Browns franchise on January 8, 2009.
For Mangini, it marked a return to his NFL roots, having kicked off his tenure in the league as a ball boy and an intern in the Browns' public relations department in 1994. His tireless work ethic was just as evident in that first year as it is today, a quality that led then-head coach Bill Belichick to add Mangini to the team's coaching staff in 1995.
In his 14 years of NFL coaching experience, Mangini has been a part of six teams that qualified for the playoffs, including five that captured division crowns and three that came away with the Lombardi Trophy as Super Bowl champions.
Immediately prior to being hired by the Browns, Mangini was the head coach of the New York Jets for three years (2006-08). In 2006, Mangini took over a team that had gone 4-12 the previous year and guided them to a record of 10-6 and a Wild Card playoff berth. The Jets started with a 5-5 mark before compiling victories in five of their last six contests, including their final three. The sense of discipline instilled by Mangini was apparent that year, as points allowed (355 to 295), turnovers (34 to 25), penalties (98 to 70) and sacks allowed (53 to 34) all dropped significantly from the previous season, while points scored (240 to 316), third down efficiency (35.3% to 43.8%) and time of possession (26:37 to 31:03) all improved drastically. Mangini was named AFC Coach of the Year by the prestigious Kansas City Committee of 101 that year.
Of the 14 full-time head coaches in Jets history from 1960-2008, he is one of only two to lead the team to a playoff berth in his first season with the club (Herman Edwards, 2001). Overall, Mangini led the Jets to a regular season record of 23-25 in his three seasons. During Mangini's tenure in New York, the Jets committed the fewest penalties (210) and penalty yards (1,615) combined in the NFL over that three-year span. Special teams also proved to be a point of emphasis as the Jets accounted for six return touchdowns, tying for the second-most in the NFL during the stretch while allowing only one, which tied for the fewest. In 2008, the Jets possessed one of the most potent offenses in the NFL, producing 405 points, which was not only the third-most in the AFC but also represented the third-highest single-season figure in franchise history. The running game was particularly effective in 2008, as the Jets were third in the AFC in average per rush attempt (4.7), tied for third in the AFC in rushing touchdowns (20) and ranked fourth in the AFC in rushing yards per game (125.3).
Eight different Jets earned Pro Bowl berths over the three years that Mangini was head coach, including seven following the 2008 season. Of the eight, three were drafted in Mangini's first two seasons with the team (C Nick Mangold, CB Darrelle Revis and KR Leon Washington), while four others (DT Kris Jenkins, QB Brett Favre, RB Thomas Jones and G Alan Faneca) were either traded for or signed while he was the head coach.
As a head coach, a key component to Mangini's mantra is the set of core values that he instills in his team. These four values are Communication, Focus, Finish and Trust. Players are constantly reminded of these values and they are now prominently displayed on the practice fields at the Browns' Berea, Ohio training facility. To successfully carry through with these values, Mangini continually seeks out players who possess a set of six core characteristics: Smart, Tough, Competitive, Hard Working, Selfless and guys to whom Football Is Important.
Prior to joining the Jets as head coach, Mangini spent six seasons with the New England Patriots (2000-05). His first five seasons were spent as defensive backs coach (2000-04) before being promoted to defensive coordinator in 2005. In Mangini's five seasons in charge of the team's secondary, the unit earned five Pro Bowl selections and evolved into one of the NFL's most successful defensive backfields. The Patriots recorded 99 interceptions from 2000-04, the fifth-highest total in the NFL over this span. Their 14 interception returns for touchdowns in those five years tied with Tampa Bay for the most in the NFL.
The performance of the Patriots' secondary and their ability to succeed despite key injuries earned high acclaim in 2004. During the regular season, seven different defensive backs recorded at least one interception while also accounting for more than half of the team's 36 takeaways. In the postseason, defensive backs registered six interceptions in three games. Injuries forced Mangini to utilize nine different starters that year, while he also had to convert a linebacker and a wide receiver into defensive backs. Following season-ending injuries to each of the opening-day starting cornerbacks, Mangini enlisted second-year performer Asante Samuel and undrafted rookie Randall Gay, who started 23 games combined, including all three playoff contests. In addition, under Mangini's tutelage, 12-year veteran wide receiver Troy Brown learned to play cornerback; Brown recorded 17 tackles and three interceptions, tying for second on the team. Linebacker Don Davis was also used in the secondary, starting at safety for the final two games of the regular season. Despite these drastic changes, Patriots' opponents produced a composite passer rating of only 75.3 during the regular season, giving New England the fourth-best mark in the AFC, as the Patriots marched to their third Super Bowl title in a span of four seasons.
The secondary was an integral part of a dominating defense that led the NFL in 2003 by allowing a franchise-record low 14.9 points per game. The Patriots ended the season with 15 consecutive wins, including the Super Bowl XXXVIII title. New England's pass defense led the NFL in four key categories that year: interceptions (29), fewest touchdown receptions allowed (11), opponents' passer rating (56.2) and pass deflections (121). The Patriots' 29 interceptions were the second-most in club history and the most by a Patriots team in 40 years (31 in 1963).
Prior to his stint in New England, Mangini was an assistant coach with the Jets under head coach Bill Parcells from 1997-99. He served primarily as the Jets' defensive assistant/quality control coach and worked closely with Bill Belichick, who was the Jets' assistant head coach/secondary. Mangini was also responsible for advance opponent film breakdowns and analysis. In 1999, the Jets' defense ranked third in the AFC with 24 interceptions, the team's highest total since 1969 (29). The defensive backs recorded 18 of those 24 interceptions. In 1998, the Jets' defense surrendered an average of just 16.6 points per game, a figure that ranked third in franchise history, helping the Jets to a 12-4 regular season record and the club's first division title, as they advanced to the AFC Championship Game before falling to the eventual Super Bowl champion Denver Broncos.
Mangini's first coaching opportunity came in 1995 as an assistant on the Browns' staff. Ted Marchibroda retained Mangini when the team moved to Baltimore in 1996 and became the Ravens, where he worked as an offensive assistant/quality control coach. The Ravens averaged 357.7 yards per game during the 1996 season, the third-highest figure in the NFL that year.
Philanthropy
Mangini realizes the importance of giving back to the community. In 2002, Mangini, along with his brother, Kyle, founded the Carmine & Frank Mangini (CFM) Foundation to benefit under-resourced children. Each year in Hartford, Mangini hosts a one-day football fundamentals minicamp that raises money for the foundation. The camp was first held in 2002 and has grown each year, giving athletes in grades 8-12 a chance to learn skills from some of the NFL's top players and coaches. This past year, more than 125 volunteer coaches taught more than 760 students during the one-day session.
During his tenure in New York, Mangini and his wife, Julie, were strongly committed to their philanthropic endeavors. Mangini hosted the inaugural Charity Bowl at Chelsea Piers in New York City in May 2007 and then again in 2008, the proceeds from which benefitted non-profit organizations committed to providing athletic and academic opportunities to deserving children. In addition, the couple has actively supported other charitable organizations including Homeless Solutions, Inc. and the St. Elizabeth House.
Mangini's work off the field has also included a couple of television appearances. In 2007, along with Jets players Chad Pennington, Laveranues Coles and Ben Graham, he was in an episode of Sesame Street in which he taught Elmo and his goldfish, Dorothy, the basics of football and the alphabet. Also that year, he made a cameo in the final season of the hit HBO series The Sopranos.
Personal
Mangini played nose tackle and earned four letters (1989-90, 1992-93) at Wesleyan University in Middletown, Connecticut. He set a school record with 36.5 career sacks, including 22 during his final two seasons. In 1993, he ranked second in school history in total tackles and was voted a first-team all-star by NESCAC and ECAC-New England Division III. He also earned All-America third-team and All-East Coast honors in 1992 and 1993. He graduated from Wesleyan in 1994 with a degree in political science.
As an undergraduate at Wesleyan, Mangini worked as an intern for the New England Crusaders, a minor league football team. Mangini also spent two seasons in Melbourne, Australia as the head coach/defensive coordinator for the Kew Colts, a semi-professional football team. He led the team to a two-year mark of 22-3-1 and a pair of championships. It was in Australia that Mangini's love of coaching began to grow.
Mangini is a native of Hartford, where he attended Bulkeley High School. As a senior in 1988, he received the Brian Piccolo Award for outstanding athletic and academic achievement, was named the Scholar Athlete of the Year and earned the scholar-athlete award from the National Football Foundation and College Hall of Fame.
Eric and Julie have three sons: Jake, Luke and Zack.
Coaching Background:
1996 Baltimore Ravens, offensive assistant
1997-99 New York Jets, defensive quality control coach
2000-04 New England Patriots, defensive backs coach
2005 New England Patriots, defensive coordinator
2006-08 New York Jets, head coach
2009 Cleveland Browns, head coach
Read more
Latest headlines