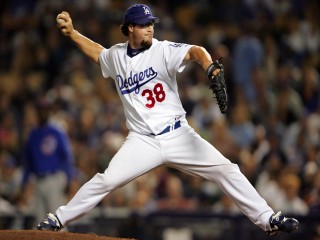 Eric Serge Gagne biography
Date of birth : 1976-01-07
Date of death : -
Birthplace : Montreal, Canada
Nationality : Canadian
Category : Sports
Last modified : 2010-10-28
Credited as : Baseball player MLB, pitcher with the Los Angeles Dodgers,
GROWING UP
Eric Serge Gagne
was born on January 7, 1976, in Montreal, Canada. His family lived in Mascouche, a suburb less than 10 miles north of the French-speaking city. Eric's parents, Richard and Carole, encouraged Eric and his brother, Dominic, to play sports. Soon, it became clear that Eric would be the big-time athlete in the family.
Like most kids in Canada, Eric was a hockey fanatic. The Canadiens launched a run of four consecutive Stanley Cup the year he entered the world, and surprised their fans with another title in 1986 behind the goaltending of rookie Patrick Roy. Just a few months past his 10th birthday, Eric celebrated the championship with the rest of Montreal's delirious residents.
By then, the youngster had embarked on a hockey career of his own. A decent skater with an appetite for the dirty work needed in the corners and around the net, Eric matured into a rough-and-tumble defenseman and self-described "goon." He protected his more skilled teammates, making sure they had plenty of room to operate. Eric still has scars on his hands from the many fights he got into on the ice, and the goggles he wears became necessary after a slash caused an eye injury. (Eventually, Eric will probably opt for laser surgery, but can't have the procedure done until his eyesight stabilizes.) Hockey was a great outlet for Eric. Whatever frustrations he was feeling in school or at home, he was able to relieve once he strapped on his skates.
Eric was also a huge baseball fan. He loved the Expos, and regularly took the short trip from home to catch a game at Olympic Stadium. At the time, Montreal was a team on the rise. During the 1980s the club developed wave after wave of talented young players, including Andre Dawson, Andres Galarraga and Tim Raines. Eric's favorite player was third baseman Tim Wallach, a five-time All-Star who hit 260 home runs over 17 big-league seasons. He often dreamed of following in Wallach's footsteps.
Eric attended Montreal's highly regarded Polyvalente Edouard Montpetit High School, where he played hockey and baseball. Eager to experience life on his own, he moved out of his parents' home when he was 15, taking up residence in an apartment provided by his school.
Throughout high school, Eric flip-flopped between thoughts of professional baseball and professional hockey. The NHL was much more exciting to him, but his talents seemed to point him toward the big leagues. At more than six feet tall and nearly 200 pounds, Eric was a pure power pitcher with a dominant fastball and intimidating demeanor. An ace on Team Canada's Junior World Championships squads for two years, he was used exclusively as a starter until 1995. That summer he joined the Canadian National Team, and pitched out of the bullpen for the first time. The move was made because of the club's pitching depth. Indeed, among his teammates was British Columbia native Ryan Dempster, Eric's roommate on the road. During his brief stint as a reliever, Eric exhibited a talent for closing games.
At this point, Eric had already begun to attract the attention of big-league scouts He was a 30th-round draft choice of Chicago White Sox in 1994, but was still undecided about which sport he wanted to pursue. A hockey scholarship to the University of Vermont was on the table, and Eric also had visions of representing Canada on the diamond in 1996 Olympics. Either way, he felt the White Sox were his third-best option.
Eric ultimately decided to pursue baseball, then headed to Seminole State Junior College in Oklahoma, electing to play for the Trojans and their coach Lloyd Simmons. There Eric developed further as a hurler. The 19-year-old had an ornery streak that Simmons loved. Eric wasn't adverse to coming in high and tight against hitters, and his manager encouraged him to be as aggressive as possible on the mound. Thanks to his overpowering arsenal (fastball, slider and splitter) and take-no-prisoners mentality, Eric remained a hot prospect in the eyes of big-league teams.
They were also impressed with the way the freshman assimilated to a different culture. He arrived at Seminole State speaking French only, but taught himself English by taping classroom lectures and listening to them over and over again. He also met with a tutor twice a day, and watched a lot of television, picking up everyday lingo from shows like "Mad About You" and "Everybody Loves Raymond."
One scout who kept a keen eye on Eric was Claude Pelletier, a Canadian native working for the Los Angeles Dodgers. Pelletier had been tracking Eric since the youngster's 15th birthday, and loved what he saw from him in the spring of '95. When he approached Eric about signing with the Dodgers, the righthander hesitated. Pitching for Canada in the '96 Olympics was still a goal. But Pelletier reminded him that the national team had yet to qualify for the Atlanta Summer Games, while a deal with the Dodgers guaranteed him a shot at pro ball. Convinced by this argument, Eric agreed to a deal that included a $75,000 signing bonus—though the Los Angeles brass sent several other scouts to evaluate him before making it official.
ON THE RISE
Eric's first stop with the Dodgers was the Savannah Sand Gnats of the Class-A South Atlantic League. He proved he was worth every penny of his bonus, going 7-6 and striking out 131 batter in 115 innings. But the strain of his first full season in the minors took its toll. In fact, Eric was sidelined all of 1997 after having "Tommy John" surgery on his right elbow.
Sitting out an entire year was torture for Eric. For nearly six months, he wasn't even allowed to play catch, and once he was cleared to start throwing, his recovery was monitored closely.
In hindsight, however, Eric's injury may have been a blessing in disguise. In the spring of 1998, he returned to the field and was assigned to Class-A Vero Beach of the Florida State League. Highly protective of their prospect, the Dodgers forbade him to use his slider and splitter, afraid his arm wasn't ready for either pitch. Meanwhile, Eric discovered he had yet to gain the full velocity on his fastball. Desperate for a way to retire opposing hitters, he began experimenting with different changeup grips. As the season progressed and his arm strength increased, Eric showed steady improvement. He finished the year with nine victories and was fourth in the FSL with 144 strikeouts. Most important, Eric had learned how to pull the string on hitters, which would make his other pitches even more effective.
Eric's big breakthrough came in 1999 with the San Antonio Missions of the Texas League. Tabbed by Baseball Weekly as a Dodger sleeper, he settled on a four-seam changeup that became his out pitch. Eric blitzed through the first half of the season and earned a spot in the Double-A All-Star Game, where he logged two perfect innings. He continued to dominate after the break. At one point he posted double-digit K numbers in each of five straight starts, becoming the first minor league pitcher in three years to do so.
The Dodgers called Eric up for his big-league debut on September 7. Facing the Florida Marlins, he fanned eight in six scoreless innings, and also collected his first hit. Eric appeared in four more games, three of them starts. He picked up his first win in Houston, limiting the Astros to five hits and no runs over six innings. Overall with Los Angeles, he went 1-1 with a 2.10 ERA, and held opposing batters to .175 batting average.
His numbers with San Antonio drew even more praise. Named the Dodger Minor League Pitcher of the Year, he posted a record of 12-4, and his 185 strikeouts in 167 innings topped the Texas League.
Eric entered 2000 an apparent lock for the Los Angeles starting rotation. But he lost control of his fastball in spring training and got hammered to the tune of a 15.63 ERA. Demoted to the Triple-A Albuquerque Dukes of the Pacific Coast League, Eric was recalled two weeks into the year, when Dodger ace Kevin Brown went on the DL. But he never got on track, and it was a yo-yo, so-so season for him. Eric was sent back to Albuquerque twice more, in June and July. He made the most of his time with the Dukes, compiling a 5-1 mark with a 3.88 ERA, and beat the Memphis Redbirds in the semifinals of the PCL playoffs.
But Eric was more interested in sticking with the Dodgers than excelling in the post-season at Triple-A. He rejoined the big club in September, just two hours before taking the hill in Arizona's Bank One Ballpark. With no time to be nervous, Eric defeated the Diamondbacks 6-3. He won two more times before the season ended, pitching to a 2.53 ERA over his final four starts.
The situation in front of Eric heading into the 2001 campaign was very similar to the one the year before. The top four in the Dodger rotation were set, with Brown again the staff anchor and Chan Ho Park, free-agent Andy Ashby and Darren Dreifort filling in behind him. Though veteran Ramon Martinez was also in camp, the fifth spot was Eric's if he pitched well in spring training. Eager for the opportunity, he secured a place on the team's 25-man roster, then started the second game of the regular season, getting a no-decision in a 3-2 loss to Randy Johnson and the Diamondbacks. Two weeks later Eric twirled eight sparkling innings against the San Francisco Giants to earn his first victory of the year.
Unfortunately, that outing proved to be the campaign's high point for him. Eric failed to win over his next nine starts, posting a 6.40 ERA. By June the Dodgers had no choice but to option him back to Triple-A. After a month in the minors, Eric was brought back up when Los Angeles had no starter available for a game against the Giants. Again he handcuffed the San Francisco hitters, going six strong innings in a 4-3 victory. Caught in a numbers game, the next day he was sent back to Triple-A.
Eric rejoined the Dodgers for good in mid-July, and won his first two starts, including a record-setting 22-7 blowout in Colorado. But with Los Angeles battling for the Wild Card, rookie manager Jim Tracy decided the 25-year-old would give the club a bigger boost from the bullpen. Throwing long relief down the stretch, Eric showed he could be effective in his new role. The Dodgers, however, didn't have the horses to make up the ground in the playoff race, ending the season at 86-76 and out of the post-season.
While Eric's final numbers weren't particularly impressive (6 wins with a 4.75 ERA), he performed well enough to get back in management's good graces. He didn't complain when banished to the minors or removed from the starting rotation, and his stuff was so overpowering at times that the Dodgers knew he could still develop into a top-flight pitcher.
MAKING HIS MARK
Based on his strong finish in '01, Eric earned the right to compete for the #2 spot behind Brown in 2002. Also in camp were Ashby and off-season acquisitions Hideo Nomo, Kaz Ishii, Omar Daal and Odalis Perez. As if Tracy didn't have enough juggling to do in his rotation, the bullpen was even more unsettled. The team didn't pick up the option on closer Jeff Shaw, an All-Star who registered 43 saves the year before, meaning the job was up grabs. The leading candidates were Matt Herges and Paul Quantrill.
The batting order was uncertain, too. Besides rightfielder Shawn Green, there were questions at nearly every position. Paul Lo Duca, coming off a breakout year behind the plate, had to prove he wasn't a fluke. At the hot corner, Adrian Beltre was still recovering from a botched appendectomy, Brian Jordan acquired in a deal for Gary Sheffield, was always a misstep away from the DL, and first baseman Eric Karros's days as an RBI machine were coming to an end thanks to a bad back.
As training camp progressed, one picture that gained surprising clarity was the closer's role. When it looked as if Eric might be the odd man out in the starting rotation, Tracy experimented with him in the late innings and he seemed to flourish under the pressure. The Dodgers had actually been toying with the switch for nearly nine months. In July of the previous year, Dave Wallace, the team's GM at the time and a noted pitching guru, suggested that Eric might be perfectly suited to be a stopper. Not only did he have a terrific assortment of pitches, but his in-your-face style translated well to situations with the game on the line. Eric was also in the best shape of his life, the result of an ambitious training regimen with a group of hard-nosed hockey players back home in Montreal.
In the fourth contest of the regular season, Tracy inserted Eric in the ninth against the Giants. After issuing an intentional walk to Barry Bonds, he fanned Jeff Kent and induced a harmless fly off the bat of Reggie Sanders. From that point on, Eric was Tracy's man.
Eric was perfect the rest of April, at one point retiring 19 batters in a row and ending the month with nine saves and a microscopic 0.69 ERA. He blew his first game in early May, surrendering a two-out, ninth-inning homer to Sheffield in Atlanta. But he bounced back the following night to preserve a victory for Perez by striking out the side. Honored as June's NL Pitcher of the Month, Eric converted his next 19 save opportunities, and quickly established himself as one of the game's most feared closers. More than his sterling record, it was the way he did it: Eric routinely made big leaguers look as helpless as Little Leaguers.
When Eric registered his 30th save on July 1, he became the fastest to reach that plateau in baseball history. The Dodgers, meanwhile, were trying to keep pace with the Diamondbacks and Giants in the NL West. With Green, Lo Duca and Beltre all struggling to find consistency at the plate, Los Angeles was forced to rely heavily on its pitching. To Tracy's delight, Nomo, Ishii and Perez stepped up, and of course Eric ensured that every lead was safe come the ninth inning.
After being named to the NL All-Star team, Eric continued his dominance. On August 24, he tied Todd Worrell's club team mark with his 44th save. Four days later he broke the record against Arizona. With the Dodgers still clinging to hopes of a playoff berth, every win down the stretch was huge. It wasn't to be, however, as Los Angeles fell short, despite a respectable record of 92-70.
Still, for Eric the year was a smashing success. He finished at 4-1 with 52 saves and a 1.97 ERA. In 82 1/3 innings, he fanned 114, allowed just 81 hits and walks, and retired the side in order 33 times. His '02 save total ranked fifth on the all-time list behind Bobby Thigpen (57 in 1990), John Smoltz (55 in 2002), Trevor Hoffman (53 in 1998) and Randy Myers (53 in 1993).
Eric didn't skip a beat in 2003. In fact, he was even been better than advertised. When he notched six saves in seven games during mid-May, the Cy Young talk began. By early September he put a death lock on the award. He recorded his 40th consecutive save in August, breaking Jose Mesa's mark for perfection to start a season. (The only blemish on Eric's record came when Hank Blalock touched him for a homer in the All-Star Game.) On the 28th of the month he saved his 44th straight, breaking Tom Gordon's single-season record. And on September 2nd, Eric slammed the door for 55 in a row (dating back to 2002) to set a new standard.
It is frightening to think where the Dodgers would have been without Eric. Injuries to the outfield of Green, Jordan and Dave Roberts—and a disappearing act by fourth outfielder Daryle Ward—destroyed the offense, and the addition of veterans Jeromy Burnitz, Ricky Henderson and Robin Ventura had little impact. Thanks to Eric and set-up man Guillermo Mota, the few leads the Dodgers took into the late innings tended to stand up. Still, they finished out of the playoffs once again.
Over the winter, the Dodgers figured to be a major player in the free agent market. The team also had to open its wallet for Eric, who won the Cy Young in a landslide vote. The Dodgers, however, chose the easy way out. Rather than negotiating a long-term deal, the club renewed his contract at the ridiculously low price of $550,000, making Eric the best bargain in baseball.
What really confounded fans in LA was the team's unwillingness to spend on other big names. The Dodgers shed payroll by dealing Brown to New York for underachiever Jeff Weaver, but didn't add any true impact players. Consequnetly, the club entered 2004 as somewhat of an afterthought in the NL West. In fact, Eric's saves streak garnered as much attention as any story in the spring.
But the Dodgers soon began to make headlines of their own. In his walk year, Beltre was finally playing up to expectations, the starting rotation was throwing quality innings, and Tracy was pushing all the right buttons from the dugout.
Eric was also at the top of his game. He headed into July without a blown save, running his streak to 84 in a row. But Eric was bound to slip up. In early July, up by two runs in the ninth against the Diamondbacks, he surrendered consecutive singles to Shea Hillenbrand, Luis Gonzalez and Chad Tracy, allowing Arizona to tie the game. His first misstep in more than a year, Eric responded with an impressive display of pitching. Over the next ten games, he produced nine saves, giving up seven hits and no earned runs in 15 innings. Named to his third All-Star team, Eric hurled an inning of scoreless relief in Houston in the Mid-Summer Classic.
With the Dodgers batting for first place, management gambled on a blockbuster deal, shipping Lo Duca, Juan Encarnacion and Guillermo Mota to the Marlins for Hee Seop Choi and Brad Penny. The back-end of the trade was supposed to bring Randy Johnson to LA as well. But when the Big Unit nixed the move, the Dodgers were left holding the bag, widely criticized for breaking up a good club. Even when they acquired Steve Finley a short time later, fans weren't satisfied.
The heat intensified in August when Eric got shelled in the ninth against Florida, blowing his second game in six weeks. But Tracy righted the ship, with help from Beltre, and the Dodgers held on to take the West.
Eric did his job down the stretch, and established several milestones along the way. In September, he notched his 100th strikeout of the season, becoming the first relief pitcher in franchise history to have three years with 100-plus K's. The owner of 45 saves, he also posted a personal-best 7-3 record, the most wins in a season for him since pitching as starter in 2001.
A chance at a World Series title, however, was Eric's greatest thrill. The Dodgers faced St. Louis in their Division Series, but the Cardinals proved too deep and too powerful. After Perez and Weaver got hammered in the first two games on the road, Jose Lima spun his first shutout in three years to kepp LA alive. But the Cards scored early and often in Game Four, and cruised to the series victory. Eric saw his first postseason action in St. Louis, fanning two in one inning of work. He also hurled two spotless innings in the decider.
Eric went into 2005 knowing the Dodgers had a real shot to return to post-season play. Derek Lowe had joined the starting staff and Jeff Kent would give them power at second base. During spring training, Eric dealt with a gimpy left knee, which had been bothering him before camp even opened. He felt fine when the season started, but before a week had passed he was on the DL with a sore elbow. The injury was diagnosed as a strain, and he came back briefly in May, but the pain grew worse. Eric went back on the DL, this time with a partial tear in the ulnar collateral ligament.
Initially, doctors thought he might require Tommy John surgery again. But when they examined the arm more closely, the damage was not as bad as they thought. If all goes well, he should be ready to go in 2006. (One of his goals is to return to full health in time to pitch for Canada in the World Baseball Classic in March.)
In the meantime, the Dodgers limped along with the likes of Yhencey Brazoban and Duaner Sanchez closing games. Eric tried to teach Brazoban a change-up, but it wasn't happening, and after some initial success the young fireballer lost the stopper's job. Los Angeles finished the year under .500, as the injury bug also bit the entire outfield of J.D. Drew, Milton Bradley and Jayson Werth.
Eric's focus has shifted from a World Series appearance to simply regaining his old form. Of course, he's a guy who thinks big. When he looks at the lackluster West in 2006, you know what he wants: Both.
ERIC THE PLAYER
Eric is helping shatter the long-held belief that to be a dominant closer, you should develop just one reliable pitch. Like John Smoltz, he can choose from a full assortment of offerings to retire opposing batters. His fastball clocks close to 100 mph, his curve buckles even the best hitters' knees, his cutter darts like a gnat and his changeup is nearly impossible to handle given how hard he throws. His control of all four pitches is exquisite. Once he gets ahead in the count, forget about it.
Eric has been successful as a stopper because the job fits his mental approach to the game. As a starter, he often got restless and lost his edge between appearances. Knowing that he has a chance to pitch every game keeps him sharp. Eric also loves to attack hitters—an attitude he learned from his years bullying opponents on the ice. When he enters a contest, his only concerns are throwing strikes and rattling the enemy. The rock anthem that accompanies his every trip to the mound in Chavez Ravine has helped create an aura around this odd-looking young man, and it often puts batters on the defensive.
Eric's only serious injury occurred in 1997. Since then, he's been healthy, and his winter workout program should keep him that way. As Mariano Rivera has proven, a lights-out closer is a valuable commodity to have come the post-season. When a team can shorten a game by an inning or two, it applies incredible pressure on the opponent. That's one of the primary advantages Eric offers his club.
Read more
Latest headlines