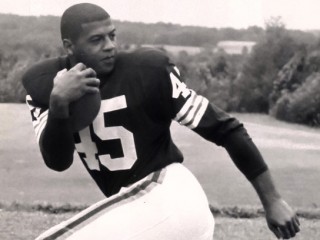 Ernie Davis biography
Date of birth : 1939-12-14
Date of death : 1963-05-18
Birthplace : New Salem, Fayette County, Pennsylvania
Nationality : American
Category : Sports
Last modified : 2010-08-09
Credited as : Football player NFL, played for the Washington Redskins, first African-American athlete to win the Heisman Trophy
Every so often, someone comes along who changes the math of football. Someone who is too quick to trap, too big to knock down, and too fast to catch from behind. Someone like
Ernie Davis
. As soon as Jim Brown left Syracuse University, Ernie stepped into his shoes and broke his records. Next, he was ready to join Brown in what might have been the NFL's greatest backfield before the unthinkable happened. Less than a year after being drafted—and before he ever played a down for the Cleveland Browns—Ernie was dead. With the 2008 release of the biopic "The Express," Hollywood breathed life back into Ernie Davis. His extraordinary story is worth getting to know.
Ernest R. Davis
was born on December 14, 1939 in New Salem, Pennsylvania. His parents split up when he was an infant, and his father was killed in an accident before his second birthday. Ernie's mother, Marie Davis, sent him to live with her parents, Elizabeth and Willie, in Uniontown, Pennsylvania. The family was poor, and the town—located an hour south of Pittsburgh—wasn't any better offer.
Ernie stuttered as a child. Over the years, as he was forced to speak more and more in public, he managed to overcome this problem.
Ernie loved college football and listened to games on the radio. He tuned into Notre Dame broadcasts and rooted for stars such as Johnny Lujack and Leon Hart. The idea of playing in front of capacity crowds excited Ernie to no end. He was even more intrigued by the prospect of traveling the country. As a boy, this was the real allure of big-time football for Ernie.
When Ernie was 12, he moved with his mother and stepfather to Elmira, New York. Over the next few years, he listened to football less and played it more. Ernie was a big, swift running back and a standout defensive player. He played Small Fry football for a team sponsored by an Elmira Buick dealer. Twice he was named an All-Star.
In 1954, Ernie enrolled at Elmira Free Academy. His football career got off to a horrendous start when he snapped his left wrist in the first minute of his first varsity game. He recovered in time to letter for the basketball and baseball teams, which he would do four times each. Ernie could run, catch, and throw, but was no better than average at the plate.
Ernie was markedly better on the hardwood—so much so that he admitted growing bored with the game. This did not, however, keep him from leading Elmira to 52 straight wins during his junior and senior seasons. Jim Flynn's Blue Devils went 66–1 in Ernie's final three years and won three conference championships. Ernie was named a Scholastic All-American in basketball for 1957–58. Later he took up boxing. He once knocked out a man he saw hassling a young child.
Ernie's future was on the football field, of course. In each of his three healthy seasons, he was named All-Conference. Ernie was voted the city's Player of the Year as a junior and senior and a High School All-America both seasons. Over time, he readjusted his goals and decided he would become the best player in the National Football League. EFA coach Marty Harrigan had no doubt his young star would reach this level. Ernie had already led the Blue Devils to the conference championship as a sophomore and junior.
Ernie fielded offers from a number of big-time football programs, including Notre Dame and UCLA. Iin the end, he chose to stay closer to home and follow in Jim Brown's footsteps at Syracuse. Brown played no small part in Ernie's decision process. The superstar running back sold the teenager on the schooland even gave his blessing to Ernie wearing his number 44.
What also appealed to Ernie and others was the warm welcome coach Ben Schwartzwalder extended to African-American players. While many schools resisted full-bore integration of their sports teams, Syracuse was one of the most progressive in this respect.
According to the rules of the time, Ernie was only allowed to play freshman football during his first season in 1958. He led the frosh squad to its first undefeated campaign. The varsity, meanwhile, finished the year as the AP's ninth-ranked team in the nation. Syracuse earned an invitation to the Orange Bowl. The Orangemen were thrashed by Oklahoma in a mistake-filled game, 21–6. Fans wondered what Syracuse might have accomplished had Ernie been cleared to suit up for the varsity.
When the college football experts surveyed the field in 1959, Syracuse was not initially part of the picture. The Orangemen squeaked into the pre-season Top 20 rankings, but they were hardly considered a powerhouse. LSU, Auburn, and the Sooners were seen as the cream of the crop—particularly Oklahoma, which was coming off its Orange Bowl trouncing of the Orangemen.
With Ernie now on the varsity, Syracuse took a formidable squad into the '59 season. Not surpisingly, much attention was focused on the Orangemen's offense. But the team's defense had a chance to be sensational, too. Coach Schwartzwalder's openness to recruiting African-American players had indeed paid handsome dividends. In addition to Ernie, Syracusde featured Art Baker, who was one of the country's best fullbacks and linebackers. Tackle John Brown was also a star.
It did not take long for the college football world to wake up to the fact it had underestimated Syracuse. Ernie was the top sophomore in the nation. He kept defenses on their heels, slicing through opponents like a hot knife through butter. Ernie made plays like the inside reverse—a Schwartzwalder special—almost unstoppable. He seemed to many a carbon-copy of Jim Brown, only with more speed. Ernie's ability to spread the defense, shake tackles and keep drives alive kept the Syracuse defensive unit fresh. When the Orangemen took the field on defense (often with Ernie among them), they were simply awesome.
In their opening game against Kansas, the Orangemen erased an early deficit to beat John Hadl and the Jayhawks, 35–21. A week later, Syracuse suffocated Maryland. In a 29-0 blowout, the Terrapins gained just 29 yards. Ernie made the play of the day, rumbling 26 yards for a touchdown.
Syracuse went 3–0 with a 32–6 victory over Navy that featured four interceptions. The Orangemen won two more games, 42–6 over Holy Cross and 44–0 over West Virginia. In the contest against the Mountaineers, Ernie gained 141 yards on nine carries to set a school record with a 15.7 average.
Against Pitt, Syracuse held the enemy to –29 yards on the ground and won 35–0. After the game, a local sportswriter dubbed Ernie the "Elmira Express." That week, the Orangemen rose to #4 in the national polls. The following Saturday, they traveled to College Station for a showdown with Penn State. In a game that saw momentum swing back and forth, the Syracuse defense slammed the door on the Nittany Lions offense in the second half and held on to win 20–18. The next day, the Orangemen were christened America's top college team.
Syracuse followed its victory at Penn State with a 71–0 wipeout of Colgate and a 46–0 shutout of Boston University. Against the Terriers, Ernie was a one-man show. That victory ran the Orangemen's record to 9–0. Syracuse capped its season with a 36–8 trouncing of UCLA in California. West coast writers had expressed doubts about the Orangemen before they made the trip. But after racking up 456 yards of offense and holding halfback Billy Kilmer and the Bruins to –13 yards on the ground, there was not much left to doubt. Following the game, UCLA coach Bill Barnes called Syracuse "one of the greatest I've ever seen."
Ernie's final regular-season numbers were 112 rushes for a team-leading 686 yards. Baker gained 507 yards. Ger Shwedes, who played halfback and quarterback, ran for 567 yards and scored 100 points. Ernie was second on the team with 64 points. To say the Syracuse attack was balanced would be an understatement. To say the defense was dominant doesn't begin to describe how effective it was. On countless series, opponents ended up punting the ball back to the Orangemen after losing yardage on the possession. Syracuse outrushed its foes by a mind-boggling ratio of 3,136 yards to 193. The team scored 390 points and allowed only 59.
On New Year's Day, #1 Syracuse faced #2 Texas in a Cotton Bowl match-up that would have made the BCS proud. Unforunately, it was an ugly contest filled with racial slurs and fights. Ernie played the game of his life despite a sore hamstring. He opened the scoring on the third play from scrimmage with an 87-yard touchdown romp after catching a short pass from Schwedes. It was the longest TD pass in major bowl game history at that point. On defense, Ernie intercepted a pass in the third quarter, and then set up a touchdown moments later with a 21-yard run. He also scored a touchdown on fourth down to ruin a potential game-changing goal-line stand by the Longhorns. He made the two-point conversion on the next play. Syracuse won 23–14, and Ernie finished his first varsity season as the Cotton Bowl MVP.
Ernie's Cotton Bowl triumph was tempered by an incident at the awards ceremony after the game. He was told that the Dallas banquet facility did not serve negroes; he would be allowed to accept his award but would not be allowed to eat in the hall. Ernie refused to accept the trophy, and his teammates walked out on the banquet.
Back on the Syracuse campus, the students returned from holiday break to celebrate their school's first national championship and first undefeated football season in 71 years. One of the revelers was Helen Gott, a Jersey girl who was a class behind Ernie. Soon they would be talking marriage.
Syracuse began the 1960 season as co-favorite with Ole Miss to vie for the national championship. On paper, the Orangemen looked just as good, only one year older. On the first play of the year, against Boston University, Ernie tore thrugh the defense for an 80-yard score. The Orangemen rolled along until the Pitt game. The Panthers had been laying in wait for Syracuse since the previous year's 35–0 humiliation and returned the favor with a 10–0 shutout that dropped the Orangemen from to #9 in the country. Mike Ditka led a brilliant defensive effort that held Ernie and his teammates to 138 total yards—more than 200 yards under their season average.
Still reeling from the Pitt defeat, the Orangemen found themselves playing Army in Yankee Stadium a week later. Tom Blanda (George's brother) passed and kicked the Cadets to a 9–6 victory.
Ernie completed a solid regular season with 877 rushing yards and 141 receiving yards. His 62 points led the team, and he topped the century mark in rushing in six of nine games. Ernie—the nation's third-leading runner—eclipsed a record set by Jim Brown with 7.8 yards per carry.
At season's end, NCAA coaches voted Ernie a First-Team All-American. The syracuse running attack, however, never quite reached the level of effectiveness it displayed in 1959, despite the presence of future NFL line stars Walt Sweeney and Dave Meggysey.
Ernie was now one of the marquee stars in college football. When Syracuse traveled, he was the featured attraction. Ernie cut a dashing figure both on and off the field. He stood 6–2, weighed 210 pounds and ran with startling power. Ernie was by the far the most-interviewed of the Orangemen. He was polite, thoughtful and soft-spoken, especially when asked to compare himself to Jim Brown. Ernie developed a pat answer: "Guys like Jim Brown come once in a million years. I try to do the best I can. I just want to play like Ernie Davis.
Enemy tacklers kept Ernie in their crosshairs throughout his senior season in 1961, but it was the rare game in which they were able to do much more than slow him down. He turned the corner as well as any halfback in the college game and had the power to blast through small openings in the line. If opponents didn't hit Ernie right away, he usually managed a first down or more. In the open field, he was almost uncatchable.
Syracuse had enough returning players to field a very competitive squad. Among the team's emerging stars was John Mackey. The big end's ability to catch passes and block opened things up for Ernie. The Orangemen opened the season with wins over Oregon State and West Virginia and then lost a 22–21 heartbreaker to Maryland. Ernie scored twice and set up the third touchdown with a 43-yard run, but Gary Collins made clutch plays on offense and defense at the end of the game to give the Terrapins a thrilling victory.
The Orangemen rebounded with a 28–6 thrashing of Nebraska. That win was followed with a loss to Penn State. Syracuse fell once more, 17–15 to Notre Dame, to finish the regular season at 7–3. Ernie was magnificent against the Fighting Irish, who won on a field goal with no time on the clock after a controversial roughing the kicker penalty.
Despite nagging ankle, knee and leg injuries, Ernie finished the year with 823 yards on the ground and 157 on receptions. He gained 90 or more yards six times and scored 94 points to lead the team. In the second-closest Heisman Trophy voting ever, Ernie edged Bob Ferguson of Ohio State 824 votes to 771. Jimmy Saxton of Texas was s close third. It marked the first time the Heisman had gone to an African-American player. Ferguson and fourth-place finisher Sandy Stephens of Minnesota were also black, so the vote truly represented a landmark moment in college football. Prior to Ernie's win, only four African-American players—including Buddy Young and Jim Brown—had ever made the Top 5 in the Heisman voting.
A quality schedule and Ernie's star power earned the Orangemen an invitation to the Liberty Bowl in December. On a bitterly cold day in Philadelphia, Syracuse battled George Mira and the Miami Hurricanes. Mira passed the Canes to a 14–0 halftime lead. After the intermission, coach Schwartzwalder placed the team's fate in Ernie hands. He battered Miami into submission, carrying the ball 30 times for 140 yards. Ernie scored a touchdown in the third quarter and grabbed a short pass from Dave Sarette for two points to make the scored 14–8.
Syracuse evened the score after taking over at midfield. Ernie gained 24 of the 51 yards on the drive, which ended with a pass to fellow halfback Dick Easterly. Ken Ericson booted the extra point for the 15–14 victory. Ernie was named the game's MVP.
Ernie capped off his college career with a second All-America nomination, as well as the Walter Camp Award as the top back in the nation.
Ernie's final college numbers, not including his bowl game stats, were impressive: 2,386 yards on 360 carries for a 6.6 average. He scored 220 points on 35 touchdowns and five conversions. He also threw for a touchdown during his senior year. Ernie caught 38 passes and averaged just over 10 yards per catch. On defense, he picked off five passes. In addition, he ran back 32 punts and kickoffs. Ernie graduated having shattered almost all of Jim Brown's rushing and scoring records. The Orangemen were 24–5 during his varsity career and won two bowl games. Ernie was named Most Valuable Player in both contests.
Ernie was truly a do-it-all player. Besides his running prowess, he was ahead of his time in his ability to come out of the backfield and run pass routes. On defense, he was what is now called a "shut-down" cornerback, and he hit like a train when ball carriers ventured onto his piece of turf. As an offensive-only player in the pros, his future was bright.
In February of 1962, Elmira held a day in Ernie's honor. In attendance was Governor Nelson Rockefeller. Ernie was given a new T-Bird convertible by the people of the city. During the speech-making, a letter penned by President John F. Kennedy was read. "Seldom has an athlete been more deserving of such a tribute," Kennedy wrote. "Your high standards of performance on the field and off the field, reflect the finest qualities of competition, sportsmanship and citizenship. The nation has bestowed upon you its highest awards for your athletic achievements. It's a privilege for me to address you tonight as an outstanding American, and as a worthy example of our youth. I salute you."
As the 1962 NFL draft approached, maneuvering in the cities of Cleveland and Washington, D.C. would determine Ernie's football fate. The Redskins were the league's last holdout on integration, and President Kennedy let Washington owner George Preston Marshall know that this would have to change. Marshall believed it would take the "right kind of player" to pull this off.
However, the notoriously cheap Marshall was not willing to pay for this player. He knew that signing Ernie would likely embroil him in a bidding war with the Buffalo Bills of the AFL. Instead, marshall drafted Ernie with the first pick, and then used his eighth pick to take Ron Hatcher, an African-American player from Michigan State. Relieved temporarily of pressure from the White House, Marshall shopped Ernie to the Browns, who just happened to have—at a significantly smaller salary—Bobby Mitchell.
Mitchell was talented, poised, well-respected and articulate. He was a perfect pick to lead the Redskins into the 20th century. In Cleveland, Mitchell shared the backfield with Jim Brown, but he was better suited to be a flanker or wide receiver. Coach Paul Brown wanted a back who could run the football and also lead the blocking for Brown. Ernie was his man.
The deal was done with the tentative blessing of Art Modell, Cleveland's dynamic young owner. Modell signed Ernie to a contract worth $200,000 a year. The rookie was assigned number 45. His contract was publicly reported at $80,000, however, which was still the most ever for an NFL newcomer at the time. This explains why Ernie turned down a salary offer thought to be $100,000 from the Bills.
At the press conference held to publicize the signing, a reporter asked what Ernie had in his pockets. He pulled out a nickel, a dime, and a penny.
With Ernie and Jim Brown in their backfield, Cleveland fans began dreaming of a return to the team's glory days of the 1940s and 1950s. At one point, in fact, the club went to the AAFC and NFL title game 10 years in a row.
That summer, prior to the College All-Star Game against the Green Bay Packers, Cleveland fans were shocked to hear that Ernie had been hospitalized with what was described as a blood disorder. He had been experiencing headaches, fever, and bleeding gums. Next he noticed some odd swelling in his neck and went to have it checked out. The doctors hoped it was just a severe case of the mumps, but suspected the worst.
Their fears were realized, as the exact diagnosis was acute monocytic leukemia, the most aggressive form of the disease. On Modell's orders, doctors did not tell Ernie how sick he was at first—simply that he had a rare blood disorder. The Browns' owner flew Ernie from specialist to specialist to see if there was a cure. In retrospect, his best chance would have been a bone marrow transplant, which was still highly experimental at the time. Even today, patients suffering from AML have only a 30 percent survival rate.
Doctors treated Ernie with a drug called 6-MP, and the cancer seemed to go into remission. He even tried practicing with the team. His lone appearance for the Browns came during a pre-season game against the Pittsburgh Steelers, when he ran on the field wearing his Cleveland jersey to thunderous cheers from the crowd of 78,000 at Municipal Stadium.
Ernie was too weak to actually suit up for the Browns that fall, but he usually sat with the team in street clothes on the bench. He could be seen around town between games and was greeted with tremendous warmth by the citizenry. Ernie tried to maintain his strength by playing pick-up basketball games. Sometime in October, he learned just how bad off he was.
Though he put a happy face on things, the situation was frustrating to Ernie, who felt like he was getting close to 100 percent physically as the weeks wore on. Before long, he realized it was too late to contribute to the club, which finished a distant third in the Eastern Conference at 7–6–1.
When cornered by the press, Ernie assured reporters that he would be back on the field, and spoke confidently of his plan to play 10 or 11 years and then go into business. Jim Brown used his pull to get Ernie a marketing job with Pepsi over the winter.
In May of 1963, Ernie felt more swelling. He let Modell know that he was checking himself into Lakeside Hospital in Cleveland for some more tests. He apologized for costing the team so much money and promised he would help them return to the championship game the following season. One day later, Ernie lapsed into a coma. He died the next morning, on May 18th. He was 23.
Jim Brown, who had known Ernie since his high school days and who had seen him at his best and worst, claims that his mood and outlook never changed. "He asked for nothing," Brown says, "wanted no special consideration, but was always grateful for whatever he received."
"Some people say I'm unlucky," Davis wrote in a memoir for The Saturday Evening Post, "I don't believe it ... when I look back, I can't call myself unlucky. My 23rd birthday was December 14th. In these years I have had more than most people get in a lifetime."
"The way he carried himself," Brown adds, "the way he did not drown in his own tears, the way that he did not hang on his sickness, the way that he functioned as a human being under all of those conditions was tremendous courage."
Read more
Latest headlines