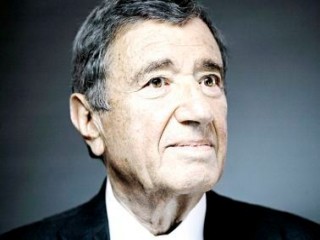 Etienne-Emile Baulieu biography
Date of birth : 1926-12-12
Date of death : -
Birthplace : Strasbourg, France
Nationality : French
Category : Science and Technology
Last modified : 2011-04-16
Credited as : Physician, and biochemist,
The French physician and biochemist Étienne Blum, made major contributions to the knowledge of steroid hormones and developed RU 486, the first safe, effective contragestive medication (abortion pill).
Étienne-Émile Baulieu was born in Strasbourg, France, on December 12, 1926. His father, Léon Blum, homonym of the French prime minister, died when he was three and a half years old. He had been a renowned professor of medicine. Born in Alsace when that province was occupied by Germany, he had studied in Berlin and specialized in nephrology. Drafted into the German army, he was decorated with the Iron Cross. But at heart, as an Alsatian, he was truly French and passed on military intelligence to the French through his first wife's parents, who lived in Switzerland. When he was discovered, he joined the French army in Verdun in 1916. Marshal Pétain decorated him with the Legion of Honour.
After the discovery of insulin in Toronto, Canada, Leon Blum (Baulieu) was selected by the Rockefeller Foundation to be one of the first to use it for the treatment of diabetes. He remained until his death in 1930, at the age of 54, a famed specialist of diabetes. A widow for about ten years, his second wife, Étienne-Émile's mother, was 20 years younger. A Norman, she was an international lawyer and a pianist. In four years of marriage she had three children. After Léon Blum died, his wife moved to Paris and cut all relations with her late husband's family just before his third child was born. Only when he was over 40 years old, and without his mother's knowledge, would Étienne-Émile discover, with admiration, the identity of his father.
When World War II broke out, Baulieu's family took refuge in the "Free Zone, " the southern part of France, which for two years was not occupied by the Germans. He was the only man in the family. In 1942-1943 he was a student at the high school (Lycée) Champollion in Grenoble. He became active in a youth communist organization. To escape from the Gestapo, he convinced his mother to leave for Annecy. He made false identification cards. That's how Émile Baulieu was born! He studied at the lycée and spent time in the Maquis resistance movement. When the Haute-Savoir was liberated, he became a member of the Alpine unit of the First French Army.
With the liberation of northern France, Baulieu wasn't really sure what he wanted to do. The Communist Party would have liked him either to enter the military or become a "permanent"—i.e., professional—militant. But he decided on different future and registered both in a pre-med program and in the Faculty of Science for a Bachelor of Science degree, to please his mother.
Demobilized, he returned to Paris at the end of October 1944; Strasbourg was not yet liberated. He was registered at the University of Paris under his war name, to which he added his real first name, Étienne. He was also advised to keep that name to avoid the anti-Semitism which existed in the Communist Party.
He became an interne of Paris hospitals (1951-1955), doctor (1955), and a chef de clinique (1955-1957). Among the professors he had were Henri Mondor, Louis Pasteur Vallery-Radot, Jean Hamburger, and Paul Milliez.
Blinded in an experiment with haptoglobin, a protein he had discovered, Max-Fernand Zayle became Baulieu's mentor. But his protégé turned away from research on haptoglobin and instead decided to study hormones. The clinical cases he saw in the medical divisions headed by Lucien de Gennes and Jacques Decourt led him to his discoveries. He showed in 1960 that the main adrenal androgen, dehydroepiandrosterone sulfate, was a hydrophilic conjugated steroid, used as a marker of aging.
Paris had one Faculty of Medicine for more than 20, 000 students. When Zayle was appointed to the chair in biochemistry, Baulieu had become, in 1958, associate professor of biochemistry. Tenured, he had felt freer to go on with a career dominated by research rather than by clinical practice.
The discovery of dehydroepiandrosterone sulfate by Baulieu got him an invitation from Seymour Lieberman, who at age 45 ruled the world of steroids. Baulieu was a visiting scientist at the Department of Obstetrics, Gynecology and Biochemistry at Columbia University in 1961-1962. Because of his former political activities, he got a visa to the United States only after petitions from academics. It was a new era; Jack Kennedy had been elected as president. About Lieberman, Baulieu wrote: "This wise man is for me more than a father or a big brother, he is a model."
It was Lieberman who introduced Baulieu to Gregory Pincus, a Boston University biochemist who had played a key role in the development of the contraceptive pill. The encounter led to Baulieu's interest in contraception and in the regulation of pregnancy.
Back in Paris in 1962, Baulieu said later that by now he had become "a truly professional researcher." He was invited to head a research unit called "U-33" at Kremlin Bicator, an important hospital of Paris. Into the 1990s he still directed that unit of the National Institute of Health and Medical Research (INSERM). His association—as a consultant—with the pharmaceutical enterprise Roussel Uclaf also dated from his return from the United States.
For three decades Baulieu worked with steroid hormones. His early research dealt with the biosynthesis of these hormones. His contributions concern every aspect of our knowledge of the steroid receptors: characterization, purification, immunology, mechanism of action, and regulatory mechanisms governing their concentrations. He described the progesterone receptor and the androgen receptor. He found a membrane receptor for steroid hormones (in Xenopus laevisoocytes) distinct from the classical intracellular receptors. His later findings included the biosynthesis in the brain of the "neurosteroids." Yet Baulieu's name was associated, in the public opinion, in the late 1980s and 1990s with another of his important discoveries, RU 486, a steroid analogue.
Research done in the 1970s led to the synthesis by Baulieu of the "abortion pill, " RU 486, in 1980. RU stands for the chemical products of Roussel Uclaf, the French pharmaceutical company, a subsidiary of the German company Hoechst AG, and 486 is abridged for 38486, the real chronological number for the synthesis of the molecule (note that RU 1 dates from 1949!).
After trials in 20 other countries, RU 486, or mifepristone, was approved for use by French and Chinese authorities. In France some 4, 000 cases per month were sold to the country's 793 authorized abortion clinics. Roussel Uclaf drew up five mandatory prerequisites before marketing RU 486: (1) abortion must be legal in the country where it will be available; (2) local public, medical, and political opinion must favor abortion; (3) synthetic prostaglandin must be available locally; (4) the distribution network must be strictly controlled; (5) patients should sign a consent form.
In the United States RU 486 won the backing of the American Medical Association (A.M.A.) on June 27, 1990, for testing and possible use. About 45 percent (some 230, 000) of the nation's physicians belonged to the association. Abortion opponents, including such groups as the National Right to Life, reacted against the endorsement while a coalition of groups on abortion rights, family planning, and women's health supported the A.M.A. decision. The debate in the United States was watched attentively abroad. In July 1990 Baulieu stated that he "believe[d] the key to the future of RU 486 lies in the United States."
When RU 486 is taken in conjunction with prostaglandins it is an extremely effective method of terminating pregnancy within the first nine weeks of gestation. By 1990 it was used for between a quarter and a third of all pregnancy terminations in France. The treatment requires three 200-milligram pills of RU 486. After 48 hours a small amount of prostaglandin is given either as an injection or a pessary. RU 486 blocks the normal action of progesterone on the cells lining the uterus to accept and sustain an embryo throughout development. The prostaglandin acts on the womb to contract and expel its contents. About 96 percent of women who received RU 486 and the prostaglandin within the first nine weeks of conception have a complete abortion within a day of receiving the prostaglandin. Side effects, if any, are minor.
Although RU 486 is often referred to as the "abortion pill, " opponents of abortion have named it the "death pill." Baulieu describes RU 486 as a contragestive pill. Its action is contra-gestation, just as contraceptives are contra-conception. Apart from inducing abortion, RU 486 is considered a promising treatment for breast cancer, brain cancer, diabetes, and hypertension, as well as Cushing's syndrome.
By 1996, RU 486 had been used by over 200, 000 European woman, but Roussel Uclaf held back marketing in the United States because of opposition by antiabortionist groups. In 1994, Roussel Uclaf gave patent rights to the Population Council, a nonprofit group in New York City. Clinical trials of the drug were conducted over a period of two years, and the Food and Drug Administration conditionally approved the drug in 1996. Final approval was withheld pending resolution of issues of manufacture, labeling and marketing. In 1997, the Population Council formed a new company, Advances for Choice, to take over the distribution of RU 486 in the United States.
Baulieu began working with dehydroepiandrosterone sulfate (DHEA) in the 60s, but its popularity peaked as the "fountain of youth" of the 90s. DHEA is produced by the adrenal glands. Production peaks at about age 25 and declines into old age. Proponents of its use declared that it helped sleep, improved libido and generally resulted in overall better health. Opponents, including the National Institute on Aging, warned about a variety of side effects that could result from use of DHEA. Available by prescription, DHEA was also available as an over-the-counter drug, under provisions of the "1994 Dietary Supplement Health and Education Act, " which allowed marketing of nutritional supplements, provided labels did not contain health claims.
Baulieu became a professor of biochemistry at the Faculty of Medicine of Bicêtro, affiliated with University of Paris-South, in 1970. He was on the editorial boards of several French and international journals. He chaired several scientific committees. He was president in 1978 of the French Endocrinology Society. He was a member of the Scientific Advisory Board for the Special Program in Human Reproduction of the World Health Organization (WHO). Baulieu's research was supported by French sources, but also by the American National Institutes of Health (NIH) and the Ford Foundation.
Many awards were bestowed upon Baulieu. He was a laureate of l'Assistance Publique (Médaille de l'Internat) of the National Academy of Medicine (Dreyfous Foundation Prize, 1956; Specia Prize, 1964) and of the Academy of Sciences (1960). He received the Reichstein Award of the International Society of Endocrinology (1972), the Grand Prix Scientifique of the City of Paris (1974), the Roussel Prize (with E. Jensen, 1976), and the Gregory Pincus Memorial Award (with E. Jensen, 1978). He was R. S. McLaughlin Edward Gallic professor of the Royal College of Physicians and Surgeons of Canada (1976) and Harden lecturer (London, 1979). He became a chevalier of l'Ordre du Mérite (1967), chevalier of the Legion of Honour (1976; he was promoted to officer in 1982 and commander in 1990), and officer of l'Ordre du Mérite du Gabon (1979). He was listed among the 1, 000 most cited scientists (ISI, 1981). He was a member of the French Academy of Sciences beginning in 1982. He was the first European medalist of the Society of Endocrinology (Great Britain, 1985). He received the A. and E. Wippman Scientific Research Award, Planned Parenthood of America (1989), the Albert and Mary Lasker Clinical Research Award (1989), and the Alan Guttmacher Award, USA Reproductive Health Professionals (1989). He became a foreign associate member of the U.S. National Academy of Sciences in 1990 and was awarded the Golden Plate, American Academy of Achievement, in 1990. He gave the Claude Bernard lecture of the Royal Society in 1990.
As the head of his medical research unit, Baulieu had many associates. In his acceptance remarks for the Lasker Award, on September 27, 1989, he declared: "Any scientific achievement is the result of a collective effort, and my gratitude goes to my colleagues of yesterday and today, and to INSERM, our medical research institute in France, for permanent support."
In New York in the early 1960s Baulieu became close to artists. He wrote, " … it was very important for me. I understood that science is not as far from art as I had believed earlier." Among the artists with whom he closely associated were Jean Tinguely and Niki de Saint-Phalle.
Married at the age of 20, Baulieu had three children and seven grandchildren.
Books authored by Baulieu are The Antiprogestin Steroid Ru 486 and Human Fertility Control (1985), Hormones: From Molecules to Disease (1990) and The Abortion Pill: Ru-486, a Woman's Choice (1991). There are no biographies of Baulieu in English at this time. In French, see a short portrait in La Recherche (December 1989) and his autobiography, Étienne-Émile Baulieu, Génération Pilule (Paris: 1990). Although Baulieu's name has been mainly associated with RU 486, he contributed extensively to the knowledge of steroid hormones. Important references can be found in his autobiography. The September 22, 1989, issue of Science analyzed RU 486—how the drug works, research on medical uses other than abortion, and how it was discovered—and published an article by Baulieu on the scientific issues, with references and notes.
Read more
Etienne-Emile Baulieu Picture Gallery
Latest headlines