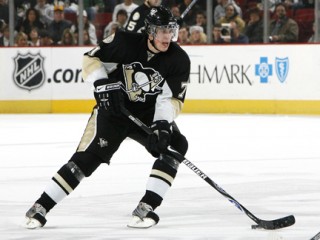 Evgeni Malkin biography
Date of birth : 1986-07-31
Date of death : -
Birthplace : Magnitogorsk, Russia
Nationality : Russian
Category : Sports
Last modified : 2010-07-29
Credited as : NHL Ice hockey player, played for the Devils,
Once upon a time Cold War alarmists warned that we'd all be speaking Russian some day. This prediction never came true, but if that's what it will take to keep
Evgeni Malkin
happy in Pittsburgh, Penguin fans might certainly consider it. Evgeni's English may be broken, but his game isn't. An icy-cool assassin, he often seems to be playing at a different speed and with a clearer focus than his NHL peers. With the Penguins on the brink of a potential hockey dynasty, the smooth young center who teammates call "Geno" may soon be known by another name: The Czar.
GROWING UP
Evgeni Vladimirovich Malkin
was born on July 31, 1986 in Magnitogorsk, a Russian city in the Soviet Union. Evegni's father Vladimir was a pro hockey player. He starred as a defenseman for Metallurg Magnitogorsk. His brother Denis also played for the team.
Evgeni began skating at age 3. He joined his first organized hockey league two years later. He showed an aptitude for the sport at an early age, as one might expect from the son of a pro. However, because both of his parents were short, no one suspected that Evgeni would be a world-class player one day. They missed the fact that his uncles on his mom's side were quite tall. He would inherit their stature and his father's stickhandling and skating skills.
Evgeni's commitment to hockey was never in question. His parents recall how often they found him sleeping with his stick as a boy. Occasionally he would go to bed with his skates on, too. His mother Natalia claimed she always knew her son would be a star. Vladimir was a bit more realistic. Yet as he watched his boy ascend the hockey ladder and outplay the competition at each level, he started to change his mind.
Even so, Evgeni didn't generate much interest from his country's hockey elite. He attended one of the best hockey schools, but the top coaches ignored him. Sergey Vitman was one of the few officials who saw Evegni's potential. What really struck Vitman was the boy's commitment and work ethic. These qualities, Vitman believed, helped make Evgeni a special player.
Evgeni was a huge NHL fan. He rooted for the Colorado Avalanche and Detroit Red Wings, two of the dominant teams in late 1990s and early 2000s. His favorite players were Joe Sakic, Peter Forsberg and Sergei Federov—all gifted stars who played both ends of the ice.
As a young teen, Evgeni was often compared to another Russian player his age, Alexander Ovechkin. Ovechkin had similar size and skill but drew more attention. He was a pure goal-scorer, while Evgeni showed more promise as a set-up man. Ovechkin was also more outgoing. Evgeni tended to be shy in unfamiliar situations.
Pro scouts began to view Evgeni in that same light after the 2003 Under-18 World Championships. He led Russia to the title and was named the tournament's top forward.
ON THE RISE
By this time, Evgenie had grown to 6' 3" and showed that he had the strength to go with his obvious skills. He had been well schooled in the Metallurg Magnitogorsk development system. Evgeni began playing for the organization's senior team in the Super League 2003–04. That year the club returned to the finals but lost to Avangard Omsk.
Evgeni's dream was to play in the NHL. Heading into the 2004 draft he was one of two marquee players at the top of most teams' lists. The other was Ovechkin. The young Russians figured to go 1–2, with the Washington Capitals and Penguins owning the first two picks.
Pittsburgh was in the midst of a rebuilding program that would generate a series of high draft picks. A year earlier, the Pens had tabbed goalie Marc Andre Fleury with the first overall selection. A year before that they had picked up Ryan Whitney. In 2005, they would pick up Sidney Crosby and then Jordan Staal a year later.
As expected, the Caps took Ovechkin, leaving Evgeni for the Penguins. Pittsburgh fans would have to wait for the young star's debut. A dispute between the NHL and the International Hockey Federation clouded the transfer agreement that would have enabled the Penguins to pluck Evgeni off the Metallurg Magnitogorsk roster for $200,000. The Russian team forced the teenager to honor his contract.
In 2004–05, Evgeni complicated matters when he blossomed for Metallurg Magnitogorsk. In 52 Super League games, he scored 12 goals and had 20 assists.
As the 2005–06 campaign approached, Russia's hockey federation still refused to sign over Evgeni's rights. Claiming that his value to his country and his club had skyrocketed, the federation determined he would stay put for another year.
Evgeni, now 19, quickly established himself as the top player in the Super League, and arguably the best pro in the world not in an NHL uniform. He skated in 46 contests, netting 21 goals and adding 26 assists. At the World Junior Championships, he captained the silver-winning Russian squad and was named MVP of the tournament.
A couple of months later, Evgeni snagged a spot on his country's Olympic team. He scored twice and dished out four assists in seven games as Russia finished fourth. He was honored as the national team's top player after the competition.
In the afterglow of the Olympics, and under great pressure from his club, Evgeni told Metallurg Magnitogorsk that he would stay for one more year. But the more he thought about it, the more he was sure he could raise his game to new levels in North America.
In August of 2006, just before training camp, Evgeni sent a letter of resignation to the Super League, the first step to clearing his way to play with the Penguins. Russian law permits an employee to leave his job by giving two weeks' notice. Draftees Alexei Mikhnov and Andrei Taratukhin had filed similar notices earlier that summer.
For a couple of weeks no one was sure where Evgeni was. The mystery ended when he showed up in the U.S., inking a deal with the Penguins. He joined the team in training camp that September.
The Penguins had finished last in their divion four years in a row, but they had spent their draft picks wisely. Pittsburgh featured a young, talented roster that included Evgeni and fellow rookie Staal. The star of the club was Crosby, the sensational young center who would go on to win the MVP in 2006–07.
Evgeni served noticed that he was a special during his firstscrimmage. Working near the side of the net, he banked a shot in against goaltender Dany Sabourin. His teammates stood in awe—it was a shot only an artist would attempt. In his first preseason game a short time later, he collided with John LeClair and suffered a shoulder injury. This curtailed his practice time and kept him out of the lineup until mid-October.
Evgeni opened the season centering a line for Ryan Malone and Mark Recchi. He also spent time with Crosby and Staal. He scored against the New Jersey Devils in his first game, and then scored again in his second and third games.
In his fourth game, again against the Devils, Evgeni joined Crosby's line and scored again. The goal was a jaw-dropper. He took a cross-ice pass from Crosby, split two New Jersey defenders, executed a spin move, and then tucked a backhand behind Martin Brodeur, who was completely fooled. Evgeni scored again in his fifth NHL game.
In his sixth game, against the Los Angeles Kings, he netted another goal. It came in the first period on a wrist shot that eluded Dan Cloutier. Evgeni also scored the game-winner in overtime on a power play. No player had scored in his first six games since the NHL's inaugural season, when every player was technically in his first NHL season.
In early December, Evgeni showed he could be a leader when Crosby was sidelined for a week with a sore groin. When Crosby returned, however, Evgeni immediately assumed a background role, practically disppearing from the stat sheet. Coach Michel Therrien took him aside during practice and showed him photos of some all-time great players. Then he pointed to his young rookie to let him know that he could be one of the great ones, too. Evgeni got the message. He had to keep up the intensity that had made him a record-breaking scorer a few weeks earlier.
As the season unfolded, Evgeni turned out to be a clutch player for the Penguins. He was especially good in tight games. He scored 25 goals when the team was behind or tied. Evgeni finished the regular season with 33 goals and added 52 assists. his 85 points. He led all rookies in scoring and was a no-brainer for the Calder Trophy as the top first-year player. Paul Stastny and Staal were runners up.
Crosby, meanwhile, took home the Hart Trophy as the league MVP after becoming the first teenager to lead a major North American sport in scoring. After four straight fifth-place Atlantic Division finishes, the Penguins placed second with 47 wins and 105 points. It was their highest point total since the 1992–93 season. Unfortunately, the fun ended earlier than expected. Pittsburgh ran into the Ottawa Senators in the first round of the playoffs. The Sens beat the Pens in five games on their way to the Stanley Cup Finals. Evgeni tallied no goals and four assists in the series.
MAKING HIS MARK
Aftre a sluggish start in 2007–08, the Penguins moved Evgeni back onto the same line as Crosby. A natural center, Evgeni switched to left wing to accommodate Sid. When Crosby went down with an ankle sprain, Evgeni simply moved to his old spot. The change suitedhim well—he averaged about two points a game.
Evgeni tallied his first hat trick of his career in January in a victory over the Toronto Maple Leafs. Later that month against the Caps, Evgeni and Ovechkin played "Can You Top This" in the first and second periods. The pair produced a combined five goals and the most inspired hockey fans had seen since the Mario Lemieux days. A rivalry between the two was bubbling to the surface, thugh it seemed fueled mostly by Ovechkin and the media.
With the Pens depending heavily on Evgeni, he found a new gear in the second half of 2007–08. He scored 60 points during that time, including 36 in the 21 games that Crosby missed. Evgeni and Ovechkin battled for the NHL's point lead right down to the wire, with the Washington star ultimately prevailing 112 to 106. Evgeni's final numbers were 47 goals and 59 assists.
For his effort, Evgeni was named a First Team NHL All-Star, and was a finalist for the Hart Trophy, which went to Ovechkin. Despite the Crosby injury, and another long-term injury to goalie Fleury, Pittsburgh finished the year atop the Atlantic Division. It was the first time in 14 seasons that Devils or Philadelphia failed to finish first.
The Penguins faced the Senators again in the first round of the playoff and gained some payback by sweeping them in four games. Next came a series with New York. Evgeni played unevenly against the Rangers in the Eastern Conference Semis—including a crummy penalty shot in Game 4—but the Penguins built a series lead. In Game 5, Evgeni came alive. In the second period, with Pittsburgh leading 1–0, he lost the puck near the New York goal on a poke check but quickly regained it and unleashed a backhander that Henrik Lundqvist never saw. Evgeni won almost every one of his faceoffs and also made a great defensive play in overtime. Marian Hossa scored the game-winner to send the Pens to the next round. Evgeni not only showed he could lift the team with a great performance, he could do so after bouncing back from a subpar performance.
In all, Evegeni had three game-winning goals in his team's first 10 playoff games, icluding one on the third round against the Flyers. Pittsburgh won the Eastern Finals in five games against Philadelphia, but Evgeni was largely held in check. The Flyers basically assaulted him whenever he got near the puck.
In the Stanley Cup Finals, the Penguins finally met their match in the wily Red Wings. For Evgeni, the series was a special thrill. But the Detroit defense solved Pittsburgh's offensive puzzle, holding the Pens to just 10 goals in six games. The Red Wings took the championship in six games. Evegni's final postseason totals were 22 points in 20 games. He enjoyed one of his best performances in Game 6 against Detroit, but it was too little too late.
The 2008–09 Penguins began the year as the odds-on favorite to take the Stanley Cup, even with Hossa and Jarkko Ruutu leaving the team. But the Penguins took care of business in other areas, including signing Evgeni to a five-year extension worth $43.5 million. The deal was nearly identical to the one Crosby inked in 2007. Both players agreed to discounts in order to keep the team competitive for other players.
On October 18, Evgeni notched his 200th NHL point on an assist to Crosby, who scored his 100th career goal on the same play. Crosby had the team's trainer saw the puck in half so they could share the memento.
By Thanksgiving, Evgeni was building an impressive lead in the NHL scoring race. With the Penguins healthy and happy, he could put up some truly monstrous numbers in his third season. With one Hart winner in the house, Pittsburgh fans hoped to see another.
Evgeni also found a way to defrost his chilly relationship with Ovechkin. The pair teamed up during NHL's All-Star SuperSkills competition and thrilled the crowd in Montreal's Bell Centre. Evgeni jokingly played to Ovechkin's rockstar image, serving as his water boy. The fans loved it.
Ovechkin successfully defended his breakaway challenge. Evgeni claimed the shooting accuracy title, hitting three of four targets in a playoff gainst Ottawa's Dany Heatley. Both nailed all four targets in four shots in the opening round.
Afterwards, Evgeni did his best to answer questions from reporters. He prefers to speak Russian—the English language is the about the only thing he has yet to command during his time in the U.S. Meanwhile, the Pens are ruling supreme in the East. Pittsburgh fans know what it's like to have one "Super" star lead them to the Stanley Cup. Now they have a pair, including a Russian who is hockey's next "SuperCzar."
EVGENI THE PLAYER
Evgeni is a superb all-around player who produces goals with his size, speed, reflexes, puckhandling and shooting. He has a wicked wrist shot and specializes in accurate one-timers. His backhand is totally unpredictable.
Evgeni is a creative and intelligent player. Often when he cannot get the shot he wants, he passes to a teammate to set himself up for a return pass. Another favorite ploy in a diagonal cut while skating at full speed. If a defender is playing the body instead of the puck at this moment, he'll end up with neither.
Still lanky at 6–3, Evgeni can be shoved around but aggressive opponents. But they do so at their own peril, as this can open up possibilities for his talented linemates. Evgeni also has room to improve on defense, although he has become a committed two-way player. Winning faceoffs more consistently is also on his top-do list. Though not a penalty-killer by nature, Evgeni has taken a few shorthanded shifts as he has earned the Penguins' trust.
EXTRAS
* In 2006, Evgeni pulled off the rare feat of competing in the World Championships, World Junior Championships, and Winter Olympics in the same calendar year. He led Russia with nine points in the World Championships, played in May.
* After Evgeni's first game for the Penguins, his Russian team filed a lawsuit against the NHL. The suit was later dismissed.
* Evgeni scored in each of his first six NHL games. The only players to pull off this feat were Hall of Famers Joe Malone, Newsy Lalonde and Cy Denneny, who accomplished it in the NHL's first season. Though technically "rookies," all were established stars in 1917–18. Malone scored in each of his first 14 games.
* Evgeni was Rookie of the Month in both October and November of 2006.
* Evgeni led all rookies in 2006–07 with 16 power play goals.
* Evgeni made the NHL All-Rookie Team in 2007. He played in his first NHL All-Star Game in 2008.
* Evgeni got 120 of the 143 first-place votes in the 2007 Calder Cup balloting.
* Only 16 NHL rookies have posted a higher point total than Evgeni's 85 in 2006–07.
* Evgeni shared the Michel Briere Trophy with Jordan Staal as Pittsburgh's Rookie of the Year in 2006-07. He was voted team MVP a season later.
* Evgeni registered points in 15 straight games in the 2007-08 season to break the record for Russian-born NHL players. The previous mark was held by Dmitri Kvartalnov of the Boston Bruins..
* Evgeni recorded a career-high 10 shots on goal in a 2008 game against the Phoenix Coyotes.
* Evgeni led all scorers with 49 points after the 2008 All-Star break.
* Evgeni put together a 13-game assist streak at the start of the 2008–09 season. He amassed 22 assists during that time.
* When Evgeni joined the Penguins, he moved in with fellow Russian Sergei Gonchar.
* Evgeni's teammates call him "Geno."
* Eugeni often speaks through interpreter and Pittsburgh team employee George Birman.
* Evgeni is a big fan of the Pittsburgh Steelers.
* Evgeni's favorite movie is Transformers.
Read more
Latest headlines