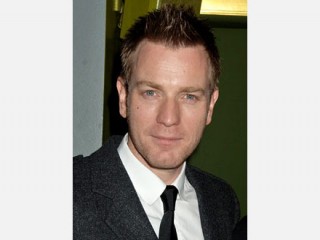 Ewan McGregor biography
Date of birth : 1971-03-31
Date of death : -
Birthplace : Crieff, Scotland, UK
Nationality : Scottish
Category : Arts and Entertainment
Last modified : 2010-12-06
Credited as : Actor, role in: Star Wars trilogy, I Love You Phillip Morris and Amelia
The name McGregor is famous in Scotland for being the name not only of a famous Scottish clan, but also as the surname of a famous acting family.
Ewan McGregor's uncle - Denis Lawson - achieved fame as an actor by appearing in the groundbreaking TV series, Rock Follis, and subsequently starred as Kit Curran in the Kit Curran Radio Show. But it was left to his nephew Ewan - who is frequently hailed as Scotland's biggest movie star since Sean Connery - to bring lasting worldwide acting fame to the name of McGregor.
Ewan McGregor was born in Crieff, Perthshire, a small Scottish country town to the north of Edinburgh. Ewan has one older brother, Colin, who enjoys a successful career in his own right as an RAF pilot. Ewan's parents both happened to be teachers, but erred on the side of liberalism when it came to educating their two boys - a fact which has no doubt helped ensure that Ewan has remained extremely close to both his parents. Indeed, his mother Carole frequently acts as his official spokesperson, and helps to organise his personal celebrity appearances and fan mail. Ewan's father also happens to be director of the Crieff Highland Games, a major sporting event that was established in 1870. As a boy, Ewan helped his father organise the games, and was even awarded the title of Chieftain of the Games in 2001.
Growing up in rural Scotland, young Ewan was a keen sportsman, and excelled at swimming, diving and riding. As a teenager, he once had a job helping out in the stables at the nearby Crieff Hydro. Ewan showed musical ability from an early age too, and studied the drums, guitar and French horn at school. Surprisingly, he didn't get involved in many school dramatic productions, but recite poetry at school revues, and played horn solos with the school orchestra. But he did entertain his family by doing Elvis Presley impersonations at family get-togethers: apparently his favourite numbers were Hound Dog and Don't be Cruel!
Ewan's famous actor uncle, Denis Lawon, was, however, the biggest inspiration behind his future acting career, although he is also rumoured to have been influenced by the acting legend James Stewart. Ewan attended school locally at Morrison's Academy, where his brother Colin was Head Boy in the late 1980s, and performed reasonably in his academic studies. But when Colin left Morrison's to pursue his future career in the Air Force, Ewan became depressed, and started getting into trouble at school. His mother was a major source of support at this difficult time, perhaps on account of her own background as a Special Needs teacher in Dundee. Ewan relates how one night, when she was driving him home through the rain, she told him that if he was so unhappy at school, he should feel free to leave, and he recalls how "life suddenly opened up" for him at that moment.
After spending a year studying at Fire College of Further and Higher Education in Kirkcaldy, Ewan went straight into the world of theatre, and got a job as a stage hand at Perth Repertory Theatre, where he spent valuable time learning his chosen craft. In 1989, whilst still working at Perth, Ewan made the momentous decision to pursue his newfound love of acting in earnest. He took the plunge and enrolled for a three-year full-time course at the Guildhall School of Music and Drama. The rest is history.
Unlike many aspiring actors, who spend years "waiting to be discovered", Ewan became a great success almost literally overnight. Even before he'd officially completed his studies at Guildhall, he was offered a leading role as Private Mick Hopper in the TV series, Lipstick On Your Collar, written by the famous TV screenwriter Dennis Potter, which hit the nation's TV screens in 1993.
Following his TV debut, Ewan was offered another TV role in the show Family Style. This was followed by a cameo part in Bill Forsyth's film, Being Human - which also starred Robin Williams and Robert Carlyle. Ewan's cinematic debut was small, but noteworthy. Producers were beginning to take notice of this rising new star, and the offers started to come in.
Ewan's first proper film role was in a movie called Shallow Grave, directed by Danny Boyle, and was both challenging and bloodthirsty. Ewan played the part of Alex Law, one of three flatmates who then choose a fourth flatmate - played by Keith Allen. The film's shocking and bloody climax paved the way for Ewan's next major role, in the controversial hit movie, Trainspotting.
Here, he plays Mark "Rent Boy" Renton, an Edinburgh heroin addict who is trying to get clean, and also to escape the noxious influence of his drug-taking friends, who included Johnny Lee Miller and once again, Robert Carlyle. Ewan was nominated for an Oscar following his stellar performance in "Trainspotting". This was the breakthrough he'd been waiting for - the film that was so successful and high-profile that it effectively offered him a passport to Hollywood.
Ewan continued to act in productions for the small screen too, and it was whilst filming an episode for ITV's Kavanagh QC that he met and fell in love with French production designer Eve Mavrakis, who was also working on the show. The couple married shortly afterwards, and Eve soon gave birth to Ewan's first daughter, Clara Mathilde. A second daughter, Esther Rose, was born to Ewan and Eve in 2001. Much to Ewan's annoyance, the tabloid press insisted on printing pictures of the newborn baby, despite Ewan's much-publicised desire to keep his children out of the newspapers!
On screen as well as off, Ewan continued to court controversy in his choice of roles, and also thanks to his growing penchant for taking his clothes off on screen at every possible opportunity!
His next major role was in The Pillow Book, directed by art house director Peter Greenaway. Ewan plays Jerome, the lover of Nagiko, a Japanese woman who has embarked on a colourful sexual career.
Next, he acted alongside Gwyneth Paltrow in the movie version of Jane Austen's Emma, and then took a cameo role in Karoake, another film written by Dennis Potter. Next came The Serpent's Kiss, another art house movie where he acted with Pete Postlethwaite.
As the big film offers came flooding in, Ewan took shorter and shorter breaks between bouts of filming. He likes to joke that he once had only a 12-hour break between two movies! Ewan likes to bring his family on location, so wife Eve and his two young daughters accompany him wherever he goes - unless, of course, he feels that the movie he is working on is too violent and bloody, and therefore unsuitable.
Next came A Life Less Ordinary, a fairly dark rom-com, where Ewan worked with Danny Boyle again, but this time in Hollywood. Starring alongside Holly Hunter and Cameron Diaz, Ewan played Robert, a hapless kidnapper who falls in love with his supposed "victim" (Cameron Diaz).
One of Ewan's trademarks as an actor is his ability to switch easily and fluidly between different types of roles, which means he's never become typecast or stuck in any one particular sort of movie. He's equally at home playing good guys or bad guys, heart-throb heroes or villains!.
Next came Nightwatch, a gruesome thriller where he played a student moonlighting in a morgue. Back in the UK, he starred alongside Jane Horrocks, as Mark Herman in Little Voice.
Then it was back to Hollywood, this time to act under the direction of big-screen supremo George Lucas, in his epic Star Wars movie, The Phantom Menace, where Ewan became a truly global movie star for his portrayal of the young Obi-Wan-Kenobi. But his screen debut with Lucas also sparked a fresh round of controversy, when Ewan was quoted as saying that working on Star Wars had been tedious, and that he'd been paid nothing like the $4 million figure that was currently being touted as his fee around the tabloid press
The lack of substance in these rumours was clearly demonstrated by the fact that Lucas invited Ewan back to Hollywood to portray Obi-Wan again in Attack of the Clones in 2002, which picked up the Star Wars story ten years after the events of The Phantom Menace.
Ewan has also formed his own production company, called Natural Nylon, with business partners Sean Pertwee, Johnny Lee Miller and his old buddy and room-mate, Jude Law. The company's first major production, in the year 2000, was an art-house film called Nora, which explored famous writer James Joyce's relationship with his muse, Nora Barnacle - Ewan played the leading role of the young James Joyce.
Ewan also found time to act on the London stage in 1998, when he was directed by his uncle Denis Lawson in a play called Little Malachi and his struggle against the Eunuchs at the Hampstead Theatre, which received widespread critical acclaim.
Prior to shooting Nora, however, Ewan portrayed the ill-starred stock market speculator Nick Leeson in Rogue Trader. Next, he played a private eye (called The Eye) who tails Ashley Judd in Eye of The Beholder.
Then came something completely different, as the saying goes! Ewan was asked to play the male lead in Moulin Rouge, a groundbreaking musical movie, to be directed by Australian director Baz Luhrmann of Strictly Ballroom fame - a role that involved prodigious amounts of singing and dancing with his co-star, Nicole Kidman. Earlier, the gossip columnists had reported that Ewan had been keen to act in Luhrmann's earlier production, Romeo and Juliet, but had lost the role to Leonardo di Caprio, the star of Titanic. Rumours also abounded that Ewan had also lost out to di Caprio when seeking the lead role in The Beach, which was directed by his old mates Boyle and Hodge. Allegedly, Ewan has not spoken to either of his old friends since.
Moulin Rouge was a truly massive success, and earned Ewan a Golden Globe nomination. Then he moved on to star as John Grimes in Black Hawk Down, which told the true story of a US Special Forces Raid in Magadishu, Somalia. Then it was back to the small screen again, for a new collaboration with his uncle Denis Lawson in the TV drama Solid Geometry.
Next, Ewan courted tabloid controversy again in the film Young Adam, where he played an immoral barge worker who has an affair with the boss's wife, played by Tilda Swinton. Ewan insisted on keeping the sex scenes as realistic as possible, and the tabloid press went wild once more! Despite his frequent on-screen nudity, Ewan insists that he never gets sexually aroused during filming - well, only once, apparently…
Following Young Adam, which came out in 2003, Ewan starred in Down With Love, alongside Renee Zellweger, where he played a hardbitten journalist out to snare a bestselling author into falling in love with him. Then came Tim Burton's movie, Big Fish, a curious fantasy-style movie exploring the deeper meaning of life and death.
In 2004, Ewan took time out from his Hollywood career to indulge his lifelong dream of riding a motor-bike around the world with his best friend Charley Boorman. Ewan's and Charley's adventures were logged by TV cameras, as always, culminating in the hit TV series, The Long Way Round.
The next major Hollywood success for Ewan, however, was the Star Wars movie, Revenge of The Sith, where Ewan engages in a famous duel with his pupil Anakin Skywalker, who then famously "turns to the dark side", and becomes the evil Darth Vader! Also in 2005, Ewan played voiceover roles in Valiant and Robots.
2006 brought its share of disappointments for Ewan, when he lost the role of the new James Bond to Daniel Craig, having been hotly tipped to follow in the footsteps of famous Scots actor, Sean Connery. But his role in Stormbreaker, the Alex Rider story based on the novel by Anthony Horowitz proved to hugely successful. Ewan plays Rider's uncle, who dies young - but not before training him to be a schoolboy spy…
In Ewan's latest movie, "Miss Potter", he acts alongside Renee Zellweger again, to tell the story of the Victorian children's writer, Beatrix Potter. Family life, however, remains all- important to Ewan McGregor. Despite never have yet won an Oscar, Ewan remains one of the world's most popular leading men, as well as enjoying a reputation as a "thoroughly nice guy"!
Read more
Latest headlines