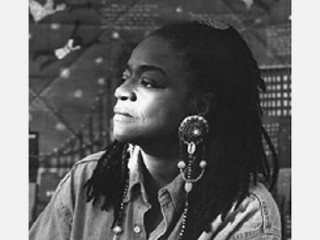 Faith Ringgold biography
Date of birth : 1930-10-08
Date of death : -
Birthplace : New York City, New York, U.S.
Nationality : American
Category : Arts and Entertainment
Last modified : 2010-07-19
Credited as : Artist painter, professor emeritus in the University of California,
Faith Ringgold
, born October 8, 1930 in New York, New York, United States is an African-American artist best known for her painted story quilts. She is professor emeritus in the University of California, San Diego visual art department.
Artist Faith Ringgold creates splendid visual panoramas of the African-American experience in multiple mediums. To museum curators, fine art collectors, and devotees of contemporary Americana, she is known for her acclaimed "story quilts," which depict black life in America through a series of characters and narratives. Ringgold is also known to a younger generation for her beautifully illustrated children's books, the first of which was Tar Beach in 1991. "Ringgold rescued little Black girls from the margins of children's book stories and made us central, made us real," wrote Diane McKinney-Whetstone in Essence years later. "In the magical tapestry of her colorful worlds, there's nothing we can't do."
Born in 1930, Faith Ringgold grew up in Harlem and lived in its prestigious Sugar Hill neighborhood after 1942. Her family's street, Edgecombe Avenue, was also home to Thurgood Marshall, W. E. B. DuBois, Count Basie, Duke Ellington, and other African-American luminaries. "It wasn't a surprise to see these people rolling up in their limos," Ringgold recalled many years later in an interview with David Gonzalez for the New York Times. "And that said to us, you can do this, too." Ringgold's mother, Willi Posey Jones, was a fashion designer and "a woman who knew how to take care of everything; her house, the kids. And she also had the time to develop her own skills," Ringgold told Eleanor Flomenhaft for Faith Ringgold: A 25 Year Survey. "She was fabulous. In some ways, I try to be something like her."
Copied Western European Canon
As a child Ringgold discovered art, which she found to be a good diversion from frequent attacks of asthma. She developed her skills as a young adult through formal training at the City College of New York, where she enrolled in 1950. City College gave Ringgold a solid technical foundation for her work but failed to provide the stylistic inspiration she sought. "They taught us art in a traditional way," she told Flomenhaft. "We copied Greek busts; we copied Degas; we copied everything. It was generally thought that we weren't experienced enough to be original, and if we were original we were sometimes up for ridicule." Unable to identify with "dead art from dead times," she began a search for an aesthetic that more closely reflected her sense of self--a black aesthetic.
After her graduation in 1955, Ringgold began teaching in the New York City public school system, a position she would retain until 1973. Having grown up in a comfortable, supportive environment, Ringgold was startled by the attitudes of colleagues who had little experience with students from neighborhoods like Harlem. "They would say: 'Oh, poor so and so, they can't do the work. Their mother's on drugs, or the family's on welfare,'" she recalled in the New York Times interview with Gonzalez. "That's a weird sympathy that just drags you down, down, down. Expectations are the key. We were raised to know you could do it."
Ringgold earned her master's degree in art from City College in 1959, forging ahead with her primary career outside of teaching--as a painter. Her first canvases were mainly landscapes, but her range grew after travels in Europe and Africa during her summers off. African art profoundly moved her, particularly in its "symmetry, repetition, pattern-making and polyrhythms," she noted in David Irving's video Faith Ringgold: The Last Story Quilt. She began copying works of African art to learn about design, out of which her own distinctive style eventually emerged. "I would mix European training with my African origins--and that would be my American art," she explained. "My art became not African art, but African-American art ... an expression of African-American, female experience." Ringgold dubbed this phase of her work "superrealistic."
Campaigned for Diversity
Ringgold's art became more politically focused in the 1960s, but her expression of concern with issues of race and gender was not limited to the canvas. During the late 1960s, she joined an up-and-coming group of black feminists lobbying for fair representation in New York City's major museums of modern art. In 1968 Ringgold initiated the first demonstration of black artists at the Whitney Museum, and in 1970 she participated in demonstrations of the Ad Hoc Women's Art Group there. The next year, she cofounded the black artists' group "Where We At."
By 1972 Ringgold had established a name for herself in international art circles, participating in the first American Women Artists Show in Hamburg, Germany. At New York's Museum of Modern Art, she was at the forefront of a movement to create a wing for the work of African-American artists. That effort resulted in the addition of two black members to the museum's board of trustees and two major exhibitions of work by African Americans.
Around the same time, Ringgold made her first foray into the medium of fiber. She was heavily inspired by tankas, Tibetan paintings framed in cloth that illustrate a Buddhist parable or concept. Throughout the 1970s she explored this medium in a series of politically inspired soft sculptures. The artist later used these works in her masked interpretive performances, which were staged throughout the United States and abroad. Some of the three-dimensional sculptures like dolls and masks were collaborations with her mother. Out of all these artistic threads Ringgold began creating her first story quilts.
Literally speaking for themselves, the story quilts incorporate written narratives into vibrant collages of fabric. Ringgold paints images and accompanying text directly onto the fabric, making the quilt her canvas. "The story quilts grew out of my need to tell stories not with pictures or symbols alone, but with words," noted the artist in Faith Ringgold: A 25 Year Survey. That need was rooted in a strong oral tradition that was both cultural and personal. Ringgold grew up surrounded by storytellers. Her father "did his public speaking in the bar," she said in Irving's video. "He told stories, my mother told stories, everybody told stories."
Offered Book Deal
Ringgold's first story quilt was the dazzling "Who's Afraid of Aunt Jemima?," finished in 1983. "It's a grid of comical, childlike portraits," wrote Grace Glueck in the New York Times, "accompanied by the rambling success story--in black dialogue--of 'Aunt Jemima Blakey' and her children, who made a fortune in the restaurant business. It transforms the derogatory image of Aunt Jemima into that of a beautiful, successful businesswoman in a chic hat, probably based on Willi Posey."
Although seemingly fanciful, Ringgold's quilts tell tales of a serious nature, exploring the political issues that have always been at the heart of her work. She began tackling those issues with a lighter touch in her later works. In the Women on a Bridge series, for example, Ringgold depicts her women in flight, drawing on a traditional African-American metaphor for freedom. Conquering bridges from New York to San Francisco, they exude an air of joyous celebration, undaunted by the magnitude of their targets. "The bridge idea was significant to me," Ringgold told Flomenhaft. The Women on a Bridge series centers on "women's courage, women doing great creative, exciting things, which I paralleled with the painting of a bridge."
In 1988 a story quilt called Tar Beach--the first of the Women on a Bridge series--made its debut at New York City's Bernice Steinbaum Gallery. Andrea Cascardi, an editor at Crown Books for Young Readers, saw a poster of the piece and was attracted to its potential as a children's book. Ringgold was more than amenable to the idea. Her story quilts, in fact, were borne of the desire to publish. "Telling my stories on quilts seemed an excellent opportunity to get my work published without dealing with publishers, editors or anyone else," she explained to Publishers Weekly. "Anyone who saw my art would automatically get the story as well."
"Tar Beach" was what New Yorkers used to call the rooftops of their apartment buildings, where families like Ringgold's fled to on hot summer nights to cool off in an era before air conditioning. Central to the story is eight-year-old Cassie, who marvels at the night sky from a mattress laid down on their rooftop as her parents socialize with their neighbors and swap stories. The nearby George Washington Bridge, which her construction-worker father has helped build, is also a prominent part of Ringgold's tale. "Cassie imagines herself sailing across all of it, wingless--the sky, the stars and skyscrapers--and it makes her feel rich, 'like I owned all that I could see,'" noted Rosellen Brown in a New York Times review, who also asserted that Ringgold's heroine "is making stunning new use of a folk-tale motif of willed flight that we've met before in the Afro-American tradition ... which gave people a satisfying escape from their deadly restraints, a way to rise above them."
Ringgold's original Tar Beach quilt is part of the collection of the Solomon R. Guggenheim Museum in New York City. Works by Ringgold have also been acquired by the Museum of Modern Art, the Metropolitan Museum of Art, and other prominent institutions. She has written and illustrated other books for children and is herself the mother of two daughters who went on to become academics. Fifty years after earning her master's degree, Ringgold was an active septuagenarian who spent part of the year in the San Diego area, where she taught art at the University of California at San Diego. Back on the East Coast, Ringgold lived in New Jersey but was involved in building a legacy in Harlem with the Faith Ringgold Children's Museum of Art and Storytelling, part of a new community development project on West 155th Street. "Sugar Hill gave me such a wealth of images," she told Gonzalez in his New York Times profile on the neighborhood in 2010. "Just the people, the environment, what we did on holidays, tar beach. It just keeps giving. And I keep getting pulled back." The museum was part of a planned parcel of new housing, schools, and cultural offerings for the block. Ringgold hoped to create a place where new generations could find the same nurturing environment she knew she was fortunate to have in her parents. "Children come into the world with an overpowering creativity," she reflected in the same interview. "Then you get older and you say, you can't do that. Or other people say you can't do that. Well, I'm afraid you can."
PERSONAL INFORMATION
Born Faith Jones on October 8, 1930, in New York, NY; daughter of Andrew Louis Sr., and Willi (a fashion designer; maiden name, Posey) Jones; married Robert Earl Wallace (a jazz pianist), 1950 (divorced, 1956); married Burdette Ringgold, May 19, 1962; children: (first marriage) Michele Faith, Barbara Faith. Education: City College of New York, BS, 1955, MA, 1959. Addresses: Home--Englewood, NJ. Dealer--ACA Gallery, 529 West 20th St., 5th Fl., New York, NY 10011. Web--http://faithringgold.blogspot.com/.
AWARDS
Travel grant for Africa, American Association of University Women, 1976; grants from National Endowment for the Arts, 1978, for sculpture, and 1989, for painting; honorary D.F.A., Moore College of Art, 1986, College of Wooster, 1987, Massachusetts College of Art, 1991, City College of the City University of New York, 1991, and Brockport State University, 1992; Guggenheim fellowship, 1987; grants from New York Foundation for the Arts, 1988, and Henry Clews Foundation (for France), 1990; Coretta Scott King Illustrator Award, Social Responsibilities Round Table, American Library Association, and Caldecott Honor Book Award, American Library Association, both 1992, for Tar Beach; Jane Addams Children's Book Award, 1993, for Aunt Harriet's Underground Railroad in the Sky.
CAREER
Teacher of art in public schools in New York City, 1955-73; University of California, San Diego, La Jolla, professor of art, 1984--. Painter, mixed media sculptor, performance artist, and writer; lecturer or performance artist at universities, and museums, including Purdue University, 1977, University of Massachusetts, 1980, Rutgers University, 1981, Occidental College, 1984, Long Island University, 1986, Mills College, 1987, Museum of Modern Art, 1988, Baltimore Museum of Art, 1988, De Pauw University, 1989, University of West Florida, 1989, San Diego Museum, 1990, Washington and Lee University, 1991, Museum of African American Art, 1991, and Atlantic Center for the Arts, 1992. Exhibitions: Art work featured in solo shows at Spectrum Gallery, New York, NY, 1967, 1970, Bernice Steinbaum Gallery, 1987, 1989, 1992, in touring exhibition "Faith Ringgold: A Twenty-Five-Year Survey," curated by Fine Arts Museum of Long Island, 1990-93, and elsewhere; art work represented in museums and galleries, including Boston Museum of Fine Art, Chase Manhattan Bank Collection, Clark Museum, High Museum of Atlanta, Newark Museum, Philip Morris collection, Guggenheim Museum, Metropolitan Museum of Art, Museum of Modern Art, Studio Museum of Harlem, and various locations in Europe, Asia, South America, and Africa.
WORKS

* Children's books
* Tar Beach, Crown, 1991.
* Aunt Harriet's Underground Railroad in the Sky, Crown, 1992.
* Dinner at Aunt Connie's House, Hyperion, 1993.
* My Dream of Martin Luther King, Crown, 1995.
* Bonjour, Lonnie, Hyperion, 1996.
* The Invisible Princess, Crown, 1998.
* Cassie's Colorful Day, Crown, 2000.
* If a Bus Could Talk: the Story of Rosa Parks, Simon & Schuster, 1999.
* Cassie's Word Quilt, Knopf, 2002.
* O Holy Night: Christmas with the Boys Choir of Harlem (with CD), HarperCollins/Amistad, 2004.
* Memoir
* We Flew Over the Bridge, Bulfinch/Little, Brown, 1995; Duke University Press, 2005.
Read more
Latest headlines