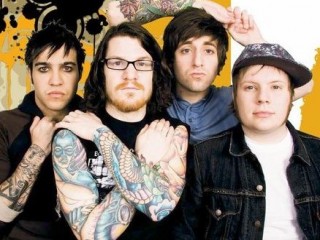 Fall Out Boy biography
Date of birth : -
Date of death : -
Birthplace : Glenview, Illinois
Nationality : American
Category : Arts and Entertainment
Last modified : 2012-03-22
Credited as : Music band, Ironiclast band, The Damned Things
Fall Out Boy is a band formed in 2001 in Glenview, Illinois after good friends Joe Trohman and Pete Wentz met high schooler Patrick Stump. Stump originally auditioned as a drummer, but soon became the lead singer. The following year, the band debuted with a self-released demo and followed it up with the May 28, 2002 release of Split EP, which featured Project Rocket, on Uprising Records. The group released a mini-LP, Evening Out With Your Girlfriend, also on Uprising Records, in 2003.
After the release of their mini-album, Fall Out Boy built a large cult following playing in the Chicago area and drummer Andy Hurley, formerly of Racetraitor, joined the band while the two other members left. At this time, Stump also took over rhythm guitar duties. During this time, they played many local shows at the The Knights of Columbus Hall in Arlington Heights, Illinois, also the site of their first video: Dead On Arrival. The same year, after signing to Fueled By Ramen, they released their first full-length album, Take This to Your Grave, on May 6, 2003. The band received an advance from Island Records to record their proper debut, but the advance came with a right of first refusal for Island on Fall Out Boy's next album. With major financing in place, the recording of Take This to Your Grave took place at producer & Garbage drummer Butch Vig's Smart Studios in Madison, Wisconsin, with Sean O'Keefe producing.
With singles Grand Theft Autumn/Where Is Your Boy and Saturday receiving video airplay on Fuse and MTVU and radio airplay on alternative stations across the country, the band soon gained a cult following. With very positive reviews at the South by Southwest Music Festival and an extensive tour schedule, Fall Out Boy's popularity continued to grow. The album sold very well and eventually achieved gold status, but only after the success of their next album, From Under The Cork Tree.
In mid-2003 the band signed with Island Records, part of the super label The Island Def Jam Music Group along with def jam records. This was after they picked up the option for their next album. While recording their mainstream debut, they released the acoustic EP My Heart Will Always Be The B-Side To My Tongue on Fueled by Ramen, May 18, 2004. It debuted at #153 on the Billboard Top 200, their first entry on the chart. The two-disc set included a DVD with videos, more acoustic performances and a fan photo gallery.
On May 3, 2005, Fall Out Boy released their major label debut, From Under The Cork Tree, which debuted on the Billboard 200 at #9, selling over 68,000 copies in its first week. The album achieved double platinum status and has sold over 2.5 million albums in the US alone. Earlier that year, the band's stability was threatened when Wentz overdosed on the sedative Ativan in a failed suicide attempt. The track 7 Minutes In Heaven (Atavan Halen) from their album From Under the Cork Tree is based upon Wentz's attempted suicide.
Their first single, Sugar We're Goin' Down, peaked at #8 on the Billboard Hot 100, #6 on the Pop 100 and #3 on the Modern Rock Charts. The video reached #1 on MTV's TRL, where it was retired on August 26, 2005. The video also won the MTV2 Award at the 2005 MTV Video Music Awards, prompting a huge new interest and surge in sales. The band was also nominated for "Best New Artist" at the 2006 Grammy Awards.
The second single off the album, Dance, Dance, became their second Top 10 Single when it peaked at #9 on the Hot 100. It also reached #6 on the Pop 100 and became the bands top charted hit when it reached #2 on the Modern Rock Charts. The video for the song premiered on TRL on October 11, 2005; it soon reached #1 and was later retired on January 17, 2006. The third single off the album, A Little Less Sixteen Candles, A Little More 'Touch Me', was much less popular than both prior singles but still managed to peak at #65 on the Hot 100 and hit #1 twice on TRL, retiring on June 6, 2006.
The band headlined the Nintendo Fusion Tour in the fall of 2005, joining The Starting Line, Motion City Soundtrack, Boys Night Out, and Panic! At the Disco on a 31 city tour. Due to their increased success from their MTV Video Music Award, they headlined the Black Clouds and Underdogs Tour—an emo/pop punk event that featured The All-American Rejects, Hawthorne Heights, From First To Last. The tour also featured The Hush Sound for half of the tour and October Fall for half. They played to 53 dates in the United States, Canada, and the United Kingdom.
Fall Out Boy's fourth album, titled Infinity On High, was released on February 6, 2007. The lead single, This Ain't a Scene, It's an Arms Race, debuted at the 2006 American Music Awards. The video debuted on MTV on Tuesday, December 19, 2006. In the album's opening week, Infinity on High reached number 1 on the Billboard 200, selling 260,000 copies.
"This Ain't a Scene, It's an Arms Race" peaked at number 2 on the UK Singles Chart on February 4, 2007, making it their most successful song in the UK to date. The single also peaked on the U.S. Hot 100 at number 2 and the U.S. Pop 100 at number 1. The Carpal Tunnel Of Love (the second single released from the album) reached number 81 on the U.S. Hot 100 by way of digital sales alone. Thnks fr th Mmrs was released on April 9, 2007 and made it to #14 on the Billboard Hot 100 and peaked at #12 on the UK Singles chart.
Fall Out Boy headlined the Honda Civic Tour in 2007 along with +44, The Academy Is…, Paul Wall and Cobra Starship. The tour was originally scheduled to start April 18 and end on June 11. However, due to personal issues, the tour was postponed until May 11, where the first show was played in Denver, Colorado. The tour ended on July 2 in Anaheim, California in the United States and continue on in the United Kingdom.
Showing their versatility, Fall Out Boy has collaborated with rappers Kanye West, Babyface, Jay-Z, and Timbaland and are currently touring with Paul Wall. Babyface produced and Jay Z is featured on Thriller. They also worked with Timbaland on his new album Timbaland Presents Shock Value, where they are featured on the track One and Only, for which Stump and Wentz both contributed in writing. Stump was also featured on two songs with Gym Class Heroes (also signed with Fueled By Ramen), including their #1 Single Cupid's Chokehold. He also was a guest vocalist on Motion City Soundtrack's single, Everything Is Alright as well as contributing to If You Could Remember.
The band played the US portion of the Live Earth concerts on July 7, 2007 at New Jersey's Giants Stadium, along with AFI, Akon, Alicia Keys, Bon Jovi, Dave Matthews Band, Faith Hill and Tim McGraw, John Mayer, Kanye West, Kelly Clarkson, KT Tunstall, Ludacris, Melissa Etheridge, The Police, Rihanna, Roger Waters, and the reunited Smashing Pumpkins.
The band toured the world almost constantly in 2007, with gigs throughout the US, Canada, Australia, New Zealand, South Africa, Europe and Asia.On April 1, 2008, Fall Out Boy released their live album, **** Live In Phoenix. The album was recorded in Pheonix on June 22. It contained a studio recording of Micheal Jackson's Beat It with John Mayer as a guest on the guitar.
On the 18th of March, 2008, Fall Out Boy claimed they would play a gig in Antarctica, to be in the Guinness Book of World Records as the only band to have played in each of the 7 continents within 9 months. However, because of weather conditions they were unable to do so, although they did break the record for most interviews on radio in a 24-hour period, setting the bar at 72.
On December 16th, 2008, Fall Out Boy released their 5th studio album, Folie à Deux (literally meaning "madness shared by two"). The lead single for the album, I Don't Care was released September 8, 2008.
Fall Out Boy star in 2008 comedy film, 'Sex Drive'. They make a cameo within the film, playing Fame < Infamy from their album Infinity On High. They also play an acoustic performance of Grand Theft Autumn/Where Is Your Boy. This is due to the friendship executive producer Seth Green has with the band. The song I Don't Care from their latest album was featured in the end credits. During the credits there is a clip of Ezekiel and Fall Out Boy arguing over the fact that the Amish fixed Fall Out Boy's tour bus and all that they got in return was "a five song set" alluding to some form of compensation, which serves as a running gag.
On November 17, 2009, Believers Never Die - Greatest Hits was released, featuring two new songs titled Alpha Dog and From Now On We Are Enemies. Along with the news of the release of the CD we also got some not so great news, Fall Out Boy are currently on a break. "We're just taking a break and decompressing. We're not putting terms on when we're coming back. We're going to come back when everybody's excited about it and it's fun." says Pete Wentz to J14 Magazine.
After the announcement of the band's hiatus, Fall Out Boy members moved on to musical side projects that they felt they could not participate in while Fall Out Boy was active. Guitarist Joe Trohman and drummer Andy Hurley teamed up with Keith Buckley and Josh Newton from Every Time I Die, and Scott Ian and Rob Caggiano of Anthrax to form the heavy metal supergroup The Damned Things.The band released their debut album Ironiclast in December 2010. Hurley also plays in the hardcore band Burning Empires, as well as other hardcore punk/heavy metal bands. He continues to manage his record label, Fuck City. With Damned Things on hiatus as Anthrax and Everytime I Die members are on new album cycles, Trohman formed With Knives and Hurley drums in the hardcore band Enabler.
Current members:
Patrick Stump – lead vocals (2001–2009), rhythm and lead guitar (2003–2009)
Pete Wentz – bass guitar, backing vocals (2001–2009)
Joe Trohman – lead and rhythm guitar, backing vocals (2001–2009)
Andy Hurley – drums, percussion (2003–2009)
Former members:
Brandon Hamm – guitar (2001)
T.J. "Racine" Kunasch – rhythm guitar, backing vocals (2001–2003)
Mike Pareskuwicz – drums, percussion (2001–2003)
Studio albums:
Fall Out Boy's Evening Out with Your Girlfriend (2003)
Take This to Your Grave (2003)
From Under the Cork Tree (2005)
Infinity on High (2007)
Folie à Deux (2008)
Read more
Fall Out Boy Picture Gallery
Latest headlines