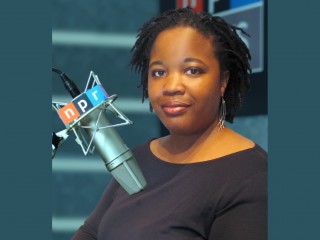 Farai Chideya biography
Date of birth : 1969-07-26
Date of death : -
Birthplace : Baltimore, Maryland, U.S.
Nationality : American
Category : Famous Figures
Last modified : 2010-07-13
Credited as : Journalist and radio host, radio correspondent for The Takeaway radio show,
Farai Chideya
( born July 26, 1969, in Baltimore, Maryland) is a novelist, multimedia journalist and radio host. She is currently a radio correspondent for the
national morning news show The Takeaway
and is the host of a video series called
The Value
for its website. The Value tells the stories of notable and everyday Americans who have chosen to pursue specific ethical goals outside of making money.
Chideya is also the founder and president of one of the earliest pop culture blogs in the US, PopandPolitics.com . During the 15 years of its existence, PopandPolitics.com has been a training ground for young arts and culture journalists. In addition to her radio, video and online journalism, Chideya appears as a political analyst on CNN, MSNBC, CNBC, ABC News, Fox News, BET and HBO and sits on the Journalism Advisory Committee for the Knight Foundation.
Farai Chideya made a name for herself as an articulate, engaged multimedia journalist and author from the hip-hop generation. From her college internship at Newsweek she steadily proved that she was a formidable voice for change. "I'm trying to update our view of America," Chideya told People, reflecting on her unique position as a young black woman among older white male pundits on the Cable News Network (CNN) in during the 1996 election campaign season. Chideya took her goal further than her journalistic career, publishing books that critically examined America's racial stereotypes, demographic changes, and democratic institutions. Her first two books Don't Believe the Hype: Fighting Cultural Disinformation about African-Americans and The Color of Our Future have become popular texts in college journalism and political science courses. Chideya's progress caught the attention of Newsweek, and it honored her among the 100 people named to its Century Club, a group of people who the magazine predicted would facilitate change in the coming century. To that end, Chideya dedicated herself to overturning American myths about race, gender, sexuality and other matters with tenacity and zeal, and she found myriad outlets--newspaper syndicates, internet, radio and broadcasting channels, and book publishers--to disseminate her commentary.
Born into a Multicultural Family
Chideya was born in 1969 in New York to a Zimbabwean businessman father and an American mother who worked as a journalist and as a high school teacher. During her childhood she traveled to Zimbabwe and Kenya. She did most of her growing up in Baltimore. "It's still my 'home'--the place where I've got roots and family," she explained to Contemporary Black Biography (CBB). "It's a cool town, very blue collar, mostly black folks and whites but now with increasing numbers of Asians, South Asians, and Latinos. The city's growing," she added, "just like I am."
Her parents divorced and her father returned to Africa when she was quite small. "It was really traumatic for me," she told CBB. "I was close to my father. But I felt that by being sad that he was gone, I was being disloyal to my mom--who was and is the backbone of our family. I think it's important to remember that a lot of families get divorced, and what happens between your parents shouldn't necessarily diminish the love you have for either parent."
Her mother's healthy skepticism was a crucial force in determining Farai's direction in life. "My mom was always willing to analyze political rhetoric," she recalled in People. "Questioning the status quo was a family tradition." Cynthia Chideya's passion for words was a formative influence, Farai told CBB: "She taught me to read when I was about 3, and I've been a compulsive reader ever since." She developed a particular fondness for science fiction and fantasy.
Despite her literary upbringing, Farai gravitated toward medical school--much like her sister had--when considering her career. She attended Harvard University but fared less well in science than in English and eventually gave up the idea of a medical career. "I thought it might be better to get into writing," she reflected in the Los Angeles Times. The Harvard experience, she recalled to CBB, expanded her horizons considerably. "I had a great time there," she noted, "even though when I arrived, I felt as if everyone there was more sophisticated than I am."
What she ultimately found, however, was that heritage was less important than she'd imagined. "You can't envy what other people have or had," she insisted. "Some of the kids of millionaires were happy, some were not. College is a great time to get to meet people from different backgrounds, but don't feel awkward about your own." She added that she'd met some of her closest friends at Harvard: "African American, Asian American, foreign born, American born, whatever." Even so, as she recollected in an essay she ultimately posted on her web site, the racial politics at Harvard were not always easy to negotiate. "I was a dogged multiculturalist," she wrote, "even though that put me at both literal and figurative remove from Harvard's African-American community." She described the two groups that flanked either side of the salad bar in her dormitory's dining room: "Most of the black students in Adams [Hall dorm] sat in the quarter near the door; I sat with my friends and roommates--black, white, Asian, Latino--on the artsy, smoke-filled three-quarters side. Very few managed to float between the two worlds."
Journalism Career Budded
While at Harvard, Chideya earned a minority internship at Newsweek magazine. "I had to make a lot of adjustments--in my style of writing, in the way I interviewed people--but it was a great learning experience," she reflected in her interview with CBB. She made her initial impression on Boston Bureau Chief Mark Starr, who told the Los Angeles Times, "She just arrived full force. I think we learned as much from her as she learned from us." Starr confided that Chideya's communicative skills even helped to him overcome his dislike of rap music. "She literally came in and explained it to me in terms of jazz, which I like," he said. "I wouldn't claim to love rap but I certainly have an appreciation for it."
While at the magazine, Chideya worked in the New York, Chicago and Washington bureaus. At the latter, she covered the machinery of government in intimate detail. A story she wrote for the magazine on the "World's Ten Best Schools" earned her a National Education Reporting Award. She also contributed articles to such publications as Time, the Village Voice, Mademoiselle, and Spin. Many of her articles dealt with the involvement--or lack thereof--of African Americans and young people in general in the political process. Essence magazine led off a series of articles urging black participation in the 1996 elections with a piece by Chideya, who wrote: "There is no better time for us to make our voices heard, and African Americans have a special stake in this year's elections." She went on to assert that the Republican takeover of Congress in 1994 was possible in part because black voters stayed home.
While at Newsweek, Chideya found herself increasingly frustrated at the way the mainstream media--her employer included--dealt with minority issues. She explained in an interview for the Internet journal SOS Spotlight that "the editors had pre-conceived notions about black America. Right now, the burden of proof is on black Americans to disprove these stereotypes."
Wrote about Race
As a result, she began researching what would become her first book, Don't Believe the Hype: Fighting Cultural Disinformation About African-Americans. "It may be one of the best-kept secrets in America: 'the liberal media' is not terribly liberal," she wrote in the book's opening chapter. "American journalism is often misleading, myopic and unreliable when it comes to detailing the lives of African-Americans." Published in 1995, the book promptly established her as a bright new voice in the debate over the representation of race and diversity.
Chideya recalled in the Los Angeles Times that her book project began as a collection of clippings. "Every day as I went through the papers I would find something that I thought was stereotypical about the black community," she explained, "and I would rip it out and put it in a drawer. Pretty soon I had 200 pieces of paper." This mass of journalistic evidence confirmed her belief that mainstream journalism failed to challenge prevailing, simplistic views. As she asserted in the book, "many white Americans have little to base their knowledge of African-Americans on but what they see, hear, and read in the media." Furthermore, she claimed, "In journalism's game of connect-the-dots, 'black' has come to symbolize crime, reckless childbearing, moral turpitude--'pathology.' African-Americans have come to symbolize the worst America has to offer."
Yet Chideya has refused to attribute such portrayals to some white media conspiracy. "The minority of the problem is pure racism," she pointed out in SOS Spotlight, placing the blame instead on "a comfortable laziness among television audiences, a willingness to trust what they see and what they hear as the absolute truth. So people take what they see and begin to equate poor with black with inner city with depraved. Racial scapegoating allows people to disassociate themselves with people who are poor, and they figure, 'It's not my problem.'" She offered an example to the Los Angeles Times: "When many people talk about affirmative action, they really don't know exactly what they are talking about." "No one has come to the table, liberal or otherwise, with any ways to deal with job discrimination other than affirmative action."
Broadened into Broadcasting
After her tenure at Newsweek, Chideya began working as an assignment editor for MTV News. MTV's youth-oriented, cutting-edge approach was a marked departure from the world of upscale print journalism. The experience, she told CBB, "was incredibly interesting and fun. MTV News is the chief news source for a lot of teenagers and college students. It really reaches out to its audience by providing coverage that young adults care about, whether it's music or politics." Even so, Chideya noted, "I did wish MTV was a little more adventurous in covering hard news topics. For example [co-anchor] Tabitha Soren did a segment on Bosnia that I thought was one of the best things they ever did."
Chideya was still on staff at MTV when she began making on-camera appearances on the political talk show Inside Politics on the CNN network. She later joined the program as a full-time panelist, trading observations--and occasionally barbs--with such heavyweight pundits as David Broder and Bob Novak. "I was tremendously intimidated," she confessed in People. "I don't know the middle initial of every President, but I make it my business to know as much as I can." According to Tom Hannon, producer of Inside Politics, she did not need to worry. He declared, "She's quickly developed into a star. She's clear, knowledgeable and frighteningly articulate."
"I still am intimidated from time to time," Chideya herself averred to CBB, "because I simply don't know as much as the people who are older and more experienced than I am. One time I was asked about the chances for re-election of Republicans in the Senate and I really had no idea. I had to recall what information I knew about the subject." Even so, she emphasized, "television is all about thinking on your feet. But more important, you have to be comfortable with the fact that you just don't know as much as people who are older. If you acknowledge that reality, you'll do your homework, make sure you know as much as possible, and then deliver an honest opinion based on what you do know."
Chideya's opinions were not only honest, but a marked departure from the conventional wisdom spouted by her older and purportedly more knowledgeable peers. "Having nonwhite reporters is a way of providing checks and balances," she ventured in People. She was careful to point out in the Los Angeles Times, meanwhile, her conviction that "it's a fallacy that anyone is completely objective. We all reflect our own upbringing, our thoughts and ideas." Chideya's thoughts and ideas proved compelling, and she found work as a correspondent for ABC in the late 1990s and a variety of requests for political commentary from CNN, MSNBC, and BET.
Created Own Forum for Commentary
Chideya's thoughts and ideas found an even more complete mode of expression, however, on her Internet web site, Pop & Politics. She began the electronic forum in 1996, featuring essays and other materials representing a range of issues. "No matter who you're working for," she insisted to CBB, "you can't say exactly what you want. Writing for someone is a matter of compromise between the writer and editor. My web site is my domain (so to speak), so I can put down my ideas just the way I see them."
Pop & Politics has included meditations on what constitutes the political "mainstream" in addition to comments on popular culture and such personal essays as "The Black Man of My Dreams"--in which Chideya plunges into touchy personal questions about dating men, both black and white--and a piece in which she confesses, "I can't do the Soul Handshake." The site has permitted Chideya to meet all kinds of new readers. "The web is a wonderful tool for reaching people across the country, across racial and gender barriers, even internationally," she informed CBB. "Hey, I've even gotten e-mail from a hip-hop fan in Tokyo!"
The Web forum flourished, earning Chideya such accolades as the MOBE IT Innovator Award in 2001 and seventh among those ranked by PoliticsOnline.com as the Top 25 Who Are Changing the World of the Internet and Politics. Yet Chideya did not rest on her laurels. As a John S. Knight Fellow at Stanford University in 2002, she studied international relations and the impact of technology on journalism. By 2004 Chideya had made Pop & Politics a part of the Center for Integration and Improvement of Journalism (CIIJ) at San Francisco State University. In its 2005-2008 Strategic Plan the CIIJ highlighted that its relationship with Chideya and Pop and Politics was "indicative of our desire to expand the definition of what CIIJ does--to embrace civic engagement among young people, democracy and the importance of diversity in reporting on that process." Pop & Politics then partnered with the University of Southern California's Annenberg School of Journalism in 2006 to offer young American voters increased access to local and national electoral information. The new partnership moved the base of the Web site to the university, and Chideya predicted the change would bring great value to readers and budding journalists alike. "The depth and breadth of USC Annenberg's commitment to growing the next generation of journalists fit perfectly with Pop & Politics' dual mission [of providing content for 18-29 year olds and training student journalists in New Media]," Chideya noted, according to a USC Annenberg public affairs statement.
Published Thought-Provoking Ideas
Chideya's work as journalist and commentator fueled more book length projects. In 1999 Chideya published her second book, The Color of Our Future, an examination of how the predicted shift in America's demographics from a white majority to a white minority by 2050 would affect American culture. In a conversation with Jean Morgan published in Black Issues Book Review, Chideya she started the book to explore "two things that really struck me...that America is becoming less of a 'white' country and more of a 'people of color' country, and also that America is becoming less black and white and more of everything else."
In the book Chideya explored the implications of the demographic change on neighborhoods, schools, and politics. She cautioned, according to an excerpt published in Civil Rights Journal, that the cultural shift is "uncharted territory for this country, and...will affect everything." The most basic definition of what America is would be changed, Chideya wrote: "We have grown up with a fixed idea of what and who America is, and how race relations in this nation work. We live by two assumptions: that 'race' is a black and white issue, and, that America is a 'white' society. Neither has ever been strictly true, and today these ideas are rapidly becoming obsolete." Chideya predicted that race would be "the biggest issue of the 21st century," according to People.
Chideya's third book took on another big topic: getting out the vote. Trust: Reaching the 100 Million Missing Voters, which published in 2004, was an extension of her work with Pop and Politics. In it, Chideya analyzed the U.S. political system and examined the reasons why more people do not vote. She also questioned the impact low voter turnout had on democracy and offered ideas to increase political participation. Commentator Byron Williams found her vision so compelling that he wrote in the New Pittsburgh Courier, that "the survival of our democracy may depend on it."
In addition to her book projects, Chideya continued to offer her opinions, commentary, and reporting through a variety of media outlets. She hosted Pure Oxygen for the Oh! Oxygen Network in the early 2000s, and then hosted Your Call for an National Public Radio affiliate in San Francisco in 2004 before taking over for Ed Gordon on NPR's News and Notes in 2006. Her writing, however, remained the backbone of her career. Her columns were syndicated through both the Tribune Media Syndicate and Alternet.org. Chideya summed up her inspiration for, as she put it, "getting my words on record" in Black Issues Book Review: "I write, therefore I am."
PERSONAL INFORMATION
Born 1969, New York, NY; raised in Baltimore, MD. Daughter of Lucas (a businessman) and Cynthia (a journalist) Chideya Education: Harvard University, magna cum laude, BA, 1990; American University, Washington, DC, Freedom Forum Media Studies Center, fellow, 1996; Stanford University, Knight Fellow, 2001-02. Memberships: Knight Foundation, Journalism Advisory Committee. Addresses: Pop & Politics, www.popandpolitics.com.
AWARDS
New York Daily News, Dream Team member, 1996; Newsweek, Century Club, 1997; National Education Reporting Award; Women's Information Network (WIN) Award; Young Women of Achievement Award; Gay and Lesbian Alliance Against Defamation (GLAAD) Award; Marketing Opportunities in Business and Entertainment, MOBE IT Innovator Award, 2001; Black Entertainment and Telecommunications Association, Young Lion Award, 2004.
CAREER
Newsweek magazine, Chicago, New York, Washington, DC, reporter, 1990-94; free-lance journalist, 1990s-; author, 1995-; MTV News, writer, 1995-96; CNN, political commentator, 1995-; MSNBC, political commentator, 1990s-; BET, political commentator, 1990s-; Pop and Politics Web site, founding editor, 1996-; ABC, correspondent, 1997-99; Vibe, national news editor, 1997-?; Tribune Media Syndicate, columnist, 1990s-; Alternet.org, columnist, 2000s-; Pure Oxygen television show, anchor, 2000-01; KALW, Your Call radio show, host, 2004; National Public Radio, News and Notes, host, 2006-.
WORKS
Books
* Chideya, Farai, Don't Believe the Hype: Fighting Cultural Misinformation About African-Americans, Plume/Penguin, 1995.
* Chideya, Farai, The Color of Our Future: Race in the 21st Century, William Morrow, 1999.
* Chideya, Farai, Trust: Reaching the 100 Million Missing Voters, Soft Skull, 2004.
Read more
Latest headlines