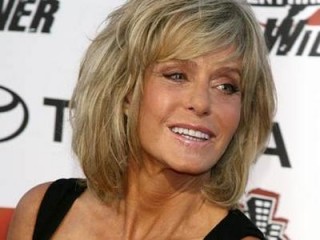 Farrah Fawcett biography
Date of birth : 1947-02-02
Date of death : 2009-06-25
Birthplace : Corpus Christi, Texas
Nationality : American
Category : Arts and Entertainment
Last modified : 2022-04-20
Credited as : Actress and model, role in the Tv series Charlie's Angels,
Farrah Fawcett
born February 2, 1947 – died June 25, 2009 was an American actress and artist. A multiple Golden Globe and Emmy Award nominee, Fawcett rose to international fame when she first appeared as private investigator Jill Munroe in the first season of the TV series
Charlie's Angels
, in 1976. Fawcett later appeared off-Broadway to critical approval and in highly rated and critically acclaimed television movies, in roles often challenging (
The Burning Bed, Nazi Hunter: The Beate Klarsfeld Story, Poor Little Rich Girl: The Barbara Hutton Story, Margaret Bourke-White
) and sometimes unsympathetic (
Small Sacrifices
). Fawcett was a sex symbol whose iconic poster, released the same year Charlie's Angels premiered, broke sales records, making her an international pop culture icon. Her hair style was emulated by millions of young women in the 1970s and early 1980s.
PERSONAL INFORMATION
Born Mary Farrah Leni Fawcett, February 2, 1947, in Corpus Christi, TX; daughter of James William (founder of a pipeline construction company and custodial service) and Pauline (Evans) Fawcett; married Lee Majors (an actor), July 28, 1973 (divorced, 1982); children: (with actor Ryan O'Neal) Redmond O'Neal. Education: Attended the University of Texas at Austin.
Farrah Fawcett Sidelights:
Actress Farrah Fawcett rose to superstardom in the 1970s with a campy hit television series,
Charlie's Angels
, about a trio of sexy female private investigators. Fawcett's ubiquitous poster that revealed many of her finer assets, including a shining set of pearly whites and bushy feathered blonde hair, set the standard for coiffures of the era. The vivacious, petite Fawcett tried to spread her wings after just one season with the Angels and land parts in more substantive roles, but suffered setbacks when her attempts were considered less than heavenly. She finally found her stride appearing in made-for-television movies during the 1980s, making an important breakthrough in 1984's domestic abuse drama
The Burning Bed.
After that, her reputation was boosted again with a starring role in the gripping Extremities, 1986, about a rape victim who seeks revenge. After spending about a decade in the television movie genre, Fawcett appeared in 1997's The Apostle, Robert Duvall's acclaimed pet project about a Southern preacher. Shortly thereafter, she unfortunately made headlines when she had to go to court to testify against her ex-boyfriend for her own domestic abuse case. Meanwhile, Fawcett shocked many--albeit pleasantly for male fans--when she appeared in a naughty 1996 Playboy video called All of Me, which fully reveals her still-athletic figure as she creates art in the nude. Though this and some of her other actions in the late 1990s raised eyebrows, Newsday reported that Fawcett told columnist Liz Smith, "I am getting such great offers.... Working with Duvall was my best break ever!" In 2006, it was announced that Fawcett was battling cancer. Fawcett received support from the media and her fans in 2009 when she made her battle with cancer public. Her documentary, titled Farrah's Story, aired on the NBC television network in May 2009.
Mary Farrah Leni Fawcett was born on February 2, 1947, in Corpus Christi, Texas. Her father, James William Fawcett, was an oil pipefitter who also founded a pipeline construction company and later, a custodial service. Her mother, Pauline (Evans) Fawcett, came up with the name Farrah because it sounded good with her surname, Fawcett. As a baby, Fawcett was born with a tumor in her digestive tract and underwent surgery when she was less than a month old. Growing up, she attended Catholic school and remembered being an obedient child. After finishing the sixth grade at St. Patrick's Church in Corpus Christi, Fawcett began public school at W. B. Ray High School, where she was generally a quiet student.
After high school, Fawcett enrolled at the University of Texas in Austin, planning to study microbiology. She later changed her major to art. A pretty, well-dressed student, she began modeling for a local clothing store that ran ads in the college newspaper, and she also sat for artists. After she was voted one of the ten most beautiful women on campus, her picture caught the eye of David Mirisch, a Hollywood publicist, who encouraged her to leave school and pursue a career in entertainment. Though she was eager to go, her parents were not so sure, urging her to finish her education first. By the end of her junior year in college, though, they let her test the waters in Hollywood. Fawcett immediately hired an agent and soon met actor Lee Majors, who helped her along. She managed to sign a contract with Screen Gems, who cast her in guest roles on television series such as I Dream of Jeannie, The Dating Game, The Flying Nun, and The Partridge Family in 1969 and 1970. "I didn't come to Los Angeles expecting to be anything," Fawcett once said, according to People. "I was led. Events happened, fell into place. I really gave no thought to my career."
Fawcett continued to win roles on television and in movies in addition to maintaining a lucrative career on the side as a model. She appeared in top magazines such as Cosmopolitan and Vogue and made a decent income from commercials for Noxema shaving cream, Ultra-Brite toothpaste, and Wella Balsam shampoo. Her film debut came in 1969 with the French film Love Is a Funny Thing. Following that, in 1970 she played Mary Ann in Myra Breckenridge, starring Raquel Welch and Rex Reed. This story of a man who undergoes a sex change operation is based on a novel by Gore Vidal. Subsequently, Fawcett landed parts in the made-for-television movies Three's a Crowd, 1969; The Feminist and the Fuzz, 1970; The Great American Beauty Contest, 1973; The Girl Who Came Gift-Wrapped, 1974; and Murder on Flight 502, 1975. Meanwhile, Fawcett in 1974 was cast on the television cop drama Harry O as the title character's girlfriend and secured a small role in the series Apple's Way the same year. She landed her next role playing Holly in the science-fiction dystopian thriller Logan's Run in 1976. She also married Lee Majors on July 28, 1973 (and changed her name to Farrah Fawcett-Majors) and began appearing with him on his hit show, The Six-Million Dollar Man.
Many of the television movies that Fawcett made were produced by Leonard Goldberg, who had headed production at Screen Gems, and Aaron Spelling. In 1976, the two men devised an idea for a television series about three attractive female private eyes working for a mysterious, wealthy man who is never seen on camera, giving his instructions for their assignments over the telephone and via his assistant, John Bosley (David Doyle). They sold their idea, called Charlie's Angels, to ABC and cast Fawcett as one of the agents. She played the athletic Jill Munroe, known for her sense of humor and card sharp skills. Kate Jackson was cast as the bright Sabrina Duncan, while Jaclyn Smith provided street smarts as Kelly Garrett. Charlie's Angels was undoubtedly erotic, and many men surely liked to see the three beautiful women strutting around disguised as prostitutes or go-go dancers, or tied up by dangerous criminals. However, Charlie's Angels was also considered somewhat feminist at the time, breaking new ground as a prime-time action-adventure program that featured the women in all kinds of daring situations. Women viewers appreciated that the angels displayed courage, quick thinking, and resourcefulness, as well as adeptness with guns and brute force, in addition to their stylish sensuality.
The program soared in the ratings and spawned a huge following, with Fawcett standing out as the most admired of the three stars. Her likeness spawned a cottage industry of merchandise, from lunch boxes, T-shirts, and dolls to wigs, pillows, and a plumbing device (the Farrah faucet). One of the defining pieces of 1970s popular culture is, of course, the famous Farrah Fawcett poster. The picture showed her wearing a wet one-piece swimsuit and a sparkling, toothy smile, seated with one knee up, fingering her signature dishwater-blonde feathered hair. An estimated six million such posters were eventually sold by Pro-Arts, Inc., out of Medina, Ohio. Women and girls nationwide copied the curled-back, slightly messy hairdo, and teenage boys everywhere tacked the photo to their bedroom walls. Her career at its peak, Fawcett only starred in Charlie's Angels for one season, 1976-77, before leaving to search for new projects that would broaden her scope as an actress. Cheryl Ladd took her place in the series. Fawcett and her husband, Majors, then started up a production company and made a television movie called Just a Little Inconvenience in 1977, but she did not appear in it. A contract with Faberge led to a line of her own personal care products in 1978, for which she reportedly stood to make millions of dollars.
In 1978, Fawcett tried her dramatic skills with the film Somebody Killed Her Husband, a poor attempt which many took to calling "Somebody Killed Her Career." Over the next couple of years, she made three more forgettable movies, Sunburn, The Helper, and Saturn 3. In 1981 she had a role in the comedy Cannonball Run, starring Burt Reynolds, and also that year starred in the made-for-television movie Murder in Texas. This spurred a long-lasting run for her in the television movie genre, which generally features plots based on true stories. In the 1984 television movie, The Burning Bed, Fawcett fully transformed her image from pampered pinup into tragic, sympathetic real-person heroine as she portrayed a battered wife who is driven to murder her husband. Before this, producers were reluctant to give the bubbly beauty a chance at serious roles, but the highly-rated tale of domestic abuse proved that Fawcett had a wider range, and even earned her an Emmy nomination.
In 1986, Fawcett reiterated her abilities as a talented actress in the drama Extremities, a role she also played off Broadway in 1983 at the West Side Arts Theatre. In it, she is a woman who is attacked by a rapist in her own house. She manages to lock him up, but then has to face the decision of what to do next. Fawcett told Stephen Farber of the New York Times that it was "the most grueling, the most intense, the most physically demanding and emotionally exhausting" role of her career. Following these projects, Fawcett found a real niche in television movies, going on to star in the miniseries Poor Little Rich Girl: The Barbara Hutton Story in 1987 and Margaret Bourke-White, a biography of the famous photographer, in 1989. The 1990s saw her in a bevy of television movies as well, including The Substitute Wife, 1994, A Good Day to Die, 1995, and Dalva in 1996. She also starred in the humorous film Man of the House, 1995, and played a "dream date" in 1996's The Lovemaster.
Fawcett grabbed attention in 1995 when she posed partially nude in the Christmas edition of Playboy, and again in 1996 when she released a Playboy video titled All of Me, originally aired as a pay-per-view special. The project featured Fawcett sculpting and painting in the nude, even using her body as a brush, and Playboy followed it up by printing a 14-page layout of photos from the session in its June, 1997 issue. At 50 years old, Fawcett's figure reportedly still rivaled that of a 25-year-old. According to Diane White in the Star Tribune, Fawcett called the body painting experience a "renaissance" and remarked, "I no longer feel ... restrictions emotionally, artistically, creatively or in my everyday life. I don't feel those borders anymore." Perhaps this new freedom helped Fawcett excel in the 1997 film The Apostle, written and directed by Robert Duvall, who also starred in it. The story involves Sonny Dewey, a Pentecostal preacher from Texas who, though he has had affairs of his own, discovers that his wife (Fawcett) is carrying on with a younger minister. The enraged Dewey strikes the young man with a bat, putting him in a coma, and then flees town, becomes born again, and starts up a new church in bayou country. The project was highly lauded and re-established Fawcett as an accomplished dramatic actress.
Fawcett was divorced from Lee Majors in 1982 and began a long-term relationship with actor Ryan O'Neal. They had a son, Redmond O'Neal, and the couple was long known as one of Hollywood's most stable couples, despite the fact that they were not married. After over fifteen years together, they split up in February of 1997 and Fawcett later began seeing producer James Orr. When she declined a marriage proposal in January of 1998, Orr assaulted Fawcett at his Bel-Air mansion, leading to obvious physical injuries on her face, neck, and head. Though she never filed charges, Fawcett was subpoenaed to testify in court, since prosecutors in California are allowed to pursue cases of suspected domestic abuse charges even if the victims refuse. Orr was convicted of one count of misdemeanor battery, but planned to appeal. Meanwhile, Fawcett began seeing tennis pro Martin Barba, many years her junior, but called it off once she found out that he pleaded guilty to sexual battery in 1993.
Fawcett shrugged off a surge of bad press that emerged in the late 1990s, including rumors that she stole $72,000 worth of clothes from a fellow actress (no charges were filed and Fawcett later dismissed the affair as a case of extortion) and a barrage of accusations that she was abusing drugs. This last charge stemmed from an appearance on The Late Show with David Letterman on June 6, 1997, in which she seemed confused and detached, though she later explained her actions as failed attempts at humor. The Letterman appearance did not hurt her career, however, as she went on to appear in the 1999 movie The Apostle.
In August 2006, Fawcett reunited with the other Charlie's Angels cast members at the 58th Annual Primetime Emmy Awards to honor the life of the show's creator, Aaron Spelling. In September 2006, just one month after that appearance, Fawcett learned she had anal cancer. Fawcett battled her condition bravely, seeking aggressive treatments to keep the cancer in check. In 2007, she was told the cancer had gone into remission, but it reappeared; a worker at the UCLA medical center had leaked the news that her disease returned to the media. With the help of longtime friend Alana Stewart and partner Ryan O'Neal, Fawcett captured her cancer fight in a documentary called Farrah's Story. The documentary showed Fawcett in pain, and ill from her treatments; the actress received letters of encouragement and thanks from cancer patients and fans. Fawcett brought awareness about the disease into the media spotlight with bravery and a sense of purpose.
Read more
Latest headlines