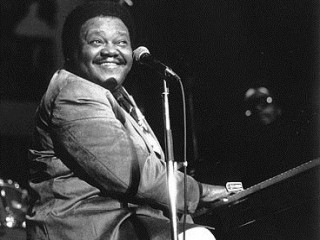 Fats Domino biography
Date of birth : 1928-02-26
Date of death : -
Birthplace : New Orleans, Louisiana, U.S.
Nationality : American
Category : Arts and Entertainment
Last modified : 2011-04-29
Credited as : Jazz and R&B musician, songwriter, boogie-woogie and blues
Fats Domino brought a unique blend of sounds to the rhythm and blues scene in the 1950s and 60s that appealed to a wide audience. His rendition of "The Fat Man," recorded in December of 1949, is considered by many to be the first rock-and-roll song ever. Domino continues to perform in his own nightclub in New Orleans, the city of his birth.
Born Antoine Domino Jr. on February 26, 1928 in New Orleans, he grew up in a large, musical family of nine children. He began his love affair with the piano at a very young age. Domino taught himself to play with help from his brother-in-law, Harrison Verrett, a local musician and well-regarded guitarist. He loved all the popular styles of music: boogie, ragtime, and blues. Domino left school in order to focus all of his energies on music.
Shortly after leaving school, Domino found a job at a local bedspring factory. He worked at the factory during the day and played music by night in local nightclubs. A mishap on his day job came very close to costing him his future in music. One of his hands was severely injured by a heavy spring, an injury that required multiple stitches. For a while, it was uncertain whether Domino would ever recover use of the hand for the piano. However, with sufficient exercise he was able to regain most of his previous use of that hand.
One of Domino's nighttime jobs was at a New Orleans club called the Hideaway, where he earned three dollars a week. By the age of 19 he had become a fixture there, along with prominent New Orleans pianists such as Professor Longhair and Amos Milburn. Like them, Domino was inspired by the rich musical styles of New Orleans. It was here that he got his first big break. Lew Chudd, head of Los Angeles-based Imperial Records, was touring the city in search of promising new artists when he happened to catch Domino's act. Duly impressed, he quickly signed the young musician to a recording contract and paired him up with Dave Bartholomew of Imperial to write the song that became his signature number and established him forever as "Fats" in the mind of his fans. "The Fat Man," that drew heavily from a song entitled "Junkers Blues," was recorded in December 1949 in the J and M Studios of Cosimo Matassa, along with seven other tracks. The song became Domino's first big rhythm and blues hit and is considered by many music industry observers to be the first genuine rock and roll song ever recorded. Fred Ward, writing in Rock of Ages: The Rolling Stone History of Rock and Roll, said of Domino's first big hit: "What better song to introduce the young singer than the one he opened with… ." The record took off, Ward reported, "winning Imperial some prominence in the rhythm-and-blues world and, more important, on its charts.
Chudd's Imperial recording label, which focused on unknown rhythm and blues talent from the Deep South, had experienced rapid growth in the years following the end of World War II. Bartholomew, a prominent trumpet player and composer, became Domino's producer and bandleader for most of the 1950s and 60s and co-wrote virtually all of the performer's best-known hits. Bartholomew, who remained closely involved with Domino well into the 1980s, was a trained musician who perfectly complemented Domino's unschooled but brilliant musical instincts. Domino never learned to read music. He once described to Irwin Stambler, author of The Encyclopedia of Pop, Rock, and Soul, how he and Bartholomew collaborated on their now-famous songs: "When I get an idea for a song, I sit down at that piano [in his special music room in his home] and sing it into the tape. Then I've got it so I can talk with Dave about it. Dave works on all my recordings and on my band arrangements, and we're together a lot of the time."
Several hits followed "The Fat Man." These included "Rockin' Chair," "You Done me Wrong," "Please Don't Leave Me," and the 1952 hit, "Goin Home." The latter reached number one on the rhythm and blues charts in 1952. Domino dominated the R and B charts with these and other releases from 1952 to 1959. In 1954 Domino impressed audiences at the Moondog Jubilee of Stars Under the Stars, promoted by famed disk jockey Alan Freed, at Ebbets Field in Brooklyn, New York. Other entertainers performing at Moondog Jubilee included Muddy Waters, Little Walter, the Orioles, and the Clovers.
Domino took the rock and roll scene by storm in 1955 when he released "Ain't That a Shame," a song that had been previously popularized by cowboy movie star, Gene Autry. His success with the recording of this song was somewhat overshadowed by Pat Boone's "cover" version of the same song. Although Domino's version hit number one on the R and B charts, it made it only to number ten on the pop charts for this reason. White record producers in the 1950s were quick to pick up on the popularity of rhythm and blues for its white singers. However, Domino and collaborator Bartholomew shared in the royalties of Boone's recording. It was with this hit that Domino crossed over from R and B to the pops charts.
Other Domino songs that rose to the top of the R and B charts in 1955 included "All by Myself" and "Poor Me." That same year, Imperial Records cut his first long-playing (LP) album. Entitled "Rock and Rollin' With Fats Domino," the album was released on March 1, 1956. Among his big hits in 1956 were "I'm in Love Again," "My Blue Heaven," "Blue Monday," and "Blueberry Hill," Domino's version of a song first made popular by Louis Armstrong. In July of 1956, "I'm in Love Again" hit the top of the R and B charts and climbed to number three on the pop charts. At year's end, "Blueberry Hill" topped out at number two on the pop charts, having already occupied the top spot on the R and B charts for 11 straight weeks. Domino's success in the mid-1950s made him a fixture in most of the period's touring rock and roll shows. In early 1957, Domino got top billing in the three-month "Biggest Show of Stars for '57," a tour that also featured such popular rock and R and B performers as Chuck Berry, Laverne Baker, Clyde McPhatter, and the Moonglows. Gene Busnar, author of It's Rock'n' Roll, explained Domino's success on the pop charts this way: "Most of Fats' songs were less raw and sexually explicit than most other blues-based singers. He was, therefore, more acceptable to the pop audience."
Hoping to expand his horizons, Domino looked to Hollywood. He first appeared with Big Joe Turner in Shake, Rattle, and Roll, singing three of his big hits. In 1957 he appeared in The Girl Can't Help It, a rock and roll movie that is still considered by many to be the best ever made. The film featured Domino singing his big hit, "Blue Monday." Other motion pictures in which Domino appeared included Jamboree and The Big Beat.
Other Domino songs that fared well on the pop charts included "I'm Walkin'," which made it to number four in April of 1957; "I Want to Walk You Home," climbing to number eight the week of September 14, 1959; and "Walking to New Orleans," which made it into the top ten on the pop charts in mid-1960. "Walking to New Orleans," which climbed to number two on the R and B charts, was the last of Domino's songs to hit the top ten on the pop charts.
In April of 1963, Domino left the Imperial label after nearly 14 years to sign with ABC-Paramount. For ABC-Paramount, he had a modest hit with "Red Sails in the Sunset." He switched labels fairly often in the 1960s, recording also on the Mercury and Reprise labels. In 1968 Domino released his version of "Lady Madonna" on the Reprise label. Written by Paul McCartney for the Beatles in a style reminiscent of Domino's, the song was given the full New Orleans treatment in Domino's cover version. It was the last of Domino's songs to make it onto Billboard's Top 100 Pop Singles chart. When recording industry executives began pressuring Domino to update his style in order to appeal to changing musical tastes, he quit recording altogether. Interviewed by Hans J. Massaquoi of Ebony, Domino explained, "I refused to change. I had to stick to my own style that I've always used, or it just wouldn't be me."
With his recording career at least temporarily terminated, Domino began concentrating most of his energies on public appearances, focusing in particular on Las Vegas. He signed a long-term contract with the Flamingo Hotel and Casino but soon got himself into trouble gambling during his off-hours. He got started on the slots but soon graduated to playing craps. According to Massaquoi of Ebony, Domino gambled away about two million dollars over a ten-year period. It took the performer a while to admit that he had a serious problem with gambling. However, he eventually took steps to wean himself away from the craps tables, a goal Domino claimed to have reached by 1972.
On January 23, 1986, Domino was formally inducted into the Rock and Roll Hall of Fame at its first induction dinner, held in New York City. Presenting Domino with a plaque marking his selection for this honor was popular singer/pianist Billy Joel. It seemed altogether fitting that Domino was among the first to be enshrined in the Rock and Roll Hall of Fame, considering that he had sold more records—some 65 million—than any other Fifties-era rocker except Elvis Presley. The following year, Domino received the Grammy Lifetime Achievement Award.
In 1991, EMI-owner of the Imperial label's music catalog released a boxed set of Domino's greatest hits. Domino returned to the recording studio two years later—the first time he'd done so in a quarter-century. The recording session produced an album entitled Christmas is a Special Day, released on the EMI/Right Stuff label on November 1, 1993. Interviewed during the recording session, Domino looked back on his long and rewarding career, saying: "People don't know what they've done for me. They always tell me, 'Oh, Fats, thanks for so many years of good music.' And I'll be thankin' them before they're finished thankin' me!"
In March of 1995, the Rhythm and Blues Foundation of Washington, D.C., honored Domino. As one of the recipients of the foundation's annual Pioneer Awards, he was given the Ray Charles Lifetime Achievement Award. This foundation honors those who create "an art form that is a fountainhead for contemporary popular music and a lifeblood of American culture." Other recipients of these awards included the Moonglows, the Marvelettes, Inez and Charlie Foxx, and Cissy Houston. That same year Domino toured Great Britain with fellow rock artists James Brown and Chuck Berry. However, the trip was cut short when the 67-year-old Domino was hospitalized for an infection and exhaustion.
Domino and his wife, Rosemary, continue to live in New Orleans, the city of the singer's birth. They have raised eight children—Antoinette, Antoine III, Andrea, Andre, Anatole, Anola, Adonica, and Antonio. Domino still performs occasionally at his club in the city's French Quarter.
Read more
Fats Domino Picture Gallery
Latest headlines